Exploring The Children's Museum Houston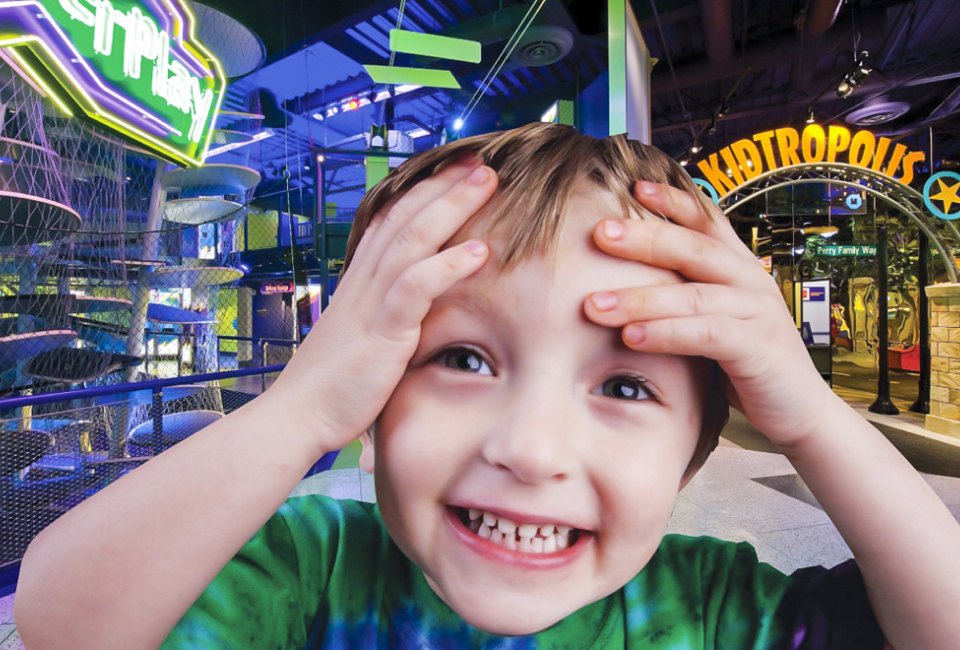 8/12/22
- By
Rachael Cherry
The Children's Museum Houston has been a staple as one of Houston's best kid-friendly attractions since 1980 and boasts a wide array of activities to foster learning in a fun, innovative way. There are more than 20 different exhibits to visit with lots of things to do inside (and outside) the museum, and there is something for any child from toddlers up to 12-year-olds. It's a good idea to wear comfortable shoes as you will most likely be chasing your kid all over the place!
Looking for a discount on tickets to Children's Museum Houston? Check out our article on Free Museums and Free Admission Times for the Children's Museum and other things to do in Houston. Save money on many of Houston's best attractions with a CityPASS.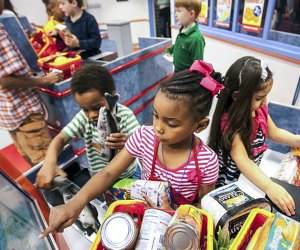 Learning and playing inside the Kidtropolis exhibit.
Visiting the Children's Museum Houston
Indoor Activities at the Children's Museum Houston
The John P. McGovern Kids Hall is set immediately off of the entrance, and in it, guests will find artwork from across the world. There are also activity tables arranged in the shape of a train that feature a variety of crafts children can partake in.
My toddler and I spent most of our time in Kidtropolis, which is a kid-sized city complete with a police station, newsroom, H-E-B, veterinarian's office, art studio, cafe, and more. The stations allow kids to see the ins and outs of each profession, and they can actually earn money as they learn to spend at different shops or to deposit at the bank. Museum employees are stationed at both the entrance and exit of Kidtropolis to monitor the exhibit and ensure that there are never too many kids inside at once.

The Matter Factory helps kids explore the different types of matter.
The next major exhibit at Children's Museum Houston is Matter Factory, which helps kids explore the different types of matter. We also visited How Does It Work? This science-focused exhibit teaches kids things through interactive activities. For example, how an air current can keep a beach ball floating in mid-air or how to build different ramps with various twists and turns to create a mini-scale roller coaster. After that, we headed through Cyberchase before taking in some science lessons at the Genius Station.
Let your little engineers put their heads to the test in the Invention Convention room, where they build tools and create and design "things that go" in order to solve challenges. The STEAM-based Inventor's Workshop helps kiddos mix their creative thinking with engineering principles to complete fun activities (new ones each month). And for the future medical workers, the Power Science Lab touts 15-minute experiments for hands-on lab activities that explore biology and chemistry within our bodies.
For bigger kids, you won't want to miss the Challenge Course, a low ropes course to put balance, agility, and stamina to the test. For a thrilling climb, the PowerPlay exhibit is a netted climbing construction that's three-levels high and features heart-rate monitors at each level for a peek into the body's physiological response to exercise.
For an additional fee, children 6 and older can join the SECRET Spy Game, an hour-long interactive experience (sort of like an escape room) where they'll get cool gadgets to use to find clues, solve puzzles, and take on challenges throughout the Children's Museum Houston to beat the villains that are up to no good.

Outdoor water play at FlowWorks.
Outdoor Fun at the Children's Museum Houston
After seeing what the inside offered, we ended up spending a good chunk of time at FlowWorks, the outdoor water exhibit. Pack a change of clothes and be prepared for your kid to get wet at this one, because the exhibit encourages kids to play in the different water activities. While there's no pool or splash pad, there are a lot of opportunities for your little one to end up soaked. At the crux of the exhibit is an 18-foot cauldron that fills with water, and you better believe it was a definite highlight for my son to watch that giant bowl of water tip over and empty itself out. We also created our own waves, controlled how fast or slow water flowed through a dam, and then floated boats down a water course. It was also easy to locate my son no matter where he was in the exhibit, and since it was outside I wasn't worried about him running from one room to the next without me.

Ecostation is a Certified Wildlife Habitat that features native Texas plants.
Before heading back in, we took some time to dry off on the small playground and visited the EcoStation, a Certified Wildlife Habitat that features native Texas plants to help little ones learn about the environment. While there, kiddos can make leaf rubbings, spot turtles in the pond, identify animal footprints, and more.
Children's Museum Houston is a Must-Visit Destination for Kids
If you're looking for a fun, mostly indoor activity spot for your kids – and let's be real, summer days in Houston practically beg for indoor activities – the Children's Museum Houston should definitely be on your radar. From a kid's perspective, there is no shortage of things to do, so they'll be entertained for hours. I feel like we barely scratched the surface while we were there, and we definitely didn't see all the exhibits.
But because of the museum's mass appeal, be prepared for crowds. We showed up right at 10 a.m. when it opened, and the first few exhibits we went to were a breeze; however, as it got closer to lunchtime, the place started to fill up.

The Jurassic Experience
More Children's Museum Houston Information:
The museum is located in the heart of Houston at 1500 Binz Street.
Kids under age 1 are free, and admission for all other ages is $15.
The museum is open from 10 a.m.-6 p.m. Tuesday through Saturday, and it stays open until 8 p.m. on Thursdays. It is closed Sundays and Mondays. From 5-8 p.m. on Thursdays, there is free admission for Family Night.
It is recommended that you buy tickets in advance online. A limited number are available for walk-ups each day.
There is a dedicated parking garage for the museum across the street, and parking costs $8 for the first hour, $9 for two hours, and $10 for three hours or longer.
Outside food and drinks are not permitted, but both are available for purchase inside.
All photos courtesy the Children's Museum of Houston
Places featured in this article:
---
The Children's Museum Houston
Click Here to Sign Up!
i