10 State Parks Near Houston With Lakes, Beaches, and Hiking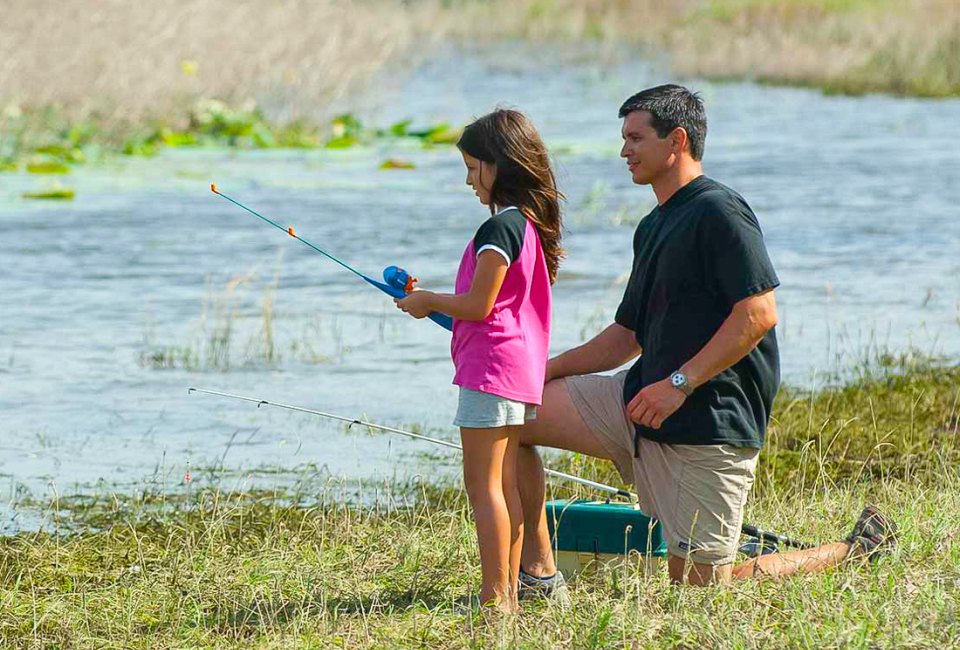 3/31/23
- By
Sarah Banks
For a great family trip close to home, head to one of these state parks near Houston. Whether you are planning a day trip or want to enjoy a weekend getaway in a tent, RV, shelter, or cabin, we have some awesome recommendations for state parks within a 2-hour drive of Houston. Houston-area state parks give kids the opportunity to spend time outdoors hiking, biking, swimming, kayaking, fishing, alligator spotting, and hitting the beach. State parks are free for kids 12 and under, and even the fees for adults range from free to only $7 a day, with the funds being used to maintain the parks for future generations. Our guide will tell you how long your journey is from downtown Houston, opening hours, costs, availability of camping, and top activities for you and your family to enjoy. So, why not fill up your cooler, pack your picnic and s'mores, and hit the road?
For more camping, hiking, and outdoor play ideas, check out our Outdoor Activities Guide for Houston Kids.
State Parks Near Houston: Within 1 Hour Drive of Downtown
15 minutes northeast of downtown Houston. Open daily 8 a.m. – 5 p.m. Free for all ages.
Get back to nature in no time at Sheldon Lake State Park, where entry is free for everyone, and you can fish the 1,200-acre Sheldon Lake without a license. There are two catch-and-release fishing ponds specifically for families, and you can borrow cane poles from the learning center. Sheldon Lake State Park emphasizes the environment, and you will spot solar panels, water collection tanks, and recycled steel pipes.
While there is no overnight camping, this park is great for strollers and young kids, as all the facilities and trails are ADA accessible, and the two miles of trails pass through some different habitats. Kids will especially love the Pond Loop trail, which passes 28 hatchery ponds returned to nature. Kids will enjoy climbing the 82-foot John Jacob Observation Tower, which features panoramic views of the park, the distant Houston skyline, and the San Jacinto Monument. The tower is also accessible, with two observation decks, one accessed by a ramp and the other by stairs and an elevator.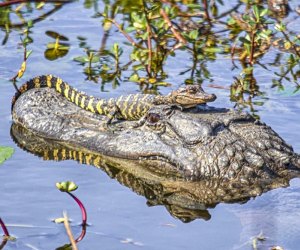 See alligators at Brazos Bend State Park.
55 minutes southwest of downtown Houston. Open daily 8 a.m. - 10 p.m. $7/person and free for ages 12 and under
Brazos Bend State Park is famous for being home to around 250 alligators ready for your family to admire, so this state park near Houston is a fabulous low-cost way to get up close with alligators near Houston. There's no need to be concerned, as alligators typically avoid people, and you can follow the alligator safety tips, including keeping thirty feet away and never feeding them. Of course, with all the alligators, this is one of the state parks where swimming isn't advised! However, that doesn't mean there aren't plenty of other attractions, including 37 miles of trails and fishing piers. The Creekfield Lake Nature Trail is particularly suitable for strollers and toddlers - this fully paved half-mile trail tours a wetland area, and the whole family will enjoy exhibits with touchable bron­zes of wildlife, an acces­si­ble board­walk and observation deck, and rest areas with benches. Brazos Bend State Park allows overnight camping.
55 minutes west of downtown Houston. Open daily 8 a.m. - 10 p.m. $5/person and free for ages 12 and under
Learn more about Texas history at this state park on the Brazos River. Stephen F. Austin, the "Father of Texas," traveled to this site with the first families to colonize Texas. It was the home of the first Anglo newspaper in the USA, the Texas Gazette. Today, you can enjoy trails around 473 acres of wetland and hardwood forest. You may even spot some fireflies at dusk in May and early June! This park allows overnight camping.
State Parks Near Houston: Within a 90-minute Drive from Downtown
1 hour 10 minutes north of downtown Houston. Open daily 6 a.m. - 10 p.m. $7/person and free for ages 12 and under
Head north on I-45 past the impressive 67-foot-tall Sam Houston Statue to Huntsville State Park. Here you will find plenty of space for water activities, with a 215-acre lake so you can swim, fish, and boat. The swimming area has a beach entrance, so pack a bucket and spade for fun digging and building. Hike and bike along over 20 miles of trails - The Loblolly Trail (0.2 miles) and Coloneh Trail (0.8 miles) are easy for younger kids, while other trails are 8+ miles for kids who want more of a challenge. The Huntsville Park rangers frequently put on events, and the nature center has a variety of live animals, skulls, skins, and fish tanks. You can camp overnight at this state park.
The Piney Woods Boardwalk Trail at Lake Livingston State Park.
1 hour 15 minutes north of downtown Houston. Open daily 6 a.m. - 10 p.m. $6/person and free for ages 12 and under
Lake Livingston is a beautiful, wooded state park, so even in the heat of summer, you will find some shade. With one of the biggest lakes in Texas, Lake Livingston State Park has a large fishing pier and a designated swimming area (with a ladder entry). The Pineywoods Boardwalk Trail takes you on a wooden boardwalk through woodland and wetland, where you visit a frog pond. Lake Livingston state park allows overnight camping.
Beach-adjacent Galveston Island State Park.
1 hour 15 minutes south of downtown Houston. Open daily 7 a.m. - 10 p.m. $5/person and free for ages 12 and under
Water-loving families can head to Galveston Island State Park, which has bay and newly-renovated beach areas. This state park is where you can splash around, swim, kayak, and fish in peaceful coastal surroundings, and even camp overnight close to the water. There are 4 miles of trails for walking and biking. You don't have to pack too much as you can rent beach chairs, umbrellas and cabanas, kayaks and paddleboards, and even bikes. If you fancy a change from natural attractions, you can always head to Galveston for entertainment as diverse as the Pleasure Pier and The Strand Historic District.
State Parks Near Houston: Within 2 Hours of Downtown
1 hour 45 minutes east of downtown Houston. Open daily 8 a.m. - 10 p.m. $3/person and free for ages 12 and under
The 8 miles of trails at this state park showcase a range of different plants, including yucca, cactus, and cypress. There are 7 trails of a mile or less for younger kiddos. Why not set off on a little adventure and explore the Lil' Paws Nature Trail right by the playground? The slightly longer Water Oak Trail passes through arid sandy lands and bottomland swamps. You can relax by fishing in Village Creek for catfish, bass, and sunfish. Kayak rental and paddling trails are also available. Then you can round off your trip by visiting the park store for gifts. Village Creek State Park allows overnight camping.
Explore the coast at Sea Rim State Park.
1 hour 45 minutes east of downtown Houston. Open daily 8 a.m. - 10 p.m. $3/person and free for ages 12 and under
Head east along the coast from Galveston to Sea Rim State Park, near the Louisiana border. This state park is full of natural treasures, with 5.2 miles of Gulf shoreline and 4,000 acres of marshlands. The marshlands can be explored on the Gambusia Nature Trail Boardwalk, a great 0.7-mile easy hike, hopefully allowing you a view of the Gambusia fish. There are easy-to-advanced kayaking trails and great spots for catching blue crab. The nearby town of Beaumont also offers some great attractions, such as the Gator Country Wildlife Adventure Park and the Spindletop Oil Museum. This state park allows overnight camping.
1 hour 45 minutes northwest of downtown Houston. Open daily 6 a.m. - 10 p.m. $5/person and free for ages 12 and under
Lake Somerville State Park is situated on two lake shore sites – one on the north side and the other on the southwest side. The two sites are connected by a 13-mile Trailway, part of a network of 40 miles of trails, so there are plenty of great hiking and biking routes. Lake Somerville has some great viewpoints, including its scenic overlook, rocky point overlook, and picnic hill. You can camp overnight at this state park.
2 hours northeast of downtown Houston. Open daily 6 a.m. - 10 p.m. $4/person and free for ages 12 and under
This 700-acre, state park offers your family the chance to experience the East Piney Woods – a beautiful area with creeks, lakes, and trees. Equipped with over 200 camping spots, Martin Dies, Jr. State Park offers plenty of overnight camping opportunities, as well as screened shelters and cabins. The park enjoys a range of facilities, including a fishing pier, playground, boat ramp, picnic sites, observation pier, and swimming area. If you get a chance to stay over, the kids will love the fact that you can clearly see the stars, as there is little light pollution. With a range of short hiking trails and paddling trails, there are plenty of options for all the family to enjoy!
Know Before You Go - Top Tips for Visiting Houston State Parks With Kids
Every park is part of the free Texas State Parks Junior Ranger Youth Explorer program, which encourages children to fill in nature journals on their visits and lends them Junior Ranger Explorer backpacks with binoculars, wildlife guides, and more.
No license is needed to fish in a Texas State Park.
Texas State Parks welcome dogs on a leash.
Some parks can be popular at weekends and holidays, so consider reserving online for day use and camping.
Visit the Texas State Parks website before you go and check for any Park Alerts, which always appear at the top of the page.
Don't forget to read up on our hiking games to motivate your kids when their legs tire.
If you plan to visit a number of the State Parks, the Texas State Park Pass allows you unlimited entry to over 80 state parks, with discounts on park store purchases, camping, and equipment rentals. Guests of a pass holder can enter for free, so for $70, the whole family can access Texas's state parks all year.
And of course, being near Houston, remember your sunscreen and mosquito spray!
All photos are courtesy of the Texas Parks and Wildlife Department
Click Here to Sign Up!
i