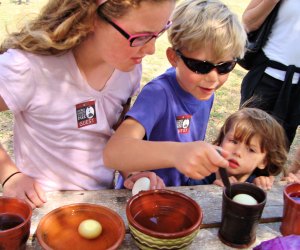 Easter Egg Hunts, Bunny Photos, and More Family Easter Events for Houston Kids
Once the clocks spring ahead, it's all eyes on Easter activities! Easter egg hunts are one of those special springtime events that adults remember fondly and children look forward to every year. The Bayou City offers hunts at local parks, churches, and other interesting venues; most include extra activities such as crafts, face painting, petting zoos, live entertainment, and of course photo ops with the Easter Bunny. But if egg hunts and bunny photos alone don't fill your basket, there are also several Easter breakfasts and brunches with the Easter Bunny around town. So hop on over to one of Houston's many fun-filled Easter events this spring; or if you need to stay safe at home, check out one of the virtual Easter events below.
While the mask mandate has been lifted in Texas and businesses are once again operating at 100%, we recommend continuing to be vigilant about Covid-19 and keeping a healthy distance from other egg hunters. Stay safe and healthy this holiday season!