100 Popular Kids' Birthday Party Themes for Every Age and Interest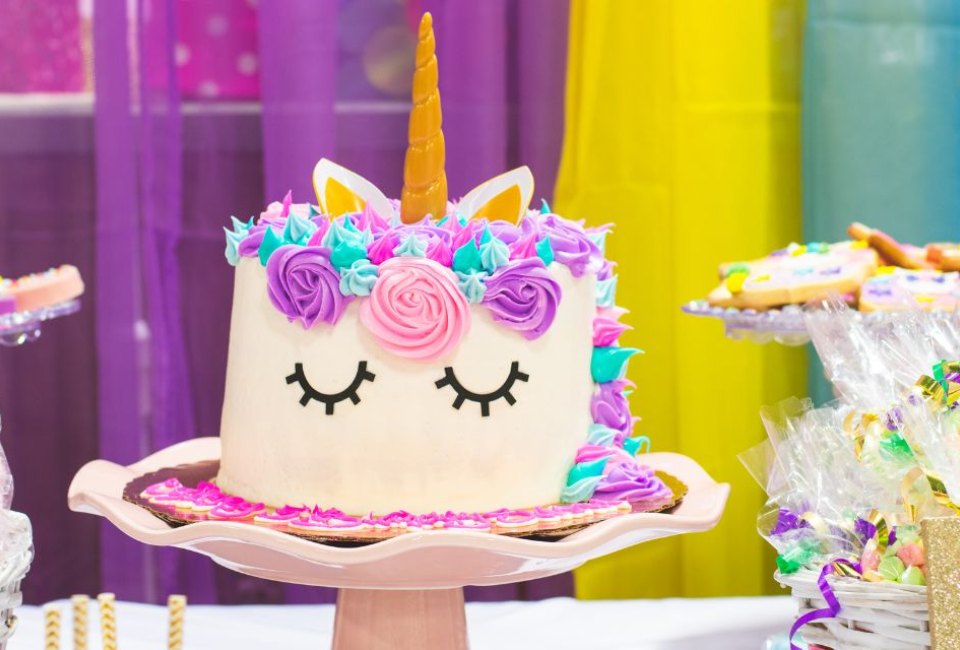 7/27/23
- By
Vanessa Leigh
Looking for the best kids' birthday party themes? We've got you covered!
Choosing a theme is the first step towards planning an epic kids' birthday party, and for picky kids, it can be tricky. We've got a birthday party theme for every interest you can imagine—and then some you probably couldn't!
From trending themes, like Barbie, to classic dinosaur parties, we've rounded up suggestions that will appeal to kids with every obsession. Plus, we've got tips for easy ways to throw the party of your child's dreams.
Here are 100 popular kids' birthday party themes for everyone from 1-year-olds to teens. Visit our Guide to Kids' Birthday Parties for more ideas on throwing your child an epic birthday bash, including birthday cakes you can make at home and the best goody bags and party favor ideas.
Popular Kids' Birthday Party Themes for 2023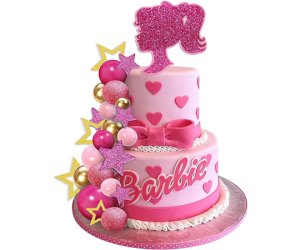 Barbie Cake Topper photo courtesy of the Amazon Skycooool store
1. Barbie Party
Barbie has made quite the comeback thanks to the new Barbie movie. Come on Barbie, let's go party!
These pink-tastic Barbie party supplies kit, heart-shaped glasses for partygoers, and pretty Barbie cake toppers make throwing a Barbie party a snap.
2. Roblox Party
It doesn't take much to give little gamers an awesome Roblox birthday party—just get this Roblox party supply kit and a favor kit and let them play the game with their friends to their hearts' content.
3. Little Mermaid Party
With the new live-action version of the beloved Disney film, The Little Mermaid has become a big kids' birthday party theme.
Party packs that make throwing an under the sea party easy come in the 2023 live-action version or the classic animated version. Whichever you choose, mermaid-tail coin purses make the perfect party favors.
4. Taylor Swift Bash
If you couldn't score tickets to the Eras Tour, throwing your little Swiftie a Taylor-themed birthday bash is the next best thing. Guests can dance and sing to Taylor tunes, make Swift-inspired friendship bracelets, and play Swift-themed party games.
Get heart-shaped glasses for party favors and these Taylor Swift party supplies, and you're ready to go!
RELATED: 60 Birthday Freebies for Kids

You can make a Bluey cake at home with blue frosting and toys! Photo by Kelly Patino for Mommy Poppins
5. Bluey Party
The Disney Plus cartoon is all the rage, and there are so many fun ideas for throwing the ultimate Bluey birthday party. From Bluey invitations and decorations to Bluey-themed games and food, we cover it all in our list of Bluey birthday party ideas that delight little party people.
6. Super Mario Party
With the wild success of The Super Mario Bros. Movie, it's no surprise that Super Mario has become a trending birthday party idea.
Character masks turn party guests into members of Mario, Luigi, and Princess Peach's crew, and these Mario party supplies round out a party.
7. Foam Party
Foam parties are the newest way to totally crush the birthday party game. Read our post to learn how to throw an epic foam party for kids.
8. Encanto Party
The birthday child and their guests can become part of the family Madrigal with an Encanto-themed birthday party. Entertainment is simple: Everyone can dress up and sing along to a screening of the movie.
Deck the halls with these Encanto party supplies, which include a cake topper, and you're set!
9. Stitch Party
Stitch has made a comeback of late, so it's no surprise that there are loads of Stitch-themed party supplies out there. Kids can play Pin the Nose on Stitch and Stitch Bean Bag Toss, listen to the Lilo and Stitch soundtrack, and get into character with cute felt face masks.
10. Blue Beetle Bash
With the new film Blue Beetle hitting theaters in 2023, we anticipate lots of kiddos asking for birthday parties themed after the DC Comics hero. Be one of the first to nab Blue Beetle party supplies!
11. Squishmallow Soiree
Nearly every kid loves Squishmallows, making it a crowd-pleasing birthday party theme. Decorate your house with Squishmallow decorations. Gift each guest a Squishmallow at the beginning of the party so they can play the afternoon away—Five Below sells them at an affordable price.
12. Teenage Mutant Ninja Turtles Party
Yet another TMNT movie hitting the screen means these beloved green guys are once again the center of many kids' birthday parties. Hand out masks so everyone can become their favorite ninja turtle, and serve the turtles' favorite food—pizza. These TMNT decorations round out the party.
RELATED: How To Make a Piñata at Home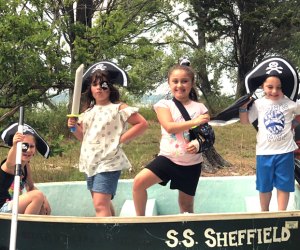 Foam swords, pirate hats, and any boat = Pirate Party in the backyard! Photo by Ally Noel for Mommy Poppins
Classic Kids' Birthday Party Themes
13. Pirate Party
Matching pirate hats, swords, and eye patches for your kiddo and their mateys are just a few of the props you can buy for an aarrgghh​-some pirate bash.
14. Lego Party
Sure, you can visit Legoland California, Legoland Florida, or Legoland New York for your child's birthday. But you can also throw your little Lego lover the ultimate Lego-themed birthday party at home. Keep guests entertained with our list of over 100 fun things to do with Lego bricks, and put out all the Legos you own! Done!
15. Mickey and Minnie Mouse Party
If seeing your child and their friends wearing Mickey and Minnie ears doesn't convince you to throw a Mouse-themed bash, these cute and delicious Mickey and Minnie cupcakes (with Oreo cookies as the ears) will.
16. American Girl Party
If you don't have an American Girl Cafe location near you, throw your little doll lover an amazing American Girl birthday party at home. Have all the guests bring their dolls (or borrow one of your child's) so the dolls can celebrate with their own birthday cake.
17. Superhero Party
At the start of the party, guests can decorate their own masks and capes to transform into superheroes and play some fun superhero games. Decorations can be themed to your child's favorite superhero(es), or you can go with a generic superhero theme.
18. Sports Party
Turn your child's favorite sport into a birthday party theme. Whether the party involves playing the sport or watching a game, make sure the snacks and favors match the theme. After all, what is a baseball party without hot dogs and Cracker Jack?
19. Circus Party
Got a fan of The Greatest Showman? Go all out with a circus-themed birthday party, complete with fun party decorations.
20. Magic Show
Wow young guests by hiring a live magician for your child's birthday party. Most children's magicians offer lots of interactivity in their shows, and some even teach the birthday child a trick or two. Or, we've got magic tricks for kids easy enough for you and your kids to learn and wow the party guests!
And, honestly—how cute are these top hats and magic wands for each child to take home?
21. Country Western Party
Gather little cowboys and cowgirls for a Wild West-themed bash, complete with cowboy hats, a cowboy beanbag toss game, and plenty of country tunes.
22. Unicorn Party
From fancy cake toppers to giant balloons to Pin the Horn on the Unicorn, the ever-popular unicorn theme has endless options for celebrating.
23. Outer Space Party
Rocket ships, planets, stars...the decorations for an outer space party are truly out of this world. For entertainment, try some of these awesome astronaut party games.
24. Personalized Party
Personalized parties will never go out of style. Plates, cups, decorations, cake or cupcakes, and favors with your child's name on them will make them feel truly special and loved.
25. Star Wars Party
From homemade light-saber battles to party decorations from a galaxy far, far away, young Jedis will love a Star Wars birthday party. Spaceships and Laserbeams has some great suggestions for Star Wars party ideas.
26. Hello Kitty Party
Hello Kitty birthday supplies and decorations go beyond typical paper goods and balloons. Guests can play Pin the Bow on Hello Kitty and Hello Kitty Beanbag Toss, eat Hello Kitty chocolates, drink from Hello Kitty reusable straws, and so much more.
RELATED: Best First Birthday Gifts: Toys and More for 1-Year-Olds

Safari-themed parties are all the rage with babies who love animals. Photo by Jack Bradley, for the Beardsley Zoo
Best First Birthday Party Themes
27. Safari Party
Lions and tigers and bears, oh my! Animals are always a popular first birthday party theme because, hello—they're adorable! Guests will roar over these cute safari-themed decorations.
28. Winnie the Pooh...
...and Tigger, too! This Pooh-themed tableware is perfect for a first birthday party, and a high chair banner is an adorable touch for getting great photos. And how about this 12-month photo banner to display how baby has grown each month?
29. Alice in One-derland Party
Guests won't want to be late for this very important Alice in Wonderland-themed first birthday party, complete with a darling high chair banner. And you just have to dress the birthday girl up in this adorable Alice tutu dress.
30. Sesame Street Party
If you can't swing a trip to Sesame Place Philadelphia or Sesame Place San Diego this year, host a Sesame Street-themed birthday party with all of your favorite furry monster friends.
31. Dinosaur Party
Raaaawwwwwrrrrrrr! If your 1-year-old loves dinosaurs, then this is the party for you. Check out these amazing dinosaur birthday party ideas, and encourage guests to dress up or wear their favorite dino shirt.
For an easy party, simply take out all baby's favorite toy dinos, put out some dino-themed party decorations, and start snapping cute pictures.
32. Classic Storybook Party
Whether you choose one beloved book or author (Dr. Seuss, The Very Hungry Caterpillar, etc.) or go for an overall classic storybook theme, this birthday party will please little bookworms. Encourage guests to dress up as their favorite storybook character, and gift Little Golden Books as party favors.
Use all the colors to decorate for a first birthday theme of rainbows. Cupcakes can have rainbow-colored icing, plates and cups can be different colors, and finger painting makes for a great craft.
34. Cow Party
Cows have been having their moo-ment (sorry, couldn't resist), so why not throw a cow-print birthday party? This cow-print first-birthday banner, cake topper, and birthday hat are udderly adorable.
35. Dog Party
Throw your little puppy a dog-themed birthday paw-ty with these cute paw-print first birthday cake and cupcake toppers.
RELATED: Tips for Planning Kids' Birthday Parties

Who doesn't love Peppa? Peppa Pig Party photo courtesy of the Amazon Unique Store
Best Little Kids' Birthday Party Themes for Little Kids
36. Peppa Pig Party
Another popular character who hasn't gone out of style is Peppa Pig. This Peppa party favor set will be a hit with guests—no British accent necessary. And this Peppa Pig party set is all the decor you need!
37. Fire Truck Party
Sound the alarm! Your future firefighter is having a fire truck-themed birthday party, and guests must put on their fire hats to prepare. Many local fire stations host birthday parties; ask if yours does.
38. Playground Party
Rent a picnic shelter, grab some picnic tables, or lay down some blankets under a tree for a birthday picnic. Kids can burn off the sugary cake and treats by running, climbing, and sliding on the playground
39. Disney Princess Party
For as long as there are little girls, princess parties will be popular. Have a bunch of princess costumes and accessories on hand and let guests play dress-up to their hearts' delight.
40. Under the Sea Party
If your child is into marine life, an ocean-themed birthday party will really float their boat. Host the party at a local aquarium, or turn your home into an underwater fiesta with cute sea-animal balloons and a water-themed photo backdrop. Have partygoers wear these to-die-for sea-creature headbands.
41. Tea Party
Have party guests don their finest (add some fancy accessories, dah-ling) and gather for a tea party in honor of the birthday child.
42. Fairy Party
Fairy wings and wands, twinkle lights, and a make-your-own fairy garden craft combine to create a magical fairy-themed birthday party.
43. Toy Story ​Party
Got a little Toy Story fan who's turning 2? Throw them a "Two Infinity and Beyond" second birthday party. Incorporate any Toy Story toys your child owns into the decor and activities. Include these paper goods, cups, and photo backdrop to build a party that would make Buzz Lightyear proud.
44. Construction Party
If your kiddo goes nuts when they see a dump truck or digger, this is the perfect birthday party theme for them. The decoration options are endless, the construction cake ideas are creative, and the entertainment is easy—throw some toy trucks in a sandbox and you're good to go!
45. Bounce House Bash
Hire a company to set up a bounce house in your yard, or buy your own for your kiddo to use all summer. (This is one of our tried-and-tested favorite bounce houses!) Some bounce houses even have water slides and mini pools! These adorable bounce house birthday invitations will have guests bouncing with anticipation.
RELATED: 100 Awesome Art Projects for Kids

Loads of art supplies make for a fun party for creative kids. Photo courtesy of the Amazon Nicpro Store
Top Big Kids' Birthday Party Themes
46. Paint Night or Afternoon
A birthday party at a painting studio is perfect for an artsy kid's birthday bash. You can also turn your home into an artists' studio by ordering a painting party supply kit and letting young guests get creative. Painting aprons make great favors that can be used during the party.
47. Pizza-Making Party
Gather the ingredients for a fun DIY pizza party, or book a local kitchen for tons of delicious fun. How about a pepperoni pizza pinata to cap things off?
48. Ice Cream Sundae Bar
If your kiddo screams for ice cream, make it the theme of the party with a delicious ice cream sundae bar. Set out various ice cream flavors, toppings, and these adorable bowls and let the fun commence! Or have kids make their own ice cream with our easy recipe.
49. Harry Potter Party
Represent all four houses at your child's Harry Potter birthday party. There are endless ideas for this theme, including setting up various stations—potions class, herbology class (planting mini succulents for guests to take home), a wand-making station, and more magical activities.
50. NERF Party
Set up an epic NERF battle in your backyard with obstacles; plenty of blasters, darts, and safety glasses; and NERF tableware for when the kids get hungry.
RELATED: How to Make a Free Photo Booth for a Kids' Party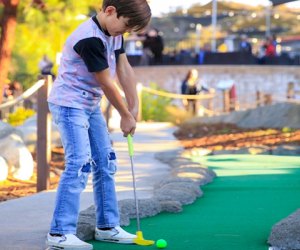 Take the kids for a round of mini golf. Order pizza at the end, and it's a party! Photo courtesy of MB 2
51. Mini Golf Par-tee
Whether it's outdoor mini golf or indoor glow golf, this fun, active birthday party theme is a hole-in-one. A giant golf party favor set makes putting together the goody bags a breeze.
52. Laser Tag Party
Book a few games at a local laser tag venue and let your teens and tweens battle it out. Get this laser tag-themed tableware for pizza and cake time.
53. Slime Party
Lots of big kids love to make slime, so throw a slime-making or Oobleck-making party. The kids will not only have messy fun, but they can also take home their slime creations as their party favor.
54. Cooking Class
Many cooking schools offer kids' birthday parties. If you don't have one near you, host a cooking party in your own home. Guests will look adorable in their colorful chef's hats and aprons while making one of our favorite easy recipes for kids.
55. Bowling Party
Throw a lucky strike with a birthday party at your local bowling alley, complete with bowling tableware and decorations, favor bags, and even bowling pin-shaped birthday candles.
56. Murder Mystery
Spy training, a laser maze, and top-secret goody bags are all part of our kid-friendly murder mystery party for future detectives.
RELATED: 25 Kids' Birthday Party Ideas for Small Groups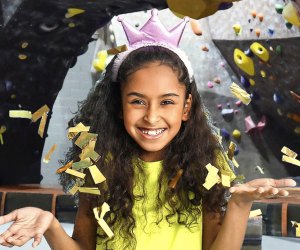 No clean up for you, when you take your birthday kiddo and friends rock climbing. Photo courtesy of Vertical Rock Climbing
57. Rock Climbing Party
Take the whole crew to an indoor rock climbing gym for an active teen birthday party. Believe it or not, there's a tableware kit to fit the theme!
58. Spa Day
Relaxing at a local spa can be a great pampering idea for teens and tweens. You can also turn your own home into a spa with these at-home spa party ideas and matching robes, headbands, and slippers for guests.
59. Roller Skating
Bask in the neon lights as you watch your child skate to the music 80s-style with their friends. You'd be surprised by the amount of roller skating-themed party supplies out there, like cool tableware and funky balloons.
60. Movie Night
Many movie theaters allow you to reserve an entire theater for a birthday party. Or, host an epic movie night at home complete with popcorn buckets and loads of movie-theater candy.
61. Pajama Party
Get cozy and have a sleepover or sleep-under (when everyone gets picked up really late rather than spending the night) where all the guests wear their favorite jammies. There are many companies that set up adorable tent parties in just about any theme, so search for one near you.
This is a great birthday party idea because the activity becomes the party favor. Everyone gets to tie-dye their own unique t-shirt to take home and wear as a memory of your kid's birthday. We even have a suggestion for the least messy tie-dye craft ever.
RELATED: Top Amusement Parks in the US for a Family Vacation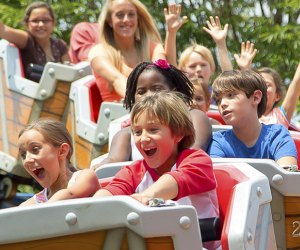 Let the park provide the thrills for a birthday crew. Photo courtesy of Six Flags
62. Amusement Park Party
If you live near a theme park like Six Flags, your teen's party can be a thrill with a day out at the park—no decorations needed!
64. Karaoke Party
If your family attended or hosted a virtual karaoke party during the pandemic, it's time to book an in-person karaoke concert for your tween or teen. All you need is a karaoke machine and the fun can begin!
65. Mall Madness
Gather the invitees at your local mall for some shopping fun, then lunch at the food court. If you'd like to do a mall scavenger hunt, make sure to ask the management team if they allow groups and parties.
66. Escape Room
With a little problem-solving, some teamwork, and tons of fun, a birthday-party group can escape a themed room to celebrate your child's big day. Fill these awesome favor bags with goodies for each guest.
67. Go-Kart Races
If your teen or tween feels the need for speed, have their birthday party at an indoor or outdoor go-kart track. When it's time for pizza and cake, pull out these race car birthday party supplies. Fill some race car candy bags with treats for the guests to take home.
68. Stranger Things Party
Teens love Stranger Things, so a birthday party based on the hit TV show is a no-brainer. Get some Stranger Things decorations, serve up some Eggo waffles and Snack Pack pudding, and watch a few episodes of the show.
RELATED: Outdoor Birthday Party Ideas for Kids' Birthday Parties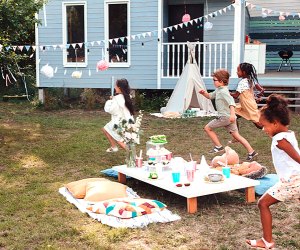 Set up tents and treats outdoors for parties when the weather is nice. Photo by Ron Lach courtesy of Pexels
Fun Summer and Outdoor Kids' Birthday Party Themes
69. Scavenger Hunt
We've got plans to help you create the perfect outdoor scavenger hunt for your child's party. Indoor scavenger hunt ideas are included, too, in case of rain.
70. Backyard Campout
Pitch some tents in your yard and let the kids camp out all night. Light up the fire pit and sing campfire songs, play fun camping games, and tell spooky stories while enjoying birthday s'mores and other treats.
71. Obstacle Course
Set up a backyard obstacle course for kids to conquer. You can use a lot of our indoor obstacle course ideas and incorporate some outdoor games. Easily adjust the difficulty level based on the kids' ages.
72. Beach Bash
Whether you live near a beach or create one in your backyard with a sandbox, beach balls, and an octopus sprinkler, kids will love cooling off at a beach-themed birthday bash. Sand pails can serve as colorful favor buckets.
73. Pool Party
If you've got a backyard pool or belong to a community pool, it's a no-brainer for a summer birthday party. Get some fun pool floats and toys, serve homemade popsicles, and you're all set.
74. Hawaiian Luau
Turn your backyard into a luau with tropical party decorations, grass skirts and leis for the kids, and Hawaiian music to set the mood. Hire a local hula dancer to teach guests the traditional dance.
RELATED: Our Picks for the Best Water Guns


Have a water battle with water guns and sprayers. Photo by Kylie Williams for Mommy Poppins
75. Water Gun Fun
Keep it simple with a friendly backyard water gun battle for your child's birthday. These water gun-themed decorations are sure to be a blast, and you can send kids home with their very own water soaker.
76. Water Park Party
If you prefer to keep your backyard dry, invite everyone to a local water park to celebrate your child's birthday. Give each kiddo a pair of swim goggles as their party favor.
77. Bubble Bonanza
Little kids love bubbles, so you can't go wrong with an outdoor bubble bonanza. Get a bubble machine gun and let the kids go to town trying to pop all the bubbles. Send each guest home with a bubble wand as their party favor.

Meet and greets with farm animals is always fun. Photo courtesy of Green Meadow Petting Farm
Fall Kids' Birthday Party Themes
78. Fun on the Farm
Many local farms host birthday parties where kids can pet and feed animals, go on hayrides, and have more farm fun. These farm-themed party supplies are perfect for the party area, and barnyard animal ear headbands will look adorable on little ones' heads.
79. Halloween Costume Party
Why not have a birthday and Halloween party all in one? Have each guest come in costume, and try out some of these 75 spooky and fun activities, crafts, and recipes.
80. Apple-Picking Adventure
Take the birthday child and their guests apple picking! Each kid gets a bag or basket to fill with delicious apples to take home. If the party transitions to your house, use some of the freshly picked fruit to make one of these delicious apple treats.
81. Pumpkin Carving or PaintingParty
Create your very own backyard "pumpkin patch" from which each guest can choose a pumpkin or two. Then let the kids carve or paint the pumpkins to their hearts' delight. Check out our list of pumpkin carving ideas if they need inspiration.
82. Monster Mash
Throw your little monster a not-so-spooky monster-themed bash with adorable monster plates and napkins, decorations, honeycomb centerpieces, and so much more. Guests can wear monster felt masks while they work on some fun monster crafts.
83. Ghost Boo-day Bash
If your child ain't afraid of no ghosts, throw them a ghost-themed boo-day bash complete with boo-tiful cupcake toppers. Guests can go ghost-busting with this ghost pinata.
RELATED: Best Kids' Halloween Movies with Not-so-Scary Thrills and Chills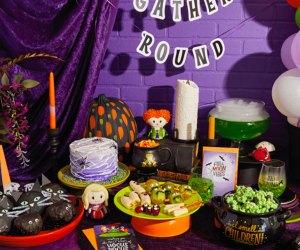 Throw a themed party for your little Hocus Pocus fan. Photo of Hocus Pocus decorations courtesy of Hallmark
84. Hocus Pocus Party
The Sanderson Sisters will be the guests of honor at this witchy birthday party complete with Hocus Pocus paper goods and decorations.
85. Scarecrow Soiree
Scarecrows can make a fun theme for a fall birthday. Kids can build a silly scarecrow, eat scarecrow snacks, pose for photos as a scarecrow, and more.

Nutcracker banner courtesy of the Pop Parties Amazon store
Winter Kids' Birthday Party Themes
86. The Nutcracker Party
Whether you bring the party to the theater or watch a performance at home, The Nutcracker theme is sure to delight all ages. Hang a Nutcracker birthday banner and decorations, set up a candy table, and let guests fill up Nutcracker candy boxes to take home.
87. Holiday Cookie Baking Party
Gather in the kitchen, crank up the Christmas tunes, and bake a few of our favorite holiday cookie recipes. Guests can take some home in these festive cookie boxes.
88. Valentine's Day Party
Spread the love by hosting a birthday party that includes hearts, chocolate, and love-themed decorations to bring this February holiday into the birthday scene. We've got loads of Valentine ideas here.
89. Gingerbread House Decorating
Buy a gingerbread house kit for each party guest (pre-assembled ones are easiest). Set out bowls of all sorts of candy, pretzels, frosting, and anything else you can think of. Crank up the holiday tunes and let the kids go to town decorating their houses, which they can then bring home as their party favor.


A wintery skating party is perfect for chilly birthdays. Cake topper photo courtesy of the SugarGera Amazon store
90. Ice Skating Party
Host the party at a local ice skating rink, then enjoy pizza, dessert, and drinks on this cool ice skate tableware. This sparkly ice skate cake topper is a fun addition, or opt for cupcakes with fun ice skate toppers.
91. Hot Cocoa Bar
This is the winter counterpart to the ice cream sundae bar. Set out toppings such as marshmallows, candy canes, and whipped cream. Give each guest a mug of hot chocolate to fill with their favorite toppings. Then cozy up in front of the fireplace and watch a holiday movie. These are the very best hot chocolate recipes out there, as a basis for the party.
92. Winter Wonderland
You don't need real snow—or even a snow machine—to turn your child's birthday party into a winter wonderland. Just stock up on snowflake-themed paper goods, hanging snowflake decorations, and snowflake cupcake toppers, and set out some fun snowflake activities and crafts for the kids.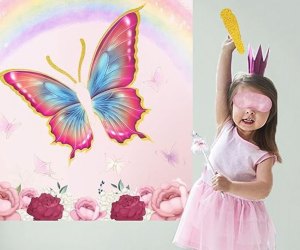 Pin the Tail on the Butterfly is a fun game for a winged celebration. Photo courtesy of the Maflin Store on Amazon
Spring Kids' Birthday Party Themes
93. Beautiful Butterfly Party
Butterflies make a pretty springtime birthday party theme, and there are loads of great butterfly decorations out there. We love these butterfly straws and this Pin the Tail on the Butterfly game. And of course, all the little party guests need butterfly wings.
94. Flower Power
Bring the birthday child and their friends to a local farm to pick wildflowers to take home, or have the party at a local flower shop where each guest can make their own bouquet. Many botanical gardens host birthday parties, too. These daisy-themed paper goods and straws are darling additions to this theme.
95. Field Day
Set up a Field Day in your backyard in honor of the birthday child with our list of 40 classic outdoor games such as cornhole, Capture the Flag, hot potato, and jump rope games. Have plenty of water and Gatorade on hand!
96. Bumblebee Bash
The bees come buzzing in spring, which makes it the perfect time to throw a bee-themed birthday bash. Happy Bee Day balloons, bumblebee cupcake toppers, and bee lights can really make this party stand out. Serve honey-themed treats, and give every child a bumblebee headband.
93. For the Birds
Painting birdhouses is a fun springtime birthday party activity that guests can then take home. Bird-themed tableware, paper cutouts, and cupcake toppers add to the vibe. You can even create a bird-themed playlist with songs like Rockin' Robin, Three Little Birds, and Blackbird.
98. Gnome Place Like Home
Gnomes have surged in popularity, so why not throw your spring birthday child a gnome-themed garden party complete with hanging gnome decorations and gnome cupcake toppers? These mushroom paper lanterns are perfect additions.
99. Easter Celebration
Have a backyard Easter egg hunt, make fun Easter crafts, and serve some yummy Easter desserts at a springtime Easter-themed birthday party.
100. Nature Center Party
Spring is a great time to host a birthday party at a local nature center, where workers might take the kids on a nature walk, let them get hands-on with animals, and guide them through nature-themed crafts. Woodland creatures tableware and party favors go perfectly with this theme.
Disclosure: We may earn a small commission if you click through our link and make a purchase. This revenue helps us maintain this site, so thank you for supporting us.
Click Here to Sign Up!