How to Make Oobleck: A Less Messy, More Gooey Slime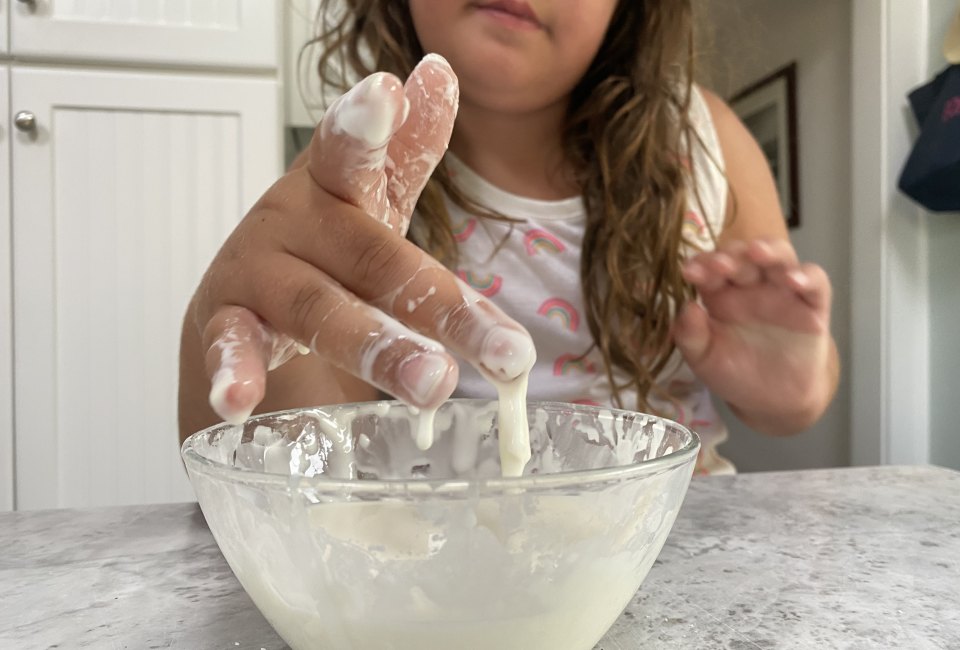 8/25/20
- By
Ally Noel
Oobleck is ooey, gooey, science fun. Even the youngest scientists can get hands-on STEM experience with this non-Newtonian substance.
It's a bit similar to slime, but Dr. Seuss fans will know that Oobleck gets its name from the book, Bartholomew and the Oobleck, which dates prior to the slime craze. It only takes two ingredients to make Oobleck, so roll up your sleeves and let's get started on creating this state-changing substance.
Need more at-home science experiments and activities? Check out Mommy Poppins Guide to STEM Activities, from solar ovens to DIY rock candy to preschooler-friendly science.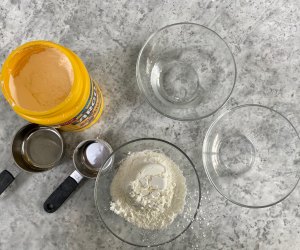 Cornstarch and water are the only ingredients necessary.
Oobleck Ingredients List
1-2 cups of cornstarch
2 small mixing bowls
Food coloring (optional but we do suggest green!)
RELATED: Turn Milk into Plastic with this Science Experiment

Measure out 1 to 2 cups of cornstarch.
Step 1: Measure the Ingredients
Measure out 1 cup of water into one small bowl and 1-2 cups of cornstarch in another bowl. You can add a few drops of food coloring if you'd prefer a colorful Oobleck. Maybe Seussian green?

Slowly mix the cornstarch into the water, working to get the right consistency.
Step 2: Combine Ingredients
With a spoon, slowly mix the cornstarch into the bowl of water. Add a little bit at a time until you have the right consistency. Adding more cornstarch will make the Oobleck thicker while adding more water will make it runny.

Kids love to play with their homemade creation.
Step 3: Experiment with the Oobleck
Run your fingers through the Oobleck and observe what happens. What happens if you try to grab a handful? Try squeezing it in your fist. What makes the Oobleck change? (Answer: Applying pressure will make it thicker.)
Even if Oobleck is a bit less messy than slime, you'll want to do this science experiment outside, on a craft table, or an area layered with newspaper or a cheap tablecloth....because, kids, right?

Sign up for our free
newsletters.
Mommy Poppins is a family activity website that helps people find things to do with kids.
©
2023
MommyPoppins. All Rights Reserved.
mp-prod4-v4.32.99
We use cookies and other data collection technologies to provide the best experience for our customers.
Learn More