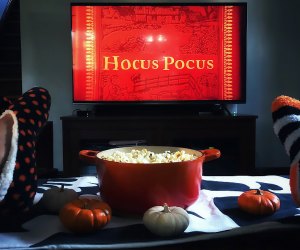 21 Halloween Movies with Kid-Friendly Thrills and Chills
Are the kids excited for Halloween? Build on their anticipation with a family Halloween movie night that brings all those witches, ghosts, and goblins to life!
Pop some popcorn or whip up an on-season batch of scarecrow snack mix and candy corn punch while you settle in for a cozy night on the couch with one of these top Halloween movies. It's the perfect family-friendly nightcap to fall days spent apple and pumpkin picking or puzzling your way out of a corn maze.
With so many spooky films available to rent or stream, it can be hard to choose the right one for your family. From preschool to preteen, our list of the best Halloween movies for kids has something to put everyone in the Halloween spirit.
Best Halloween Movies for Kids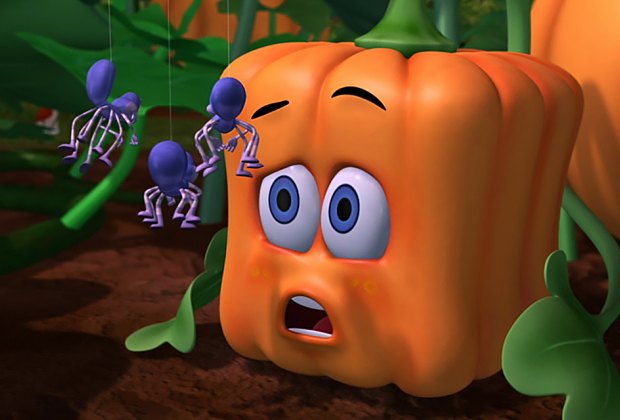 Spookley the Square Pumpkin is a square pumpkin who lives in a round pumpkin world and sees the best in everyone. Photo courtesy of Holiday Hill Enterprises
1. Spookley Square Pumpkin 

Spookley is the PERFECT Halloween movie for your preschooler. This short animated film is full of positive messages about fitting in—even if you are the only square pumpkin in the patch.
2. It's the Great Pumpkin, Charlie Brown 

What can I say about the ultimate Halloween classic? Continue this tradition with your family as you watch the Peanuts gang celebrate Halloween in their own awkward way when it airs on ABC in 2018. Watch as Charlie Brown is invited to his first-ever Halloween Party and Linus patiently waits for the Great Pumpkin to visit.
3. A Very Brave Witch and More Great Halloween Stories for Kids

This animated collection of eight Halloween stories from Scholastic brings tales of witches, ghosts, and other spooky stuff alive for your children to enjoy. A Very Brave Witch is based on a book by Alison McGhee and tells the tale of a little witch who is surprised to find out how humans really celebrate Halloween. It's all done in a very mild way, making it a good choice for little ones.

A gentle witch offers rides to a variety of animals on her increasingly crowded broom in Room on the Broom. Photo courtesy of Magic Light Pictures
4. Room on the Broom 

When even the smallest trick-or-treaters need a movie to snuggle up with on a dark, stormy night, Room on the Broom is for you! Fly along with the witch and her cat on their Halloween flight as they pick up passengers along the way. Although most of the film is in good flightless-fun, there is one scene with a scary dragon.
5. The Adventures of Ichabod and Mr. Toad

Based on Washington Irving's The Legend of Sleepy Hollow, this animated short film is an often-overlooked Disney classic. Watch Brom Bones, disguised as the Headless Horseman, chase poor Ichabod Crane all around Sleepy Hollow.

Welcome to Hotel Transylvania, where monsters and their families can live it up. No humans are allowed. Photo courtesy of Sony Pictures
6. Hotel Transylvania 1, 2, and 3 

Vampires, mummies, and werewolves! The gang is all here in these animated comedies that feature Dracula and his monster friends. Expect plenty of laughs, rather than frights.
7. Goosebumps 

What if you accidentally released real monsters into the world while trying to help out a neighbor? Based on the popular young adult horror novels by R.L. Stine, Goosebumps is a fast-paced supernatural adventure. You can even catch Goosebumps 2: Haunted Halloween in theaters this October.
8. The Witches

Some kids might find this movie disturbing, but others will love the bizarre tale of a boy named Luke who happens upon a convention of witches. Poor Luke must thwart the witches' evil plot even as he's turned into a mouse!
9. Harry Potter movie series 

Add some wizard and witches and a terrifying dose of 'He Who Shall Not Be Named' and you have a perfect recipe for crowd-pleasing, all-ages Halloween movie. Whether your kids have read the Harry Potter books or not, they'll likely love seeing other kids act out their greatest fears and wishes as Harry and friends battle good and bad magic.

In The Nightmare Before Christmas Jack Skellington, the king of Halloween Town, discovers Christmas Town. Photo courtesy of Walt Disney Pictures
10. Nightmare Before Christmas 

Poor Jack Skellington, the Pumpkin King of Halloween Town, is tired of the same ol'day in and day out. He decides to switch things up and try Christmas on for size. Predictably, it doesn't quite work out in his favor, but this Tim Burton film is so visually appealing that we could watch him try all day.
11. The Goonies 

This may not be the most obvious Halloween movie, but this treasure-hunt, pirate-mystery, and coming-of-age adventure has been thrilling kids since the '80s.
12. Ghostbusters

For a certain generation, "Ghostbusters" was pretty much the hilarious answer whenever anyone asked: "Who you gonna call?" To another generation, it's a fantastic example of female empowerment. But, no matter how old you are, this movie is filled with tons of thrills, ghosts—and a lot of slime.
13. Coraline

Despite its dazzling stop-motion animation and bright colors, this movie definitely layers on the "creepy" (and that may be an understatement). Coraline is a dark tale that recounts the pitfalls in wishing the grass was always greener. 


14. Beetlejuice 

Nothing seems to go right for the Maitlands. Not only did they die swerving to miss a dog on the road, but they also seem to be trapped haunting their own house and its new inhabitants. Naturally, they call Beetlejuice to help them get their home back. This 1988 film may be scarier than you remember, but Beetlejuice's charm is undeniable.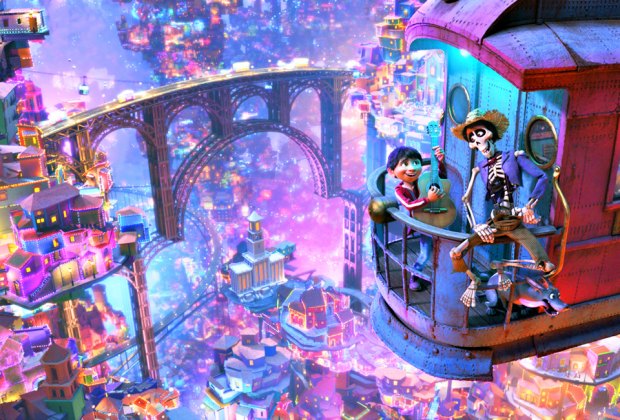 Watch Miguel travel to the magical land of his ancestors in Coco. Photo courtesy of Disney Pixar
15. Coco

On the Day of the Dead, a young boy, Miguel, gets transported into the Land of the Dead and meets up with his deceased relatives while learning a bit more about himself and some tightly-held family secrets. This beautifully animated movie is a wonderful (and sometimes tear-jerking) tribute to teamwork and the powerful strength of family.
16. Hocus Pocus 

This Halloween movie set in Salem, Massachusetts, has all the elements of a modern classic: witches, magic, and a little mystery. Add in a really catchy musical number performed by Bette Midler, and it's no wonder that Hocus Pocus has been bewitching audiences since 1993. 

17. A Series of Unfortunate Events

Although not a movie, the tale of the Baudelaire orphans deserves a place on any Halloween movie list. A twisty story of family secrets and, yes, "unfortunate events," it's best viewed by tweens and up.
18. The Watcher in the Woods 

Whether you queue up the 1980s version or the 2017 remake, Watcher in the Woods is pretty tame as far as horror movies go, but it's still packed with paranormal experiences and some spine-tingling thrills perfect for Halloween.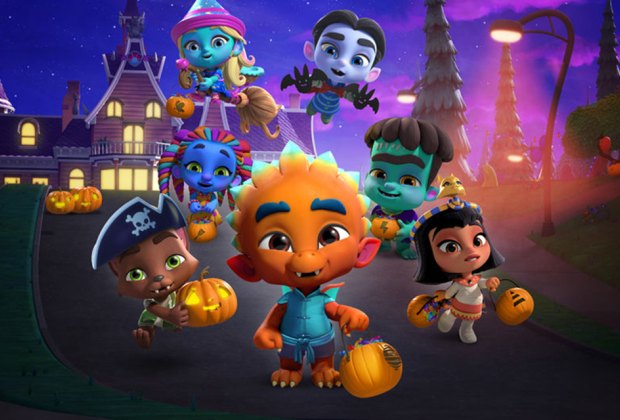 Can the Super Monsters save their favorite holiday? Watch Super Monsters Save Halloween to find out! Photo courtesy of Netflix
19. Super Monsters Save Halloween
For the preschooler afraid of his own shadow, try the Netflix original series Super Monsters year-round. It follows preschool-age monsters as they attend school to learn all about the best ways to be monsters but in the least scary way possible. This year's Halloween special follows the mini monsters as they prepare for their favorite holiday and "best night of the year," including supporting a nervous buddy.
20. Arachnophobia 

A deadly spider makes its way from the jungles of South America to a sleepy California town in this not-for-the-squeamish movie! There is a healthy mix of humor in this thrilling flick, but don't be fooled, you'll also enjoy a few "hide under the blankets" moments.
21. The Addams Family 

They may be creepy, kooky, mysterious, and spooky, but the Addams Family provides a touch of dark comedy that will appeal to the teens in your house.