101 Kids' Halloween Costume Ideas: Easy Halloween Costumes, Funny Costumes, & More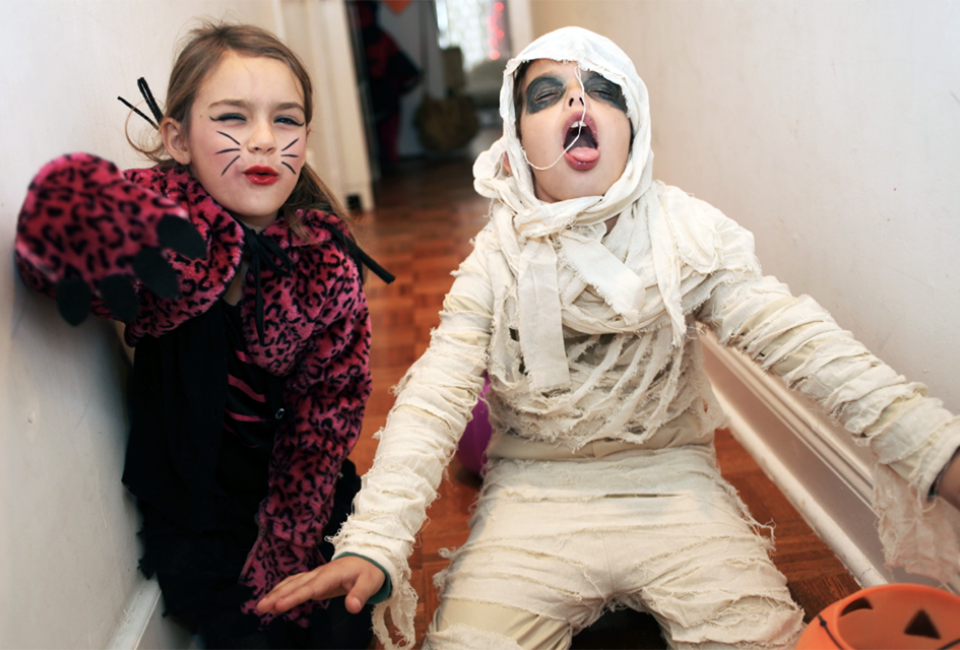 9/28/21
- By
Ally Noel
Halloween is just around the corner which means it's just about costume o'clock! For many kids, the hardest part is choosing the perfect Halloween costume. For many parents, the hardest part is MacGyver-ing together kids' Halloween costumes at the last minute. If you are the DIY type, check out these Easy DIY Halloween Costumes. For the rest of us, this list of over 100 ideas will get your whole family excited to pick out, purchase, or put together the perfect Halloween costume. We've covered all your bases from family Halloween costumes to adorable baby Halloween costumes, too!
For more Halloween fun—from Halloween movies to easy pumpkin carving ideas and more—check out our Halloween Activities Guide for Families.
And for Halloween activities near you, check out our Local Halloween Fun & Activities Guide!

Who doesn't want to dress as the fabulous fashionista that everyone loves to hate?
Pop Culture Kids' Halloween Costume Ideas
Cruella is a new favorite with a modern take on her classic black and white look.
It was pretty hard not to fall in love with Luca this summer, now you can fall in love with him all over again this fall.
While this costume is battle-ready, if you have a baby in the family, they can dress up as The Child.
Become one of the most talented spies in the whole world with this costume.
This costume will definitely earn a gold medal—or at least some gold foil-wrapped candy!
Brood X may have emerged over the summer, but nothing is as creepy as a whole crew dressing up as them for Halloween.
Did you see those SpaceX Uniforms?
Who knew an 80-year-old doctor would become a classic costume!
Raya is definitely the newest popular princess.
Pick a decade, any decade! Wanda has seen them all.
Camilla Cabello's more modern Cinderella is an update on the Disney classic. And Mom or Dad can dress up as Billy Porter's Fab G.

Don't mess with this pint-sized Wonder Woman.
Wonder Woman, but make it "gold."
This uniform—I mean costume—will make you an official member of the Tune Squad.
Let your imagination soar as you take on the role of this second grade scientist.

The classic costumes are classics for a very adorable reason. Photo by Charles Parker
Classic Kids' Halloween Costumes
15. Witch
Double, double toil and trouble. This one is easy! Just dress in black and accessorize with a pointy hat and broom.
16. Vampire
Anyone can be a vampire with the right set of fangs and a touch of facepaint.
17. Frankenstein
"It's Alive!" Transform yourself into the monster of all monsters with this make-up kit.
18. Bat
Add a pair of wings to any black outfit and you've got yourself a bat costume. These are great to order and keep in the closet for any last-minute costume needs.
19. Mummy
Dress in white, and wrap yourself in torn pieces of white fabric. Add some white face paint to complete the costume.
20. Spider
Be sure not to get wrapped up in this spider costume's web.
21. Skeleton
A classic for a reason: all you need is this skeleton costume for a bone-chilling night.
22. Scarecrow
A pair of overalls and a flannel make the perfect base for this costume. Tuck some hay into your sleeves and pants for a complete look.
23. Cat
Dress all in black, draw on some whiskers, and purchase a set of ears and a tail to complete this easy DIY Halloween costume.
24. Mouse
Dress in all gray, grab one of these mouse accessories kits, and watch everyone scream with delight when they see you on Halloween night.
25. Zombie
Torn-up clothes are the outfit of choice for most zombies. Complete your look with the right face paint.
26. Clown
There are so many different kinds of clowns! Grab some clown paint and let your imagination go wild.
27. Cheerleader
Go team! Grab a pair of pom-poms and cheer for team Halloween!
28. Bunny
Hop into this costume with a pair of ears and a cotton tail.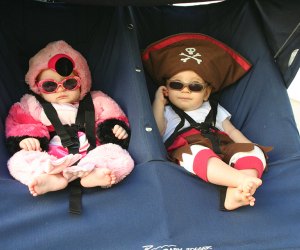 You're never too young to be a pirate. Or a flamingo, for that matter. Photo by Meghan Rose
29. Pirate
Being a pirate is about 90% attitude and 10% hat and eye patch.
30. Doctor
Wear a white coat and grab a clipboard and you are good to go with this easy costume.
31. Cowboy
Mosey on up with this cowboy accessory kit, which just needs a pair of jeans and plain t-shirt or checkered shirt to complete the look.
32. Ghost
You could go classic with a white sheet or bring your ghost to the next level with this cozy onesie.
33. Alien
Dress in all green and add antenna and sunglasses for this classic Halloween look.

Dressing as a firefighter, or any first responder, is cooler than ever this year. Photo by Sara Marentette
35. Firefighter
There is no emergency on Halloween that this firefighter can't handle.
36. Princess
It's all about the tiara! Today's princess can wear any fancy outfit they desire along with these princess accessories.
37. Prince
How adorable will your little one be in this charming costume?
38. Unicorn
Stay warm and toasty on Halloween night in this unicorn onesie. As a bonus, you can pop them right into bed after trick-or-treating!
39. Fairy
Wings and a tutu can make any kid into a fairy for the evening.
40. Dinosaur
Roar! There's an awfully cute dinosaur in the house!
41. Pumpkin
With this costume, your little pumpkin will be the sweetest in the whole patch.
42. Werewolf
Watch out for that full moon on Halloween with this werewolf costume.
43. Superhero
You know what they say, the cape makes the superhero. Design your own superhero costume with one of these capes.
44. Angel
45. Dragon
Flames are not included in this dragon costume.
46. Robot
Sure, you could DIY a costume out of a few cardboard boxes, but this store-bought one is just as fun, and so much less work.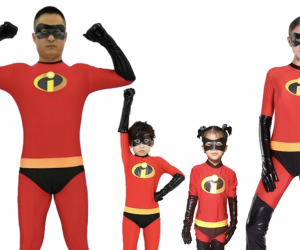 The Incredibles makes for an incredible family costume. Photo by Mommy Poppins
Family Halloween Costume Ideas
Be as creepy, cooky, and ooky as you want to be as the Addams Family.
A whole family of superheroes is surely incredible.
49. Toy Story
Will you be a Woodie, Jessie, or Forky?
50. Beauty and the Beast
The hardest choice may be who gets to be the Beast and who gets to be Gaston.
51. Power Rangers
Pink, Black, Green, Yellow, Blue, and Gold—your family will certainly be a colorful bunch as the Power Rangers.
52. The Cat in the Hat
Dress up as classic characters from The Cat in the Hat.
53. Ghostbusters
Who you gonna call? A whole family of Ghostbusters!
54. Mommy Shark, Daddy Shark
The song may be a little annoying, but these DIY costumes sure are cute!

Hawkeye is a favorite for kids who love bows and arrows. It's not a favorite of Jareth the Goblin King.
55. Avengers
There are definitely enough Avengers to go around, no matter how big your family is.
Grab your vacuums (or brooms)—tonight we ride!
Ladies and gentlemen, this is the moment we've been waiting for.
These delectable costumes will definitely not melt in your mouth.
For a simple yellow circle, emojis can say so much!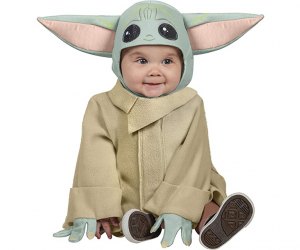 Call him Baby Yoda, The Child, or Grogu—it's just pretty darn cute. Photo courtesy of Mommy Poppins
Cute Toddler & Baby Halloween Costumes
I mean, does it get cuter than an actual baby dressed up like Baby Yoda?
Your little one will make one cute chick.
Wrap your baby up like a little burrito.
You will definitely want to eat up this adorable avocado.
This bumblebee costume is sweeter than honey.
Life comes full circle when your baby dresses up like an old lady.
We love how this one uses a wagon to wheel your little mouse around the neighborhood.
This costume is so cute, it hurts!
The most friendly of all bugs is the perfect costume for the pint-sized set.
I'll take mine with extra foam.
Your little lamb will be the talk of the flock.
Even the littlest of lions will have everyone roaring.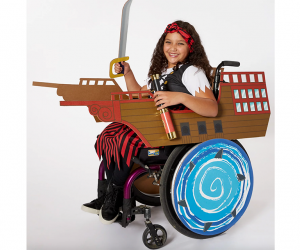 We're loving these costumes for everyone like this adaptive Pirate Ship costume. Photo courtesy of Party City
Great Adaptive Halloween Costumes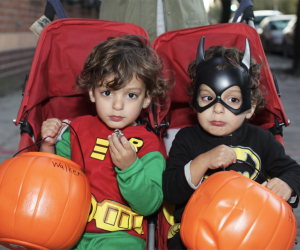 The dynamic duo hits the candy trail. Photo by Sara Marentette
Popular Character Kids' Halloween Costumes
It's alright to be rotten to the core when you are infamous royalty.
Be a wizard or a muggle—all you need is the right tie.
There are so many characters in this Lewis Carol classic, how will you choose which one to be?
Grab those ruby slippers and head for the Yellow Brick Road. Don't forget Toto—or maybe a costume for your own Toto.
Whether you are the classic Frozen Elsa or the more modern Frozen 2, these sisters will always melt our hearts.
The only real question here is: classic trilogy? Prequel? Sequel trilogy? Kids have a whole galaxy of characters to choose from.
Annie is everyone's favorite red-headed orphan.
84. Batman
The Dark Knight is always a classic Halloween costume.
This crime-fighting trio makes a great group costume as well.
86. Super Man
By now, we all know it's not a bird or a plane—dress up for one night as the Man of Steel.
Sweep the clouds away dressed up as a resident of Sesame Street.
Luigi and Mario are sure to make any gamer's Halloween dreams come true.
89. Lego
There's a whole world of Lego characters out there to pick from.
This no-sew costume comes together with fabric tape and hot glue, which is my kind of sewing.
With this costume, you will certainly not get lost in the crowd.
92. The Nightmare Before Christmas
Jack Skellington is the Pumpkin King who rules over a whole collection of creepy Halloween characters.
93. Madeline
The classic children's picture book namesake is filled with enough spunk and character to delight children on Halloween. Don't forget the hat!
This no-sew costume turns a white dress into Rosie Revere.
95. Black Panther
Wakanda forever.

Trick-or-treat! Photo by Ally Noel
Easy Halloween Costumes You Can DIY
If it rains on Halloween night, you will be the driest jellyfish in town.
Add some glow sticks to a black outfit and you can create a stick figure costume.
Purple balloons come together to form a bunch of grapes.
Black leggings and a t-shirt are the base of this no-sew skeleton costume.
In about 15 minutes, you can be out the door as a fabulous gumball machine.
A solid red t-shirt and baseball cap can be DIYed into a strawberry costume.
This article contains some affiliate links, which means we might earn a small commission if you make a purchase. There is no extra cost to the reader. We only recommend products and services that we have personally used or have thoroughly researched.
t Click Here to Sign Up!