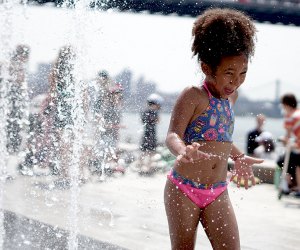 The 25 Best Spraygrounds and Sprinklers For NYC Kids
When we were growing up, New York City playgrounds had sprinklers. Now parks and playgrounds across the five boroughs have transformed into spraygrounds—entire playgrounds dedicated to water play with fountains, geysers, rivers, pumps, and beautiful spraying statues. Kids just love them, and parents prefer these newfangled spraygrounds because they're pretty and cool and a great way to beat the heat if you're not headed to one of the city's top beaches.
Sprinkler season in NYC parks usually kicks into gear when temperatures hit 80 degrees, and there are hundreds of spraygrounds and splash pads in NYC parks. Though we've highlighted some favorites by borough—in Brooklyn, Queens, and the Bronx—the ones on this list are even cooler (literally and figuratively). Read on for 25 of the best water spraygrounds across the five boroughs.
Sign up for our FREE newsletters to get posts like this delivered to your inbox.
Editor's note: While we are trying to promote safer activities that occur outdoors or with social distancing guidelines in place, please keep your family and others safe by always wearing a mask and maintaining an appropriate distance. Photos in this post were taken before the pandemic.
Best Spraygrounds in Manhattan
Enter at 110th Street between Lenox and Fifth Avenues
The Central Park Conservancy completely renovated this playground in 2013, transforming it into one of the best play destinations in the entire 843-acre green space. One of its most impressive attractions is its water feature. Geysers shoot up into the air, sometimes as high as 12 feet. Although kids activate the water with the touch of a button, you're never sure how high or in what pattern it will gush out, so it keeps everyone guessing ... and giggling.
23rd Street at 11th Avenue
Chelsea Waterside Play Area has been a mainstay on our list of the city's best playgrounds for years, and thanks to its $3.4 million overhaul in 2018, the aging play area received a whole new look. A 22-foot, rainbow-hued pipefish winds through the multi-level playground, bringing joy to kids of all ages. Parents appreciate the fact the sea creature keeps the dueling water areas separated. One for big kids, while a mild toddler-sized section with gentle springs entertains little ones.
RELATED: Central Park's Top Playgrounds Ranked for NYC Kids and Visitors

Ancient Playground's water feature flows from every angle, creating plenty of cooling mist. Photo by Jody Mercier
Enter at 85th Street and Fifth Avenue
Situated next door to the Metropolitan Museum of Art, this adventure-style playground is an excellent destination for kids of all ages. The play structure includes pyramids, catwalks, tunnels, slides, and water running along the bridges. Kids can splash through or stand under a mini-waterfall in an area with water jets. Younger kids will be fascinated by the water squirting from nozzles set into the walls.
2021 update: A construction project is planned to begin in East River Park this summer and may affect the sprinklers.
Delancey Street and the FDR Drive
We stumbled upon these spray showers near the Williamsburg Bridge one summer while biking along the East River and were instantly taken with them. The park has slate pavers, and tall grass waves in the breeze, giving it a pretty, natural atmosphere. The bronze harbor seals are cute and fun to climb on. As for the water, it shoots up randomly from different geysers. It's like a giant Whac-A-Mole game as kids run from spot to spot, trying to guess where the water will emerge next. To get to the spot, head to the end of Delancey Street and cross the FDR Drive, then head south. It's also easily accessible via the bike path.
RELATED: See Riverside Park South's Recently Renovated Transformation

The great climbing structure, sprinkler, and gorgeous setting in Central Park make Heckscher Playground's splash pad a destination for a day out. Photo by the author
Central Park South and Seventh Avenue
The biggest playground in Central Park offers two ways to get wet. The first is on the giant climbing structures, which connect via small pathways with water flowing through them. The second is at the awesome sprinkler section, where water rains down from tall tubes and shoots up from jets in the ground. Little kids get a separate, gentle water play area adjacent to the awesome sandbox.
Fort Washington Park at 165th Street
This playground gets bonus points for its steps-from-the-Hudson location in Fort Washington Park. In addition to sprinklers, slippery rocks to climb, and tiny streams in which to splash, there's plenty of shade. You can always catch a cool breeze from the river, making it a perfect destination on a hot summer day. If not for the noise from the commuter trains or the Henry Hudson Parkway above, you'd forget you're in the middle of the city.
RELATED: Pier 26 Opens in Hudson River Park Bringing an Educational Green Space to Tribeca

Parents and kids cool off at Hudson River Park's Pier 25 splash area. Photo by Jody Mercier
Hudson River at North Moore Street
Near the southern end of Hudson River Park, you'll find this fabulous playground. The water features range from passive, gentle sprinklers just right for little ones to tipping buckets that douse anyone who dares walk under their splash zone. Plus, there's a pair of water cannons that shoot sky-high...or right at your unsuspecting sibling, depending on how you aim them. When kids tire of getting wet, there's a seasonal mini golf course on the pier that costs just $5 for children and $10 for adults.
Burling Slip South, John and Front Streets
This innovative play spot, which was designed by architect David Rockwell, opened to great fanfare in summer 2010. While it doesn't have a sprinkler, it does have a fantastic water play area with pools and fountains, surrounded by wooden steps on which parents can lounge. Kids manipulate the water with piping and other tools while getting drenched. It's a one-of-a-kind play experience in the Seaport neighborhood.
RELATED: Battery Park City with Kids: Best Things to Do in this Manhattan Nabe

The water play area at Teardrop Park is made to look like natural geysers: Nature in the city! Photo courtesy of the park
Warren Street and Murray Street, East of River Terrace
Swooshing down the long, perpetually wet slide at Teardrop Park is addictive, so don't be surprised if your kids do it over and over and over again. Jets spout water into the air as kids climb over the funky wet rocks in this sweet mini water park in Battery Park City.
26th Street between Fifth and Madison Avenues
Be warned: Due to its proximity to multiple family-friendly neighborhoods, this playground (the only one in Madison Square Park) is always packed. The space itself is tiny, and the jungle gym is huge. There's also a neat spinning wheel that dumps water from the top of a 15-foot pole straight onto kids below as jets shoot water out of the ground.
Battery Place and State Street
While I don't encourage my kid to play in fountains, this one was created specifically for frolicking. Kids love the jets of water that burst up from the ground, and parents appreciate the fact the water drains, so kids don't end up jumping around in a pool of dirty water.
RELATED: 7 Play Fountains Where NYC Kids Can Get Totally Soaked

Kids will love getting soaked in the sprinklers at the Waterlab at Pier 6. Photo by Sara Marentette
Best Spraygrounds in Brooklyn
Enter at Furman Street and Atlantic Avenue
Ever since we first visited when it opened in 2010, Brooklyn Bridge Park's Pier 6 has been one of our favorite kid play destinations. In the Waterlab area, one of four distinct sections of the sprawling playground, sprinklers shoot water all over an enclave enclosed by small, manmade cliffs. It's gorgeous and fun, but also slippery. Kids can splash through the streams, climb around, and even try out some of the interactive water features. It's always crowded and not the best choice for younger children.
2021 update: The splash pad usually opens on Memorial Day weekend. Check the website for the latest information.
171 East Drive (Enter at Lincoln Road and Ocean/Parkside Avenue entrances)
There's water, water everywhere at the LeFrak Center at Lakeside in Brooklyn's Prospect Park. While one rink is used for roller skating in summer, the other transforms into a water play area featuring dozens of jets shooting water out of the walls. Grab snacks at the adjacent Bluestone Cafe with indoor and outdoor seating, or hit the nearby Zucker Natural Exploration playground for some drier fun.
Enter at Prospect Park West between Ninth and 11th Streets
Taking its inspiration from the nearby bandshell, this Prospect Park playground has an interactive musical motif, including xylophones that kids can play. But the real draw is the abundance of water features. The designers covered all the bases here, including geysers, spraying animal sculptures, misters, and a shower.
RELATED: Best Playgrounds in Brooklyn's Prospect Park (Ranked!)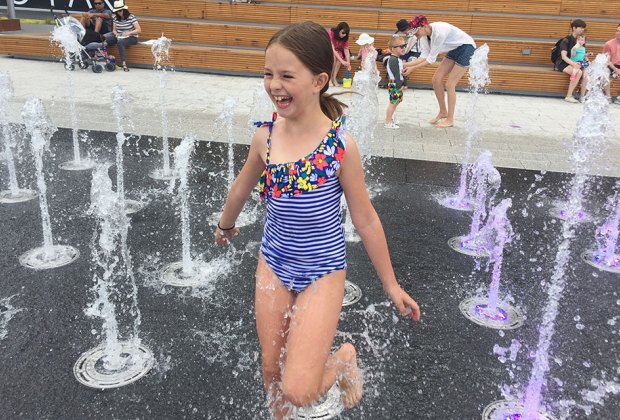 Domino Park's expansive water play area is always teeming with fun. Photo by Rosalind Muggeridge
The architecture at this new park was inspired by the historic Domino sugar factory that once occupied the site. While there's a cool playground inspired by the factory structure, a separate kid-friendly water area is located just a bit further south. Stadium-style seating gives mom and dad a place to lounge and supervise while kids frolic in the fountains that shoot straight up from the ground. The backdrop is hard to beat, and other amenities here include an open lawn, an urban beach, a taqueria from Danny Meyer, and so much more jam-packed into a tight waterfront space.
Enter at Ocean Avenue between Parkside Avenue and Lincoln Road
No relation to the aforementioned South Street Seaport spot, this charming, kid-lit-themed playground boasts a black-and-white play structure and a statue of Peter and Willie of Ezra Jack Keats' fame. But the hot-weather draw is the gorgeous bronze dragon fountain that gets kids good and soaked. Find other fun things to do in Prospect Park.
RELATED: New Mini-Golf Course Comes to Brooklyn Waterfront for Summer Fun

The Pier 2 Uplands opened in summer 2020 and are ready for another year of action. Photo by Sara Marentette
Opened in July 2020 as part of the Park's Pier 2 renovation, this tiered water play area is constructed from remnants cut away during the construction of Pier 3. Its multiple levels feature sprinklers and sprayers at various heights and lots of room to run around. A cool feature is the retention tank which catches the run-off from the sprinklers and reuses it for irrigation of the newly planted landscaping.
RELATED: 25 Things to Do With Kids in Flushing Meadows Corona Park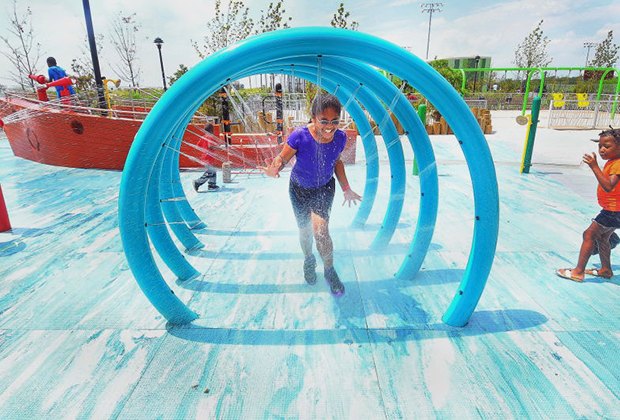 Kids hit the beachside playground at 30th Street in Rockaway when the surf is too rough or cold. Photo courtesy of Rockaway Park.
Best Spraygrounds in Queens
Beach 30th Street and the Rockaway boardwalk
This playground is a must-visit for young water lovers and Rockaway visitors. H2O sprays from a variety of features, including circular pipes and built-in water guns. Plus, there's a play boat and traditional sprinklers of different heights, and the beach is steps away.
Off of Corona Avenue and 111th Street inside Flushing Meadows Corona Park
This spacious playground includes a manmade river that flows to a contained sprinkler area, and if that's not enough, there's also a kid-size village with a school and fire station, wheelchair-accessible jungle gyms, and basketball courts.
Enter at 47th Road and Center Boulevard
This state-of-the-art water play area comes complete with a lifeguard. Water shoots at kids from all over the place, making it one of the best places to get wet in NYC. But be warned, swimsuits are required, and hours are sporadic since you must wait for the lifeguard to show up. If you drop by and it's closed, console your kids by exploring the rest of Gantry Plaza State Park and the Long Island City waterfront, which is fabulous.
34th Avenue between 77th and 78th Streets
There is a good-sized water section, located in the big kids area of this playground, with leafy spray showers and water jets. It attracts kids of all ages. This is the only official playground in Jackson Heights, Queens (other than school playgrounds), so it's often crowded, but there is a separate, gated section for toddlers.
Grand Central Parkway between 111 St. & College Point Boulevard
Unveiled in October 2020, this new interactive "mist garden" with specialized jets is part of a major upgrade near Flushing Meadow Park's Unisphere. The feature has been designed to create a refreshing cloud where kids can play and cool off on hot summer days. Approximately 500 hidden jets shoot up into the air from an Art Deco-inspired pavement that has been constructed over the original pool.
RELATED: Queens Museum: 6 Fun Things To Do With Kids

Run through the rainbow-hued arches at Roberto Clemente State Park's sprayground. Photo courtesy of the park​. Photo courtesy of NYS Parks
Best Spraygrounds in the Bronx & Staten Island
2021 update: This pool and sprayground is set to reopen on Friday, July 2. Attendance is limited, and there are two sessions available daily: 10am-1:30 pm and 2:30pm-6pm. Face coverings must be worn when you're not in the pool. See a full list of summer 2021 rules here.
301 West Tremont Avenue
This state park boasts a pool-and-splash pad for kids and adults alike to frolic. One drawback: There is an entrance fee, but at $1 per kid and $2 per adult, you can still treat the family to a relatively inexpensive afternoon of fun. In addition to a full-size pool, there's a kiddie pool with a shower at one end and an entire sprinkler area where kids can run through geysers and sprays in every shape and size imaginable.
Nelson Avenue and Tennyson Drive
Located along the shore, this playground features one-of-a-kind equipment such as a shipwrecked boat to explore, a shark to climb, and play units inspired by the Staten Island Ferry and a lighthouse. Of course, the nautical theme wouldn't be complete without actual water. Thankfully, spray showers abound.
175th Street and Arthur Avenue
Formerly Tremont Park, this spot was recently renamed after Walter H. Gladwin (1902-1988), the first Black elected governmental official in the Bronx, and underwent a $4.5 million upgrade a few years back. Renovations included two new playgrounds and one impressive water play area. Kids love darting across the footbridge and pathways as water sprays at them from every angle. Though this is the destination splash pad at Tremont Park, there is a second spray shower located in the playground at the corner of East Tremont and Arthur Avenue. It's much smaller, featuring a fire hydrant centerpiece, but it gets the job done on a hot day.
You can find a comprehensive list of all NYC sprinklers on the Parks Department's website. In 2020, the Parks Department also put out a detailed map of NYC neighborhoods with the most shade trees, open hydrants, and more ways to stay cool this summer.
This article first published in May 2008 but is updated annually.