NYC Destination Playground: The Imagination Playground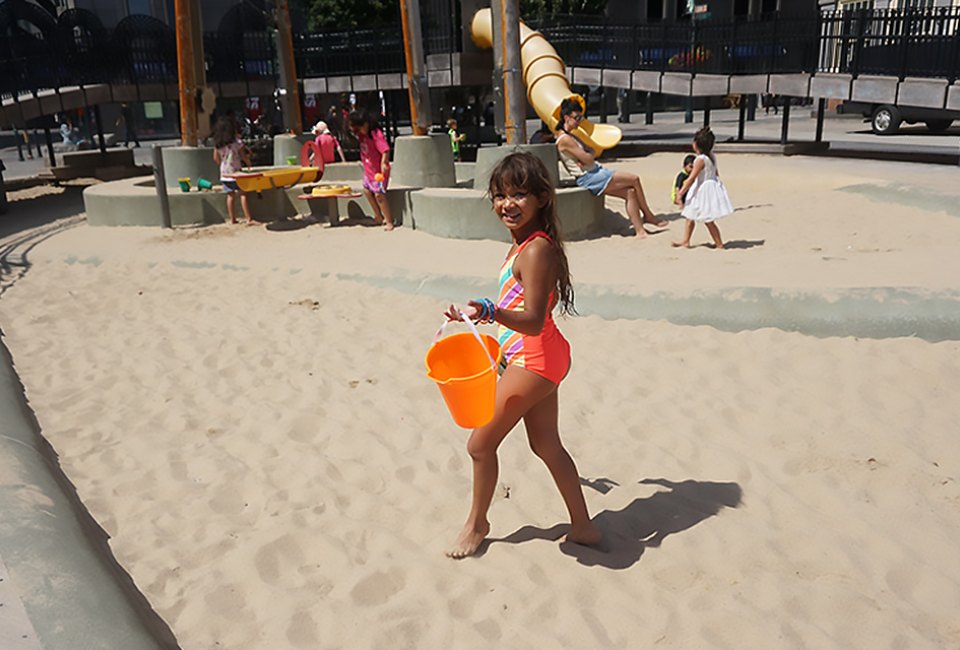 6/13/18
- By
Jody Mercier
When the Imagination Playground near South Street Seaport opened eight years ago, the concept was revolutionary. The brainchild of famed architect David Rockwell, the unique play space was the product of years of Rockwell's own research, inspired by parenting his city kids. Rockwell's flagship destination playground has since inspired other indoor play spaces and outdoor playgrounds, including a second Imagination Playground in Brownsville, Brooklyn, featuring those iconic, oversize blue building blocks.
What makes the Imagination Playground different? Unlike many city playgrounds, this one wasn't designed for the usual swinging, climbing, sliding, and wild romping. Instead, its figure-eight shape encourages creative play in distinct play areas that offer different experiences. It's not quite the free-for-all of NYC's only adventure playground on Governors Island, but it does include some DIY fun.
Families will find a vast sandbox and a single, yellow, enclosed slide that dumps kids right into the heart of the action in the sand play area on the west side of the playground. (That slide is really the only traditional play equipment in sight!) A large ramp forms a semi-circular border around the sand, providing some much-needed shade, plus hammocks and climbing ropes.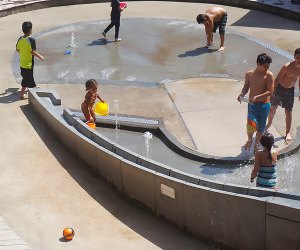 The water play area has lots to do to keep kids cool and busy.
In the water play area on the east side, you'll find a small wading pool with pipes and hoses to encourage building in addition to splashing. A wall on one side churns the water down a cascading waterfall, which kids busily try to dam up before it gets recirculated into the pool below. A few jets spout from the pool and beg to be stepped on or sat on to stem the flow.
But the heart of the playground is undoubtedly the Imagination Playground Blocks, a collection of giant foam blocks, spheres, semi-circles, pipes, troughs, and balls designed to (what else?) foster imagination. A large deck area in the center of the playground makes a solid foundation for block building; on our most recent visit, kids collaborated to build a seat with a ramp perfect for dousing one another with buckets of water, carted over from the pool area.
Another unique-to-this-spot feature: The city-hired and -trained "play associates," who provide a little supervision, but mostly engage the kids in using the on-site manipulatives to keep churning out the fun.
RELATED: Best Downtown Manhattan Playgrounds for Toddlers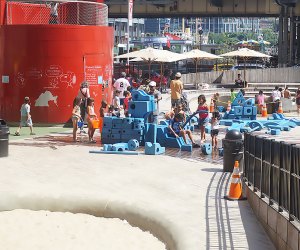 The giant collection of blue foam building blocks are designed to foster imagination.
A bright red structure in the playground's center serves multiple functions. First, it's an all-important on-site bathroom. Second, it's storage for the ubiquitous blocks. Third, by traversing the stairs to the top, kids can get a bird's eye (or is it crow's nest?) view of the fun below, as well as the busy harbor beyond. Surrounding all the play area, you'll find a decked sitting area dotted with some shade umbrellas—helpful to stem the summer sun.
The Imagination Playground is closed on on Thanksgiving, Christmas, and New Year's Day. Find more of our favorite spots to play in our Parks & Playgrounds Guide.
A previous version of this story was published in June 2010 when the playground first opened. We just revisited to update the article. Stephanie Ogozalek provided additional reporting.
Photos by Jody Mercier
Places featured in this article:

Sign up for our free
newsletters.
Mommy Poppins is a family activity website that helps people find things to do with kids.
©
2023
MommyPoppins. All Rights Reserved.
mp-prod4-v4.32.99
We use cookies and other data collection technologies to provide the best experience for our customers.
Learn More