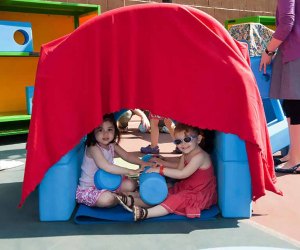 Best Toddler Playgrounds in Lower Manhattan
Thanks to the residential boom in Lower Manhattan, the borough's southernmost point is more family-friendly than ever. Streets that once were the domain of Financial District workers running for their offices are now just as likely to be full of strollers and newly-walking tots. The many new playgrounds that have been constructed or renovated in this area make downtown Manhattan a part of the city you don't want to miss for family fun.
The playgrounds on this list offer fun things to do for all ages but are especially great for toddlers—because as all parents of toddlers know, finding a playground where your little one won't get run over by bigger kids is no small feat. Fun equipment, appropriate climbing structures, infant swings, thoughtful layouts, and a bevy of sandboxes await you at these downtown playgrounds, all located south of Washington Square Park. Time to get swinging!
1. Vesuvio Playground — Soho
Thompson Street between Prince and Spring
This sweet little playground is an oasis in bustling Soho. The equipment is geared toward the toddler set, including an elevated fort maze and fun structures to engage little ones. A not-so-high slide is great for those just getting into the sliding thing. There are swings, a nice-sized sandbox, and sprinklers in the summer. (Bonus: restroom on site!)

Toddlers who love climbing and the thrill of a big slide will love Tear Drop Park. Photo courtesy Battery Park Conservancy
2. Tear Drop Park — Battery Park
Warren Street and Murray Street, west of North End Avenue
So much to do, so much shade, in a low-key spot that is never overrun. This hidden gem in North Battery Park designed by famed landscape architect Michael Van Valkenburgh, offers sandboxes, water play, rocks to climb, and an awesome slide for kids of all ages. Toddlers obsessed with climbing stairs will love the fun theater-style seating, which also makes for a great spot to wind down and read a book after playtime. On Wednesdays from May to October, the Battery Park Conservancy offers lawn games for toddlers and creative art projects for preschoolers. It also offers some FREE summer sports programs for kids and more family-friendly events.
RELATED: Battery Park City with Kids: Top Fun Things to Do

There's a soft landing in sand at the end of the toddler slide.
3. Nelson A. Rockefeller Park — Battery Park
Park Terrace West near Murray Street
There's a lot to enjoy at this little hamlet by the Hudson. For toddlers, the multiple sandboxes make this playground a dream come true—there's even a toddler-appropriate jungle gym with a slide that goes right into the sand. A sprinkler area, infant swings (a rare find), and climbing-friendly elephant and hippopotamus statues all add to the fun. But the major perk of this place is that there's shade everywhere, so even on the most sweltering days you can find respite. Bonus: the park is adjacent to the Parkhouse which offers ping pong tables, games, and a variety of family-friendly events and activities. Bathrooms are close by too! And clean!

Climbing, swinging, sliding—this colorful playground has a range of structures for toddlers.
4. West Thames Park — Battery Park
West Street between Albany and West Thames
This large playground contains climbing structures, a well-sized sandbox, and a small lawn perfect for family-friendly picnics. The climbing structure looks like something Spider-Man would have weaved—so much fun for kids of all ages. In the warmer months, water play is popular. This is a great spot for those who live in Lower Battery Park and the surrounding neighborhood.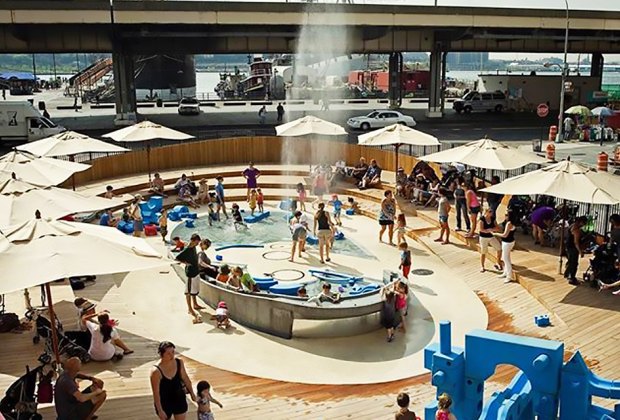 Imagination playground has plenty of space for parents or caregivers to sit while the little ones run free.
5. Imagination Playground — South Street Seaport
Front Street at John Street
Located in the heart of the South Street Seaport, this playground, designed by architect David Rockwell, is an immersive and interactive space that allows kids of all ages to create their own play space with big blue foam blocks and sand. A giant slide, climbing structures, and a beautifully designed water play area are just some of the major perks. Umbrellas help keep parents and caregivers cool while kids are able to flex their imaginative muscles. Bonus: There's a bathroom on site!

This enclosed playground offers shade and water play on those hot summer days.
6. Pearl Street Playground — Financial District
Pearl Street at Fulton
This playground is particularly well-suited for toddlers. It doesn't have many bells and whistles, but what is does have is a clean water play area, a small sandbox, toddler swings, and two climbing structures— one great for toddlers and babies just learning to walk and explore, and a higher one perfect for preschoolers. There are two house structures with steering wheels and a nautical rope, great for swinging and balancing. Plenty of inspiration for imaginative play, and just steps from the South Street Seaport.
7. Washington Square Park — Greenwich Village
4th Street to Waverly Place and Macdougal Street to University Place
The West Village's signature park—containing three separate playgrounds—has undergone major renovations in recent years and is a family must-visit. The main playground area, which is fully enclosed, is a small, safe haven that's perfect for those just learning to walk. There is a play space for toddlers where they can dig, run, and go down slides, plus a set of infant swings. New features in the park include a visually stunning climbing area complete with a rope, and a spider web obstacle course that kids of all ages have a ball climbing. The park also features JennSwings, which are full body positioning support swings. And in Washington Square, there's always so much to see and hear: You never know when you will encounter brilliant musicians or an intense chess tournament.
RELATED: NYC's Top Playgrounds Worthy of a Subway Schlep

Built on sand, this playground feels like a mini vacation!
8. Kowsky Plaza Playground — Battery Park
South Cove, East of Esplanade Plaza
This small playground nestled in Battery Park's South Cove is perfect for infants and toddlers. The lower to the ground climbing structure is built entirely over sand, so jumps are cushioned! There is a great fountain area where water play abounds. Many residents leave toys such as walkers or other sand toys in this plaza so there is a lot of imaginative play happening here. Infant swings are also a nice touch. Bonus: great views of Lady Liberty!
9. Pier 25, Hudson River Park—Tribeca
North Moore Street at Hudson River
A city summer is well spent at this amazing play area in Tribeca. It boasts a rock climbing wall, two space-agey climbing structures that are great for older kids, small slides for toddlers, a merry-go-round, and a spacious sandbox. The sand area is vast, so it isn't often overrun. And best of all, the sprinklers are great for both big and little kids! The park also features an on-site Art Shack where kids can participate in crafting at no cost, a small snack bar, and mini golf.

A great enclosed playground for little ones and big kids too.
10. Washington Market — Tribeca
Greenwich Street between Chambers and Duane
This park has it all. It is perfect for siblings as there are age-appropriate play areas all in one enclosed setting. Plus there is only one way in and one way out. It has a steerable ship and slides perfect for toddlers and those just learning how to play at the park. The middle area is perfect for preschoolers as there are more elaborate climbing structures and a cool wooden train perfect for imaginative play and climbing! The back playground is great for older kids as it has some of the best monkey bars around and a fun circular slide. In the summer, the water play area is a great spot to cool down. The park also boasts a shady lawn area where soccer or tag can be played. It also has plenty of free public events throughout the year and a gazebo that can be rented out for kids' birthday parties or used for play.
All photos by the author except where noted.