Destination Playground: Ancient Playground in Central Park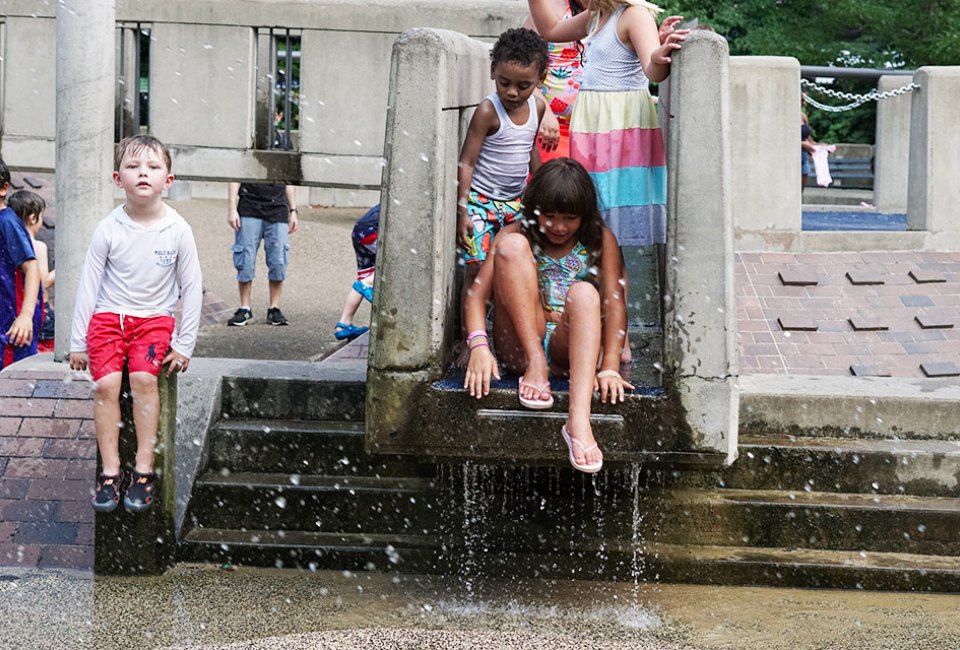 8/8/18
- By
Jody Mercier
Originally built in 1936, the Ancient Playground on the Upper East Side may seem to have earned its moniker (according to our kids, anyway), but its name is really an homage to its proximity to the Egyptian galleries at the Metropolitan Museum of Art, right across the street. The ancient-civilization-themed romping spot, packed with fun climbing structures and water features, is a popular playground for locals and tourists alike, cementing its place on our list of Central Park's top playgrounds.
Read on for more details on why this classic old gem of a playground, at 85th Street and Fifth Avenue, ranks among the city's best.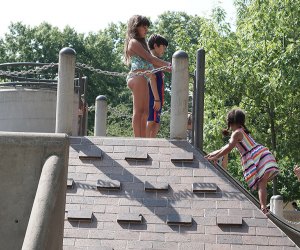 You can find your groove on one of the nine slides!
On a recent, overbearingly hot summer afternoon, I was struck by just how much fun my girls had here, and even more so by the number of ways they found to explore this classic, adventure-style playground, exploring the playground's four climbing structures, two water features, and whopping nine slides. Here there's a slide for every kind of rush kids could look for, from twisty slides to tunnel slides, plus double slides, and more.
RELATED: 22 Best Water Playgrounds in NYC
The playground's current design was constructed in 1972 and named as an ode to the Egyptian Wing being built across the 86th Street transverse at the neighboring Met. The focal point here is definitely the large, interconnected, ancient-like pyramids. On hot summer days, the Nile is reincarnated here: Water bubbles from an obelisk-like structure on the pyramids and trickles down and along the concrete paths. As kids happily soak their feet, they're led to the big water play area, where tall sprinklers jet from various angles, soaking everyone and pooling at their feet.
RELATED: 28 Shady Playgrounds Where Kids Play Cool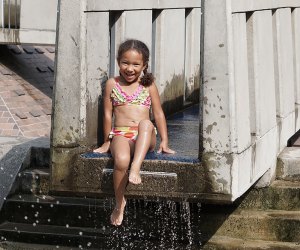 Younger ones have plenty to keep them busy at this park, including a sandbox and a gentle sprinkler area.
If that all sounds too challenging for your toddler, take note: Ancient Playground has three traditional jungle gyms of varying sizes sitting in the shadow of the towering pyramid. There's also a sandbox at the base of another obelisk-inspired statue, and a toddler-sized, gentle sprinkler area, so even wee ones will have plenty to do.
There are also two separate swing areas. On the shady, east end of the playground, where a pair of picnic tables sit, there are also two tire swings. Closer to the west side, and the toddler area, there's a sectioned off swing set with bucket swings for babies and a couple of traditional strap swings for bigger kids.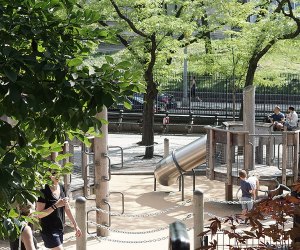 Parents and caregivers can sit in the shade as kids roam free.
For parents, there are plenty of benches dotting the edges, and the lush landscaping is not only eye-catching, but mature enough to give you a little respite from the afternoon sun...though don't get too comfortable. The large concrete structures (combined with big kids everywhere, having a blast) can make it a little hard to keep a close eye on younger kids. It's easy to lose a kid in the pyramids, tunnels and bridges. But the playground's entrance is guarded by a pair of double gates, including one beautiful set depicting Aesop's Fables, providing extra insurance for toddlers who moonlight as escape artists.
Perhaps best of all for those of us who have spent a long afternoon at a playground sipping iced coffee: There's a clean, well-maintained restroom here.
All told, Ancient Playground is a worthy destination in its own right, or a perfect stomping ground before or after (or both!) your trip to the Met or the rest of Museum Mile's attractions.
Read about all our favorite, destination-worthy playgrounds in our Parks and Playgrounds Guide.
A previous version of this article was published in 2010, but it has since been updated. Stephanie Ogozalek contributed to our reporting.
Photos by the author
Places featured in this article:
t Click Here to Sign Up!