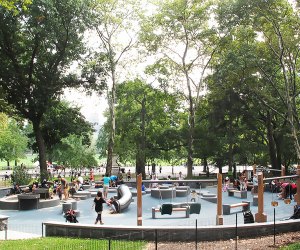 NYC Playgrounds With Shade: Play It Cool at These Shady Parks in NYC
Need to find a playground with shade for a hot summer day in NYC? These shady playgrounds in Manhattan, Brooklyn, and Queens offer a break from the sun, but no shortage of fun.
While kids can always cool off in NYC's many sprinklers, there's no reason for us parents to get stuck baking in the heat. A few NYC playgrounds are known to offer exceptional amounts of shade—Hippo Playground in Riverside Park and Discovery Playground in Fort Washington Park come to mind—but we asked our readers if they knew of any super-shady playgrounds in New York City. They came through with several great suggestions.
Please keep in mind that the name of the game here is comfort on a hot summer day; though we have visited plenty of destination playgrounds, with a few exceptions, these shady suggestions tend to be neighborhood standbys and small playgrounds that have plenty of shade, but perhaps not too many bells and whistles. But if you're looking for a cool place to play this summer, one of these spots should do the trick.
Shady Playgrounds in Manhattan
Arthur Ross Pinetum – Central Park
85th Street near mid-park
For a decidedly laid-back, old-school play experience, head to this swing set. Reader Katherine points out that "the swings are always shaded," thanks to the namesake evergreens planted in the area.
Catbird Playground – Upper East Side
85th Street and East End Avenue
A visit to Carl Schurz Park serves as a good reminder of the shadiness—in the best possible way—of this spot. Trees line the perimeter, where there is ample seating and a good view of the giant, no-frills sprinkler area.
Classic Playground – Upper West Side
Riverside Park at West 74th Street
The name isn't the only old-school feature in this playground; the climbing structures are plain Jane, too, but you know what else is dated? The giant shade trees. Combined with the cool breeze off the water, this is a pretty perfect spot to escape the concrete jungle.
RELATED: NYC's Best Playgrounds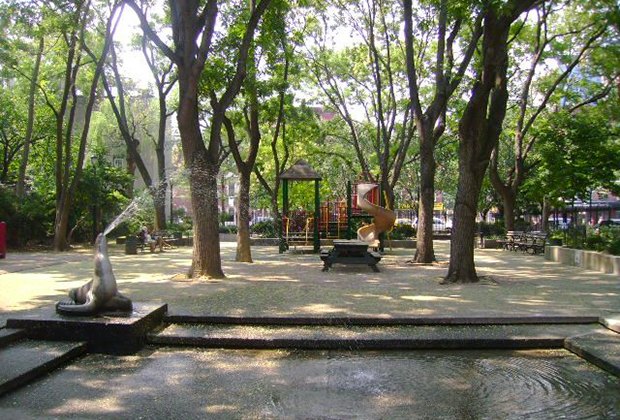 Trees shade the bulk of "Seal Park," and there's even a small splash pad. Photo courtesy of NYC Parks
Clement Clarke Moore Park – Chelsea
22nd Street and Tenth Avenue
Colloquially known as Seal Park, we love this spot for the many benches and the front area covered by a tree canopy. The sprinklers keep kids entertained for hours and allow mom and dad to take a quick, cooling run through, too.
Coogan's Bluff Playground – Harlem
This shady tot spot sits on the southern end of Highbridge Park. Large shade trees tower overhead, and you often catch a cool breeze from the Harlem River down below. Baseball buffs appreciate the fact this spot once made a poor man's overlook of the action at the Polo Grounds where the New York Giants played.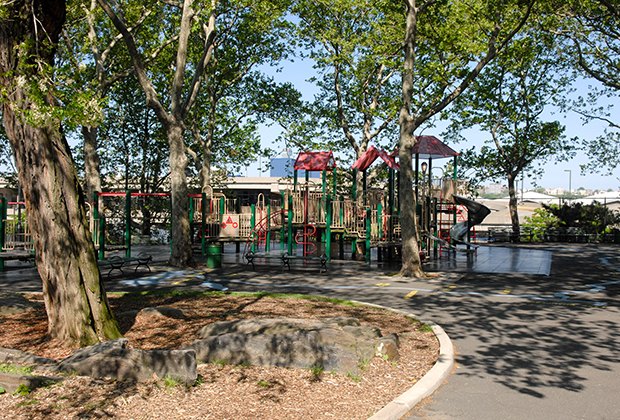 Catch a river breeze and shade at the DeWitt Clinton Park playground. Photo courtesy of NYC Parks
DeWitt Clinton Park – Hell's Kitchen
54th Street and 11th Avenue
This park is a hidden gem on the West Side with "a big open playground with shade and river breezes," says reader Joanna. "It's rarely crowded. Now I feel like I outed my family's little secret."
Discovery Playground – Washington Heights
165th Street and the Hudson River
Though recently remodeled, this riverside park left its large shade trees untouched during construction. The whole theme of the playground is cooling, with an autumnal tree house and river breeze to match.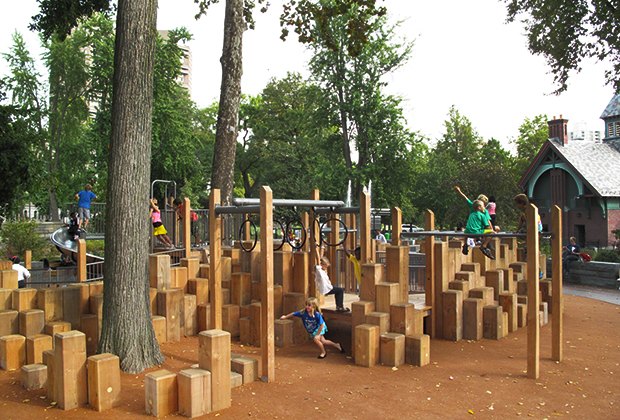 Much of the East 110th Street Playground's dry equipment is in the shade. Photo courtesy of Playscapes
East 110th Street Playground – Harlem
110th Street and Lenox Avenue
This is another playground that falls into the recently-renovated-around-existing-trees category. The East 110th Street Playground has a large jungle gym, tire, and traditional swings, all sitting between large shade trees. The one part of the playground that's not protected is the sprinkler area, but it's got a cooling vibe all its own.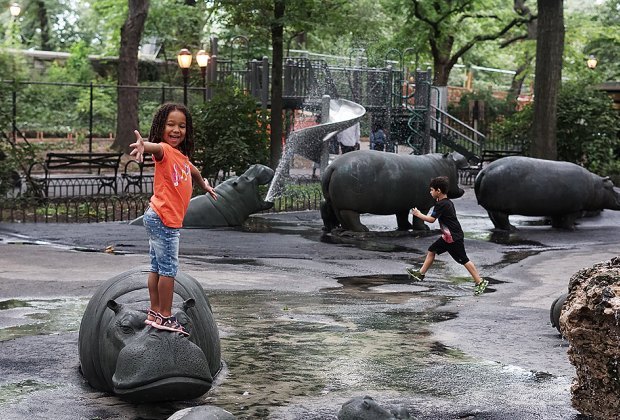 Stay cool in the shade and water area at Hippo Park. Photo by Jody Mercier
Hippo Playground – Upper West Side
91st Street in Riverside Park
The aforementioned tot hot spot has large honey locust trees covering much of the play area and benches. The possibility of a cool breeze off the water ups the chances you won't melt while your kids frolic.
Indian Road Playground – Inwood
214th Street between Seaman Avenue and Indian Road
Reader Beth likes this gem in Upper Manhattan, and when we visited, we noticed that the large clean sandbox even had a shade cover over it. There are plenty of big trees in this sprawling park, and you can generally find a shady spot in the playground no matter the hour.
Minetta Playground – Greenwich Village
West 4th Street and Sixth Avenue
This petite play spot sits in the shadow of its neighboring buildings; those, plus a few trees on the interior, flood the space with shade. The babbling brook that flows from the sprinkler within helps cool off the concrete jungle. Reader Gabby H. likes to take her kids here as well as to the playground at nearby Washington Square Park where you can always hop in the fountain to really cool off.
Rudin Family Playground – Upper West Side
96th Street and Central Park West
While the equipment is pretty standard, its centerpiece is a huge, wisteria-covered trellis with shaded seating beneath it. I can't count how many afternoons I've spent under that thing! There's a small water element, too, so the kids (or you) can soak yourselves to add to the chill factor.
RELATED: NYC Carousels: Best Merry-Go-Rounds in Every Borough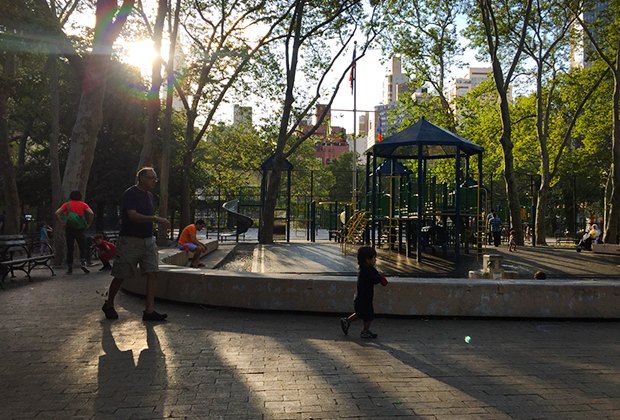 Giant trees surround the St. Vartan Park Playground. Photo by Mommy Poppins
St. Vartan Park Playground – Murray Hill
35th Street and First Avenue
This East Side playground has a large jungle gym and "giant trees surrounding the play area, so it's really easy to find some shade," says reader Stephanie.
Tompkins Square Park – East Village
7th Street and Avenue B
Many parents recommend this park and it's pair of playgrounds with nice equipment and ample shade, though Genevra notes that "the sprinkler playground on the north end of the park is especially shady and is a great place to go on a too-hot day."
Shady Playgrounds in Queens
Andrews Grove – Long Island City, Queens
49th Avenue and Vernon Boulevard
With "grove" in the name, it's no surprise this playground is crowded with large shade trees. Reader Selena says it "has to be in the top five," for shady spots city-wide and the pictures on the Parks Department website certainly back up her claims.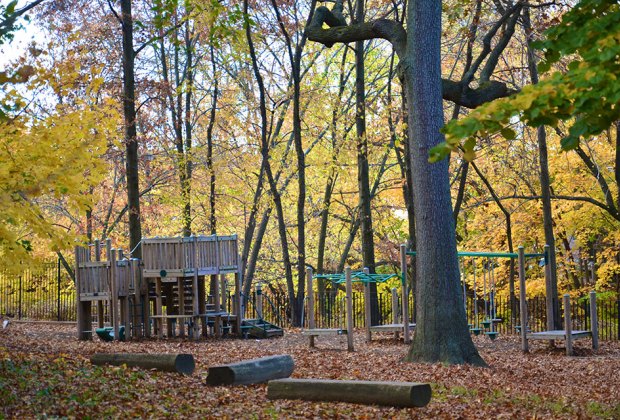 DeVoy Playground is surrounded by tall trees so keeping cool is a breeze. Photo by Joe Shlabotnik
DeVoy Playground – Forest Hills, Queens
Union Turnpike and 71st Avenue
Reader Andrea recommends this playground, which has large shade trees outside its border. You won't find the whole playground swathed in the shade, rather there are "pockets" that fall under the trees' protection, such as the swings, says our Queens blogger, Rachel. Bonus: This playground got a complete overhaul in spring 2017. One word of caution: There are no restrooms here or water features, so plan in advance.
Travers Park – Jackson Heights, Queens
Even the sprinklers in this playground offer a bit of respite from the sun's rays with their funky leaf-shaped spray, which came recommended by reader Alexia.
Van Alst Playground – Astoria, Queens
21st Street between 29th and 30th Avenues
Recently remodeled, the Parks Department was careful to preserve the big, old shade trees on this lot as it went about installing bright new playground equipment, space for sports, and even an adult fitness area. The new spray showers keep everything cool, too.
Willow Lake Playground – Forest Hills, Queens
72 Avenue between 112th Street and the Grand Central Parkway
Our writer, Rachel, has covered plenty of ground in Queens but says this playground is her favorite for the abundance of shade.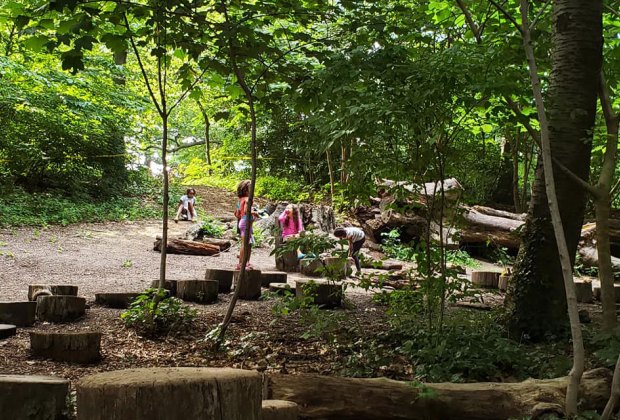 The Prospect Park Alliance used trees damaged by storms and other materials from within the park to engage children with nature and encourage unstructured play. at The Donald & Barbara Zucker Natural Exploration Area. Photo by Taty Sena
Shady Playgrounds in Brooklyn
Donald & Barbara Zucker Natural Exploration Area – Prospect Park, Brooklyn
East Drive at Nellie's Lawn
It's hard to get much shadier than this natural play area, crafted out of downed trees. The fenceless area makes kids feel like they're playing in the forest. One downside: No real benches for parents, but plenty of carved seats made of reclaimed wood.
Harmony Playground – Prospect Park, Brooklyn
11th Street and Prospect Park West
While the play areas in this popular Prospect Park playground aren't shaded, the perimeter benches are—a major plus for mom and dad! Kids can stay cool in the onsite, musically-themed water features.
Lincoln Road Playground – Prospect Park, Brooklyn
Lincoln Road and Ocean Avenue
This sprawling playground, located within Prospect Park, has plenty of large, beautiful shade trees throughout.
Mount Prospect Playground – Crown Heights, Brooklyn
Eastern Parkway between Washington and Flatbush Avenues
This large, colorful play area is surrounded by trees provides plenty of shade from the sun's rays.
Slope Park – South Slope, Brooklyn
6th Avenue between 18th and 19th Streets
An extensive renovation brought much-needed updates to this heavily trafficked park in 2013, but the large shade trees were preserved. Strides were taken to make it an accessible "playground for all," and an onsite scooter track is popular with the preschool set.
Third Street Playground – Park Slope, Brooklyn
Third Street and Prospect Park West
Located in a woodsy pocket of Prospect Park, this spot is perfect for the toddler set. A pair of jungle gyms, bucket swings, and a cooling water feature make it a perfect spot to while away a hot summer day.
Thomas Greene Playground – Gowanus, Brooklyn
Third Avenue between Degraw and Douglass Streets
Adjacent to the popular "Double-D" Pool, this playground is shrouded in shade trees. A variety of areas for recreation dot the space. Dine at an onsite picnic table or hide in the shade at one of the benches. There's a pair of jungle gyms for the kids to climb, plus two basketball courts, four handball courts, and plenty of open space to ride a bike or scooter.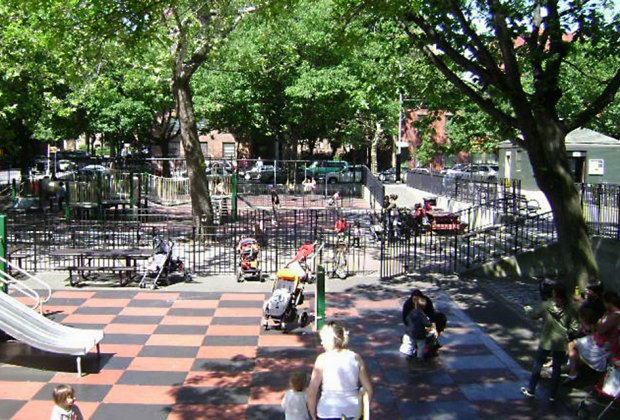 Underwood Park – Clinton Hill, Brooklyn
Lafayette & Washington Avenues
A large tree has taken root in the center of this playground, and reader Dana says the shade it provides "ain't half bad." Again, Parks Department photos back her up. There's also a small sprinkler section to keep the kids extra cool.
Underhill Playground – Park Slope, Brooklyn
Prospect Place and Underhill Avenue
This local tot lot is beloved by kids for its collection of communal toys. Parents appreciate the mature shade trees towering overhead and the whimsical sprinklers.
This post, originally published in July 2012, is updated annually.