Best Destination Sandboxes at Local Parks for NYC Kids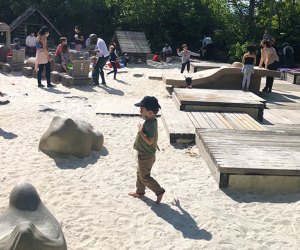 6/15/21
- By
Jody Mercier
There's no denying it—kids love diving into a sandbox, running their shovels and hands through the grains of sand, dumping a full bucket over, and generally getting their hands dirty. Though NYC parents might get grossed out at the thought of what could be lurking in our uncovered, urban sandboxes, it's hard to refuse one of a preschooler's most beloved sensory experiences. So pull up a bench (and your cup of coffee; you'll be here a while!), and check out these eight toddler-tested, mom-approved NYC sandboxes. We've done our best to find the cleanest ones across the city. Besides, you can always wash their hands in the nearby sprinklers or park bathrooms when you're finally able to get them out.
Subscribe to our newsletters to get stories like this delivered directly to your inbox.
11th Avenue and 23rd Street
One of our favorite destination playgrounds, this massive play area offers something for kids of every age. In addition to a huge pipefish jungle gym, there's a spacious sandpit area at the end of the slide. Kids can make sandcastles with the water that trickles down from a rotating spigot. It's surrounded by lush landscaping, which makes it feel serene. The park also features two large water areas, separate ones for little and big kids. Kids can spend almost a full day here with all its attractions and space to run around.
Enter at 214th Street between Seaman Avenue and Indian Road
For sandbox lovers, this Upper Manhattan playground is worth the schlep. The sand area is huge, clean, and gets bonus points for its shade-providing canopy. Plus, the hardworking volunteers behind the Friends of Indian Road Playground raise money to replace the sand regularly!
RELATED: 12 Cool Themed Playgrounds in NYC to Inspire Kids' Imaginations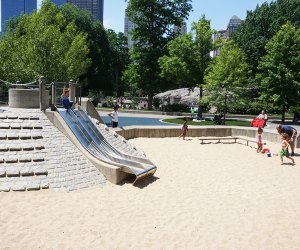 Central Park's Heckscher Playground is a sandbox lover's dream. Photo by Jody Mercier
Mid-park between 61st and 63rd Streets
Kids of all ages love Central Park's largest playground. Even my too-cool-for-playgrounds tween lights up when I say we're going to Heckscher because there are attractions for all ages. Big kids like the giant Umpire Rock that abuts the playground, but you'll find my preschooler in the massive sand area. She'll play there for hours, and really, I don't mind, especially because the water is far enough away that she doesn't get caked with sand. With bathrooms at the entrance and its proximity to the Central Park Zoo, Heckscher is hands down the best Central Park playground for my family.
RELATED: Top Central Park Playgrounds for Kids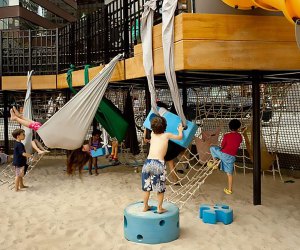 Imagination Playground has an amazing sand area that allows kids to be creative. Photo courtesy of the Rockwell Group
John Street between Front and South Streets
We've been fans of this David Rockwell-designed romping spot since it opened in 2010. The sand area takes up half of the playground, so there's plenty of space to dig and build. The playground's signature soft blue blocks can be added to whatever you create (though you'll probably need to retrieve them from the water area at the other end). The presence of paid Play Associates (really!) helps keep things calm and clean, too.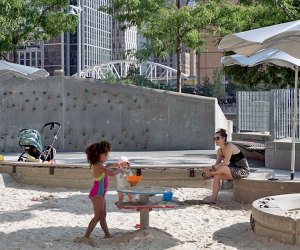 All-day fun and great views await at the Hudson River-adjacent Pier 25 play area. Photo by Jody Mercier
Hudson River Park at North Moore Street
The Pier 25 playground in Hudson River Park on the water is another destination spot for epic, all-day, all-ages fun. The sandbox is big and always bustling with activity. There is even some shade from umbrellas and trees. Other attractions include a huge rock-climbing wall, tons of interactive water features (dumping buckets, anyone?), and a large jungle gym. Beyond the playground borders, you'll also find a miniature golf course and FREE kayaking.
RELATED: Best Things to Do in Brooklyn Bridge Park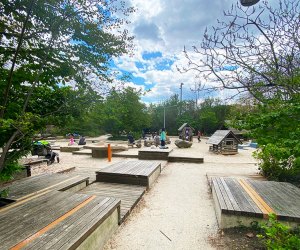 Brooklyn's Sandbox Village is a huge sandy spot with wooden playhouses, a train, and nearby sprinklers! Photo by Sara Marentette
Enter at Atlantic Avenue
Organized into five distinct play areas, Pier 6 in Brooklyn Bridge Park is a major kid destination, especially for the preschool set. There's the seasonal Waterlab, Slide Mountain, Swing Valley, and Sandbox Village, one of the largest sandboxes in all of NYC. There's plenty of sand for digging and building, as well as several log-cabin-like playhouses, a wooden train, and other structures if tots are looking for more active fun. Parents find plenty of seating around the edges, along with some benches, and bathrooms are directly across from the sandbox at Pier 6's Fornino, a great spot to grab lunch.
Lower level at West 105th Street
I admit, this is an unconventional pick because it's more of a recreation spot for teens and adults than a sandbox, but that's part of its allure. Two sets of rings tower above a giant sandpit, but you can always find a place to plop down far from the drop zone. While your kids sift through the clean sand, they'll enjoy gawking at the ring tricks people pull off. There's also a sand volleyball court here, so it's a good sandbox alternative on weekdays when it's usually empty. Bonus: A cafe borders this sand spot and serves plenty of kid-pleasing snacks.
Enter at 242nd Street and Broadway
Although the Bronx lacks the sandbox department (maybe because it's home to Orchard Beach?), local moms recommend this small, beach-like sand play zone located within Van Cortlandt Park's popular pool area. New York City public pools open on June 26.
A version of this article first published in 2015, but it's updated annually.