Central Park's Top Playgrounds Ranked for NYC Kids and Visitors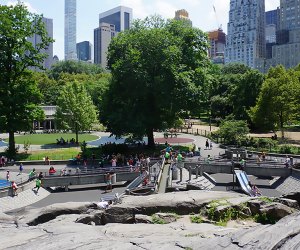 8/17/21
- By
Jody Mercier
When out-of-towners ask me how I have managed to stay sane with three kids in Manhattan, my answer is always easy: Central Park. It's been our family playground for more than a decade. My son's first steps were taken there, and every day of elementary school in our house has started with a trek across the urban oasis. Our afternoons just don't feel quite right without a stop at the East 110th Street Playground, where my daughter finally conquered the monkey bars.
Central Park is our family's collective happy place, thanks in large part to its diverse array of playgrounds, which always keep us coming back for more (sanity-saving) playtime. In the spirit of our posts ranking the playgrounds in Prospect Park, Brooklyn Bridge Park, and Riverside Park, we present our top playground picks for Central Park. Find more places to play in our Guide to NYC's Top Playgrounds.
Mid-park between 61st and 63rd Streets
Heckscher Park isn't just my favorite playground in Central Park; it's my favorite in all of NYC. If there's one park we always take visitors to, it's this one. Beloved by generations of city kids, Heckscher has separate play areas for kids big and little, tons of water features in the hot months (including a stream that seemingly flows from the rocks above!), and even some old-school slides and swings. Even when the weather isn't warm enough for water play, there's plenty of sand on the toddler side of the park, and the pyramids make for fun, challenging climbing spots. Eventually, your kids will find their way to Umpire Rock and beg to climb all the way to the top; consider following them for the sweet bird's-eye view of the playground and the whole southern end of Central Park.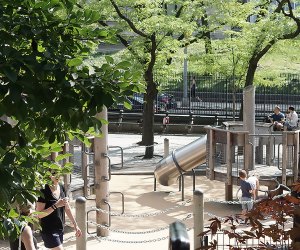 Parents can lounge in the shade while kids run wild at Ancient Playground.
85th Street at Fifth Avenue
Ancient Playground sits adjacent to The Met, and makes for a great way to blow off steam before or after a trip to the iconic museum. Its pyramid structure style mirrors that of Heckscher, but there are also tons of other draws, including water, sand, bridges, tire swings, a stream in summer months, and a whopping nine slides ranging from twisty to tunnel to tandem. Major bonus points for the well-maintained restroom on-site, too.
RELATED: Hidden NYC: 23 Fun Things To Do in Central Park

The fast granite slide at Billy Johnson Playground is legendary.
67th Street at Fifth Avenue
While the name may not ring a bell, you've probably heard of the playground with the giant, curving, speedy, granite slide that kids love to race down at even faster speeds by sitting on cardboard that seems to always litter the base of the attraction. Thanks to a recent renovation, the rest of the space got a facelift. The big slide was untouched, and a second more mild one, which is also accessible to those with disabilities, was added. There's also a new swing area, an improved water feature, and a custom-designed rope climber to conquer.

Margaret L. Kempner Playground got a huge overhaul in 2019 making it an action-packed, all-ages destination playground.
96th Street at Fifth Avenue
Central Park has been steadily renovating its playgrounds over the past several years, and I was blown away by the transformation at this popular play spot. Its proximity to the Reservoir and East Meadow made it a popular destination, but now its destination-worthy on its own. Its dated play features—installed in 1994—were replaced by two new climbing structures on opposite ends of the playground for different age groups. Sandwiched in between is a brand new sprayground and plenty of seating for adults. It's a great place for a birthday party, too, thanks to a section at the south end with picnic tables where you can set up your spread.
RELATED: Shady Playgrounds for Hot NYC Days

Hit the sprinklers, slides, swings, and more at the East 110th Street Playground.
110th Street at Lenox Avenue
We are frequent visitors to this playground my kids affectionately call "chunky monkey" for the large columns of wood that make up the perimeter of the jungle gym. Set up in a series of inter-connecting circular play areas, there's a fun water space as you enter, which gives way to the large jungle gym, followed by separate areas with tire swings and strap swings, and the whole playground is surrounded by lush landscaping. The giant old trees were preserved when the playground was renovated, so it's a nice shady spot on a hot day. Rock walls separate the main play areas from a landscaped, wood-chipped pathway and kids love to get lost in this urban jungle. It can be a little hard to track them down and hustle them out when playtime is over. I've also known some kids to climb the wall bordering the playground and end up on 110th Street, so if your kid's an escape artist, be wary of that exit opportunity.
RELATED: Visiting the Central Park Zoo with Kids: Best Things to See and Do at the Zoo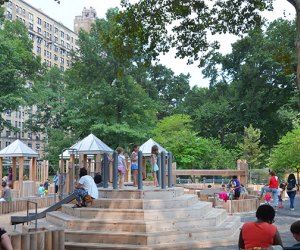 There's plenty of room for adventure at the Wild West Playground. Photo courtesy of the Central Park Conservancy
93rd Street at Central Park West
Giddy-up and gallop over to this western-themed spot. The playground is laid out in a series of "forts" for kids to climb on, all reminding me a bit of the Lincoln Logs of my youth, in life-sized form. There's tons of sand for digging, and a modest sprinkler fills a stream that traverses the play space.
RELATED: NYC's Best Playgrounds: 20 Parks Worthy of a Subway Schlep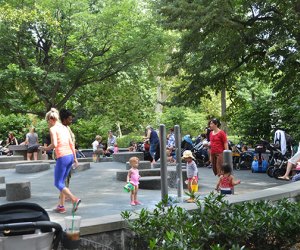 Tarr-Coyne Tots Playground is a popular spot for Upper Westside kids. Photo courtesy of the Central Park Conservancy
68th Street just east of Central Park West
This recently remodeled spot offers a great play experience dedicated to the park's youngest visitors. There is plenty of sand, both to sit in and play in at handicapped-accessible sand tables. Plenty of swing sets dot the perimeter, and there are tons of shapes for busy toddlers to climb over or sit on. A sprinkler was also added, ensuring little ones have the same fun you'll find at the big-kid playgrounds nearby.
RELATED: 12 Cool Themed Playgrounds in NYC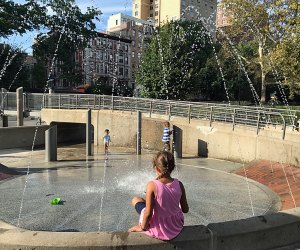 Tarr Family Playground has it all—sand, water, tot spots, and magnificent climbing structures for big kids.
100th Street at Central Park West
We were just outside this playground when my son took his first steps in 2006, and though much of the playground was remodeled in 2009, the giant pyramid with speedy slides still remains. Around it, there's a new jungle gym, a pair of rope climbers, and plenty of sand. A bridge runs from near the playground's entrance to the aforementioned pyramid, where kids can reach the top by climbing the ladder inside, or go straight up the sides, thanks to some indentations in the concrete structure. There's a separate sand area for little kids, complete with a water spout, and a fun sprinkler area where a circle of jets shoots friendly, arching sprays at revelers.
This post, originally published in September 2017, has since been updated.
Unless noted, all photos by the author