2023 Annual Bus Festival
Emily Warren Roebling Plaza

Improv 4 Kids Off Broadway Live
New York Improv Theater Times Square

Spark Math: Free Trial Class
Virtual
Sign up for our free newsletters.
Billy Johnson Playground Reopens in Central Park After Renovation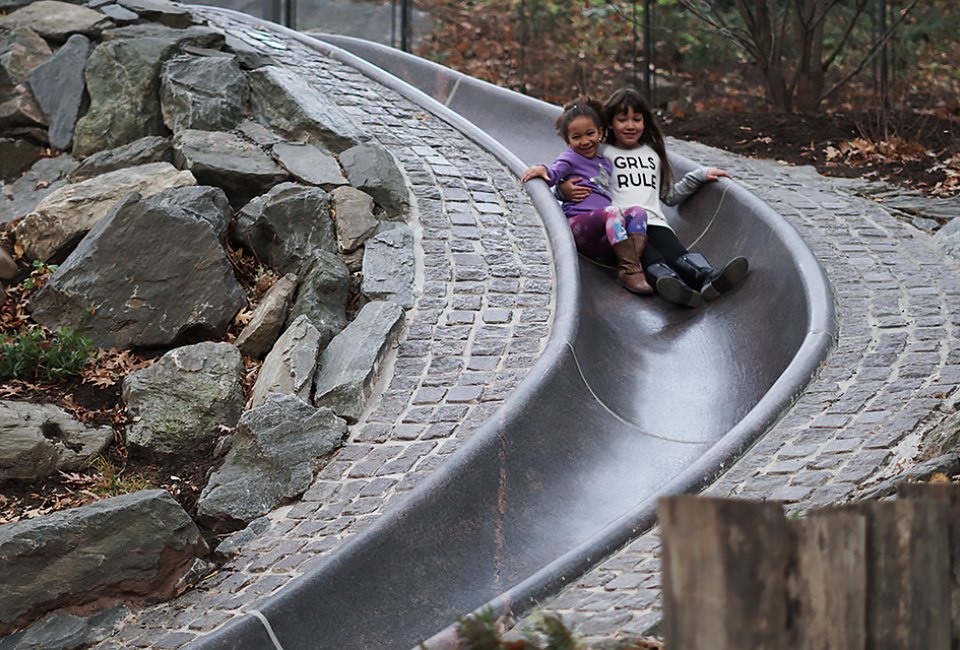 11/15/18
- By
Jody Mercier
The Billy Johnson Playground in Central Park has reopened after a months-long rehabilitation and reconstruction project, bringing with it not only the re-opening of the iconic, long, curving granite slide, but also a second granite slide that's accessible for smaller kids. The playground now sports a rustic new net climber with slides and a rope bridge, and a new water feature as well.
While the original slide helped land the playground on our list of 100 things to do with city kids before they grow up, the renovation adds a few new noteworthy features to one of our favorite playgrounds in Central Park.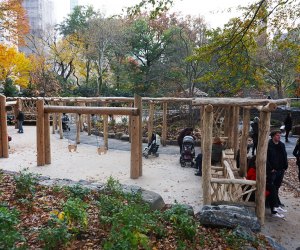 Originally designed by landscape architect M. Paul Friedberg and installed in 1981, Billy Johnson Playground is perhaps best known for its thoughtful integration into the surrounding landscape of the park. The renovation, which was orchestrated by the Central Park Conservancy, was careful to preserve much of its heritage while also bringing the playground up to current safety standards. You can see before and after pictures on the Conservancy's site.
RELATED: 23 Fun Things to Do with Kids in Central Park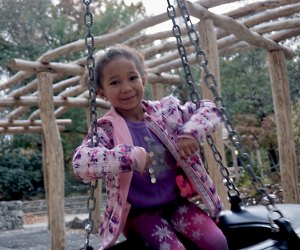 Beyond the trademark slide, the recognizable mini-version of the Gapstow Bridge remains, and the towering, mature trees that give the playground shade were preserved untouched. The rustic entryway has been refurbished and a pair of pergolas have been constructed to match it, sectioning off the updated and upgraded swing area—with bucket swings and a tire swing—plus a separate giant sand area that houses a custom-made rope climber, complete with rope bridge, platforms, and slides.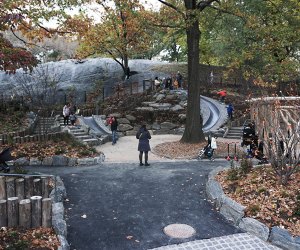 While many of the other upgrades are harder to spot, they're still important: The grading of the path from Fifth Avenue, for example, was redone to make the entrance handicapped-accessible. Water play areas have also been upgraded and enhanced. While Friedberg's original design called for an interactive water play area, it never functioned to the level he had conceived. The renovation adds a user-activated water feature in the amphitheater area, and to the area under the bridge.
Parents will appreciate the built-in benches beneath the rustic pergolas, offering a comfortable place to lounge while kids make endless trips down the slides. The existing slide was shortened slightly to bring it into safety compliance, but still stretches a thrilling 45 feet. To the south is a much smaller slide for the toddler set, which is also accessible to those with limited mobility.
Billy Johnson Playground is located on Central Park's East Side, near the 67th Street entrance off Fifth Avenue.
Photos by the author
Places featured in this article: