Central Park with Kids: 33 Fun Things To Do and Secrets to Uncover in Manhattan's Backyard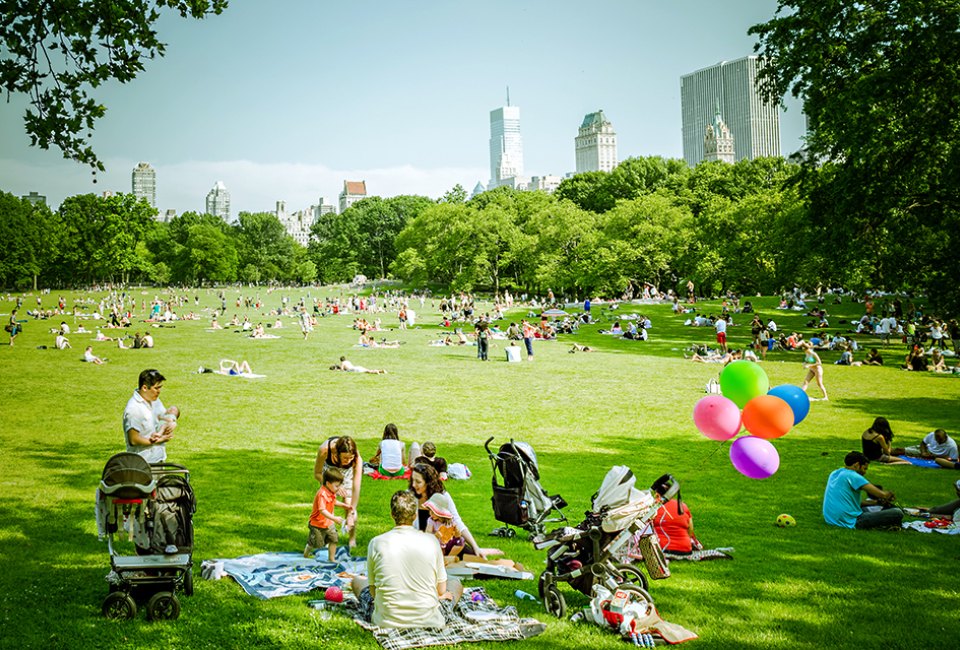 8/12/22
- By
Jody Mercier
Central Park was created as a respite for the teeming masses of Manhattan. The 843-acre jewel is home to woodlands, meadows, lakes, wildlife, and more than a little history. Years after its creation, Central Park still offers a reprieve to all New Yorkers. Today, more than 40 million people annually visit the lush expanses of one of the country's earliest public parks. Central Park's 21 playgrounds make it a destination for families from all over the city and the world.
Central Park isn't a place to tire of easily. My family's daily commute to school takes us back and forth across the park—for that, I thank my lucky stars. But it's easy to lose perspective and forget how much this massive green space has to offer locals and visitors alike. With that in mind, we've rounded up 33 fun sights, scenes, and things to do in New York City's big backyard, from the obvious destination-worthy Central Park playgrounds and sledding hills to more obscure destinations.
Find more green spaces to explore in our Guide to Parks and Playgrounds in NYC for Families.
2. See Shakespeare
Catch the wandering actors of New York Classical Theatre as they move from place to place in Central Park, or stake out a spot in line for a chance to nab FREE tickets to see Shakespeare in the Park at the open-air Delacorte Theater, which plays As You Like It through Sunday, September 11.

See Wake Up, Daisy! or another production at the Swedish Cottage Marionette Theatre. Photo by Sean Jamar
3. Watch the Puppets Play
Nearby, find the Swedish Cottage Marionette Theatre, which offers a year-round selection of puppet productions and makes a great way to introduce children to the arts. Now playing: Wake Up, Daisy, a modern-day interpretation of Sleeping Beauty.
4. Drop a Line
Go catch-and-release fishing in the Harlem Meer for FREE. The Meer is located outside the Charles A. Dana Discovery Center, where families can borrow a rod for FREE and receive bait and instructions. The Discovery Center also lends out Discovery Kits and Lawn Games.
5. Visit the Central Park Zoo
Located in the Children's Corner, the Central Park Zoo draws tourists and locals alike to marvel at its daily sea lion feedings, come face-to-face with its cheeky penguins, and feed birds and barnyard animals in the Tisch Children's Zoo.
RELATED: The Best Zoos and Aquariums in NYC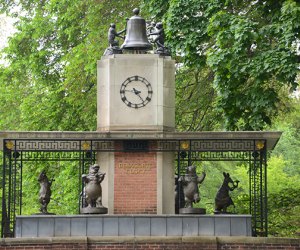 The Delacorte Musical Clock sings a tune every 30 minutes. Photo courtesy of the Central Park Conservancy.
6. Marvel at The Delacorte Musical Clock
Situated just outside the zoo, this fanciful timepiece sits on a tower with two brass monkeys, a hippo, bear, elephant, goat, and kangaroo circling and spinning underneath. Listen for Three Blind Mice and changing seasonal favorites every 30 minutes.
7. Conquer the Great Hill
The Great Hill is the third-highest point in the park. Originally built as a carriage road, it is now a gentle, sloping lawn surrounded by American elm trees and an ideal place for a picnic or a snooze on the grass. Late summer brings Great Jazz on the Great Hill with a swingin', dance-worthy afternoon concert.
8. Visit The Met
Museum Mile runs along Central Park's eastern edge, and its anchor, The Met, is a must-visit. After tossing pennies in the fountains outside and pulling your crew from the Arms and Armor hall, head up to the rooftop garden for a unique view of the park. When the kids have had enough of the art, let them run wild at the nearby Ancient Playground.

Belvedere Castle offers stunning vistas plus a visitors center. Photo by Janet Bloom
9. Explore Belvedere Castle
Commune with nature in the newly restored Belvedere Castle. Step out onto the large outdoor patios for birding and great views of the park and the city, and use it as a jumping-off point for a nature walk down the hill to the Turtle Pond.
10. Pitch a Tent
For another unique view of the park, consider entering the lottery for an Urban Park Rangers family camping trip where your family can pitch a tent in the park to enjoy an all-night adventure complete with s'mores and nighttime nature walks to spy on nocturnal creatures.
11. Get Lost and Found
Let the lamp posts guide your way if you're prone to getting lost. Most of the lamp posts in the park are embossed with numbers that can help you get where you are going. The first two numbers in the series represent the street number you would be on if the street went through the park—so you will always know how far north or south you are. For example, No. 9202 means you're on 92nd Street. Streets north of 100th street start with 01, 02, and so on.
RELATED: How To Do the Best of NYC for Kids in Just One Day

Head to The Harlem Meer to celebrate Halloween with its annual pumpkin flotilla.
12. See a Seasonal Display
The Harlem Meer is home to two of our favorite off-beat holiday displays. Come October, bring your jack-o-lantern to the pumpkin flotilla, and watch as the waters come to life when pumpkins set sail at dusk. During the Christmas season, a trio of trees is set alight here as well.
13. Experience Winter's Splendor
Think Central Park is just a summer spot? Think again. Its popular sledding hills are packed on snowy days, and an annual Winter Jam celebrates a variety of cold-weather sports. When fresh powder falls, you'll also spot people snowshoeing and cross-country skiing.
14. Hit the Ice at Wollman Rink
The famous Central Park ice skating rink is newly revitalized and under new management. Its second season opens in late fall, and we love that its Wollman Rink Access Program makes skating here affordable for all New Yorkers.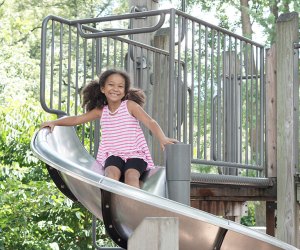 The East 110th Street Playground is an all-ages romping spot that's sheltered by huge shade trees and perfect for a summer day.
15. Romp Along the Northern Edge
We're big fans of the entire northern edge of Central Park, which has a more local feel. Its East 110th Street Playground and West 110th Street Playground offer plenty of all-ages fun.
16. Go Bouldering
Who needs an indoor rock climbing wall when you have Central Park at your disposal? Scramble up Umpire Rock, one of the many huge rocks on which kids (and adults) love to play.
17. Play at Heckscher
Nearby find Heckscher Playground, which is not only our favorite Central Park playground but one of the top romping spots in all of NYC.
RELATED: 10 Things to Love About Northern Central Park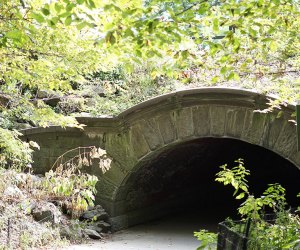 The North Woods are a picturesque, off-the-beaten-path spot to explore.
18. Hike the North Woods
Go for a hike in the North Woods past man-made streams, waterfalls, ponds, and the famous Central Park arches. The rural and rugged northwest corner of the park is considered the Adirondacks of Manhattan. You can tour this area with the Central Park Conservancy.
19. Search for Butterflies
Find the North Meadow Butterfly Gardens just steps from the North Meadow Ballfields. While these fragrant, flowering plants don't take up much room, they do provide a much-needed habitat for monarch butterflies and 50 other species who migrate through Central Park.

See all manner of birds—including celebrity ducks—with keen eyes while birding in Central Park.
20. Go Birding
One look at the Manhattan Bird Alert Twitter feed will get you twitterpated for the bird-watching opportunities in the North Woods and beyond. Grab your binoculars and see what sort of feathered friends you can spot. Snowy owls, bald eagles, and a Mandarin duck became social media darlings thanks to the keen-eyed birders who flock to the park.
21. Explore the Arsenal
One of two buildings that predates the park, the Arsenal houses offices for the Parks Department and Central Park Zoo staffers in addition to a gallery space and the original park plans, which are viewable by appointment.
22. Search for Remnants of War
Did you know Central Park's northern edge, with its hilly vistas, played a key role in American history? Occupied by the British during the Revolutionary War, a series of forts was constructed prior to the War of 1812 and one, The Blockhouse, still stands today.
RELATED: 5 NYC Sightseeing Itineraries Just Right for Preschoolers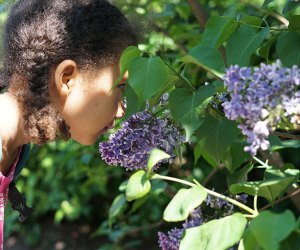 The lush, European-style Conservatory Garden is filled with pretty blooms.
23. Stroll Through the Conservatory Garden
Take a stroll in the formal Conservatory Garden to appreciate the beauty of spring in Central Park. Beyond the immense wrought-iron Vanderbilt Gate on upper Fifth Avenue is the beautiful bicycle- and runner-free, six-acre garden designed in the style of the famous gardens of England, France, and Italy, complete with fountains and arbors.
24. Visit the Nature Preserve
The semi-secret Hallett Nature Preserve was off-limits to the public for decades but reopened in 2016. Visitors can see this natural gem (near The Pond at the park's southeastern corner) on an official tour or visit daily from 10am to half an hour before dusk. Beware: Strollers and dogs are not allowed inside.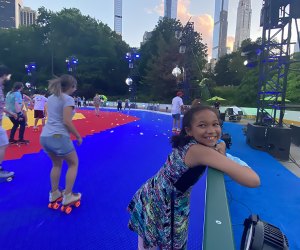 Go retro with roller skating in Central Park at Wollman Rink's DiscOasis through October 1.
25. Skate in Summer
Wollman Rink isn't just a wintertime attraction anymore. The DiscOasis has popped up for summer fun bringing an old-school funk to the rink through Saturday, October 1.
26. See the Dance Skaters
For some really fancy footwork, head to the Skate Circle at mid-park near 70th Street where the Central Park Dance Skaters hold skate sessions on weekends and holidays from April through October complete with live DJs.
RELATED: 12 Top NYC Boat Rides with Kids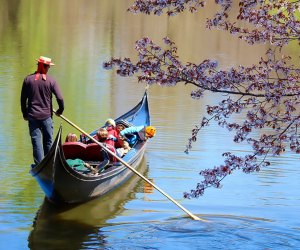 Go Venetian in Central Park with a Gondola ride at the Loeb Boathouse. Photo by Shinya Suzuki via Flickr.
27. Take to The Lake
Take a tour of The Lake from a rented rowboat or on a manned gondola at the Loeb Boathouse. Act fast: Not only are boat rentals seasonal, but the Loeb Boathouse will reportedly close its doors for good in October, though plans are already in the works to find a new operator for this historic spot.
28. Go for a Horse Ride
Whether you opt for a horse-and-carriage tour or a budget-friendly twirl on the Central Park Carousel, seeing the park with the help of a steed is a memorable experience.
29. Find a Famed or Favorite Monument
More than 70 monuments and statues call Central Park home, ranging from Alice in Wonderland to Balto, suffragettes, Frederick Douglass, and countless others. See how many you can spot.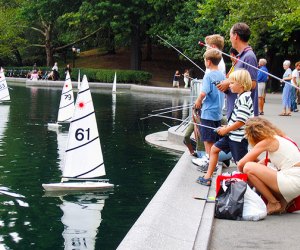 Rent a boat to sail across the Conservatory Water. Photo by Stig Nygaard via Flickr.
30. Sail Across the Conservatory Water
Kids who have read EB White's Stuart Little will fondly remember the race that took place in the Conservatory Water, and they'll likely want to motor their own boat there. You can rent one at the concession stand behind the pond.
31. Ride the Slide at Billy Johnson Playground
The twisting, granite slide is seemingly an extension of the landscape at this iconic Central Park playground. We love that recent renovations not only preserved this super fast slide but also added a separate toddler and handicapped-accessible version.
32. Explore Seneca Village
This predominantly African American community thrived in what's now Central Park from 1825-57. Extending from West 82nd to West 87th streets, visitors can explore remnants of the village today on their own or during a guided tour courtesy of the Central Park Conservancy.
33. Plan a Picnic
When all else fails, pack a picnic blanket and set out to find your favorite nook to laze away a summer afternoon. My family flocks to the lawn above The Pool to relax on the grassy hill at 103rd Street. Other popular spots include Sheep Meadow and the green spaces near the Children's Corner on the southern edge. If you prefer your picnic off the beaten path, head to the shady Arthur Ross Pinetum, which has a few picnic tables and some good old-fashioned swing sets.
A version of this article first published in April 2010.
Unless noted, photos by the author
Click Here to Sign Up!
i