The Very Hungry Caterpillar Show
DR2 Theatre

NYC Easter Brunch Cruise 2023
Event Cruises NYC

Easter Fun Cruise with Egg Hunt 2023
Event Cruises NYC
Sign up for our free newsletters.
Belvedere Castle Reopens After Extensive 15-Month Restoration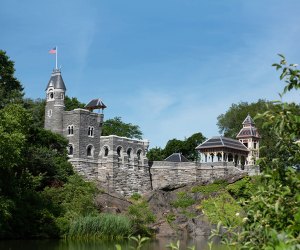 6/28/19
- By
Jody Mercier
Princes and princesses take note: Following a comprehensive 15-month restoration project, Belvedere Castle reopens to the public today in Central Park, bringing with it structural and decorative upgrades and familiar views waiting to be explored, just in time for summer. For families, new kid-friendly nature programs encourage exploration of the castle's lovely grounds. For a look at what's new (and renewed) at this treasured Central Park landmark, read on.
The $12 million project, undertaken by the Central Park Conservancy, was aimed at insuring the sweeping views from Belvedere's rock-top perch would be preserved for generations to come. Some work is plainly visible: The stone work has been cleaned and restored, the walls enclosing the terraces have been disassembled and re-built, and three wooden pavilions were restored to their original design. Additionally, the terrace pavement was replaced with bluestone pavers laid in a historically accurate checkerboard design.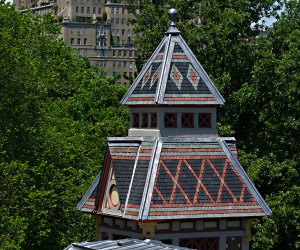 A decorative wood tower, original to the structure upon its opening in 1872, has been rebuilt, and the windows were replaced with clear paned glass, preserving the open-air observatory idea envisioned by designers Frederick Law Olmsted and Calvert Vaux.
Below the surface, crews drilled into Vista Rock, which makes up the castle's base, adding a geothermal system to regulate the temperature inside the structure, creating an energy-efficient, zero-emissions system to keep the nearly 1 million annual visitors comfortable.
New lighting illuminates the castle's exterior for nighttime viewing, too, and work is underway to design and install a handicapped-accessible walkway to allow more visitors to take in the breathtaking views from the park's second-highest point.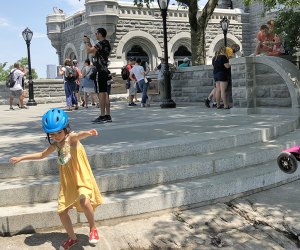 Kids can play around on the steps of the castle. Photo by Janet Bloom
Making the project even more interactive and family friendly, the Conservancy has added a series of FREE Discovery Walks for families focused on the Turtle Pond, which will not only explore the five different species of turtles who live there, but also the ecosystem surrounding the Castle. Adults may also want to embark on the Belvedere: The Beautiful View Tour, which costs $15.
The Central Park Conservancy had previously renovated and restored the Castle in 1983 and 1995, making this the third major project completed to preserve the landmark.
Belvedere Castle is mid-park at 79th Street. Summer hours (through August 9) are 9am-7pm. Fall, winter and spring hours are from 10am-5pm.
Photos courtesy of The Central Park Conservancy