25 Ways to Play Princess in New York City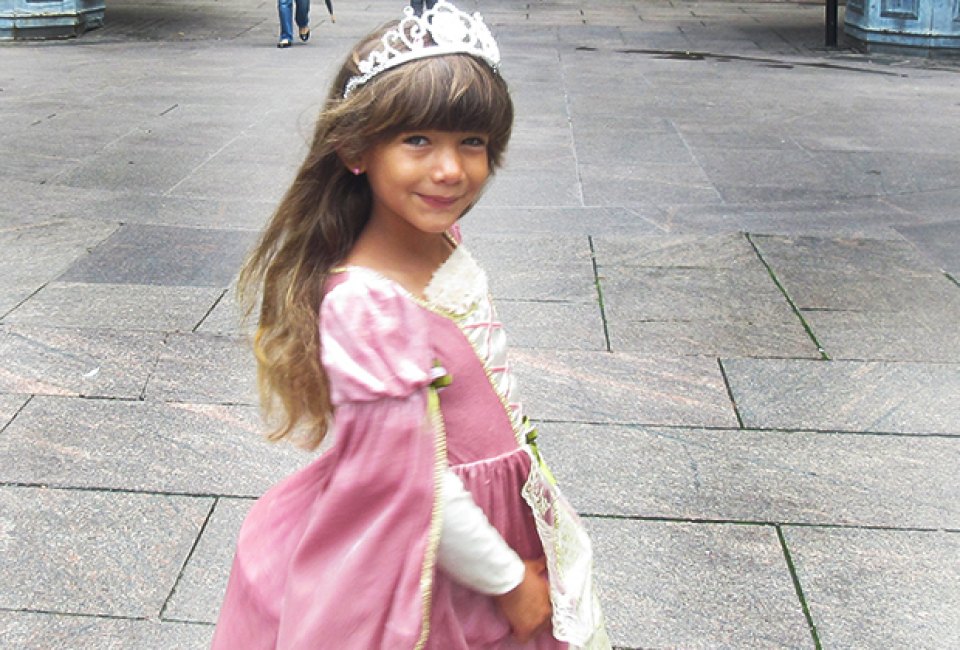 9/23/16
- By
Jody Mercier
If you have daughters, you know it is hard to shield them from the cotton-candy pink frocks, tulle-filled tutus, sparkly wands, and gleaming tiaras of princesses for long. Of course, many kids, not just the girls, are captivated by the swirl of a princess dress or a blinking fairy wand.
With two daughters at home, we have a closet of dress-up flocks, bins of teeny, tiny princess figurines, and shelves chock-a-block full of Disney DVDs. Playing princess is a constant state of being around here. Sometimes my princesses frolic at home; other times we enjoy a night on the town. But no matter where our princess adventures take us, we always have fun.
So, from my princesses to yours, here are 25 ways to experience NYC in royal style.
1. Enjoy a leisurely afternoon tea at one of these NYC spots, dressed in your finest princess gown, of course.
2. Don your dress and head to Wave Hill to craft fairy wands and houses during its Enchanted Weekend.
3. Catch a princess-themed children's show. Pinkalicious uptown is an ongoing favorite, or perhaps this season's newcomer, 1001 Nights: A Love Story About Loving Stories, starring a brainy princess. (Find more shows in our Event Calendar.)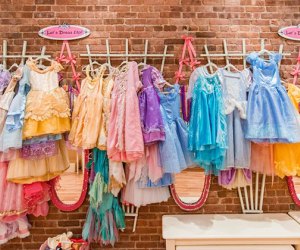 Let's Dress Up has tons of princess costumes. Photo courtesy of the store.
4. Head to Let's Dress Up on the Upper East Side and spend an hour trying on the shop's vast princess wardrobe. Visit any day for a one-hour, castle drop-in playdate, complete with tea and crafts. You can host a birthday party here, or send your princess for some pampering at a princess mini-camp.
5. Pamper your child (and yourself) with a princess-themed hotel stay at the Lotte New York Palace in Midtown.
6. Get gussied up in your princess best and head to Central Park for a photo shoot at Belvedere Castle. Another spot fit for a princess? The Conservatory Garden.
7. While outdoors play a princess-themed game of I-Spy.
8. Visit the Disney Store in Times Square for all your princess-wardrobe (and toy ... and movie) needs.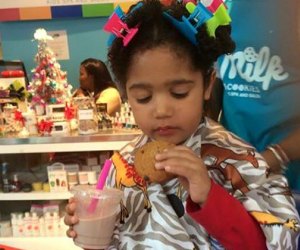 The pampering at Milk & Cookies Kids Spa is perfect for the princess in your life. Photo courtesy of the spa.
9. Pamper your little princess with a visit to Milk & Cookies Kids Spa on the Upper East Side.
10. Host a Frozen-themed princess party at home.
11. Follow FabGabBlog for invites to girly, princess, and dress-up themed playdates and leave the planning to someone else.
12. Catch the latest Disney on Broadway franchise with a performance of Aladdin, or consider Wicked or Kinky Boots for older kids. (Psst...a Frozen musical is arriving in 2018!)
13. Craft your own crown jewels with a visit to one of these beading studios.
14. Comb a local thrift shop for princess finds such as costume jewelry, tiaras and dress-up-worthy shoes without letting go of too much of the family fortune.
15. Learn how to bake a treat fit for a queen at Taste Buds Kitchen, which hosts occasional princess-themed workshops.

Check out the knights in armor at the Met. Photo by Brad via Flickr.
16. Peep some real crown jewels (and other royal artifacts) at The Met.
17. Dress in period garb and head to the New York Renaissance Fair. For a closer-to-home period adventure, check out the annual Medieval Festival in Fort Tryon Park, a favorite around here.
18. Catch an alfresco princess movie in NYC parks during the summer months.
19. While away an afternoon at one of our favorite children's bookstores as you read (and re-read) about the adventures of your favorite fictional princesses.
20. Pretend the gondolier is your own prince as you cruise The Lake in Central Park.
21. Put on those pearls and tiaras and pick up the mic for a princess sing-off at these karaoke spots for kids.
22. Host A Princess Visit at the next birthday party to create a magical memory.
23. Queue up your favorite princess DVD and settle in for an at-home movie night complete with Pixie-Dust Popcorn.
24. Head to the Flower District to pick up some fresh floral sprigs to craft a flower crown. Or, for staying power, stick with silk blooms from your local craft store.
25. For a that extra special splurge, and the ultimate princess experience, book a Disney Cruise, sailing from Midtown West.
Top photo by the author.