Experience NYC in True Princess Style at the Lotte New York Palace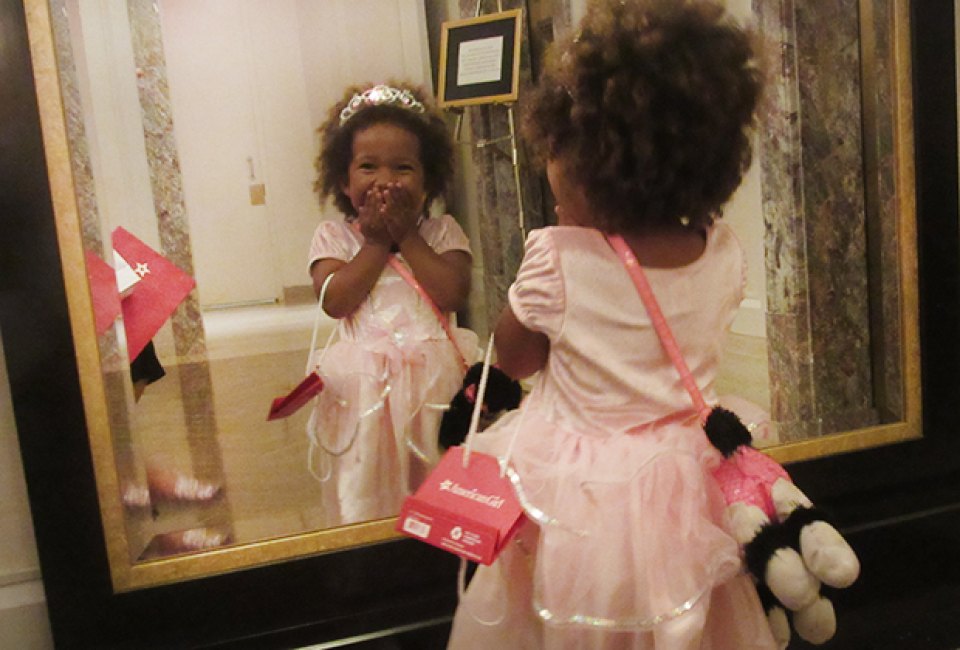 8/11/16
- By
Jody Mercier
With a 3-year-old and 7-year-old daughter, princesses long ago took over my home. We've got dress-up clothes, dolls, movies, sing-along-microphones, and multiple tiaras, but never have my girls felt quite as regal as they did on a recent stay at the Lotte New York Palace where we were treated to a truly magical experience as royal guests with the luxury hotel's Palace Princess Package.
Located in the heart of Midtown Manhattan, the Lotte New York Palace offers a perfect destination for a staycation (as we enjoyed) to celebrate a birthday perhaps or as a treat for out-of-towners looking to make their visit to NYC extra special for a certain princess.
The princess magic started before we even checked in to our Towers suite. As I was dealing with the arrangements, a friendly concierge produced two sparkly, light-up tiaras and promptly crowned my girls. From that point on, they were greeted as royalty by everyone, from hotel staff and guests to passersby on the street. That was just the tip of the icing as many more special treats awaited us during the stay.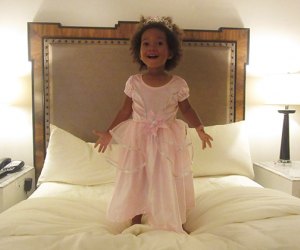 This big girl bed is super soft!
We were barely in the door of our suite when the girls spotted the princess dresses laid out for their arrival and demanded to wear them. My littlest princess got a cotton-candy pink frock with tulle accents and tasteful sequins, while my older daughter's dress was a luxurious pink velvet with gold accents and a hoop skirt to really add to the pzazz! (I provided sizes to the concierge upon booking.) I only wrangled them out of the frocks for bath and bedtime because I packed their princess nightgowns from home!
Fully transformed into royalty, we explored our suite. While we were treated to a stay in a two-bedroom executive suite (easily larger than our uptown apartment), the Palace Princess Package is available in any of the hotel's rooms, which range from standard—yet spacious—rooms with double beds to spectacular suites with awe-inspiring views of St. Patrick's Cathedral, Rockefeller Center, Midtown, and beyond.
RELATED: A One Day Itinerary for Kids Visiting NYC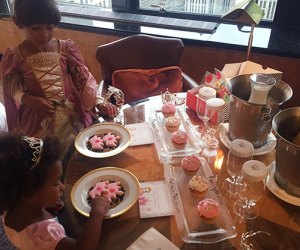 A feast fit for a princess.
Perhaps even more eye-popping than their frilly frocks were the dual sweets spreads in my girls' room. Special, personalized cards on princess stationary welcomed each individual princess and came surrounded by plates of sugary confections. (The Palace Princess package includes tiara-shaped cookies, plus a beverage at nightly turndown.) My girls couldn't get enough of the cookies, or the sweet chocolate bites nestled below.
After sneaking in a few sweet bites, the princesses and I struck out for NYC, gowns and all, to explore the neighborhood and all its family-friendly (and princess) hot spots. If your princesses are anything like mine, a visit to the American Girl Place (one of our favorite spots for mommy-and-me tea) will be high atop the list. Peruse the aisles, book a tea, splurge on a doll before heading back to the Rockefeller Center area where you can find plenty of family-friendly activities and kid-friendly spots for dining. Of course, we were a bit partial to the indulgent 24-hour room service, complete with kids' menu, at the hotel.
Or elevate the princess magic a little further with a visit to the Disney Store in Times Square, perhaps for some more princess accessories or just to walk among the other fair maidens like Elsa and Beauty? Another nearby outing fit for royalty includes strolling up Fifth Avenue to Central Park where you can whisk your princess away on a carriage ride.
All of these adventures are within easy walking distance of the Lotte New York Palace, even for my preschooler, and the oohs-and-awes their dolled up appearance produced from tourists on the street added to the special effect of the evening—one that we won't soon forget. Though they are native New Yorkers, this time spent exploring their city as special guests was a treat and offered us fun, girly bonding time we don't always get amid our day-to-day lives. Indeed, my 3-year-old asked if the Lotte New York Palace could be our new home; when I told her no, she decided she'd settle for another visit on her birthday.
RELATED: 100 Things to Do in NYC Before Kids Grow Up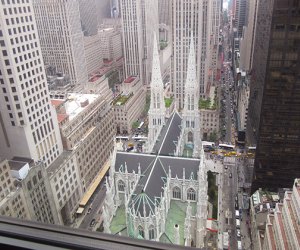 The view.
Once we returned from our princess romp, the girls were completely tuckered out from all the excitement, so we settled in for a bit of pampering. A relaxing bubble bath was followed with a bit of lounging in plush, child-sized hotel robes. Finally the princesses were tucked into bed, crowns nearby, giving me a little quiet time to enjoy the view and the accommodations while feeling like a princess myself.
We lazed away the next morning in princess style, enjoying room service and a few of the treats we hadn't finished the night before. Another treat we could have indulged in was a mommy-and-me manicure-pedicure at the onsite spa, which comes at a 25 percent discount when booked in conjunction with the Palace Princess Package.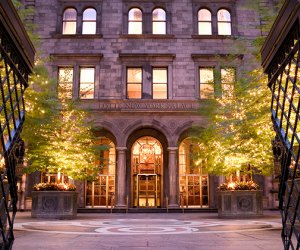 Your luxury digs also come with a fab location on Madison Avenue. Photo courtesy of the hotel.
The Lotte New York Palace is located at 455 Madison Avenue, at 50th Street, and the Palace Princess Package, which includes take-home princess costume and crown, child-sized robe, slippers, tiara cookies and beverage at turndown, in addition to the spa discount, can be booked through year's end. Prices are based on availability and start at $344 per night for a deluxe corner one-bedroom suite; if you're bringing more than one princess, the price will be slightly higher. Check in time is 3pm; check out is at noon, though the staff will gladly hold visitors' luggage while you explore the city.
All photos are by the author unless otherwise noted.
Places featured in this article: