NYC Itinerary: The Best Things to Do with Kids in Just One Day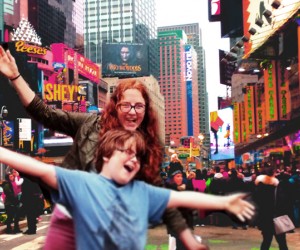 New York City offers near limitless things for kids to do from some of the best children's museums and theater options in the world to our libraries, parks and playgrounds. Even locals get overwhelmed with the amount to do here each day and weekend. So we've put together the ultimate one-day itinerary for a family trip to NYC, making sure you take in all the top kid-friendly sights and activities, including Central Park, Times Square and the American Museum of Natural History.
This ultimate NYC family bucket list is designed to be fun for kids of pretty much any age, but we think school-age children will likely get the most out of it. It offers park and food breaks along the way, and could easily be stretched over a weekend or done at a slower pace for toddlers and preschoolers. Read on for your very best day in NYC ever, and check out the Mommy Poppins Visitor's Guide for more tips on the best kid sights and things to do in Manhattan, as well as Brooklyn, Queens and elsewhere around the city.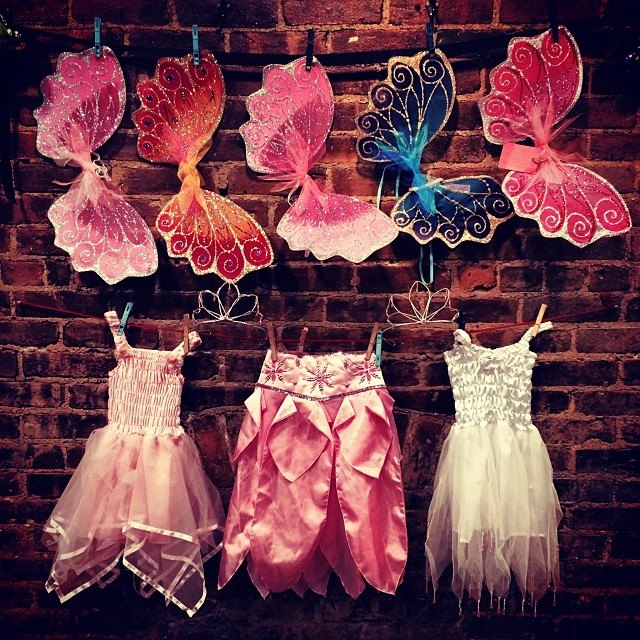 What to Do with One Day in NYC with Kids
You'll need a hearty breakfast before starting on this jam-packed day. Start on the Upper West Side at Alice's Tea Cup, the beloved Alice in Wonderland-themed sweet spot. Before you're seated, the staff sprinkles your kids with fairy dust and offers them fairy wings to borrow. The spot specializes in a British-style tea of scones, clotted cream and jam, but also serves a full breakfast. Sarabeth's is a another nearby local breakfast favorite beloved for its hearty home-style fare. Both restaurants open at 8am. Getting there before nine will ensure you don't have to wait for a table and give you lots of time to explore the city. If you plan to arrive later, you may want to make a reservation.
RELATED: Restaurants Near the Museum of Natural History
With breakfast under your belt you can get to the American Museum of Natural History right when it opens at 10am to beat the crowds. Hit the highlights like the dinosaurs, the Blue Whale room, early hominid "Lucy", or you could spend most of your day at the museum. Use its Explorer app to help you plan and enjoy your visit.
More than a park, Central Park claims some of the best attractions for kids, including the Central Park Zoo. An aimless walk through the park won't disappoint, but I recommend heading through The Ramble, an urban woodland that will make you forget you are in one of the biggest cities in the world.
Have more time? You could head up to The Metropolitan Museum of Art when you come out of The Ramble on the east side. The excellent Egyptian collection and temple of Dendur are kid favorites, but the vast museum contains many treasures. Family guides provided for free at the front desk help kids navigate and enjoy the museum, or look for its schedule of free programs for kids. Want more outdoor time? Rent a rowboat or take a gondola ride at the Loeb Boathouse (seasonal).
As you walk through the park, you'll find food vendors to get a quick meal. You can find better food, but chowing on a street dog and pretzel are an NYC must-do and will be a quick bite to sustain the family's energy through this busy day.
The next stop is The Conservatory Water where you can watch the sailboats gliding on the model boat pond or rent your own boat if you want to give it a whirl. Kids also love to climb on the Hans Christian Anderson and Alice in Wonderland Sculptures. Continuing south, you can either walk a little west to see the iconic Bethesda Terrace and walk down The Mall and Literary Walk or just cruise straight south and head toward the zoo. It's worth making at least a quick stop at the Billy Johnson Playground to take a turn on the giant granite slide.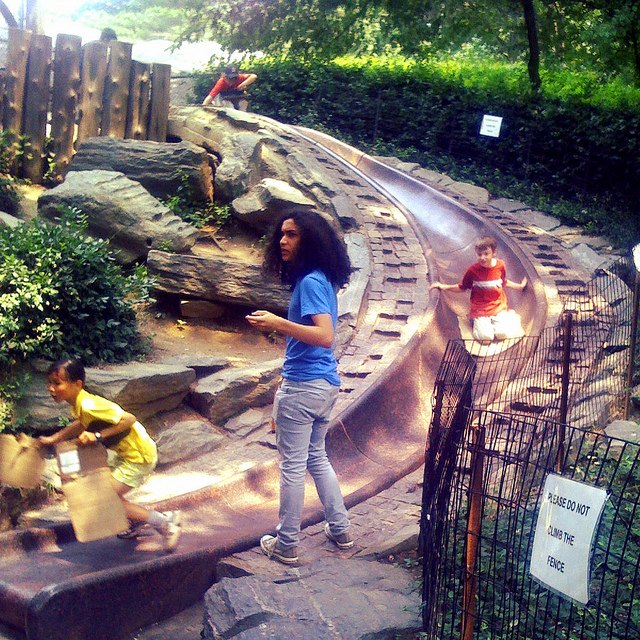 You'll hit the Tisch Children's Zoo first where kids can feed pygmy goats and scramble on a giant spider web. If you time it right, you can catch the Delacorte Clock's dancing animals every half hour and then head to the main Central Park Zoo. Try to catch the sea lion show. The balmy tropic zone is a great spot to warm up for a few minutes during colder weather.
By now everyone is probably tired and cranky and deserves a serious treat break. Within a few block radius are a few stupendous options.
Closest and most pricey is the Rawther Fancy Tea at the Plaza Hotel's Eloise Shop, but it's open only on select Fridays. Kids flip for Dylan's Candy Bar, the Wonka-esque multistory candy shop with a Candy Cafe that serves real food as well as over-the-top desserts.
Now that you are refueled and ready for more, head a few blocks down Fifth Avenue toward Rockefeller Center, strolling past NYC's most famous and fancy stores. If you are with little ones you can take the bus to rest their tired feet, or hop the subway to round out that NYC bucket list. (A number of train lines are nearby that will deposit you in Midtown, closer to the next destination, including the F, B, D, N, Q and R.) Your tweens and teens might dig checking out the shops along the way.
Native New Yorkers steer clear of crowded and touristy Rockefeller Center and Times Square, but there's a thrill in seeing them for the first time and checking them off your bucket list. Kids will especially enjoying hitting the flagship stores like M&Ms, Disney, NBA and the recently redesigned Nintendo.
Times Square isn't the best place to find authentic NYC fare, but there are a few fun options for families. Out of all the massive ethnic restaurants in the area, Junior's is my favorite. An offshoot of the Brooklyn original, the Theater District outpost serves up potato pancakes, brisket, chopped liver and other Jewish delicacies that taste like they came from my bubbe's kitchen. Of course, the local chain is best known for its cheesecake, which is to die for. Downside: It's perpetually overrun and reservations aren't accepted for small parties. The outside of the Ellen's Stardust Diner looks like an old railroad car, but the real fun starts inside where the waiters break out into song periodically, singing old 1950s rock tunes, standing up on empty tables and putting on a fun show, making this midtown spot a memorable stop for families. John's Pizzeria is your best bet for getting some authentic NYC pizza into your day, serving up delicious brick oven pies. Don't miss out on the garlic knots either.
RELATED: Family Friendly Restaurants Near Times Square
The perfect end to an iconic day in Manhattan is with a show. If seeing a Broadway Show is out of your budget, don't fret. The New Victory Theater on 42nd St offers top of the line children's theater. The shows here are consistently creative and entertaining and cost a fraction of the price of a Broadway musical.
Phew! That's probably enough for one day (or two!). To help make big travel days like this easier with kids, check my family travel planning tips. I wrote it for overseas travel, but it applies to a big city like New York just as well.
Need more kid activity ideas? Check out our list of 100 Things to Do in NYC with Kids Before They Grow Up or the Mommy Poppins Event Calendar for today, tomorrow or this month's best activities.
Top image by Mommy Poppins.