Where to Eat in Central Park Beyond the Pretzel Vendors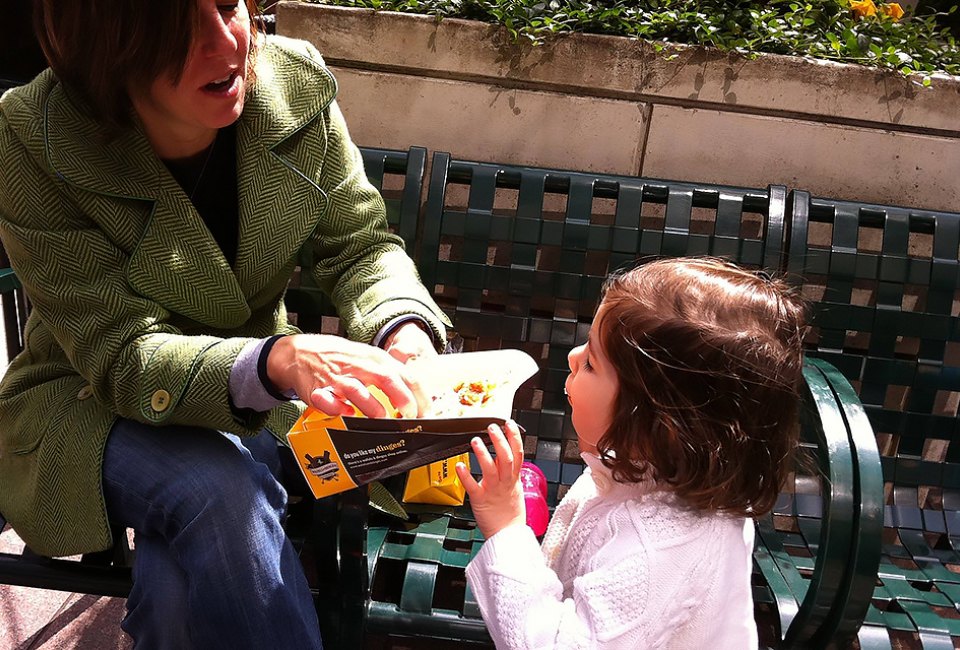 4/19/19
- By
Allison
You're in Central Park with the kids and haven't packed a lunch. What are your food options when hunger strikes? It used to be tough to find much in the park other than pretzels, hot dogs, and ice cream. City food staples? Yes. Healthy or yummy? Not so much. Now, thankfully, there are some better, and healthier, places to grab a bite and refuel in between your playground hopping. Here's a look at some food stops now open around Central Park and some that are coming soon.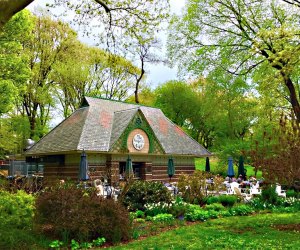 Enjoy salads, sandwiches, burgers, and other ballpark snacks at the Ballfields Cafe on the northern edge of the Heckscher Ballfields.
Restaurants in Central Park
Ballfields Cafe
Mid-Park north of the Heckscher Ballfields at 65th Street
If you are near the ballfields (hello Little League Season!) there are many casual options to found at the cute brick Ballfields Cafe near the carousel, including salads, sandwiches, burgers, fries, and icy cold drinks.
Dancing Crane
Central Park Zoo, East 64th Street and Fifth Avenue
Spending the morning in the Central Park Zoo? Dancing Crane is the Central Park eatery closest to the zoo, with tons of options both healthy and hearty. While the eats are the standard pre-packaged fare, kids love the chicken fingers here, and there are adult-friendly options like salads and soups.
Express Cafe in the Loeb Boathouse
Mid-Park at East 72nd Street and Park Drive North
If you are in the heart of the park and don't want to venture out, check out the Express Cafe in the Loeb Boathouse. It's fast and fresh and open from 8am until 5pm (4:30 in the winter). You can choose from burgers and salads or just stop in for a quick cookie break! Be sure to stop by the boats after your snack.
Le Pain Quotidien
Mid-Park at West 69th Street in Sheep Meadow north, and near the Conservatory Water at East 74th Street and Fifth Avenue
True, it's a chain, but it is healthy place to feed your littles. You can get breakfast, lunch, or dinner at this cafe with two locations in the park. At the Sheep Meadow location, there is an indoor dining area and a lovely, large 100-seat terrace with high chairs available. You'll find the chain's typical menu with soups, salads, sandwiches and baked goods. And here's a bit of trivia to share while you eat: The cafe is located in an area dubbed "Mineral Springs" because in the late 1800s a pavilion there served different varieties of natural spring water.
Tavern on the Green
Central Park West at West 67th Street
If you are in the mood for something a bit more fancy, look no further than Tavern on the Green. This iconic restaurant has been restored and has one of the best kids' menus in town. Burgers and chicken fingers can be eaten inside this true gem of a landmark, while the adults refresh themselves with something a little more refined, like a salmon burger with fennel salad.
RELATED: 23 Fun Things to Do in Central Park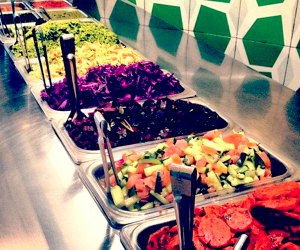 Kids can top their own falafel at Maoz Vegetarian.
Food Kiosks and Snack Stands in Central Park
Maoz Vegetarian
5th Avenue and East 106th Street near the Harlem Meer
Tasty smoothies, crisp falafel, and fresh Middle Eastern inspired pitas, wraps, and salads are on offer at this brick snack stand uptown, just inside the park's eastern gates. Settle on a bench to snack with a view of the Harlem Meer, then explore the nearby Conservatory Garden. Open seasonally, this is a great option for the non-meat eaters in the family.
Public Fare
Mid-Park at West 81st Street near the Delacorte Theater
This cafe near the Delacorte Theater on the south end of the Great Lawn is only open seasonally and on select days (usually Wednesday through Sunday), and is operated by Danny Meyer of Shake Shack fame. You can order market greens for $4.50, or tuna, chicken, or veggie sandwiches for around $7—not a bad deal for NYC, especially in the park. The menu includes coffee, wine and beer and desserts as well.
Wafles & Dinges
Mid-Park near Wollman Rink at 62nd Street on Center Drive
The chainlet for sweet top-your-own Belgian waffles operates a small kiosk near the ice skating rink, offering hot cocoa and coffee as well as lemonade. A good spot for a blood-sugar boost when you're out and about in the park or hitting the ice.
Note that there are also concession stands located within Wollman Rink, Lasker Rink, and the North Meadow Recreation Center.
Other Food Options in and Around Central Park
Fruit Vendors. If you need to grab some sustenance quickly, I suggest finding that great NYC institution, the fruit cart. Vendors are usually parked outside the park at the major gates and access points, but you'll find most of the fruit vendors on Fifth Avenue at 81st and 87th Streets and at West 110th Street. The produce comes from the Hunts Point market.
Park Vendors. There are plenty of ice cream, hot dog, and pretzel vendors both within the park and outside most gates. You're bound to run across one if you're hungry enough, so why not make it a game with the family and see who can spot one first?
Restaurants near entrance points to Central Park. Shake Shack is just steps from the 79th Street entrance to Central Park, on West 77th Street and Columbus Avenue, with burgers, fries, and custards galore. If you need a break from being outside, enter the Metropolitan Museum of Art, located along the east side of Central Park between East 80th and East 84th Streets, where you'll find a few cafe options to choose from, including the seasonal rooftop cafe with unbeatable views of the park. Nothing better than taking in some art while beating the heat or cold weather and enjoying freshly made sandwiches, salads, and cookies. On the Park's southern end, Sarabeth's on Central Park South is a great place to go for brunch or at off times, since there tends to be a bit of a wait. Eggs, pancakes, and even pizza can be found here. A few blocks east, the Food Hall at the Plaza Hotel has tons of options just steps from the park gates, including Luke's Lobster, dumplings, donuts, and sandwiches.
A version of this post was published in 2010; it has been updated. Amy Sullivan contributed additional reporting.
Photos courtesy of the restaurants