Best Central Park Picnic Areas for Kids and Families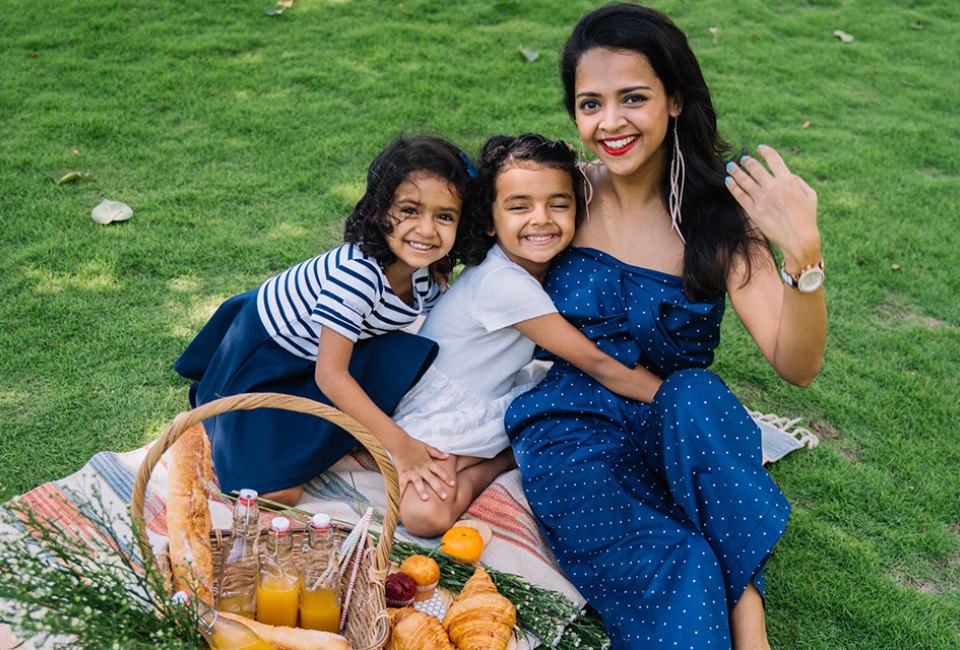 7/10/23
- By
Hans Howe-Freiwald
New York City's Central Park is one of the most beautiful and functional parks in the country. When it was built, Central Park was actually excavated down so visitors don't see the city when they're inside.
This "escape" feature makes Central Park the perfect place to picnic with the kiddos, and the following Central Park destinations are just five of my family's favorite spots. Some are city staples, but a few are secret landing spots hidden in plain sight.
Subscribe to our newsletters to get stories like this delivered directly to your inbox.

Walk the trails in Central Park to discover secret picnic spots.
Central Park's Top Attractions
Of course, a picnic in Central Park is just the start of the action. While we outline some of our favorite play areas near our top picnic areas in Central Park below, we'd be remiss to invite you to NYC's backyard without mentioning a few more can't-miss Central Park destinations:
RELATED: 33 Fun Things To Do and Secrets to Uncover in Central Park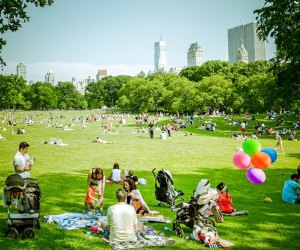 The Great Lawn is an easy choice for a picnic in Central Park.
Best Central Park Picnic Areas for Families
1. The Great Lawn
Where to find it: Mid-park between 79th and 85th Streets
This is the Central Park go-to that keeps on giving. The Great Lawn is 55 acres of prepared picnic-ready grasslands. It's also located smack dab in the middle of the park, making it a perfect centralized location to get to one of the park's many attractions and activities.
Where to play when you're done eating: Use the Great Lawn as a jumping-off spot to visit one of our favorite kid-friendly museums in NYC. Right now my oldest is obsessed with space, so hitting the Hayden Planetarium at the American Museum of Natural History is a no-brainer. On the east side, the treasures of The Met await.
2. Conservatory Gardens
Where to find it: Fifth Avenue between 104th and 105th Streets
You'll have to head further uptown for this gem, but the travel time is well worth it. Enter through the Vanderbilt Gate on 5th Avenue, and you'll find yourself in a peaceful oasis of a manicured, formal garden. It's a perfect place to plop down your picnic basket. The kids will love the colorful flowers and fruit trees while you enjoy the sights and sounds of silence.
Where to play when you're done eating: The Northern Edge of Central Park is a Mommy Poppins favorite. Though there's a huge construction project underway at Lasker Rink and Pool, the Dana Discovery Center and a pair of playgrounds dot the perimeter of the lovely Harlem Meer.
RELATED: Central Park Carousel and More NYC Merry-Go-Rounds

The lush meadow of Strawberry Fields is perfect for people-watching.
3. Strawberry Fields
Where to find it: Central Park West between 71st and 72nd Streets
Being so close to the street, Strawberry Fields can be a little more crowded than the other Central Park Picnic areas, but it also has some of the most eye-catching action. Choose Strawberry Fields if you wanna a bit of "theater" with your dinner as there are almost always talented street performers waiting to serenade your supper.
Where to play when you're done eating: Take a walk around The Lake. The kids can have fun skipping stones and hopping rocks while you get your steps in. This iconic manmade lake takes approximately 60 minutes to walk all the way around, so have a water bottle at the ready.
RELATED: Central Park's Top Playgrounds Ranked for Kids and Visitors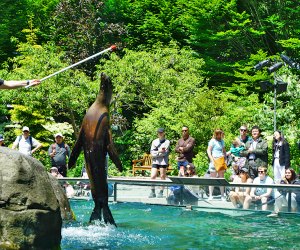 The Central Park Zoo is surrounded by little picnic spots.
4. The Central Park Zoo
Where to find it: Fifth Avenue at 64th Street
This might seem like a "gimme," but there's a reason for that. It's one of the best spots to entertain and educate the kids about the animals you are not going to run into in the rest of the city. It's also laid out in a way that you can feel comfortable taking in all of the sights without having to feel overwhelmed. Whether you hit the zoo before, after, or at all, the surrounding areas in this lower portion of the park are perfect for a picnic.
Where to play when you're done eating: If the zoo didn't wear the little ones out, then head west to Heckscher Playground and the iconic boulders that might make them professional rock climbers by the day's end.
RELATED: Central Park Zoo with Kids: Best Things To See and Do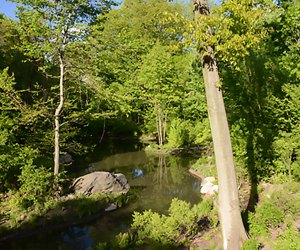 Head uptown to picnic in Central Park's North Woods.
5. The North Woods
Where to find it: Mid-park from 101st to 110th Streets
This is the secret spot that many picnickers most likely miss because it is uptown and often only advertised as a hiking, biking, and birding area. This is a mistake! This area will transport you right out of the hustle and bustle of the city and into what can feel like uncharted territory. The best part about this spot is the solitude. It's nothing but bird sounds, bees buzzing, and babbling brooks.
Where to play when you're done eating: After you've had your fill of nature, head East to 109th Street and load up on some culture. The Africa Center is a perfect place to learn about a continent and culture that is still often underrepresented. Be sure to check out its programming calendar to see what's happening.
Unless noted, photos courtesy of Central Park
Places featured in this article:
---
Central Park Zoo
---
Strawberry Fields
---
The Africa Center
t Click Here to Sign Up!