Central Park Zoo with Kids: Best Things To See and Do at the Zoo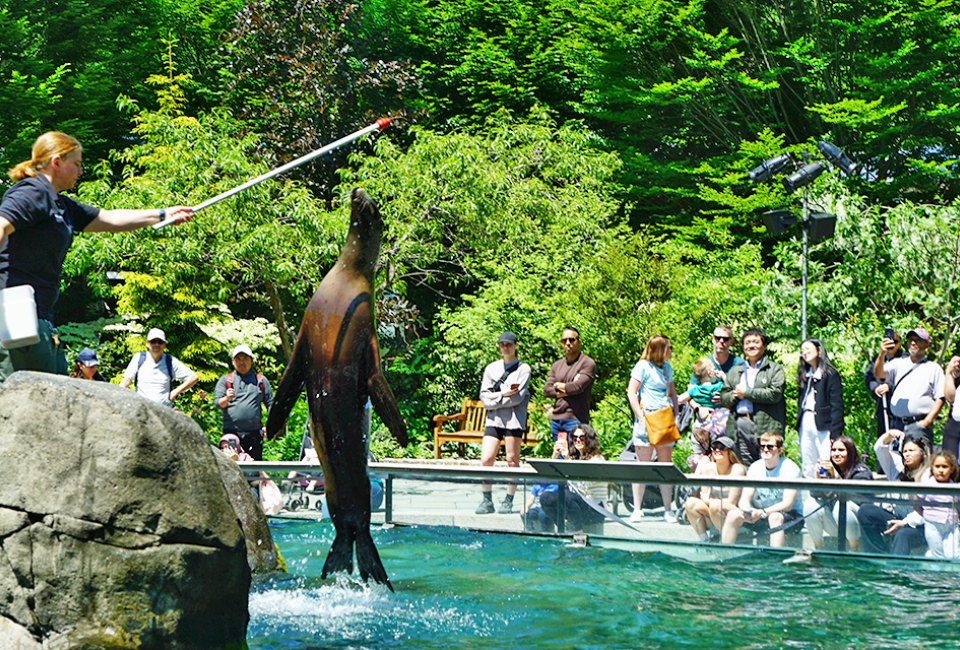 5/29/23
- By
Louise Finnell
Visiting the Central Park Zoo is one of the best ways to spend a day in Central Park with kids. From carriage rides to carousels, Central Park is full of possibilities for children of all ages, but you can't miss taking a walk around the Central Park Zoo, where children under 3 are always FREE.
Nestled on the east side of the park near 64th Street and 5th Avenue, the Central Park Zoo feels like a natural extension of the tranquil green space. Limestone carvings of animals adorn the brick buildings and are reminders of the history of this iconic spot. Here are our kid-tested (and parent-approved) highlights for visiting the Central Park Zoo, including where to see sea lions and how to find bathrooms.
For more things to do in the city with kids, check out our guide on the best things to see and do with kids in NYC and our list of the best zoos and aquariums in NYC, too.
Subscribe to our newsletters to get stories like this delivered directly to your inbox.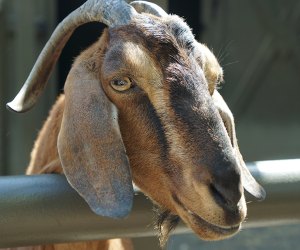 Feed the animals in the sweet Tisch Children's Zoo. Photo by Jody Mercier
Tisch Children's Zoo with kids
We started our visit at the Tisch Children's Zoo, via a separate entrance north of the main gates. A stroller-friendly trail takes visitors past an aviary, turtles, and frogs. The whole trail can be walked in about 10 minutes, but kids will want to linger and check out every detail.
At the petting zoo, kids can get up close with the animals, including goats, sheep, and a cow. Children are even allowed to feed the animals with special food from machines that accept quarters (but only between the hours of 10am and 2pm!) Be sure to bring change or small bills so your kids can get in on the action.
There are plenty of places in the Children's Zoo to play and climb, plus plenty of fun photo-ops, including bunny ears, hatching eggs, and our favorite, the turtle shells.
RELATED: Best of Prospect Park Zoo: What to See and Do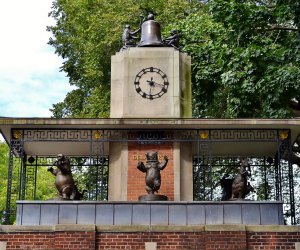 Kids will be charmed by the George Delacorte Musical Clock. Photo courtesy of Central Park
On your way back to the main entrance, make sure to stop and check out the George Delacorte Musical Clock. Perched on top of three brick arches, the clock chimes every 30 minutes between 8am and 5pm. The clock plays 44 different songs, each one performed by a pan-piping goat, a hippo with a violin, and several other animal friends. These charming, historic touches are what set the Central Park Zoo apart and make each visit special, above and beyond a day with the animals.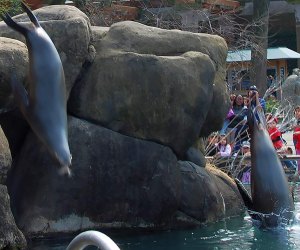 Ready, set, dive! Photo courtesy of WCS
Must-See Exhibits at the Central Park Zoo
Sea Lions at the Central Park Zoo
Don't use up all your energy in the children's zoo, since there's lots more to see inside the main zoo! When you first enter, you can make a right to end up at the beautifully landscaped sea lion enclosure, a good place to regroup and figure out what you want to see. Underwater windows allow visitors to watch the sea lions swim beneath the surface.
You can also catch one of three daily feedings that are fun to watch, but fill up quickly. Try to arrive a little early to snag a spot close to the water's edge for the best views.
RELATED: Queens Zoo: Full of Surprises for Little and Big Kids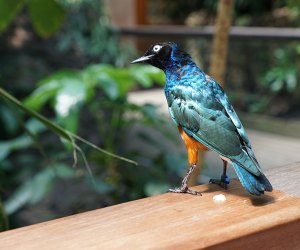 See a variety of free-flying tropical birds and much more in the Tropic Zone at the Central Park Zoo. Photo by Jody Mercier
Central Park Zoo's Tropic Zone
This indoor exhibit is hot, humid, and a great place to transport your senses on a cold winter day! It's also an awesome spot to see free-flying tropical birds and other rainforest-loving critters. Take note: This exhibit is stroller-free, so come prepared with a carrier for little ones. Visitors follow a path from the rainforest floor up into the canopy so you can spot everything from brightly colored ibis to scarlet macaws, peacocks, and more.
You'll also see white-faced saki monkeys, playful tamarins, and a troupe of black-and-white ruffed lemurs who can fill the entire indoor exhibit with a cacophony of sound when they get excited!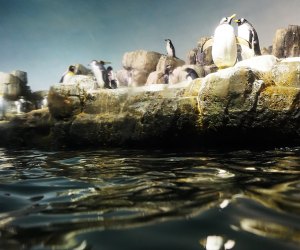 Kids get a kick out of coming eye-to-eye with penguins at the Polar Circle. Photo by Jody Mercier
Polar Circle
The main draw here: penguins! These tiny tuxedoed birds always draw a crowd. Three species are on display in a shared enclosure: macaroni penguins, Gentoo penguins, and emperor penguins. The best part of all: Kids can press their faces right up to the glass and watch these aquatic birds waddle on land or dart, dash, and glide underwater. Our last visit landed us here during feeding time, and though the exhibit was more crowded than usual, it was a fun addition to the day. Be sure to check the schedule in advance.
RELATED: See the Bronx Zoo Like a Local: Top Tips for a Great Visit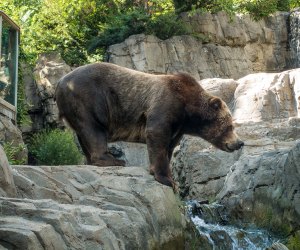 The grizzly bears are a formidable sight. Photo courtesy of Central Park
Grizzly Bears
The grizzly bear enclosure is large, and there are lots of different vantage points that make spotting these huge animals—the largest species at the Central Park Zoo—feel fresh and exciting each time. The harbor seals are right next door, and we had a great time watching them glide by underwater.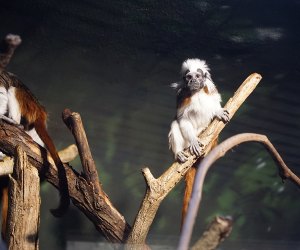 Animals—and enclosures—at the Central Park Zoo are much smaller than the Bronx Zoo, giving kids an up-close view of many species. Photo by Jody Mercer
More Animals and Exhibits at the Central Park Zoo
The snow monkeys were another highlight. Large windows along the enclosure offer great views of the monkeys leaping from perch to perch.
The red pandas draw many ooooohs and ahhhhs from the crowd as they lumber around their enclosure. And, if you can spot the elusive snow leopards, they're a stunning sight! On our last visit, we had a great view of three of these majestic cats, and it was hard to pull ourselves away. Part of the fun here is looking for the animals in their habitats—and kids get so excited when they spot an animal camouflaged in plain sight.
RELATED: Visiting the New York Aquarium with Kids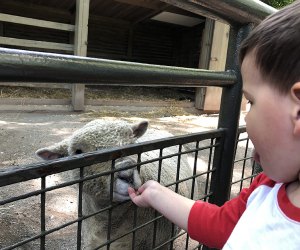 Feed the animals at the Children's Zoo. Photo by author
There is also a 4D theater that plays a rotating selection of shows all day long, plus an on-site gift shop. I appreciate that you have to seek it out—next to the ticket windows outside the main zoo—so it's easy to skip if you're not in the mood to splurge.
Depending on the ages of your kids, plan to spend about a half day at the Central Park Zoo. That's plenty of time to catch a sea lion feeding, see the animals, and visit the petting zoo. Afterward, if you're up for it, head to one of Central Park's many playgrounds for some monkeying around.
Insider Tips for Parents at the Central Park Zoo
1. When should you arrive at the Central Park Zoo?
Though there were the usual NYC crowds to contend with at the zoo, overall the space felt manageable and the lines were reasonable. It did get more crowded as the day progressed, so arriving on the early side might be best.
2. Where can I eat at the Central Park Zoo?
Before you enter the zoo, there are food carts and the Dancing Crane Cafe to fuel you up for a visit. Inside the zoo, there's also a snack stand in the Central Garden near the sea lions. Pro tip: You can bring your own snacks into the zoo to keep hungry tummies fed without emptying your wallet.
3. What should I know before getting tickets?
Children under 3 are FREE! Make sure you purchase a ticket that includes the entire zoo experience so you have access to the Tisch Children's Zoo and the 4-D movie if it's on your must-visit list.
4. Where are the bathrooms at the Central Park Zoo?
Be aware that there are no public restrooms available until you get inside the Central Park Zoo. There are restrooms tucked away in the Arsenal Building just north of the ticket windows if you have a potty emergency before you're inside. Advise your kids to be courteous—this is a working administration building! Once inside, there are bathrooms located in both the Tisch Children's Zoo and the main zoo space. Find the latter just south of the sea lion enclosure.
Originally published in 2018.
Places featured in this article:
t Click Here to Sign Up!