Visiting the New York Aquarium With Kids: Top Things To Do and See
4/25/22
- By
Jody Mercier
A day at the beach doesn't have to leave you water-logged or sandy-soled if you plan to spend it at the waterfront New York Aquarium in Brooklyn. The 14-acre park on the action-packed Coney Island boardwalk is home to more than 500 species and is the oldest, continually operating aquarium in the United States, having opened its doors at Lower Manhattan's Castle Clinton in 1896.
Read on for our favorite things to do and see at the New York Aquarium with kids, and find more fun destinations for an animal encounter in this post on the best zoos and aquariums in New York City.
Subscribe to our newsletters to get stories like this delivered directly to your inbox.
It's worth noting that, given its waterfront location, the New York Aquarium was devastated during Superstorm Sandy. Already in the midst of an overhaul when the storm hit in 2012, progress was slowed, and construction is still ongoing, but big things are happening, and our most recent visits have been greeted with new exhibit openings. So, if you haven't visited lately, it's time to revisit the New York Aquarium.
Must-See Exhibits at the New York Aquarium
Aquatheater Shows at the New York Aquarium
When it comes to personality, the stars at the New York Aquarium are unquestionably the California sea lions, particularly those that star in the daily shows in the Aquatheater. Showtimes vary by day, and though there's plenty of room in the Aquatheater, if you want to see the show from the front, plan to line up about half an hour before showtime.
My 8-year-old was amazed by the sea lion dubbed Bruiser and his brains when we visited, thrilled at all of the behaviors he displayed, from dancing like an excited toddler to swan diving into the tank, and even blowing us kisses. Here again, guests get the message about environmental conservation, as Bruiser rescues an errant plastic bottle from the tank and, with the help of his trainer, instructs viewers on the importance of recycling. One note: Due to a maintenance project, there are changes to the Aquatheater programming in April and May, but it will be up and running by the summer season. See the daily schedule before you visit to avoid disappointment.

The underwater tunnel at the Ocean Wonders: Sharks exhibit is an eye-popping immersion into the seascape.
Ocean Wonders: Sharks
This spectacular addition to the New York Aquarium made a big splash when it debuted in 2018. It adds 57,000-square-feet of exhibit space to the aquarium, and the exhibits are eyepopping. You'll see and learn about its namesake deep-sea predators, along with rays, sea turtles, and plenty of colorful fish and coral reefs. The highlights are the walk-through tunnel at the exhibit's entrance and a crawl-through space that lets little ones feel completely immersed in the underwater world. The grand finale is a huge viewing gallery where visitors are left gazing into the mesmerizing ocean depths in a replica of the Hudson Canyon—a unique submarine channel at the mouth of New York Harbor.
In addition to showing off 18 species of sharks and rays, this New York Aquarium exhibit aims to remind New Yorkers of the city's status as a coastal city and our responsibilities to the animals who live in such close proximity. There's a huge focus here on environmental conservation with plenty of hands-on exhibits to drive the message home.
RELATED: The Best Zoos in the United States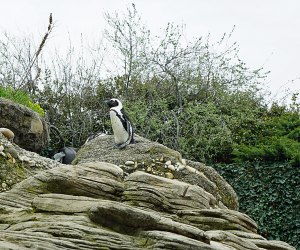 Meet the penguins on the Sea Cliffs at the New York Aquarium
The Sea Cliffs
One of the oldest exhibits at the New York Aquarium, I miss the days of underwater viewing at the Sea Cliffs (shuttered since Sandy), and the personable walruses who used to call them home. Currently, this series of outdoor tanks houses harbor seals, more sea lions, some cheeky otters who delivered plenty of giggles with their playful stunts, and my daughter's favorite: penguins.

See the mesmerizing moon jellyfish at the New York Aquarium's Spineless exhibit.
Spineless
Jellyfish lovers go crazy for this exhibit, which houses the ocean's invertebrates all under one roof. Be mesmerized by the Moon Jellies, fascinated by the Pacific Octopus, and awed by the gigantic Japanese spider crabs. There are plenty of fascinating undersea creatures here, and kids can get an up-close view to enjoy them.
RELATED: Sea Life Aquarium Opens at American Dream

Little ones will delight in the brand new underwater play space at the New York Aquarium.
The PlayQuarium
It's play space meets the undersea world at this, the New York Aquarium's newest exhibit. Little ones can drive an imaginary submarine (complete with schooling fish in its sights), frolic in a kelp forest, or wander through a tactile wonderland of a faux coral reef. There are climbing structures and slides perfect for the toddler set, and we can't help imagine that come summer this indoor play area will provide a welcome respite from the heat and humidity!
While most of Playquarium seemed too young for my daughter—I'd say the sweet spot is probably 3-6 years old—take note: The touch tanks are in this area, so even big kids might want to explore that feature.
Where to Eat Near the New York Aquarium
You can grab the usual kid-friendly fare at the on-site cafe, like pizza, chicken fingers, pretzels, fries, and my daughter's favorite: Dippin' Dots.
If you've covered the grounds and want to leave the aquarium for lunch, there are a number of family-friendly restaurants in Coney Island and nearby Brighton Beach.
You'll find plenty of eats along the boardwalk during the summer season. We're particularly fond of Ruby's Bar & Grill. A block off the boardwalk, you'll find steller pizza at Totonno's, but come prepared: It's pies only and cash-only, too. Nathan's Famous is a reliable standby with an outpost on the boardwalk, plus its famed flagship location famous for its hot dog eating contest. If you need a sweet treat, skip It'SUGAR in favor of the locally owned, long-standing Willam's Candy for an old-school sweet shop experience with candied apples, cotton candy, and tons of creative confections.

The New York Aquarium may still be in rebuilding mode, but there's plenty to see and do at this classic NYC attraction.
Know Before You Go to the New York Aquarium
The New York Aquarium is open daily; hours vary by season. Tickets are $27-$30 for adults; $23-25 for children ages 3-12 depending on the date. All visitors must book timed-entry tickets online in advance.
If that price is too steep, Wednesday afternoons are FREE. Reservations open for the following Wednesday each Monday at 3pm, so set a calendar reminder to nab your gratis tickets.
There is an on-site parking lot but plan to arrive early in the day to guarantee a spot. Parking runs $18-40 depending on the duration of your stay. You can take the F, Q, D, and N trains to Coney Island for easy access.
Construction is still ongoing as the New York Aquarium rebuilds and reinvents itself, so be prepared that you may miss out on some of your favorites. Currently, Glover's Reef is undergoing a rehab. Bookmark the New York Aquarium's Know Before You Go page to see what's open the day you want to visit.
We generally plan to spend half a day at the New York Aquarium—and note that there's no re-entry, so see it all before you exit. On our most recent visit, we were there for about three hours, and it was plenty of time to see all the animals on display without feeling rushed, plus stake out our front-row seat to the sea lion show. When you're done, there's plenty of other family-friendly things to do in Coney Island.
All photos by author
Places featured in this article: