20 Vegetarian Recipes Your Picky Kids Will Love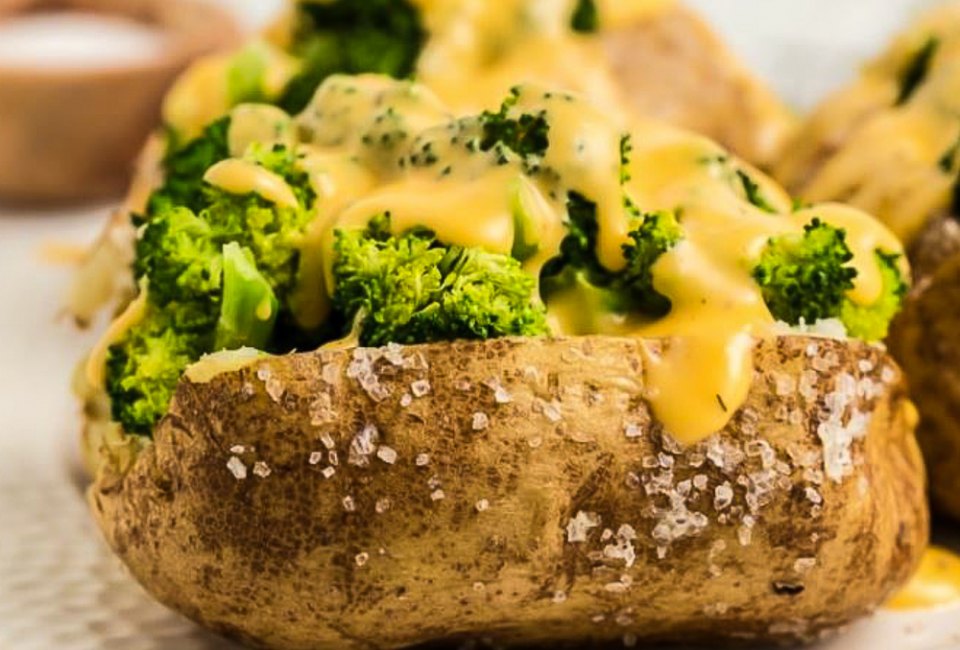 11/4/21
- By
Geeta Schrayter
There are plenty of reasons you might want to add some vegetarian recipes to your family's meal rotation. Studies have shown that having a vegetarian dinner even one night per week—like the Meatless Monday campaign suggests—can make a positive impact on your family's health and on the environment. Or perhaps you're simply curious: Is it possible to create a vegetarian dinner your family will enjoy?
We're here to tell you it is, no matter how finicky your kids might be. The next time you're looking for a meatless meal, try one of these 20 vegetarian recipes your picky kids will love. BONUS: Most of these vegetarian recipes are easy enough for your kids to join in on the prep!
And if you're looking for more dinner inspiration, check out these easy Crockpot meals, sheet pan dinners, and kid-friendly TikTok recipes.
Easy Vegetarian Recipes That Will Please Picky Eaters
Make pizza night more fun with these build-your-own English muffin pizzas. Simply set up stations with sauce, cheese, and fun toppings like olives, bell peppers, and basil, and let your kids create their own perfect pizzas.
If you're short on time, you can make these delicious quesadillas in 10 minutes or less. Serve them up with individual dishes of salsa, sour cream, and guacamole for dipping.
Sometimes it's ok to forget that whole "don't play with your food" thing. Your kids will be so distracted trying to spell words, they won't even notice all the nutritious veggies in this delicious soup.
RELATED: Quick Pizzas & Pizza Dough Recipes for Family Night

Gooey mac and cheese with a crunchy crust is the ultimate comfort food. Photo courtesy of momontimeout.com
It's hard to beat an ooey-gooey bowl of baked macaroni and cheese. Enjoy it with a salad or fresh veggies and you've got a balanced meal.
It should go without saying that this delicious, creamy crockpot soup should be paired with a golden, bubbly grilled cheese—but we'll say it anyway!
Surprise! This recipe is actually vegan, but it's sure to be enjoyed by the whole family. After all, it's hard to say no to veggies when they're smothered in a delicious sauce and baked in a flaky crust.
RELATED: Easy Instant Pot Recipes for Weeknight Dinners

Add red lentils to lasagna for a healthy protein boost. Photo courtesy of lovefromtheoven.com
Sometimes it's best to stick with the classics, and this lasagna fits the bill. Pro tip: For extra protein, cook a cup of red lentils and stir it into the sauce.
Put a fun twist on Taco Tuesday with this recipe for cheesy taco pasta. You're basically taking all the ingredients you'd typically put on tacos—cheese, beans, tomatoes, and more—and serving them over pasta instead. Yum!

A bowl of corn chowder tastes even better with a Cheddar Bay biscuit on the side. Photo courtesy of vanillandbean.com
You don't have to live in New England to love a steamy cup of chowder, and if you serve it with cheesy cheddar biscuits, it's downright irresistible.
A heaping bowl of this vegetarian chili topped with cheddar cheese and sour cream, served alongside the happiest cornbread on Earth, will be sure to delight!
This shepherd's pie is hearty, warm, and delicious ... and who doesn't like mashed potatoes? The best part is, it freezes well, so you can make it in advance and pull it out when you're in a pinch.
RELATED: Irresistible Dessert Board Recipes for Kids

Plain or dipped, empanadas are delicious. Photo courtesy of flavormosaic.com
What kid doesn't love a meal they can eat with their hands? This empanada recipe offers several delicious filling options such as black beans and corn, and the empanadas can be baked or friend depending on your preference.

Swap chicken for chickpeas for a vegetarian version of Tikka Masala. Photo courtesy of fortyaprons.com
If you're not used to trying different types of cuisines with your kids, Indian food may feel daunting. But in our house, both children love this vegan version of a popular Indian dish, and they always ask for seconds!
Will broccoli be turned down when it's on top of a baked potato and smothered in cheese sauce? We think not!
RELATED: Sheet Pan Dinners Kids Love (No Cleanup Required!)

Enjoy vegetable chow mein without all the added sodium of takeout. Photo courtesy of rhubarbarians.com
This vegan chow mein will remind you of your favorite Chinese takeout, but it is made at home with a delicious sauce that calls for just five ingredients. Get creative and add whatever vegetables you'd like!
Get your kids to follow Popeye's advice and eat their spinach by mixing it up with gobs of ricotta cheese and making these stuffed shells. You can also add mozzarella and Parmesan to make them even cheesier!

Buddha bowls are a perfect build-your-own vegetarian dinner. Photo courtesy of kaynutrition.com
A fancy name for "toss a bunch of ingredients into a bowl," Buddha Bowls are a totally customizable meal that could work multiple times per week. Just change up the sauce and toppings to suit your tastes. For example, I usually swap out the onions for carrot sticks to dip in the hummus. Some of my family's favorite variations are Thai peanut, teriyaki, and barbecue.
These cheesy enchiladas are full of flavor and simple to make, and they taste just like the baked kind. Even better, they use only one pot, which makes for an easy cleanup!
RELATED: 20+ Kid-Friendly TikTik Recipes You Need to Try Tonight

Sweet meets savory in this pineapple fried rice. Photo courtesy of cookieandkate.com
Sweet and savory is a winning combination, and this Thai recipe doesn't disappoint on that front. The ingredients cook quickly, so be sure to prep all of them ahead of time so they're ready to be added as soon as you need them.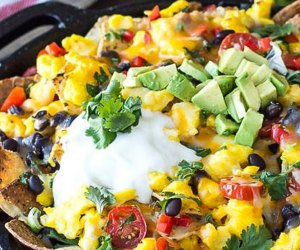 Skillet breakfast nachos are great for lunch or dinner, too! Photo courtesy of twentytablespoons.com
This vegetarian recipe may have the word "breakfast" in the title, but go ahead and be a rebel—serve these nachos for lunch or dinner! With cheese, beans, and veggies on top, they make a nutritious and balanced meal any time of day.
Click Here to Sign Up!