Quick Pizzas & Pizza Dough Recipes for Family Night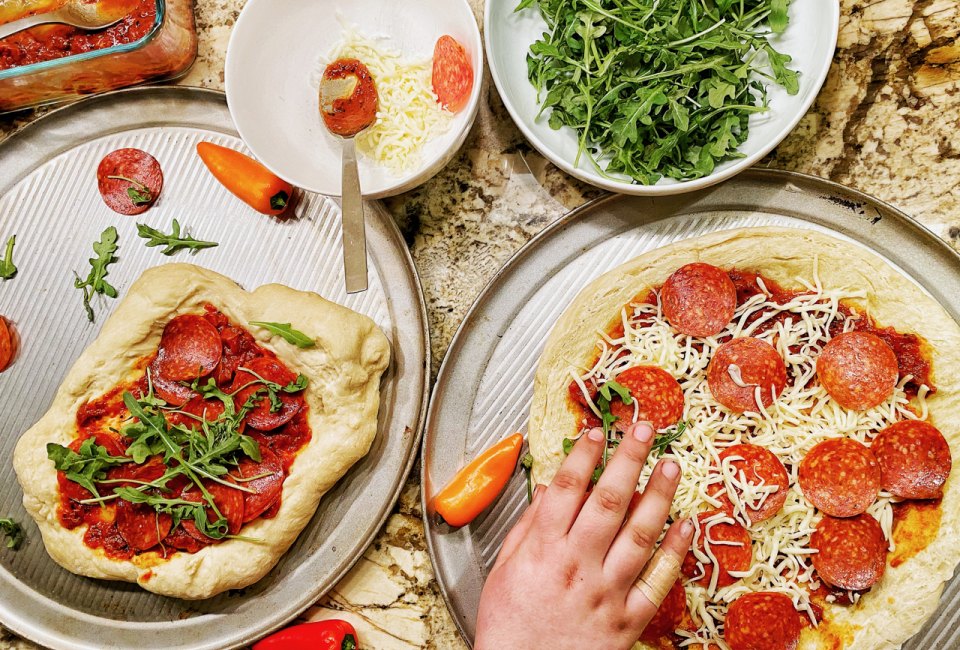 3/4/21
- By
Ally Noel
Friday night is pizza night in my house, and although we love picking up the phone and having our favorite pie delivered, cooking with kids is special—and there is nothing quite like pulling a homemade pizza (on homemade pizza dough) fresh out of the oven. DIY Pizza Night has quickly become one of our most beloved screen-free family fun nights.
It all starts with a great pizza dough recipe, and I'm sharing my family's favorite easy pizza dough recipe. Plus our favorite pizza recipes, tricks, and hints for how to bring your next homemade pizza night to the next level. And pssst, save room for dessert.

No need to knead this easy pizza dough recipe!
My Favorite Easy Pizza Dough Recipe
Let's start with the basics: dough. There are a lot of different choices out there from prepacked crusts to store-bought pizza dough to homemade dough. If you have some time, I highly recommend making your own dough. If you don't have the time to make your own pizza dough, most supermarkets have fresh dough available to purchase. We have also had some luck purchasing pizza dough from local bakeries and pizzerias as well.
My favorite homemade recipe is this easy "No-Knead" one from The Laura Young. The slow eighteen-hour rise may seem daunting at first, but the results are more than worth the wait! We have made a little Thursday night ritual out of kicking off our DIY Pizza Night before we go to bed. It takes just a few minutes to mix the ingredients together and get your dough started. Plus, when you wake up you will all be amazed at how much your dough has grown. This recipe makes six batches of dough and freezes wonderfully.
When the dough is ready, set the scene by getting all of your ingredients assembled on the kitchen counter or dining table. That way, everyone has room to hang out while assembling their pizzas. Pick some toppings that go great together from our list of favorite pizza recipes below.

You gotta start with a great basic recipe. And this Margherita is a classic for a reason.
The Best Family-Friendly Pizza Recipes
Margherita
There is something magical about the combination of these fresh, simple ingredients. You can use fresh tomato sauce or no-cook canned pizza sauce, fresh mozzarella, a little grated Parmesan, and fresh basil leaves to create this classic. Spread the sauce around the dough and top with slices of mozzarella. Sprinkle with a little Parmesan cheese. Place the pizza into a hot oven and bake until the crust has puffed and the cheese is melted. Top with basil leaves and serve immediately.
Want to know my super-secret pepperoni trick? (It's a game-changer.)
Pepperoni
Kids love pepperoni pizza! You can up your pepperoni pizza game by using this tried and true trick: If you are tired of dealing with the greasy mess created by piling the pepperoni on top of the pizza, try cutting up half of your pepperoni into small pieces, and adding a layer under the cheese with the sauce. That way, there will be a bit of pepperoni in every bite, but no more messy grease. Your white shirts will thank you.
Veggie Pizza
We always prep a few different kinds of veggies for pizza night. Place a buffet of bell peppers, olives, red onions, cherry tomatoes, mushrooms, artichokes, and spinach in small bowls, and let your little chefs create their own personal masterpieces. Extra points for creating funny pizza faces or other art!
Pizza Bianca
Pizza Bianca—or white pizza—is one of our favorites. As you may have guessed, Pizza Bianca has no tomato sauce. Gather your ingredients of shredded mozzarella, ricotta, a little bit of grated Parmesan cheese, and a sprinkle of thyme or oregano. Start by sprinkling the mozzarella around the pizza dough. Next, add a few dollops of ricotta, and then coat with Parmesan cheese before placing the pizza in the oven.
Pesto Chicken Pizza
If you are in the mood for something a little different, this Pesto Chicken Pizza recipe from Life Made Simple is a game-changer. It is also a great way to use up any leftover chicken you may have hanging out in your fridge. We love making our own pesto in the summer, but store-bought will do just fine in the winter months.
A sprinkle of arugula totally counts as a full serving of greens.
Arugula & Prosciutto Pizza
More refined palates will appreciate how the delicate flavors work together in this recipe. We have used burrata-style mozzarella as well as shredded mozzarella, and they are both delicious. Add a thin layer of sauce to your dough, then cover with your favorite mozzarella cheese. Place the pizza in the oven until the crust is cooked and the cheese has melted. Once the pizza is removed from the oven, add thin slices of prosciutto to the pizza and garnish with arugula.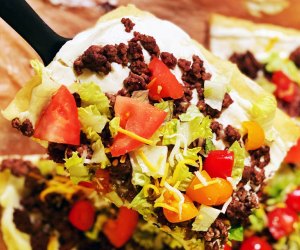 What's better than Pizza Night? When Pizza Night meets Taco Night!
Mexican Pizza
When Taco Tuesday and Pizza Friday meet the result is this truly delicious Taco Pizza recipe from Taste of Home. This pizza is a crowd-pleasing staple—it's perfect as a family meal, or sliced up as awesome party food.
Pesto, Sausage, and Tomato Pizza
This recipe from Life's Ambrosia is absolutely delicious when cooked in a cast-iron skillet. The thicker crust really holds up to heavier toppings—so, go ahead and add a little extra sausage and cheese!
Create Your Own Slice
If "too many pizzas, not enough room in my belly" is a common problem, try this genius idea from The Bakermama: Create Your Own Slice Family Pizza Night. When we can't pick just one topping, this is our go-to. When everyone gets exactly what they want, we all win!
French Bread Pizza
Sometimes, you don't have a chance to make your own dough or the time to order take out. This French Bread Pizza can be ready in less than 20 minutes, making it an ideal meal for a weeknight. We followed these tricks from Favorite Family Recipes on how to keep your bread crispy.
Photos by the author
Click Here to Sign Up!
i