Best Beaches in Texas for Families
Heading to the beach is one of the most relaxing and carefree ways to enjoy a family trip. If you live in or visit Houston, you won't be far from the beaches down in Galveston. But, that's not the only place to enjoy the best beaches in Texas and family-friendly activities on a summer vacation. The many seaside havens on the Texas coast each offer unique experiences, but they all have amazing beaches where kids can run wild and build sandcastles to their heart's content while you relax and soak in the peaceful sounds of the ocean.
Whether you stay at a family-friendly campsite, a beach-side hotel, or a rented beach house, you can be sure that your family will enjoy plenty of fun in the sun when you head to one of these 10 best beaches in Texas for families. From north to south, the Gulf Coast of Texas has something to offer everyone. For more water fun in Texas, check out our guide to beaches, lakes, pools, and water playgrounds near Houston.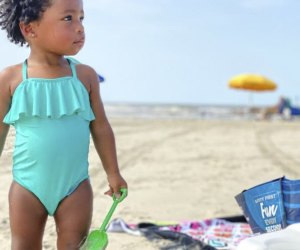 Kids can enjoy playing the day away on Stewart Beach in Galveston. Photo courtesy of visitgalveston.com
Best Beaches in Texas: Galveston
The nearest beaches in Texas to Houston are in Galveston, a sandy barrier island only 50 miles south of Houston. That means they are near all of the amazing attractions, activities, and restaurants in the fourth largest city in the US. Even closer to the Galveston beaches—only 30 miles away—is the NASA Johnson Space Center, so you can combine your trip to the beach with a visit to mission control from the first landing on the moon and the training facilities for planned trips to Mars. Check out our list of the best beaches in Texas in Galveston for families.
The infamous Stewart Beach is known on the island for being the most family-friendly of all the public beaches in Galveston. Located extremely close to the endless attractions at Pleasure Pier, there are also bathrooms and showers located on site that are much nicer than most others you will find at the rest of Galveston's beaches. Chairs and beach umbrellas are available to rent, and there are numerous food options within walking distance right across the street from the Seawall. Lifeguards are on watch each day to help keep your family safe in the water. Home to fun events like sandcastle-building classes and competitions, Stewart Beach also features a playground, sand volleyball courts, and a covered pavilion. There is a small fee per vehicle for that's slightly higher on weekends, holidays, and during special events.
Stewart Beach reopens May 2022 following a temporary closure for improvements.
Shhhh, don't tell anyone! One of the best-kept secrets in Galveston is the Pocket Parks. These less-known beaches in Texas are perfect for families who like a quieter spot for sandcastles, walks, and a picnic. You can drive your car onto Pocket Park 1 and have all your chairs, shades, toys, and food close at hand. You'd also be close to many of Galveston's main attractions, such as Moody Gardens and Schlitterbahn Water Park. Pocket Park 2 has the advantage of its own restaurant right on the beach, the Tipsy Turtle Seaside Bar & Grill, which has a patio overlooking the beach and a great kids' menu. You can rent beach umbrellas and chairs, and restrooms are available.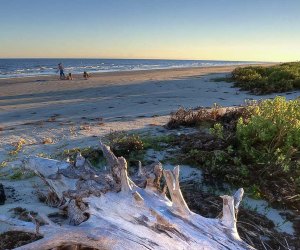 Galveston Island State Park photo courtesy of Texas Parks and Wildlife
If you're looking for a family-friendly beach where you can park your RV or go tent camping, Galveston Island State Park is exactly where you and your family need to spend your next beach vacation. Families can enjoy swimming, hiking or biking various trails, and fishing from multiple piers. The park is also home to unique paddle trails where you can canoe or kayak. Clean restrooms, showers, and picnic tables are located throughout the park. Some picnic-table areas even feature shaded coverings to help shield you from the hot Texas sun. There's a small daily entrance fee for adults, but kids under 12 are free. Campsites for tents and RVs are available for an additional fee.
As of April 2022 the gulf side of Galveston Island State Park is temporarily closed, but you can still enjoy the bay.
Slightly south of Galveston is Surfside Beach, Texas, which has four miles of sand and a quiet, relaxed feel. Kids will love the 2,000-square-foot splash pad, boasting 10 different water features for plenty of cooling-off fun. Surfside Beach also has piers for fishing and crabbing, and you can spot some large and interesting birds here—the beach is situated near the southern border of the Brazoria National Wildlife Refuge, with more than 200 varieties of birds. When everyone gets hungry, head to one of the eight restaurants on the beach.
Related: 8 Texas Swimming Lakes To Visit for Unforgettable Family Getaways
Best Beaches in Texas: South Texas
Sandy beaches and blue water are the hallmarks of some of the best beaches in Texas that are further south on the Gulf Coast.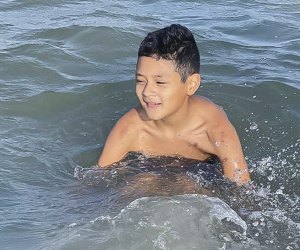 Photo courtesy of Rockport Beach, Facebook
Rockport boasts that it is "Texas' first blue-wave beach" thanks to the endless gentle blue waves that can be found lapping at the shore in this coastal community. Your kids will love splashing in the clear water, and the entire family can enjoy sweeping views and gorgeous sunsets from the jetty at the end of Rockport Harbor. The Rockport Beach Festival grounds are home to numerous festivals throughout the year, as well as monthly Rockport Market Days featuring several arts and crafts vendors. Please note that pets and glass containers are prohibited at Rockport Beach. Daily or annual parking rates apply, and multiple beach-side pavilions are available to rent for a fee. A variety of play structures and swings add to the fun your family can have on the beach.
Related: 30 Best Warm and Sunny Family Vacation Ideas
Mustang Island State Park has a clean beach with hard-packed sand that is perfect for making sandcastles. This family-friendly beach has been a go-to for locals and tourists for decades. Tent and RV site rentals are available for a fee. You'll also find a variety of other activities to do at Mustang Island, including jetty fishing, bird watching, canoeing down a paddling trail, and camping, as well as shopping in the nearby Port Aransas shops. Watch out for the small stingrays that like to hang out in the shallow water at the. Adults pay a small fee to enter Mustang Island State Park; kids 12 and under are free.
At McGee Beach, you'll find manicured sand that is usually free of seaweed and debris with calm waters that are perfect for kids to swim in. Free street parking near McGee Beach and no entrance fee means you can play all day for free and spend your money on the yummy local cuisine just steps from the beach. There are public restrooms on-site and the beach is open 24 hours a day, seven days a week, all year long! Playgrounds are located right across the street from the beach if your kids need a break from the sand and water. McGee Beach is one of the best beaches in Corpus Christi, a family-friendly location with one of the top aquariums in the US.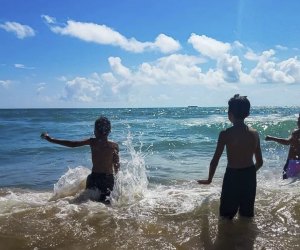 Photo courtesy of South Padre Island Convention and Visitors Bureau via Facebook
Any list of the best beaches in Texas for families would be incomplete without mentioning the 70-mile-long Padre Island National Seashore, the world's longest barrier island. This wild beach with fine sand will take your breath away with its size and beauty. This national park really is a get-away-from-it-all holiday destination with no facilities on the beach, although you can take your vehicle on the sand and wild camping is allowed. If you don't fancy primitive camping, you can also stay in Corpus Christi and still have great days out at the National Seashore. A visitor center has a shop, restrooms, and park rangers to orient you. If you get your timing right, at certain times of year you can watch the early-morning release of turtle hatchlings into the sea.
There are multiple beach access points in South Padre Island all featuring powdery soft sand that is the whitest you'll find in Texas, but Isla Blanca Park offers beach access and so much more. There's a public boat ramp, showers and restrooms, two beachfront pavilions with food options on-site, a walking trail, jetties to explore, and chair, umbrella, and cabana rentals. Tent camping and RV sites are available for a fee. There's a daily entry fee per vehicle. Just be sure to avoid going for spring break if you don't like loud crowds, as South Padre Island is a hot spot for collegiate spring-breakers. After you get your fill of the gorgeous sand at the beach, head to Beach Park at Isla Blanca for thrilling water rides or to Sea Turtle Inc., where you'll be able to get up close and personal with amazing sea turtles.

Boca Chica Beach photo courtesy of brownsvilletx.gov
If you like to get away from the crowds and want to visit one of the more distant and unusual beaches in Texas, head to Boca Chica Beach. Always known as a great, quiet beach for collecting shells and playing in the waves, Boca Chica, Texas, has a new claim to fame as the place to get up close to Elon Musk's Space X facility. This beach is as far south as you can get on the US Gulf coast—the next stop is Mexico! The beach is long and wild, so you will benefit from a car to drive on the sand.