Space Center Houston: An Out of This World Experience for Kids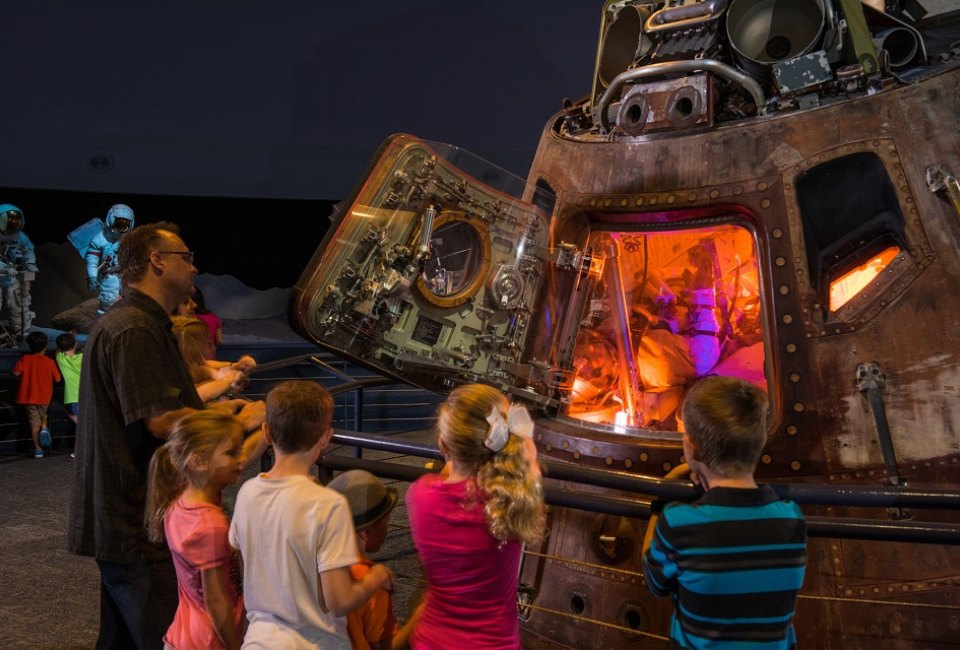 10/21/19
- By
Rachael Cherry
Houston, H-Town, Bayou City, Clutch City... we can all agree that Houston is known by many names. The one we're talking about today, however, is arguably one of the coolest - Space City. The name officially made its debut in 1967 when NASA built the Lyndon B. Johnson Space Center, and it's stuck ever since. In addition to the famous Johnson Space Center, we now also have the visitor center to JSC which is known as Space Center Houston. It's full of interative ehxhibits and activities for families and kids!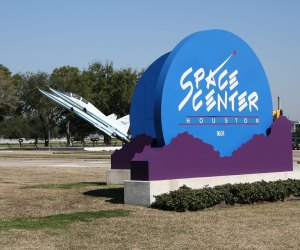 Space Center Houston draws 1 million visitors annually and is Houston's first and only Smithsonian Affiliate.
I've lived in Houston my entire life, and sadly, this is the first time I've made it out to Space Center Houston, though I can confidently say it won't be the last. My son enthusiastically declared upon leaving that this was the "best day of his life." A healthy dose of educational activities that are fun? I'll take it!
We arrived right at 10 a.m. when the Space Center opened and there was already a surprisingly long line of people waiting to enter, especially for a random Tuesday morning. However, for a destination that hosts nearly 1.1 million visitors annually and is the area's top spot for international tourists, I guess this should have come as no surprise.
So, what can you expect at the Space Center?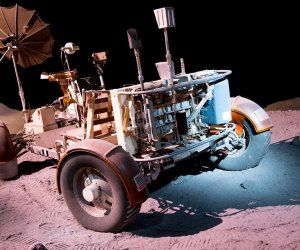 See the Lunar Roving Vehicle trainer which prepared astronauts for traversing the lunar landscape.
With over 400 space artifacts contained in both permanent and rotating exhibits, three different theaters, interactive stations, and a variety of live shows, there is something stimulating and informative around every corner of the Center. When you go, plan on spending a good chunk of the day there, because there are no shortage of things to see and do, and you're probably going to want to do it all.
Permanent exhibits of the Space Center include the Starship Gallery, Astronaut Gallery, Independence Plaza, Mission Mars, International Space Station Gallery, and the NASA Tram Tour. All are packed with articles of information that intricately show how space travel has changed over the years, including some of the earliest spacesuits to more recent models, both spacecraft replicas and originals, and displays of rocks from both the moon and Mars that you are able to touch.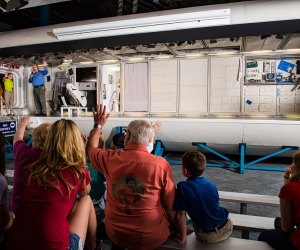 Ever wonder how astronauts live and work in microgravity? Discover the answers in the interactive presentation Living in Space.
One of the most defining factors of each exhibit was how tangible they made the space experience. Many of the exhibits housed lifelike mannequins imitating how astronauts would have accomplished various tasks in space that allows visitors to step into the life of an astronaut and added a special layer to the experience. Seeing how astronauts functioned and continue to function in space is fascinating, and we loved getting to make that tangible connection versus just reading about it on information boards or from a book.
There were also a plethora of interactive exhibits, and these were a fan favorite with my son. From docking a space station to picking out the perfect spacesuit for an astronaut traveling to Mars to having to select the necessary items for both a crewed shuttle and a supply shuttle, my son was all in and ready to go. He loved getting to try his hand at different space-related tasks, and I loved watching his mind expand right before my eyes. We routinely circled back to these hands-on experiences when he wanted to take a break. There was also a fun little play area upstairs for any kids (and parents!) who just needed to hang out for a second, and a nursing room for any nursing mamas.

You can enter a shuttle replica mounted atop of the historic shuttle carrier aircraft, NASA 905.
One of the big initiatives of the Center is increasing an awareness and outreach for STEM, and this was plainly evident. The Center isn't just educational; it's also entertaining and interactive in a way that sparks curiousity in young minds, and not just for interested astronauts but also industries that play into the space field in less obvious ways - think engineering, food scientists, and more. Walking through Independence Plaza, which is home to the shuttle replica Independence mounted on top of the historic and original NASA 905 shuttle carrier aircraft, was almost surreal.
Not only is it the sheer size almost overwhelming, but inside the aircraft are scaled models and simulations of what it takes to deploy a spacecraft that left my five-year-old enthralled. This alone is enough to ignite an interest in STEM and all of the different ways STEM plays into the space experience.
Visitors are also able to take a tram tour over to NASA Johnson Space Center, home to Mission Control and where astronauts train, though we sadly had to skip this due to time constraints. Next time, that's at the top of the list. We also can't wait to go back to check out the new traveling exhibits as they come.
If you haven't yet added Space Center Houston to your bucket list, now is the time. It's an experience that will engage both adults and children, and one that's well worth the day trip.
All photos courtesy of Space Center Houston.
Places featured in this article:
Click Here to Sign Up!
i