Our Favorite New England Hotels for Families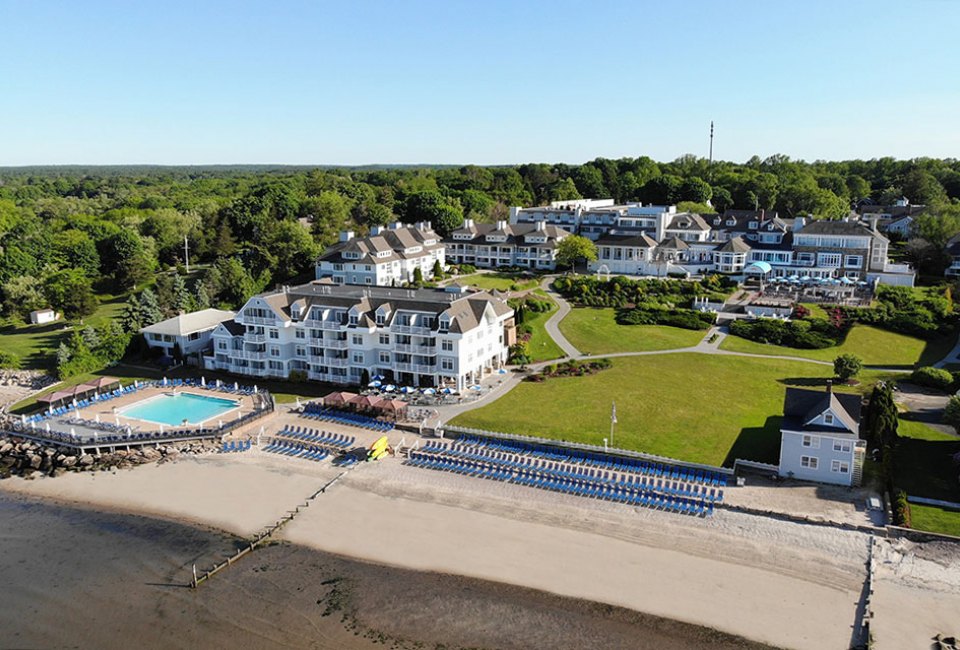 5/1/21
- By
Ally Noel
A New England summer is sparingly short, so locals and visitors alike try to cram as much fun as they can between Memorial and Labor Day. A fabulous family resort can help make the most of the season by taking care of the details so that everyone can relax rather than worry about whether or not they packed the sheets and towels!
We've rounded up some of our favorite Cape Cod hotels, seaside Maine resorts, pretty mountainous Vermont resorts, and more New England hotels that cater to families with kids.
My Connecticut-based family spends every summer in Cape Cod, and we're always exploring the rest of New England, especially Maine and Vermont. These are my top picks for a fun family vacation so that you can spend summer nights snuggled up under starry mountain skies roasting s'mores over the bonfire or days catching crabs and searching for hidden pirate's treasure along the New England coastline.
Maine Resorts
Nightly s'mores around the bonfire, popcorn and a movie at the Clubhouse, lawn games, Tie Dye Tuesdays, and kids' crafts are the tip of the iceberg at The Lodge on the Cove. When you add poolside dining, morning bakery bags delivered right to your room, complimentary beach chairs, and a heated pool, this Maine resort delivers the perfect family vacation. The Lodge on the Cove is located in a beautifully renovated motor lodge and offers a variety of rooms to pick from.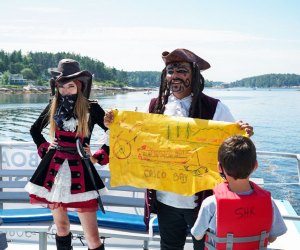 Kids can take a Pirate Cruise at Sebasco Harbor Resort.
The Sebasco Harbor Resort epitomizes the reason that Maine is known as "Vacationland." Kayak trips, mountain bike rides, swimming, golf, hiking — it's hard to know where to start! Thankfully, this coastal Maine resort has a schedule of daily activities for the whole family. From 8am to 10pm, enjoy a seemingly endless amount of activities including candlepin bowling, sunset cruises, family campfire, and sing-alongs, kids-only pizza parties, pirate cruises...the list goes on and on. As if that wasn't enough, you can also sign the kiddos up for Camp Merritt. In season, this program runs Tuesdays and Thursdays from 10am to 3pm.
This waterfront inn features an outdoor heated pool, oceanfront firepit, direct access to the shoreline, restaurants, and more. Three different buildings offer a wide variety of accommodations that range from the luxurious to traditional New England style lodge. This Maine resort is located within walking distance of downtown Bar Harbor filled with unique shops and restaurants. Don't forget to check out the schedule for hotel activities, especially the Kids in the Bake Shop program and the spa for the parents.
RELATED: Best Boston Hotels for Families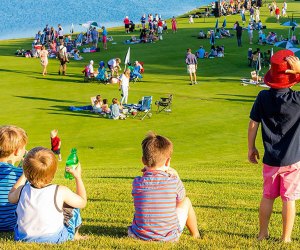 Enjoy the activities on the Green at Spruce Peak.
Vermont Resorts
Start your family vacation at Spruce Peak with the weekly Friday evening Market, Music, and Movies on the Green where you can enjoy local musicians before snuggling up for an outdoor movie screening. Spruce Peak offers a wide range of children's programming including educational nature scavenger hunts, poolside Zumba, and build-a-buddy kits delivered right to your room.

Enjoy the fresh mountain air at Mountain Top Inn. Photo by the author
Nestled on a quiet mountain road, The Mountain Top Inn encompasses 700 private acres, including a 740-acre lake, picturesque meadows, miles of trails, and access to the Green Mountain National Forest. Guests can lounge by the heated swimming pool, sit lakeside on a private beach, take a kayak tour, fish, golf, or take advantage of the activities at the equestrian center. Accommodations range from luxurious guest houses, quaint cabins, or more traditional lodge rooms.

It's all about relaxing at the beach at the Sea Crest Beach Hotel.
Cape Cod Hotels
This waterfront resort is located along the sandy shores of Cape Cod. Spacious accommodations include amenities such as mini-fridges, living room and dining spaces, waterfront view, and balconies. Make the Sea Crest hotel your homebase while exploring Cape Cod. There are onsite water sport rentals, indoor, outdoor, and kiddie pools, an arcade, and poolside ice cream served at The Scoop.

Chatham Bars Inn has award-winning children's programming.
Chatham Bars Inn has somehow managed to combine the phrases "kid-friendly" and "upscale" without missing a detail. This Cape Cod hotel's award-winning children's program is offered from late June through August and offers hands-on programming with an emphasis on fun. Make sure you check out the pirate cruise and search for stolen treasure. While the kids are entertained, mom and dad can enjoy some downtime taking advantage of the inn's many amenities, including a luxury spa or just hitting the beach.
With direct beach access, a playground, mini-golf course, and shuffleboard, it is easy to see why the Green Harbor Resort has had families coming back year after year. With a variety of family-friendly accommodations, guests can choose from suites, townhomes, or private cottages. Green Harbor Resort also offers a Kids Club with a range of children's activities that will keep the kids entertained all summer long.

The indoor water park makes the Cape Codder a year-round family-friendly destination.
The Cape Codder has been Cape Cod's one-stop destination for family fun since 1973. In addition to its year-round outdoor pool, the Cape Codder also has indoor theme pools with water slides, a spouting humpback whale, a kiddie spray pool, a wave pool, and so much more. To put it simply, this place is Kid Paradise with a packed kids activity program that includes live animal shows, board games, recreation equipment, live entertainment, pickleball, courtyard movies, and a firepit.
RELATED: Best East Coast Campgrounds for Families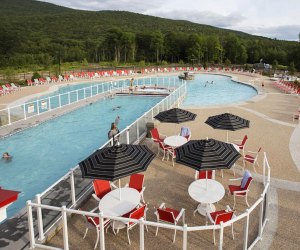 Relax by one of the two pools at River Walk at Loon.
New Hampshire Resorts
Spacious and comfortable rooms are a great basis for any family vacation. Two huge swimming pools and an arcade room will keep your family happily entertained for the duration of your stay. Summer nights mean stargazing while eating s'mores by the bonfire. A short drive from the resort, the White Mountains of New Hampshire provide nature's playground for kids to explore. There are plenty of short and easy hikes for little feet.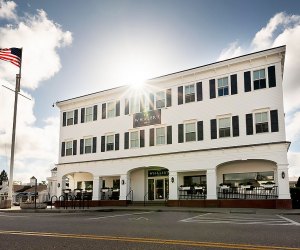 Stay at the Whaler's Inn in Mystic for the perfect family getaway!
Connecticut Hotels and Resorts
I've got top bunk! The junior suites at the Whalers Inn feature youth-sized bunk beds nestled into alcoves with their own television, complete with complimentary Roku streaming services. The Inn also provides discounts to local family-friendly attractions like the Mystic Seaport, Mystic Aquarium, Fields of Fire Adventure Park, and Adventure Mystic. Read more about the family-friendly activities that await in Mystic, Connecticut.
With over 100 rooms and suites facing the Long Island Sound, a private sandy beach, indoor and outdoor swimming pools, it's easy to make family memories at the Water's Edge Resort. Families can enjoy casual dining at the Seaview Bistro and Sunset Bar and Grill. Hammonasset Beach State Park is located about 10 miles from the resort, and The Essex Steam Train and Riverboat are located in nearby Essex.
Find even more kid-friendly Connecticut hotels.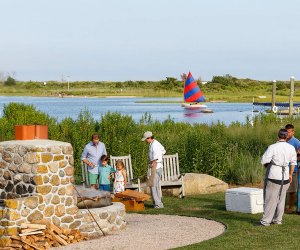 Rhode Island's Weekapaug Inn offers acres of grounds overlooking the water, a private beach, restaurants, entertainment, and more.
Rhode Island Resorts
Steps from the beach, the Newport Hotel and Suites offer some of the largest rooms in Newport. The hotel provides hours of entertainment with an indoor pool, two hot tubs, and a rooftop deck, and firepit. Best yet, the hotel is located across the street from Newport's largest beach: Easton's Beach (locally known as First Beach). This just under a mile stretch of sand also offers a boardwalk, skate park, and Exploration Center & Aquarium.
It's a little known fact that the Weekapaug Inn is also home to a little community of fairies known as the Paug. The perfect family-friendly activity, guests can get a map of the Land of Paug and search the inn's property for their tiny homes. With activities like this, it's easy to see why the Weekapaug Inn will quickly become your home away from home during a family vacation. In addition to taking advantage of the pool and beach, kids will love the Nature Craft programs, fishing, kites, and lawn games. The young staff at the Boathouse also act a bit like camp counselors and can show your kids how to go crabbing, launch a rocket, or participate in a variety of other activities.
Photos courtesy of the resorts except where noted
Click Here to Sign Up!