10 East Coast Beach Camping Sites from Florida to Maine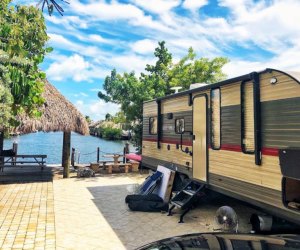 Nothing is better than gathering up your loved ones and spending the night under the stars. With an extra dose of vitamin sea, beach camping brings your family adventure to the next level. Spend your days exploring the coastline and your nights around the campfire listening to sounds of waves gently crashing against the shore.
From Maine all the way down to Florida, the East Coast offers some of the most epic beach camping spots whether you choose tent camping or an RV trip. Find more family adventures in our US Travel Guide.
To make your camping trip a success, make sure to plan accordingly and pack a few beach camping essentials. Bug spray, sunscreen, and a sun shelter will help protect your family from the natural elements. Another handy little tool is a dustpan and brush, which will help keep the sand out of your sleeping bag. If you are camping directly in the sand, be sure to purchase a set of sand stakes.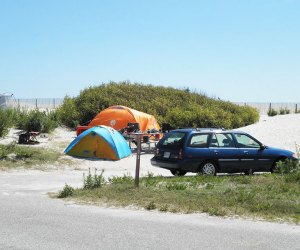 Beach camping at Assateague, a national park in Maryland, offers a rustic, secluded spot on a barrier island. Photo courtesy of the National Park Service
Campground open March-November
If you want to wake up to the sight of wild horses galloping along the beach, then Assateague Island is your spot. This barrier island is situated off the coast of Maryland and Virginia and provides families with camping options for RVs and tents. Keep in mind that there are no electrical or water hookups with the campsites, so it is important to plan ahead. The campsites are located directly in the sand and have a fire pit and picnic table for everyone to enjoy. While on the island, you can enjoy relaxing at the beach and miles of biking and walking trails. The island is also home to a herd of wild ponies that have freely roamed the island since the 1600s.
Campground open May-October
Hammonasset Beach State Park is Connecticut's largest shoreline park. This seasonal campground has over 500 sites that range from tents to rustic cabins. Beach camping reservations are definitely a must as summer weekends tend to fill up quickly. In addition to swimming in the Long Island Sound, the park also houses Meigs Point Nature Center, which offers a variety of family programs from daily seining adventures to kayaking. (The nature center is temporarily closed due to COVID-19 concerns.)
RELATED: Epic East Coast Road Trips for the Summer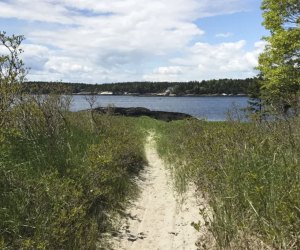 Hermit Island offers beach camping on an island near Portland, Maine. Photo courtesy of the campground
Campground open May-October
Hermit Island is a small and narrow island located on Casco Bay with beach camping galore. This campsite is predominantly for tents, although there are a few cabins and RV and camper campsites available. Taking full advantage of the rustic beauty of Maine, the 270 campsites are situated in a variety of settings ranging from beachfront to a forested interior. Head to the campground's Kelp Shed to learn about guided nature walks or events, relax by a fire, play a few video games, or try your hand at a game of pool.
Campsites are available from March - December. Cabins can be rented year-round with a few exceptions.
Situated just off the Chesapeake Bay, First Landing State Park provides over 200 campsites for guests to pick from as well as 20 cabins complete with air conditioning and heat. Boat, bike, swim, and take in the natural amazing biodiversity of your surroundings. The area is filled with bald cypress-lined swamps, deep lagoons, and narrows that even Blackbeard himself used to avoid capture.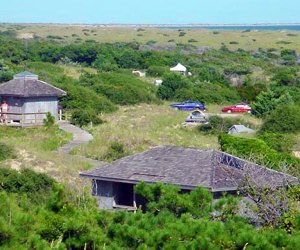 Cape Hatteras National Seashore offers lush campgrounds with views of the Atlantic. Photo courtesy of the NPS
Campground open April-November
Cape Hatteras National Seashore has four campgrounds, although the Frisco Campground is known to be the most family-friendly. There are no RV hookups at this spot, but the tent sites all have access to a picnic table, charcoal fire ring, and a paved parking pad. Guests can enjoy rolling views of the Atlantic from the campground; a wooden boardwalk pathway provides your family with easy access to the beach. At night, you can take in the sweeping glow of the Cape Hatteras lighthouse located a short drive away. Read about more of our favorite North Carolina beaches.
Campground is open year-round
This full-service private beach campground has it all, including the island's largest pool. Located about three blocks from the beach, the River's End Campground is loaded with family-friendly amenities including laundry, a community pavilion, dog park, fitness center, and a TV lounge. River's End has just about every camping option available from primitive tent sites to fully loaded cabins. Read more about our favorite Georgia lakes and beaches.
Campground is open year-round
Experience the natural beauty of the Florida Keys right from your campsite. The Key Largo Kampground is located around a marina, allowing guests direct access to the water. This full-service private campground is fully stocked with amenities. With its pool, beaches, athletic facilities, playground, and a clubhouse that hosts a ton of activities, your family may never want to leave. Key Largo Kampground offers a variety of setups that range from rustic tent sites to waterfront full hook-ups with a boat slip.
RELATED: Top Northeast Lakes Getaways for Families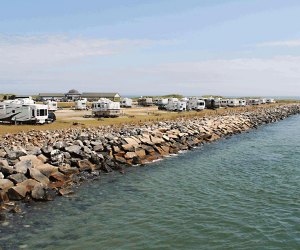 Hampton Beach State Park provides year-round recreation with Atlantic oceanfront facilities. Photo courtesy of New Hampshire State Parks
Campground is open May - October
Open up your camper door and enjoy panoramic views of the Atlantic Ocean at Hampton Beach State Park. This RV-only campground has 28 sites directly located on the New Hampshire coast. The beach is the main attraction at this popular state park, and campers can enjoy swimming, fishing, and relaxing on the seashore. The park hosts an impressive list of weekly events, including nightly concerts, fireworks, and other family-friendly events.
Campground is open May - October
The Watch Hill Family Campground, located on Fire Island, a barrier island off of Long Island, is accessible by private boat or ferry giving it a secluded vibe. The campground is located at the beach right behind the high dunes. In addition to traditional campsites, Watch Hill also has several glamping sites that allow families to camp in comfort. The glampsites are furnished with safari-style tents, memory foam queen mattresses, rechargeable LED lanterns, and more. There are several restaurants to choose from in the area, many offering a full program of live entertainment on the weekends.
Campground is open May-October
Thousands of visitors call this popular campground "home" every summer. Although most campers come to enjoy the two miles of sandy beach, there are 600 acres of protected land to explore at Horseneck. The park provides spots for tents, trailers, and RVs; due to its popularity, you'll need to reserve your campground early. A boat ramp, dishwashing stations, playground, showers, and picnic areas are located within the park. There is also a paved ADA accessible walking path that runs the length of the beach. (Note: The picnic areas are closed for the 2020 season.)