Epic East Coast Road Trip Ideas for Summer
6/26/20
- By
Ally Noel
Pick your playlist, fill the cooler, and load up the trunk, it's time to hit the road for an epic road trip this summer. Nothing says "family vacation" quite like piling everyone in the car and heading off for a classic family road trip. Quirky roadside attractions, beautiful scenery, and a ton of togetherness is the stuff that makes for enduring childhood memories.
Travel from Maine all the way to the Carolinas with these 15 East Coast road trip ideas that will keep your family cruising the coastline all summer long.
Don't forget to come prepped with these road trip games for kids and a device loaded up with podcasts.
1. Newport — Rhode Island
Newport might have the reputation of being the summer playground for the elite, but it's also a great jumping point for exploring coastal New England. Mystic, Province, and Misquamicut are all easy day trips from Newport. For being a small state, Rhode Island has an impressive 400 miles of coastline to explore. The newly renovated Gurney's Resort has an outdoor pool making it a family-friendly destination.
2. Berkshires — Massachusetts
The Berkshires' Mohawk Trail is one of the nation's oldest planned scenic drives. This 63-mile stretch of highway was designed with a vacation in mind. With campgrounds, inns, stunning views, and 100 other attractions, it's hard to pack it all into one trip. Berkshire Outfitters will get your family geared up with bikes, canoes, or kayaks to explore this rural area's natural beauty.
RELATED: Top National Parks to See with Kids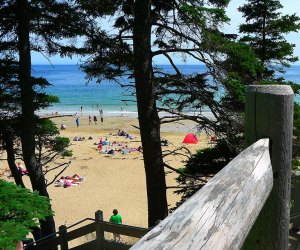 Relax at Sand Beach in Acadia after your long road trip to Maine. Photo courtesy Maine Office of Tourism​
3. Acadia — Maine
Drive up to Downeast Maine to explore the beauty of Acadia National Park and the coastal town of Bar Harbor. Take the slow road and enjoy a scenic drive along Route 1, cruising through Rockland, Camden, and Belfast. The Belfast Armistice Bridge is a pedestrian bridge that crosses the Passagassawakeag River and allows for picturesque views. Stop for a night in the charming waterfront city of Portland or a small Maine beach town, such as York or Old Orchard Beach on your way to Acadia.

Hit the beach on the Cape, such as the always popular and pretty, Provincetown.
4. Cape Cod & The Islands — Massachusetts
Planes, trains, and automobiles are so last season. Start your adventure by hopping a ferry from New Bedford to explore the islands of Martha's Vineyard and Nantucket. With miles of beaches, charming New England beach towns, and tons of vacation rentals to choose from, Cape Cod and the Islands are the perfect East Coast road trip destination.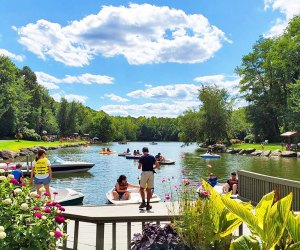 The all-inclusive Rocking Horse Ranch is loaded with family activities. Photo courtesy of the resort
5. Hudson Valley — New York
Famous for its farm-to-table lifestyle, slower pace, and magnificent landscapes, the Hudson Valley is the perfect destination for a summer retreat. Hike the famous Appalachian Trail in Bear Mountain State Park or walk across the Bear Mountain Bridge for some beautiful scenery. This area has tons of family-friendly lodging options including the all-inclusive Rocking Horse Ranch, Pine Ridge Dude Ranch, and several more options.

Make sure to have a meal or two and the famous Phoenicia Diner. Photo courtesy of the diner
6. Catskills Region — New York
Reconnect with nature on a road trip through the Catskills. Located just outside of New York City, this rural region is a mixture of public and private land that creates Catskill Park. You can spend the night under the stars in a tent, hike mountains, or try your hand at fly-fishing. The soon-to-reopen Emerson Resort and Spa located in Mt. Tremper provides family-friendly lodging with a view of mountains and the river, as well as the world's largest kaleidoscope. No Catskills road trip would be complete without a stop at the Phoenicia Diner. Get the pancakes!
7. Adirondacks — New York
Drive further north to visit the Adirondacks region of New York. Hike up a mountain, explore Lake George by boat, or swim in Mirror Lake. Pick from a ton of family-friendly lodging or camping options to call home base while you explore this upstate lakes region. Lake Placid and Lake George tend to be the most popular destinations, but don't ignore Saranac and Long Lake to experience the magic of the Adirondacks.
RELATED: 20 Family Camps with Private Cabin Rentals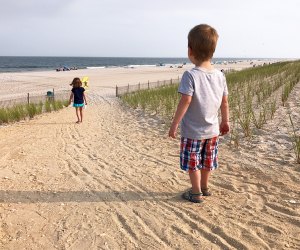 The deep beaches on Long Beach Island allow for social distancing. Photo by Rose Gordon Sala
8. Long Beach Island — New Jersey
Long Beach Island is perfectly perched between the Atlantic Ocean and Barnegat Bay, providing families with tons of options for a little fun down the Jersey Shore in a low-key setting. With tons of vacation rentals from which to choose, many families make this island their summer home away from home. There are also a number of hotels and motels, including the family-friendly Sea Shell. Ride bikes along the wide lanes, swing at the beach playground, see the famed lighthouse, or enjoy a small amusement park.
9. Bucks County — Pennsylvania
Given its close proximity to several major East Coast cities, Bucks County makes for an easy and pretty little road trip destination. Check out the farmer's market in the riverside town of New Hope or book an open-air car ride on the New Hope Railroad. Relax in a tube as you float down the Delaware River or get an up-close seat to history when you follow the Underground Railroad stops around the county. Hotels like the Black Bass Hotel, Aaron Burr House are running special offers now.

Hit the remote trails in the Poconos for some serious downtime.
10. Poconos Region — Pennsylvania
The Poconos Mountain region covers 2,400 square miles of pristine mountains, forests, lakes, and rivers. With a ton of lodging options ranging from camps to family fun resorts, and everything in between. Take a waterfall hike, go rafting down the Delaware, and explore the history of this region. The Delaware Water Gap National Recreation Area's Old Mine Road is a popular driving and biking route that winds through historical sites along the Delaware River.
11. Virginia Beach — Virginia
Head south for Virginia Beach with road trip stops in Washington, DC, or Richmond. There is no shortage of beach fun in this town. Go fishing on the pier, bike the boardwalk together, or catch a glimpse of loggerhead sea turtles at The Back Bay National Wildlife Refuge. Get your cameras ready and explore the vibrant street art in the Vibe District Murals this summer.
12. Assateague Island National Seashore — Virginia & Maryland
Wake up to the sound of the ocean right outside your tent by camping at this national park. This barrier island off the coast of Virginia and Maryland is the perfect location to get away from it all. Take a walk on the beach surrounded by wild horses galloping along the seashore. Kayak, bike, or hike, too! If camping isn't your thing, pick from one of the hotels or restaurants in nearby Ocean City, Maryland.
13. Blue Ridge Parkway — Virginia and North Carolina
The Blue Ridge Parkway connects two of the region's most popular national parks: Shenandoah and the Great Smoky Mountains. The Shenandoah Valley offers panoramic views along Skyline Drive while the Shenandoah Caverns are the perfect place to cool off on hot days. You can drive the entire 469 miles of meandering Parkway through campgrounds, hiking trails, and historical landmarks. As a guideline, 30 miles on the parkway is about an hour's drive.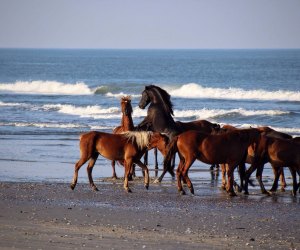 See wild ponies or just hit the beach in the Outer Banks. ​Photo courtesy of Wild Horse Adventure Tours
14. Outer Banks — North Carolina
North Carolina's Outer Banks is a 200-mile long string of barrier islands in the Atlantic Ocean. It has some of the most undeveloped stretches of coastline along the East Coast. Carolla, Kitty Hawk, and Duck are some of our favorite places to plug into our GPS. A drive along the Outer Banks National Scenic Byway will take you through 21 coastal villages. You can climb sand dunes or lighthouses, hunt for crabs, or just breath in the salt air and enjoy some family time.
15. Savannah — Georgia
Savannah is dripping with history, stunning public parks, and a whole lot of Southern charm. Take a historical tour with the popular Old Town Trolley Tour. The salt marshes and forest trails of the Moon River District should not be missed. Nearby Tybee Island provides lots of family fun beach options.
Photos by the author except where noted