40 Fun Things To Do in the Shenandoah Valley with Kids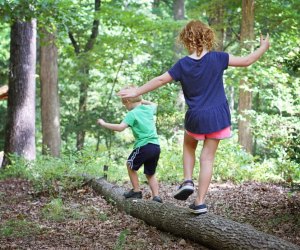 11/16/19
- By
Lindsay Li
Spanning nearly 150 miles with stunning views, natural landmarks to explore, deep history, and adorable small towns, a trip to the Shenandoah Valley is well worth the drive. The only question is, where to start? Growing up in the Shenandoah Valley, I'm amazed at how much of this beautiful scenery remains unchanged for decades. Farms span innumerable acres. You can still catch a cart and buggy, and have your pick of some of the best local produce at pop-up farmers markets in unexpected places. But the Valley isn't locked in time. It is thriving with new small businesses, a growing winery and brewery scene, and an intentional effort on the part of Virginia's small towns to create more amenities and attractions.
To help you navigate this expansive region just west of Washington, DC, and bordering West Virginia, we've put together a list of the 40 best things to see and do with your family, including exploring Shenandoah National Park and the famed Skyline Drive.
Top Things To Do Outdoors in the Valley
1. Explore the mountains and catch some of the most amazing views by hiking the Shenandoah National Park and beyond.
2. Catch the stunning views on Skyline Drive where there are more than 70 overlook spots to stop along the drive. If you're lucky you might catch a glimpse of the wildlife.
3. Picnic in Big Meadows, or stay at the lodge to catch an amazing light show (the stars).
4. Thrill-seekers can zip line through the mountains and get a birds-eye view of the valley like none other.
5. Go ice skating at Generations Park from Thanksgiving to spring, one of the few outdoor-area skating rinks.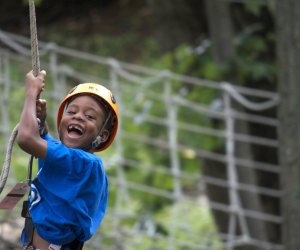 Massanutten Resort has zip-lining, golf, skiing, mountain biking, fishing, hiking, and lots of other outdoor recreation. Photo courtesy of Virginia Tourism Corporation
6. Go skiing or snow tubing from November to April (weather pending) at either Massanutten or Bryce—or try one of the local resorts' other outdoor pursuits.
7. There's nothing like exploring a cool cavern on hot summer days. There are countless caverns in the area, but the best are Luray Caverns, Grand Caverns, and Shenandoah Caverns.
8. Experience a thrill as you white water raft in the Shenandoah River, or take it easy on a real-life lazy river tube ride. Best for families with children who are ages 5 and up.
9. Take a family golf trip on one of the many area courses, or keep it simple on the kid-friendly par-3 golf course.
10. Go horseback riding with an experienced guide to see nature from a totally different point of view. Even if you're a first-timer, these gentle rides are a great way to get out and explore.
11. Visit Natural Bridge, a 215-foot tall limestone gorge once "owned" by Thomas Jefferson. Hike the area and enjoy the views, including the 30-foot high Lace Falls.
12. Seasonal activities and tasty treats make a visit to The Farm a worthy stop on the list.
13. Inhale the fresh air at White Oak Lavender Farm, and buy some fragrant goodies to bring back as gifts for friends and family.
14. Stop to watch the sunset over the Blue Ridge Mountains, a view from nearly any location that will take your breath away.
RELATED: 50 Fun Things to Do in Richmond, Virginia with Kids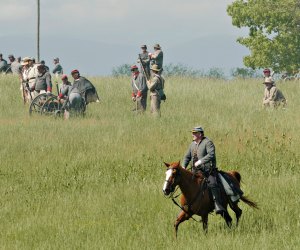 Watch a historic reenactment of a Civil War battle for a glimpse into the area's past. Photo by Synaptic Visuals courtesy of Shenandoah Valley
Best Ways to Experience Virginia History and Local Culture
15. Witness how the Civil War impacted the Valley with a tour of key sites from the war, and battle reenactments.
16. Relive day-to-day life in a traditional Native American Woodland culture with a visit to the Monacan Village.
17. Put on your dancing shoes and take a period dance lesson straight out of the 1860s.
18. Visit the presidential library and humble birthplace of our 28th president, Woodrow Wilson.
19. Spend the day at the Frontier Culture Museum, a living history museum that explores how colonial families lived and worked.
20. Catch the Shenandoah Shakespeare performers at the Black Friars Playhouse, a total reconstruction of the 1600s theater in London.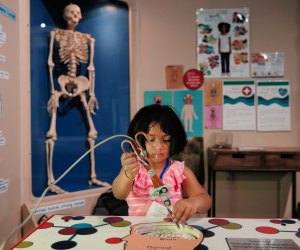 Try the life-size game of Operation at the Discovery Museum. Photo courtesy of Virginia Tourism Corporation
Top Kids' Activities and Attractions
21. Slip and slide at the indoor water park, no matter how hot or cold it gets outdoors.
22. Visit a children's museum in the Shenandoah Valley. There's the Explore More Discovery Museum in Harrisonburg and the Shenandoah Valley Discovery Museum in Winchester.
23. Have fun with duckpin bowling while noshing on delicious pizza at Ruby's Arcade.
24. Play with prehistoric friends at the Dinosaur Land, an old-time roadside attraction that's updated for modern visitors.
25. Meet the animals on safari at the Virginia Safari Park. You can drive through and feed some large herbivores like bison and llamas.
RELATED: Asheville, NC with Kids: 40 Fun Things to Do in Asheville

Run around at the playground at Hillendale Park, a picturesque woodsy-scene for play and picnics.​
26. Visit a playground in the shade! A rare treat for urban kids who are used to warnings about hot slides!.
27. Catch a movie (or two) under the stars with an old-timey drive-in movie theater. It's a bit of a hike from more centrally located entertainment but an experience you'll remember.
Shenandoah Valley Restaurants
28. Foodies delight in the many farmers' markets featuring fresh produce, handmade candies, coffees, and BBQ. including the Shenandoah Heritage Market and Dayton Farmer's Market.
29. Breweries are popping up all over the Valley, and some of the best, such as Blue Mountain Brewery and Stablecraft Brewery, offer games for kids and excellent food.
30. For a selection of offerings, find the food trucks in Harrisonburg. Typically they park together so you can meet the picky palates of your group.
31. For a seriously good burger and a side of deep-fried oreo, head to Jack Brown's. It started in Harrisonburg but locations are popping up all over the Valley and beyond.
Family Festivals and Seasonal Events
32. Enjoy the sweetness of spring at the Shenandoah Apple Blossom Festival for great food, live music, parade, and other entertainment.
33. Visit in August to catch the annual Rockingham County Fair, a classic fair experience with rides, treats, and animal showmanship.
34. Music-lovers won't want to miss the popular Shenandoah Valley Music Festival every summer, featuring local and national acts for more than 50 years.
35. Celebrate the rich diversity of Harrisonburg in September at the International Festival, which features music, food, and crafts of the dozens of nationalities that call Harrisonburg home.
36. Catch an outdoor concert as you sample wines along the Shenandoah Valley Wine Trail.
Shenandoah Valley Hotels, Campgrounds, and Places to Stay

These kids are exploring a historic cabin in the Shenandoah National Park, but you can stay in a more modern one at Bear's Den.
37. Stay in a cabin for a quiet getaway at a place like Bears Den.
38. Pack your tents and sleep under the stars at Elizabeth Furnace Family Campground. It's open year-round and is first come, first served.
39. Looking for a luxury stay? Consider the George Washington Grand Hotel in Winchester.
40. There are plenty of hotels from which to choose, but the Hotel Madison's proximity to downtown dining, an indoor pool and spacious rooms make it a good choice for families. There are also two major family-friendly resorts in the Shenandoah Valley area, both are attached to ski mountains, but offer year-round activities, including pools, hiking, biking, golf, and more outdoor fun: the aforementioned Bryce Resort and Massanutten Mountain Resort, which also has an indoor water park.
Of course, there are also cabins and homes to rent from owners, as well as more campgrounds where you can show kids the true beauty of Virginia's wilderness.
Photos by the author except where noted