Asheville with Kids: 40 Best Things to Do in Asheville, NC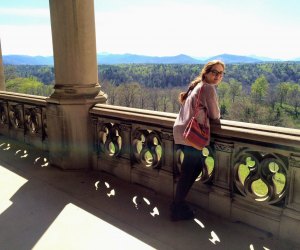 Asheville, NC, is a popular destination for visitors, including families, with so many fun things to do like the Biltmore Estate, a thriving food and arts scene, a Vanderbilt mansion with extensive grounds, and its kid-friendly local breweries. Outdoor enthusiasts will enjoy the plentiful hiking trails, waterfalls, and swimming holes. I frequently visit my sister's family in Asheville and get to explore this charming Southern city with my young nephew, so I wanted to share the inside skinny on the best family-friendly attractions, restaurants, and what to do in Asheville with kids.
Find more family fun destinations in our Family Travel City Guides, and be sure to check our picks for North Carolina's best beaches for families.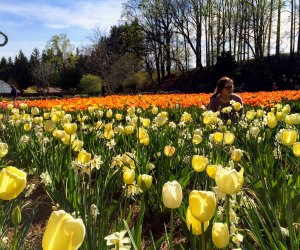 The Biltmore Estate gardens, like this tulip garden, are incredible.
Best Family Attractions in Asheville
1. At the Asheville Pinball Museum, play as much as you like from the collection of about 35 pinball machines, including some original games from the 1940s, for a flat fee.
2. Explore the mineral collections at the Asheville Museum of Science with a scavenger hunt guide. Younger kids will enjoy the water table or fossil dig.
3. Big kids can burn off some energy indoors with laser tag, go-karts, mini golf, bumper cars, a climbing wall, and more at Fun Depot.
4. Take little ones on a rainy day to indoor playground Mountain Play Lodge.
5. Plan on spending an entire day at the Biltmore Estate to take advantage of the extensive grounds as well as a house tour. There's a farm, children's maze, trails, horseback riding, a playground, and lots more family-friendly activities. Don't skip the house tour which is so over-the-top even kids will appreciate it.
6. Visit Zaniac, a hands-on STEM activity center.
7. Just outside of Asheville you'll also find Hands On! Children's Museum in Hendersonville or Kidsenses Children's Interactive Museum in Rutherfordton, NC.
8. Check out a train ride, hayride, or see baby farm animals at Hickory Nut Gap Farm, depending on the season. You can even buy farm-raised meats.
9. Adventure Center of Asheville has a zip line designed just for kids under 10, as well as a treetop adventure course.
10. Like bears? Visit the WNC Nature Center. All the animals here are rescues and native to the area.
11. Take a real trolley ride along the historic Craggy Mountain Line.
12. Don't miss an Asheville Tourists Baseball Game.
13. Asheville is a great place to access the scenic Blue Ridge Parkway for incredible views of the Great Smoky Mountains. It's especially lovely in the fall.
14. Enjoy the Lazoom kids comedy tour. You may have seen the purple bus cruising around town, an Asheville classic!
RELATED: Charleston with Kids: Fun Things to Do for Families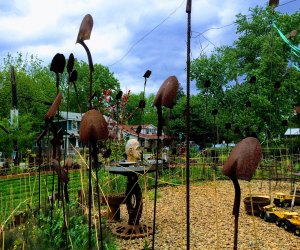 Explore Christopher's Garden, a funky spot in West Asheville where kids are welcome to play.
Free Things to Do in Asheville with Kids
15. Bring anything you can bang and join the lively Friday Night Drum Circle. (It starts around 5pm or 6pm in Pritchard Square Park during warm months.)
16. Or grab a blanket and stake out a spot for free outdoor music at Saturday evening's Shindig on the Green.
17. Kids of all ages love cooling off at Splashville, the geyser-spurting fountain and sprayground in Pack Square Park.
18. Find free storytimes for babies and toddlers at Buncombe County Public Libraries.
19. Follow Asheville's Urban Trail to see 30 bronze sculptures and plaques sprinkled around downtown. It's a fun way to learn about Asheville's history.
20. Check out Christopher's Garden, the eclectic found-object sculpture garden created by artist Christopher Mello at the corner of Westwood Place and Waynesville Avenue in West Asheville. There are some toy dump trucks and gravel to play with, a fun circular lawn, and lots of neat nooks and crannies for kids to explore.
21. Catch free outdoor Shakespeare and other classics by the Montford Park Players. The lively and humorous performances will even appeal to kids.
22. Kids can do a scavenger hunt to learn about the historic Mast General Store and receive a little reward at the end.
23. Explore the local flora and fauna at the free Botanical Gardens of Asheville with an Investigation Passport for the kids, and then cool off with a dip in the path-side stream.
RELATED: 35 Fun Things to Do in Atlanta with Kids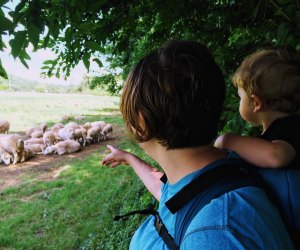 We discovered a flock of sheep on an easy hike along the French Broad River.
Easy Hikes and Nature Trails Around Asheville
24. Asheville has tons of waterfall hikes. Some easy ones to try are Crab Tree Falls, Looking Glass Falls, Devil's Courthouse, or Skinny Dip Falls. Catawba Falls in Old Fort is a favorite.
25. Hiking with baby or a toddler? Liberty Trail at Bent Creek and Laurel River Trail are both stroller-friendly.
26. The Pisgah National Forest offers many easy hiking trails like the flat, shady Pink Beds Loop Hike or the Andy Cove TRACK Trail, which have downloadable kids guides.
27. Add some adventure with a geocaching packet, a discovery day pack, join a Wee Naturalist Program, or just take a hike to explore the exquisite cultivated gardens and miles of nature trails at The North Carolina Arboretum.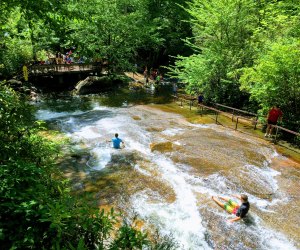 Are you brave enough to launch yourself down Sliding Rock, the popular natural water slide?
Swimming Holes and Lakes Around Asheville
28. Don't miss Sliding Rock, an awesome natural water slide in the Pisgah National Forest.
29. Try tubing, kayaking, or rafting on the French Broad River.
30. Take a hike at scenic Chimney Rock Park and then cool off at Lake Lure.
31. Lake Powhatan in Bent Creek has a little beach, and the Homestead Trail around the lake is kid-friendly. Lake Julian also offers boat rentals and a new playground.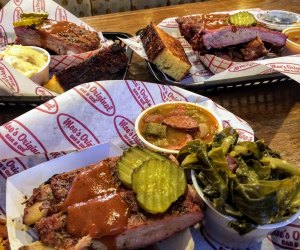 I love the North Carolina style BBQ at Moe's in Asheville.
Family-Friendly Restaurants and Breweries in Asheville
32. Stop for a snack just so you can eat in a real London double-decker bus at Double D's Coffee and Dessert.
33. My family could not get enough of Biscuit Head, the breakfast spot that serves giant Southern-style biscuits.
34. Kids can play unlimited free arcade games while parents nosh on Carolina BBQ at Moe's Original Bar B Que.
35. Stop by for vegan, gluten-free, goat's milk, or regular ol'ice cream in eccentric flavors at The Hop. Check the schedule of weekly children's events too.
36. Sidewalk chalk, outdoor seating, and a relaxed atmosphere mean kids can roam while parents sample local brews and burgers at Universal Joint.
37. Enjoy a cold one while kids romp in the beer garden, explore Millers Estate Garden, and jam to live music at Sierra Nevada Brewery.
38. Sundays on the Meadow at the Highland Brewery offers bounce houses and yard games to the kids and local bands and food trucks to the grown-ups.
39. Indulge in desserts and drinks at French Broad Chocolate Lounge.
40. If you like the idea of eating while your kids play on the banks of a creek, check out Homegrown West Asheville and Creekside Taphouse, which also has a playground. Bring water shoes!