Asheville with Kids: 40 Best Things to Do in Asheville, NC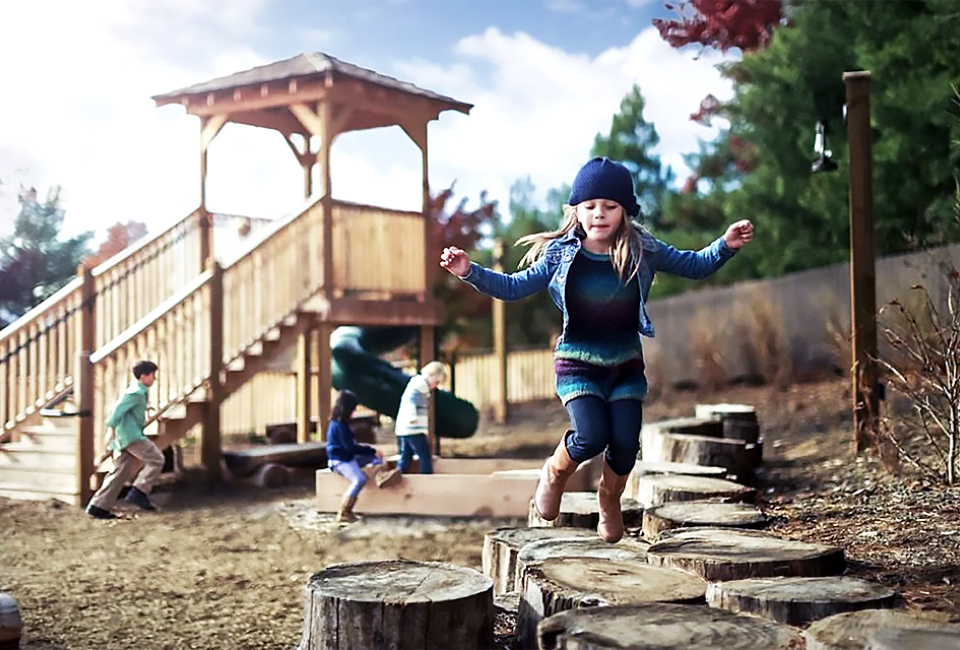 12/17/22
- By
Anna Fader
Nestled in the gorgeous Blue Ridge Mountains of western North Carolina, the city of Asheville is a popular travel destination for families looking to hike, swim, and enjoy nature. But there are so many things to do in Asheville, NC beyond the great outdoors. There's the famous Biltmore Estate and its extensive grounds, a thriving food and arts scene, kid-friendly local breweries like Sierra Nevada Asheville, and so much more.
Read on for 40 of the best family-friendly attractions, restaurants, and things to do in Asheville, NC with kids. We've also included a few incredible Asheville hotels, including the Omni Grove Park Inn, home of the famous annual National Gingerbread House Competition.
Find more family-fun destinations in our Family Travel City Guides, and be sure to check our picks for North Carolina's best beaches for families.


Top Attractions in Asheville, NC for Families
Of all the fun things to do in Asheville, NC, visiting the majestic Biltmore Estate is a must. Plan to spend an entire day here to take advantage of its extensive grounds and activities. There are hiking trails, horseback riding, a playground, and lots more family-friendly activities. Don't skip the house tour, which is so over-the-top even kids will appreciate it.
RELATED: 99 Things To Do in Charlotte, NC with Kids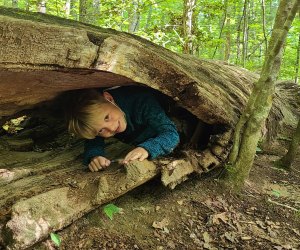 There are plenty of places to explore at the North Carolina Arboretum. Photo courtesy of the arboretum
Explore the exquisite cultivated gardens and miles of nature trails at the North Carolina Arboretum to see some of the most beautiful and diverse plants in the region. Check out all of the fun activities for kids, too.
This may be one of the quirkiest things to do in Asheville, NC, but the entire family will have a blast. Play as much as you like on this museum's collection of 35 pinball machines and 35 classic arcade games—including some original games from the 1940s—for a flat fee.
This museum features interactive, hands-on exhibits especially geared for children ages 3-12. Kids can explore the museum's gem and mineral collection, tinker in the STEAM Lab, go on a fossil dig, and more.
This nature center is home to 60 species of animals that are native to the area, all of which are rescues. Families can see black bears, river otters, bobcats, coyotes, and many more. There are also nature play areas, daily animal programs, and other family-friendly activities.
Asheville is a great place to access the famous Blue Ridge Parkway, one of America's most scenic drives. It offers incredible views of the Great Smoky Mountains and is one of the best things to do in Asheville, NC in the fall.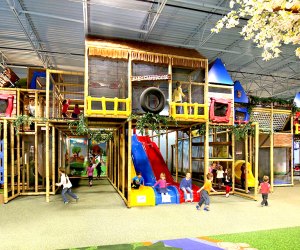 Mountain Play Lodge is the perfect indoor playground for a rainy day. Photo courtesy of the play space
More Fun Things To Do in Asheville, NC with Kids
Spend a rainy day at this indoor playground featuring a giant jungle gym with six slides; a mini reproduction of Asheville complete with a police station, a doctor's office, and a Biltmore house; and a toddler soft-play area.
This children's museum just outside of Asheville in Hendersonville includes 13,000 square feet of kid-powered, interactive exhibits that captivate children's imaginations.
KidSenses is another children's museum near Asheville in Rutherfordton. It features 14 learning exhibits, interactive displays, and creative play areas for kids ages 0-10, as well as a children's garden. It's newest space, The Factory, offers a maker space, a robotics lab, and a 3-D print shop for kids and teens ages 11 and up.
Take an hour-long tour of this working farm in nearby Fairview to learn how it operates and see cows, pigs, and chickens. You can even buy farm-raised meats. Tours are offered monthly on Saturdays.
RELATED: 25 Fun Things To Do in Myrtle Beach, SC with Kids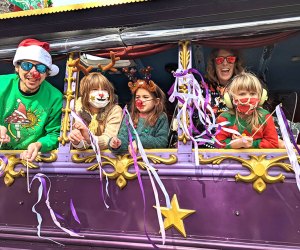 Explore the city with a LaZoom Kids' Comedy bus tour. Photo courtesy of LaZoom Tours
Climb aboard an iconic purple bus to take a wildly funny tour of the city with hilarious guides. The tour, one of the most classic things to do in Asheville, NC with kids, is geared specifically toward children ages 5-12.
This outdoor adventure park has a zip line designed just for kids under 10, a treetop adventure course with five levels of difficulty, and a mountain-bike park with four miles of trails.
Take a real trolley ride along the historic Craggy Mountain Line, where you can take in amazing mountain and river views while having old-fashioned fun.
The Asheville tourists are the high-A minor-league affiliate of the Houston Astros. The games are fun for families with lots of giveaways and promotions, and kids 5 and under get in free!
Kids and adults of all ages will love perusing this historic general store, which carries just about anything you can think of—clothing, home decor, toys, massive amounts of candy, and so much more. If you're on the hunt for souvenirs, this is the place to visit.
RELATED: 25 Things To Do in Raleigh, NC with Kids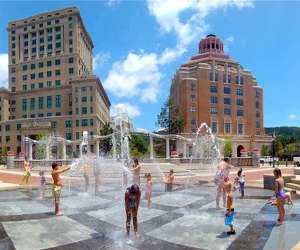 Cool off in the heart of downtown Asheville at Splasheville. Photo courtesy of Asheville City Government
Fun Free Things to Do in Asheville, NC with Kids
In summertime, kids of all ages love cooling off at this geyser-spurting fountain and sprayground in Pack Square Park.
Bring anything you can bang and join the lively Friday night Drum Circle in downtown Asheville. It starts around 6pm in Pritchard Park during warm months, and everyone is welcome to dance, drum, and celebrate.
Grab a chair or blanket and stake out a spot for free outdoor music at Roger McGuire Green in downtown Asheville. Shindig on the Green takes place on Saturday evenings at 7pm in July and August. You can also bring instruments to participate in informal jam sessions around the park.
Follow Asheville's Urban Trail to see 30 bronze sculptures and plaques sprinkled around downtown. It's a fun way to learn about the city's history, and one of the best free things to do in Asheville, NC.
Catch free outdoor performances by North Carolina's longest-running Shakespeare theatre company at the outdoor Hazel Robinson Amphitheatre during the summer months. The lively and humorous shows will even appeal to kids.
Explore the local flora and fauna for free at these 10-acre botanical gardens with a fun Investigation Passport for the kids.
RELATED: 100 Fun Things to Do in Atlanta with Kids Before They Grow Up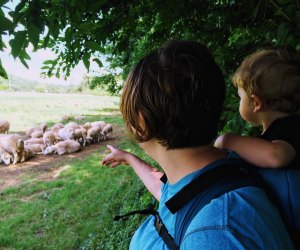 We discovered a flock of sheep on an easy hike along the French Broad River. Photo courtesy of the author
Easy Hikes and Nature Trails Around Asheville, NC
22. Waterfall Hikes
If you want to chase waterfalls, Asheville has a ton of trails where you can do just that. Some easy ones to try are Crabtree Falls, Looking Glass Falls, Devils Courthouse, and Skinny Dip Falls.
23. Stroller-Friendly Trails
Hiking is one of the most essential things to do in Asheville, NC, and you don't have to skip it just because you have a baby or toddler. Liberty Trail at Bent Creek and Laurel River Trail are both stroller-friendly and beautiful.
This 500,000-acre hardwood forest features hundreds of miles of hiking trails. Two easy ones are the flat, shady Pink Beds Loop Hike and the Andy Cove TRACK Trail, which have downloadable kids' guides.
RELATED: 45 Fun Things To Do in New Orleans with Kids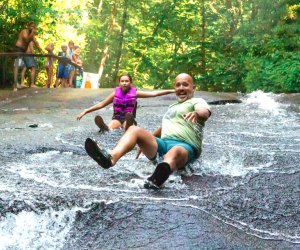 Are you brave enough to launch yourself down Sliding Rock, the popular natural water slide? Photo courtesy of Visit NC
Swimming Holes and Lakes Around Asheville, NC
Don't miss this awesome natural water slide in Pisgah National Forest. It's one of the coolest things to do in Asheville, NC. The 60-foot flat, sloping boulder ends in an eight-foot-deep pool of water, so only kids who can swim should slide!
Take a hike at scenic Chimney Rock Park, then cool off at this 720-acre, crystal-clear lake.
This swimming lake in Bent Creek has a little beach, and the Homestead Trail around it is kid-friendly. There are also campsites for families that want to spend the night.
Swim, boat, canoe, or fish in this 300-acre lake in Arden. Lake Julian Park also offers a playground, nature trails, disc golf, and a picnic area.
RELATED: 35 Warm and Sunny Family Vacation Spots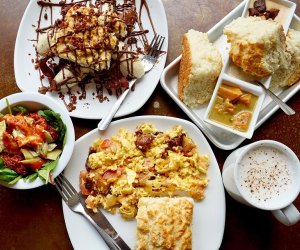 You haven't had biscuits and gravy until you've had them at Biscuit Head. Photo courtesy of the restaurant
Kid-Friendly Asheville Restaurants and Breweries
Asheville is known for its breweries, and many of them are family-friendly, including the famous Sierra Nevada Asheville. Enjoy a cold one while kids romp in the beer garden. There's also live music on Saturdays and Sundays.
Visit Highland Brewing on Sundays during the summer for Meadow Market, where local bakers, makers, and artisans sell their wares. Kids are also welcome at the brewery at any time, where they can frolic in the meadow while the grown-ups enjoy some beer.
Stop at Double D's for a coffee, milkshake, or ice cream just so you can eat in a real London double-decker bus.
My family could not get enough of this breakfast spot that serves giant Southern-style biscuits with a variety of gravies and sides.
Kids can play unlimited free arcade games while parents nosh on Carolina BBQ at Moe's. There's also a kids' menu and a large outdoor patio.
RELATED: Top 10 North Carolina Beaches for Families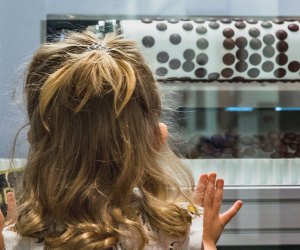 Go on a bean-to-bar journey of how chocolate is made during a French Broad Chocolate Factory tour. Photo courtesy of company
Indulge in chocolatey desserts and drinks at this famous chocolate lounge, or take a tour of the nearby Chocolate Factory.
Stop by for vegan, gluten-free, goat's milk, or regular ol' ice cream in eccentric flavors at The Hop, which has several locations in Asheville.
Sidewalk chalk, outdoor seating, and a relaxed atmosphere mean kids can roam while parents sample local brews and burgers at this popular restaurant.
If you like the idea of eating while your kids play on the banks of a creek, check out this neighborhood staple, which also has a playground. Bring water shoes!
RELATED: 12 Family-Friendly Tree House Rentals to Delight Their Imaginations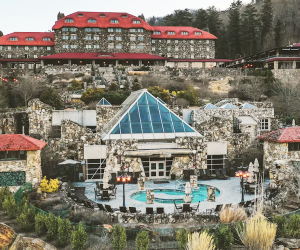 The Omni Grove Park Inn is nestled in the gorgeous Blue Ridge Mountains. Photo courtesy of the inn
Great Asheville Hotels for Families
This luxurious hotel in the Blue Ridge Mountains has been wowing guests for over 100 years. There are pools, a subterranean spa, a golf course, tennis courts, restaurants and tons of activities for families and kids. Bonus: Each December, the Grove Park Inn is home to the famous National Gingerbread House Competition.
Stay right on the Biltmore Estate and enjoy hiking and biking trails, a heated outdoor pool that's open year-round, a playground, a farmyard, and more fun activities for kids. The hotel is also walking distance from a variety of shops and restaurants.
Surround your family with nature in one of these uniquely decorated mountain cabins adjacent to the Blue Ridge Parkway. Stroll through gardens, go fishing or hiking, or simply lounge in a hammock. There are also playgrounds, outdoor games, and more activities kids will love.