24 Things To Do in Raleigh, NC with Kids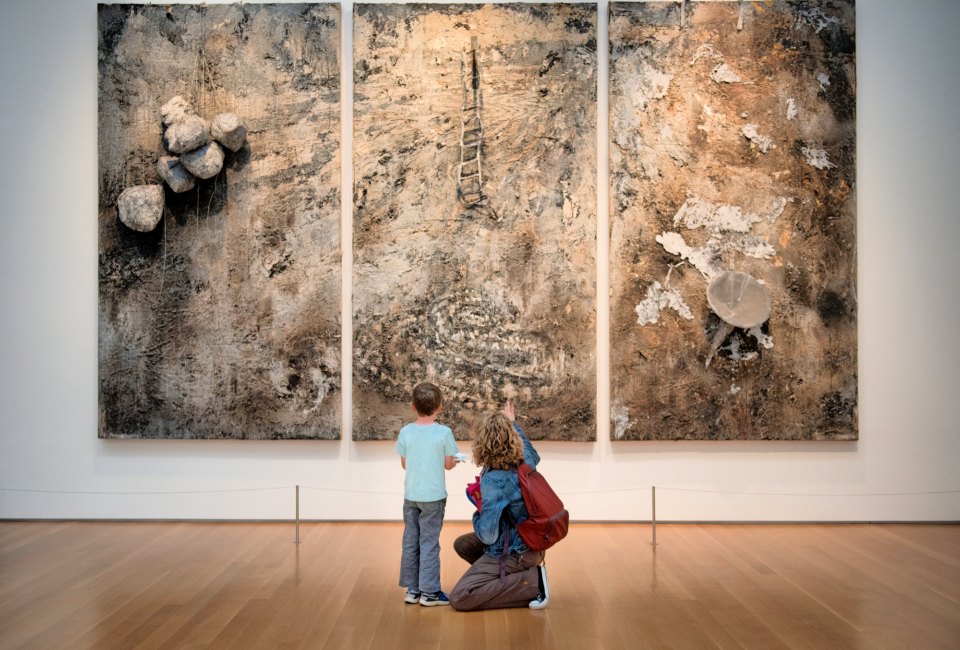 12/21/19
- By
Liz Alterman
There are plenty of fun things to do in Raleigh, North Carolina, with kids whether you're looking for a fun Southern city to explore with younger kids or beginning the college search with teens.
Known as the "City of Oaks," thanks to its mighty trees, the North Carolina state capital is the second-largest city in the state, right behind Charlotte. It's home to 12 colleges and universities, so it's no surprise that you'll find plenty of educational venues here, including museums and science centers. If you're also in the market for an action-packed good time, check out the go-karts and obstacle courses to arcades, escape rooms, and trampoline parks around Raleigh. We've also included our favorite free things to do in Raleigh for kids and noted at what ages free admission applies to some of the city's top attractions.
Here are 24 things to do in Raleigh for families, many of which are FREE.
Things to Do in Raleigh, NC with Kids
Come to Pullen Park for a full day of outdoor fun in a historic North Carolina park established in 1887. Enjoy playgrounds and green fields, but also a ride on the original 1911 carousel and a mini train ride. This Raleigh gem includes one of the world's oldest operating amusement parks and is North Carolina's first public park. Take a pedal boat out on Lake Howell for a different view of the park and enjoy theater performances, too.
From performing arts to family workshops, there's plenty to see and do at this museum, which is recognized as a top visual art museum in the Southeast. Programs and in-gallery materials invite families to look, talk, and interpret works of art together. Children under 7 are FREE.
No matter what you're craving, you're sure to find it at these downtown Raleigh food halls: Transfer Co. Food Hall and Morgan Street Food Hall. Transfer Co. is housed in the historic Carolina Coach Garage and Shops and was recently-renovated. If you're hungry for breakfast, you'll find wood-fired bagels and fresh coffee at Benchwarmers Bagels. Looking for lunch? Mama Crow's offers a menu of locally-sourced salads, top-quality burgers, house-made cheeses, and hand-cut fries. Located just across town is Morgan Street Food Hall, which made USA Today's "Top 10 New Food Hall" list in 2018. At Morgan Street Food Hall, you'll find more than a dozen vendors, including Oak City Fish & Chips, Cousin's Maine Lobster, Amitie Macaron, Mama Bird's Cookies + Cream, and plenty more. These kid-friendly places have ample seating both in and outdoors. Visit each food hall's website to check the hours as they vary by vendor.
RELATED: Asheville, NC with Kids: 40 Fun Things to Do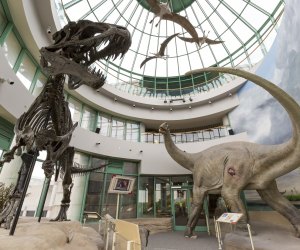 Admission to the North Carolina Museum of Natural Sciences is FREE. Photo by Karen Swain/VisitRaleigh.com
Kids will "bug" out at this downtown educational and entertaining emporium, which is the Southeast's largest natural history museum, complete with its Nature Exploration Center and Nature Research Center. Take in four floors of exhibits, where you can see all sort of bugs, spiders, and snakes. Don't miss the live animals presentations that take place daily. The living conservatory on the fourth floor is home to butterflies, turtles, tarantulas, snakes, and even a two-toed sloth. Pick up a souvenir at the gift shop or grab a snack at the café. Admission is FREE.
5. Mordecai Park & Trolley Tour
Learn all about Raleigh's rich history while taking a narrated, 50-minute trolley tour, which starts at Mordecai House, the oldest home in Raleigh on its original foundation. While there, enjoy a tour of the Mordecai House, which dates back to 1785 and is a registered historical landmark and museum, as well as the surrounding outbuildings. Tours begin at 10am and the last tour begins at 3pm. Tickets are currently priced as follows: adults: $7, seniors: $3, youth: $4. Children 6 and under are FREE.
Want to see how chocolate gets made? Take a free, self-guided tour of Videri's downtown chocolate factory, which can be completed in 15 minutes. Inside this quaint shop, chocolate lovers of all ages have a chance to see and smell the process of taking small-batch roasted cocoa beans, organic sugar, and organic cocoa butter and transforming it into award-winning chocolate. Visitors will want to check out the drool-worthy offerings at the candy counter. Or, grab a frozen hot chocolate in the cafe. Prewrapped chocolate sets make for a delicious souvenir. Videri's facility is allergy-friendly as its chocolates are free from all tree nuts, and many common legumes, as well as soy, gluten, and egg products. Vegan options are also available. The production team makes chocolate Monday through Friday but the factory is open seven days a week.
Looking for fun things to do in downtown Raleigh? Enjoy a little friendly competition inside this lively and spacious arcade and bar that brings together a mix of more than 100 new and classic arcade games for children and parents to enjoy together. From testing your reflexes at air hockey and pinball to recalling the fun games of your day while playing Ms. PacMan and MarioKart, even the grown-ups might feel like a kid again. Games are operated by tokens, which can be purchased from machines inside the arcade. At 9 pm, visitors must be 21 and older to stay, so plan accordingly.
An affiliate of the Smithsonian Institution, the North Carolina History Museum features exhibits that highlight the state's military history, decorative arts, sports heroes, and more. Families will enjoy the special exhibits running now through January, which include Toy Boom, showcasing retro toys. Located on the museum's third floor is the NC Sports Hall of Fame, dedicated to the state's all-star athletes. The museum is open seven days a week and admission is FREE.
RELATED: Top Family Trips of 2019: Fun Cities, Hidden Getaways, and Beach Resorts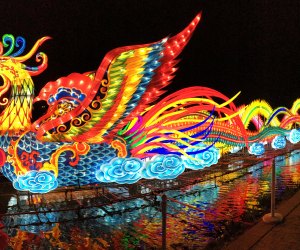 Enjoy the Chinese Lantern Festival in Raleigh during the holidays. Photo by Liz Alterman
From mid-November through mid-January, hundreds of larger-than-life lanterns are on display at this beloved festival that serves as a perfect backdrop for super-vibrant selfies. Families can stroll through the Koka Booth Amphitheatre on a self-guided walking tour, which takes about an hour, enjoying a unique and colorful adventure during the holiday season. From pandas to dragons, each awe-inspiring lantern is handcrafted and assembled by more than 25 visiting Chinese artisans. Nightly performances showcase talented performers who specialize in martial arts, traditional dance, acrobatics, drumming, and more. Warm your hands on a hot chocolate or sample a snack while taking in these glowing and gorgeous sights. Tickets are available online.
Want to make sure your kids are using their marbles? Pay a visit to this interactive museum in downtown Raleigh that will have your little ones connecting, communicating, and creating as they learn through play. Hands-on exhibits and award-winning programs make this a must-see venue for families. The 3D IMAX theater delivers an immersive experience you won't soon forget. Marbles is open daily. ​
Make a day of it at this funplex where kids can play a round of mini-golf or take a go-kart for a spin on an outdoor track. This Raleigh amusement center also features laser tag, batting cages, bumper boats, flight simulators, arcade games, and more, making it an all-ages win among our favorite things to do in Raleigh. Certain areas of the park are under renovation and will reopen in February 2020.
This 10-acre arboretum and nationally-acclaimed botanical garden, which is managed by North Carolina State University, is open year-round. Stroll the grounds or check the schedule to attend an educational program inside the on-site yurt. The arboretum is open daily and admission is FREE.
If you're ready to take on an outdoor challenge, consider the TreeRunner Ropes Course, Raleigh's aerial adventure park featuring over 70 obstacles, ropes courses, and zip lines. With three difficulty levels offered, the whole family will find a way to test their strength and agility while taking in a fabulous view of the wooded surroundings. Kids as young as 4 years old can participate by climbing on the junior-level courses. Instructors take care to make sure everyone understands the ground (and above ground) rules, putting safety first and parents' minds at ease.

Hit the indoor race track at RushHour. Photo courtesy of Raleigh Rush Hour Karting
If you and the kids are feeling the need for speed, visit this indoor track located just 15 minutes outside of Raleigh. Not your average speedway, you'll have the chance to race at up to nearly 40 miles per hour as you zoom around the one-third mile track, full of curves and high-speed straights. A leaderboard adds a competitive element. Races are divided between juniors (ages 8 to 14 and at least 48 inches tall) and adult (ages 15 and older). All drivers must wear helmets and closed-toe shoes. A destination for year-round family fun, Rush Hour also features a tavern, so you can grab a meal or snack in between races. Video games and recently-added axe throwing promise to make for a memorable visit. A second location in Morrisville, NC, not far from Raleigh-Durham International Airport, will open in 2020, according to Adam Saad, president of RushHour Karting. The multi-level complex will feature super-quiet electric karts, laser tag, and more.
This sports complex is the vision of five-time X Games gold medalist Daniel Dhers. Billed as the largest family-oriented, action sports training facility in the world, the facility will appeal to skaters, skateboarders, and BMX enthusiasts. You may just end up sharing ramps with some of the most-awarded action sports athletes from around the world. The first Saturday of each month, DDASC holds the ideal class for beginners of all ages from 9 to 10am. An experienced instructor uses this time before the park opens to the public to review park etiquette, safety, and basics for each sport.
Love riddles? Don't let the kids miss the chance to puzzle your way out of this water tower. That's right, hidden inside this historic landmark in downtown Raleigh is an escape room. Work as a team to put your thinking skills to the test and escape in less than 60 minutes. While there is age minimum, challenges are geared toward those 12 years and older.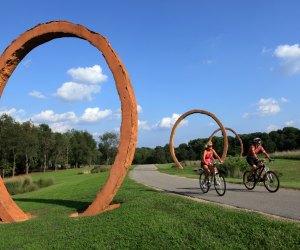 Walk, bike, or stroller your way through this museum park. Photo courtesy of North Carolina Museum of Art/VisitRaleigh.com
Get some fresh air and exercise while taking in some spectacular works of sculpture at this "museum park." Located beside the NC Museum of Art, this stunning expanse features 164 acres of green space and outdoor art designed to "connect art, nature & people." Pack a picnic so you can enjoy a snack in between hiking from one extraordinary work of art to the next. Visitors are also welcome to bike along the paths and trails. FREE and open daily.
If visiting Raleigh during the holidays, you're in for a treat. A festive open house at the Governor's Mansion invites visitors to tour the home, which dates back to 1883. Admire the decorations while enjoying seasonal musical entertainment by local performing groups. The first floor of the mansion is decorated with North Carolina-grown Christmas trees, floral and mixed evergreen arrangements, and ornate mantle displays. Admission is FREE.
Budding botanists and nature lovers will enjoy a visit to this ecostation, which boasts a green outdoor classroom, a native plant garden, and native tree arboretum. An extension of the North Carolina Museum of Natural Sciences, museum staff present a variety of public programs aimed at educating visitors about nature and science. The Nature PlaySpace for young children has become a safe, popular space for nature-based fun; programs offered at this venue include Nature Stories and Nature PlayDays. The ecostation is open daily and admission is FREE.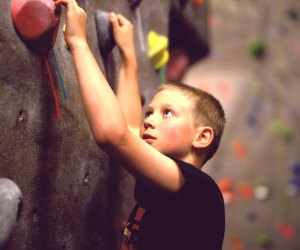 Climb the walls at Triangle Rock Club. Photo courtesy of VisitRaleigh.com
Triangle Rock Club is the proud home of five of the Southeast's premier indoor climbing and fitness centers, including gyms in Morrisville and Raleigh. With terrain levels for all ages abilities, the club offers exercise and fun for everyone from the beginner to the seasoned rock climber. Both locations include lead and top-rope climbing, bouldering terrain, and a cardio and strength center. Currently, the Morrisville location is the largest and tallest climbing facility in the state, and includes 100 climbing lanes and walls up to 55 feet tall. So leave your fear of heights at the door.
Home of the North Carolina Symphony, this venue boasts fantastic acoustics. Family-friendly performances are offered throughout the year. Visit the center's calendar for upcoming events.
Let your little ones explore at this sprawling 50-acre farm. Climb into tree houses. Have fun on swings and monkey bars or take in an educational program. This spot is a popular pick for school field trips. Open seasonally, spring through late fall.
Sports fans will definitely want to plan a visit around the chance to catch either the Carolina Hurricanes or the NC State Wolfpack men's basketball team as both play at this arena. In addition to athletics, you can also see musicians, comedians, and more at this venue. Visit the website for a schedule of upcoming events.
So expansive it can accommodate up to 500 skaters, you and the kids will have a blast while rolling around this north Raleigh roller skating rink. They also have those skate helpers that new skaters can lean on for a little assist. Get in some exercise rain or shine. When your legs get tired, visit the arcade or grab a snack at the cafe. If you're looking to keep costs low, don't miss $2 Mondays. Check the rink's website for additional specials.
Click Here to Sign Up!