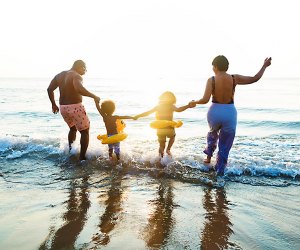 Best Places to Travel in 2020 with Kids: Hidden Getaways, Top Resorts, and Fun Cities
Our list of top family travel destinations is here! We love our hometown cities at Mommy Poppins, but we're also explorers, a trait many of us hope to pass along to our kids. How better to pique their interest by ferrying them on trips across the country and even across borders?
Last year, we traveled to big-time resorts, such as Atlantis in the Bahamas and a brand-new indoor water park resort in the New York Catskills, and to quirky artsy towns like Asheville, North Carolina and Venice Beach, California. We explored waterfalls and geysers in Iceland, played tourist with the kids in London, and dived into culture and maple crepes in Quebec City. Of course, it wasn't all walking tours or hotel pools. Relaxing on the beach in Aruba topped our list, as did a trip to California's rugged Big Sur coast.
Read on for travel inspiration for your family with our final "best family travel" list of this decade.
Trips to Family-Friendly Cities
Our favorite cities offer numerous but budget-conscious play opportunities, from museums to playgrounds, friendly restaurants, easy transportation, and kid-friendly hotels and accommodations. Find more top city travel profiles in our City Guides, or check out these top destinations of the last year.
Warm Cities to Visit
We flocked to warm destinations for spring break and beyond, especially in the Virginia area. Both Richmond and Virginia Beach delighted our editors, as did a return to Baltimore, including its charming Inner Harbor area. Outdoor fun was had in Virginia's stunning Shenandoah Valley, as well as West Virginia's state parks, caves, and even luxury resorts.
Deeper into the south, we thrilled to explore Asheville, a booming foodie city in North Carolina. Tour the stunning Biltmore Estate but don't miss the low-key family-friendly breweries, swimming holes, and hiking trails, too.

The Georgia Aquarium is one of the largest in the world and offers an incredible glimpse at ocean life. Photo courtesy of the aquarium
We launched new sites in Orlando and Atlanta, giving us reason to explore each city further, going beyond the theme parks that draw families with young kids to both areas, including creative indoor play spaces and restaurants designed to keep kids happy.
Our Houston team took myriad family trips to Texas destinations, including tubing rivers, beaches, and even top-notch Hill Country wineries. We visited Dallas, and tracked down the best Houston hotels for a stay with kids, including one with a Texas-shaped lazy river on the roof!
We warmed up in Phoenix, meeting animals and wildlife indoors and out and partied at the pool in Las Vegas with the kids.
Northern Vibes
New England charmed us in 2019 (as it does most years). Our Boston editor put together a list of the 100 best things to do in New England, including fall foliage trips around the six-state region and profiles of friendly towns, such as Stowe, Vermont.
Trips to New York and around the greater NYC metro area are always popular with Mommy Poppins kids. In fact, we found 100 best things to do in New York state, as well as profiling favorite areas, such as the rural Catskills and upstate's lakefront city of Buffalo, New York.

A trip to Redwood National Forest in California is sure to fill all ages with a sense of wonder at the natural world.
California often tops our top travel lists and 2019 was no exception. The state offers such a range of things to do with kids, because of its coastline, major cities, forests and parks, and key attractions, that we just can't stay away. Consider these top 12 California vacation ideas for families, or try to master our brand-new 100 things to do in California with kids list. Two California trip highlights of the year: Big Sur and Venice Beach.

Tour glaciers and see marine wildlife in a one-of-a-kind trip to Alaska. Photo courtesy of Allen Marine Tours
Travel to Alaska was a bucket list item we highly recommend. You can cruise there in comfort with Disney, or take a less commercial trip to Alaska with these insider DIY guides to Juneau or Haines, Alaska. We guarantee bear sightings, whales, and plenty of quality family R&R.

The London Eye gives visitors a look at the famed English city. Photo courtesy of Visit London
Family-friendly International Cities
Europe beckoned us this year as the kids get older and are better equipped to handle a trip to a foreign city where customs and language might differ. A stay on an Amsterdam houseboat pleased the teens and grown-ups alike and the nordic charm of Stockholm was an all-ages crowd-pleaser with playgrounds and museums. London too topped our list of best places to travel for all its kid fun, from Harry Potter attractions to the Princess Diana playground in Kensington Gardens.

A trip to Iceland is filled with outdoor adventures and natural wonders like the Strokkur Geyser. Photo courtesy Visit Iceland
Iceland's outdoor adventures thrilled us for its otherworldly landscape, from rushing waterfalls and soaking lagoons to black sand beaches. We also enjoyed Quebec City, a walled city with a European feel.

Splurge on a stay at Atlantis Bahamas and you'll be rewarded with a gorgeous, activity-laden environment. Photo courtesy the resort
Best Kid-friendly Hotels and Resorts in 2019
What makes for a kid-friendly hotel? It really depends on the family. Exhausted? You might want to just scroll over to these favorite all-inclusive resorts that cater to all the details and never run short on kid-focused amenities, from pools to kids clubs.
We had a lovely return stay at the all-inclusive Nickelodeon Hotels and Resorts Punta Cana where it's always impossible to get the kids out of the pools and water park! Rooms here configure into a number of family-friendly settings, including a master bedroom that can be closed off with sliding doors, while some suites come with adjacent swim-up or plunge pools.
The
Atlantis in the Bahamas
isn't all-inclusive but it sure packs in the activities just the same, including its famed water park and dolphin encounters. Our editor gives you 10 tips for having a great vacation at this mega-resort.
Visiting one of our top cities? Try these kid-friendly hotels in Philadelphia, Boston, Connecticut, and Houston. Or let the kids indulge in a rooftop plunge at these big city hotel pools in New York City and in Los Angeles.

The sprawling Schlitterbahn's South Padre Island location offers a little something for everyone. Photo courtesy the resort
Speaking of pools—and really let's be honest, the simplest of swimming pools is sometimes all it takes to win over a kid traveler—we found these stunning hotel pools across the country that might tempt your brood to visit somewhere new. Or up your water game with hotel water parks, which make leaving the resort completely unnecessary.
Two indoor water park resorts made our 2019 list, too. The brand-new Kartrite Resort and Indoor Waterpark opened in April in the Catskills with an array of modern family suites and rooms, and of course, plenty of water slides and other entertainment. A return to the just-renovated Great Wolf Lodge Poconos won over our families again, too.
Maybe more low-key accommodations work better for your family. We adored getting to know the animals, eating a hearty breakfast, and spending time outdoors at these farm stays. The kids even got to try out a few farm chores. Tiny houses are another option for those thinking about their travel footprint or just looking for unique lodging often in an equally lovely setting.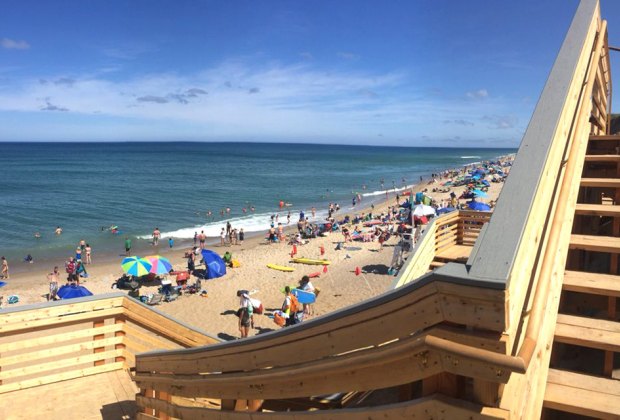 Boogie board or just sink into a beach chair at Marconi Beach, a favorite Cape Cod spot. Photo by Meagan Newhart
Top Beach Vacations and Trips for Families in 2019
The expansive beaches of Cape Cod and the laid-back attitude of the area drew us in last summer. We put together a list of our favorite Cape Cod beaches, as well as the 50 top things to do in Cape Cod with kids. A stay in Nantucket just off the coast of Cape Cod is sure to help the whole family relax with low-key boogie boarding, lobster and ice cream shacks, and flip-flops all day. Take a one-hour Critter Cruise to let kids try their hand at catching crabs and fish.
Southampton on Long Island's South Fork has one of the best beaches in the New York area, Coopers Beach. Stay the week to avoid wasting your weekend in Hamptons traffic. Kids can enjoy mini golf and the area's famed Children's Museum of the East End, along with beach activities and small town fun in the village.
We walked the Colonial Quarter of St. Augustine, Florida, and embarked on a treasure hunt at the Pirate & Treasure Museum, but the 40 miles of coastline here was stunning. The area is dotted with sandy beaches, water sports, and marine and wildlife preserves, as well as history left behind by Spanish explorers.
Drawn to the "other" coast? California beaches, especially Southern California, are hard to top, especially because families can access them nearly year-round for outdoor entertainment. Choose from among these great SoCal beach towns, including Santa Monica and Malibu, or the lesser-known Seal Beach where the vibe is completely California chill. We loved Zuma Beach in Malibu and the free parking and playground at Playa del Rey Beach, among other great beaches in the Los Angeles area.

Island hop to Aruba for white, powdery sand beaches and the sparkling Caribbean to play in. Our reviewer enjoyed not just the beaches here but snorkeling, animal sanctuaries, national parks, and a friendly welcome. "With its mix of beach beauty and easy-access family attractions—and a relatively protected location south of the main Atlantic hurricane corridor—Aruba is a kid-pleasing choice for a sunny school-break vacation," she wrote.

Tour Orlando with teens to enjoy the big thrill rides (and fewer tantrums). Photo by Anna Fader
Favorite Theme and Water Park Attractions
Whether you avoid them or love them, amusement parks and water parks typically thrill the kids. Still, if we can blend a trip to a theme park with maybe a slice of STEM, why not, right? Perhaps that's why our editors couldn't get enough of the Legoland theme park and resorts this year.
The make-believe and Lego building opportunities at this brick-themed amusement and water park seem to hit the right balance for both grownups and kids. We shared top tips for visiting Legoland Florida from a local and explained what makes Legoland California our favorite area theme park. For those booking summer 2020 and fall or holiday 2020 travel plans, you might want to check out the upcoming opening of Legoland New York, too! You'll see us there.
And proving that roller coasters and fireworks can manage to turn even fickle teens into smiling kids, we profiled the best things to do in Orlando with teenagers. It turns out that navigating a crowded, hot, and expensive theme park mecca is a bit easier without the stroller and toddler tantrums!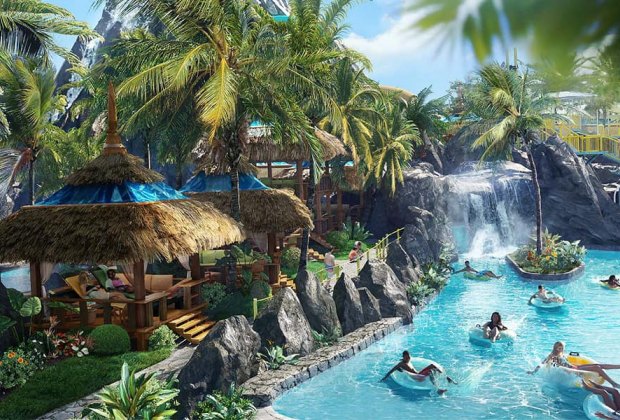 Shaded cabanas, a lazy river, and a mix of big kid rides and tot splash pads make Universal's Volcano Bay water park a dream. Photo courtesy the water park
I'll be the first to admit that water parks are not my first option for vacation entertainment. I'm not even really a pool person. Yet, knowing that I'll be rewarded by those big, big smiles that arrive after the first (and even the one hundredth) whoosh down the water slide, makes me throw on my mom tankini and park myself at the bottom of it awaiting those toothy grins. We queried our writers and editors across the country to come up with this list of 12 outdoor water parks worth a visit, from expansive wave pools to tot-friendly splash pads to big, big slides.
Whichever 2020 vacation you choose for your family, we hope these top trips of the last year help inspire a little wanderlust in your brood. Few things bring as much joy as that moment when your kid turns and says, "This place is the best!" Or even better, they discover a new skill, hobby, or food while on vacation.