Best Cape Cod Beaches for Families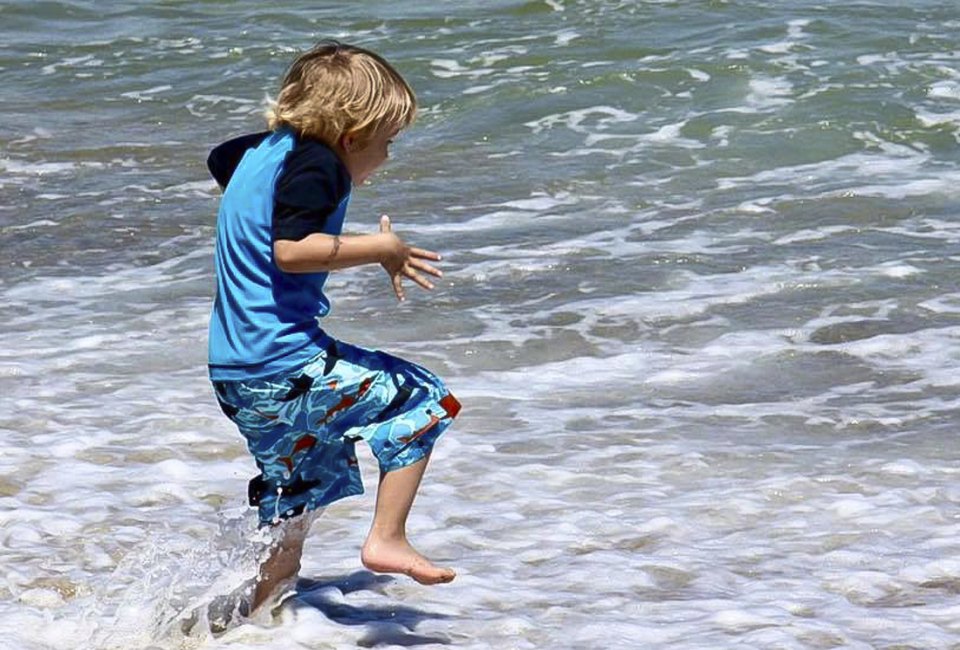 5/15/22
- By
Kelley Heyworth
Wide, clean, and blanketed with soft sand, the Cape Cod National Seashore boasts miles upon miles of beaches that are great for kids and families. While many Cape Coddians claim their local spot is tops, the following beaches check all the boxes essential for family fun, including plenty of space, fun (but not too intense) waves, and helpful extras like lifeguards, bathrooms, and easy parking that can make a good beach day a great one.
Once you've had your fill of sandcastling and shelling, go explore the region's charming towns for more fun things for kids to do at the Cape. If you want to experience our Massachusetts shoreline with an island vibe, check out our favorite beaches and activities on Martha's Vineyard and Nantucket, too. Cape Cod happens to be the home of one of our favorite Drive in Movie Theaters In and Around Boston for Outdoor Movie Night with Kids. And if you need to cool off closer to the city, see our list of the Best Sprinkler Parks annd Splash Pads in Boston.
Best Cape Cod Beaches for Families - Upper Cape
Located on Vineyard Sound, Falmouth's Surf Drive Beach has gentle water for a fun family swim. A tidal pool created by breakwaters allows the littlest swimmers to explore the ocean. Surf Beach has parking, food concessions, rest rooms, and life guards during the summer. Families can fill an entire day around Surfside. This spot is very close to some of Falmouth's attractions, like the Knob, a unique rocky hill jutting out into Buzzard's Bay. Surfside is also near the Wood's Hole Aquarium, where kids can encounter over 100 marine creatures.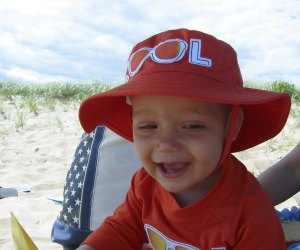 Cape Cod Beaches delight every age. Photo courtesy of South Cape Beach State Park, Facebook.
A mile of pristine white sand invites families to this Mashpee beach. Operated by Massachusetts' Department of Conservation & Recreation (DCR), this site offers a serious parking discount for state residents. A DCR pass can allow your family to visit this and other affiliated parks and beaches as often as you'd like. South Cape Beach State Park has restrooms, grills, and a picnic area, so pack for the day and stay until sunset!
Best Cape Cod Beaches for Families - Mid Cape
Craigville might be the most popular beach in the Barnstable area, but its huge size ensures that you'll always find a place to park a blanket and gear. There's plenty of space in the parking lot, too. Situated on Nantucket Sound, the water is a little warmer here than some other parts of the Cape, which is a bonus with kid swimmers. Expect lifeguards, restrooms, showers, and a well-stocked snack bar right across the street.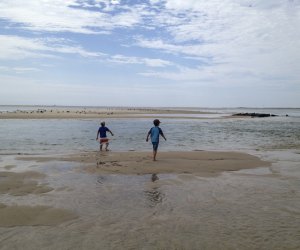 Mayflower Beach Tide Pools let families explore nature. Photo courtesy of globaltraveladvisor.com.
Got a tide pool explorer? At low tide, kids can walk for miles along Mayflower's tidal flats, looking for sea life or shells. It's also a wide enough beach in most parts to allow plenty of room to spread out your gear and keep playing kids close, and there's also a lifeguard, restrooms, a small boardwalk, and a picnic area, and snack bar.
On the east side of this popular beachy town, Cold Storage has calm waters that will make the floatie set happy. Go rock scrambling on the jetty and find the whale etched into one of the rocks. There are lifeguards and restrooms but no snack bar, so bring your own drinks and food. The parking lot requires a residents only sticker between early morning and early evening hours, but lots of people drop kids and one grown-up with the gear and park nearby.
Best Cape Cod Beaches for Families - Lower Cape

Splashing in the Cape Cod waves is fun for families. Photo courtesy of the Nauset Beach Inn, Facebook.
Some 10 miles long between Orleans and Chatham, this lifeguarded beach is a hit for kids who love to swim, boogie board, and surf. There are also restrooms, changing rooms, outside showers, and a snack bar. On hot days, you can go early for a stunning sunrise, or in the early evening (Mondays only) for a free, early-evening family concert.
Considered by some to be the best beach on the Cape, Chatham's Lighthouse Beach does have some amazing views of rolling sand bars and sweeping ocean vistas. There are no lifeguards on duty, but a trip to this beach could result in a seal sighting or two. And the eponymous lighthouse is always a hit with kids. Plan ahead and buy a pass before you go, and combine a trip to Lighthouse Beach with some treats from Chatham's shops and ice creameries.
Best Cape Cod Beaches for Families - Outer Cape

Marconi Beach steps down to some big wave action in Wellfleet. Photo by Meagan Newhart
Another good boogie boarding and surfing spot, Marconi Beach is known for pristine sand and beautiful shoreline. It's not as packed as some mid-Cape beaches, but can get crowded on weekend days, so try to score parking early. Note: The stairway to the beach is well-done and sturdy, but a little tricky with strollers.
Rolling waves, lots of room for beach games, and occasional seal spottings make Coast Guard a great trip for families with active or adventurous kids. There are also restrooms and outdoor showers. Catch a shuttle bus (running every 10 minutes or so) from the Little Creek Parking area nearby that leaves regularly to ferry beachgoers to Coast Guard.
Go out low tide to explore sea life in tide pools, skim board across the flats, and more. Locals love it for the big parking lot that's a five-minute-tops walk from the beach, but you can also expect lifeguards, restrooms, and rinse-off stations.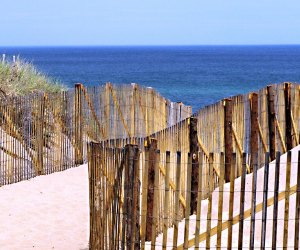 Race Point dunes lead to a picture-perfect setting on Cape Cod's tip. Photo by lori_holder via CC BY-NC-ND 2.0
It's hard to find a more glorious sunset than Race Point, way out on the Cape's northern tip. Quieter than many of the Cape's most popular beaches, this stretch of shoreline is also a great spot to glimpse seals and see interesting birds soaring above the magnificent dunes. There are restrooms, changing rooms, and showers.