Nantucket with Kids: 35 Fun Things to Do as a Family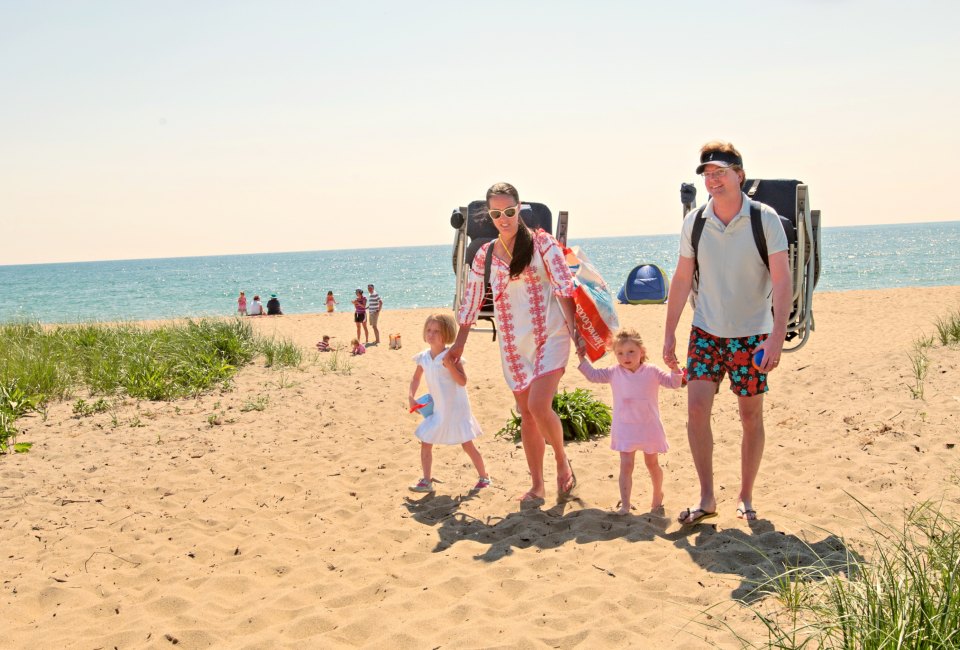 7/13/19
- By
Kelley Heyworth
What's so special about Nantucket? This charming Massachusetts island 30 miles off of Cape Cod is more than just a prepster paradise: It's just about as family-friendly as can be. In fact, there are so many things for kids to do in Nantucket, the trick is packing it all into a single family vacation. Perhaps that's why we always come back! Luckily, with just 48 square miles to cover, it is possible to fit in a number of Nantucket highlights, including a surf lesson, aquarium trip, critter cruise, and lobster dinner.
So catch the Nantucket ferry over to the island (or fly in), and try these kid-friendly activities. We're sure you'll have a family getaway that's one for the photo books.
Nantucket Beaches, Boats, and Outdoor Fun
1. Park yourselves at the Children's Beach for a day. You know you're in a spot that values families when there's a beach devoted to kid fun. Not simply a beach (though it's awesome for wave-free swimming and tide pooling), Children's Beach also has a big, grassy field, a fun playground, a snack shack (with extra sunscreen and beach toys for sale), and restrooms.
2. Gawk at the giant yachts during a walk along the Straight Wharf. Adjacent to where the ferries operate is a u-shaped dock that houses some of the biggest, most beautiful yachts you've ever seen. While you can't board them, everyone is free to walk to the end of the pier and check them out.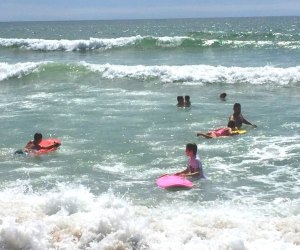 Leave plenty of time for boogie boarding at the beach. Photo by the author
3. Boogie board at Nobadeer. There are more than a few beaches with good boogie boarding waves, but Nobadeer is a favorite for kids, likely because the planes fly close overhead en route to the airport, adding an extra thrill to the whole experience.
4. Meet some other families for a beach cookout at Smith's Point. Driving on the beach in Nantucket requires a 4-wheel-drive vehicle and a sticker purchased at the police station, but if you manage those, an evening trip is well worth it. Pack some food, a portable grill, and some beach games, and hang out until the sun goes down.
RELATED: Martha's Vineyard with Kids: 50 Fun Things to Do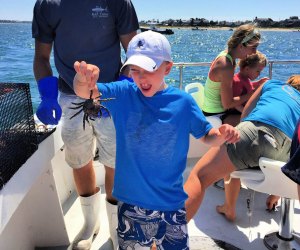 Hop aboard a Nantucket Critter cruise to let kids catch crabs and other shellfish. Photo by author
5. Go on a Critter Cruise. Also on Straight Wharf, families can board a one-hour Critter Cruise that travels a bit offshore to allow kids to fish, catch and handle crabs and lobsters, and take in harbor views.
6. Walk out to Brant Point lighthouse and wave to the ferry boats. This iconic lighthouse is just a short bike ride or longish walk from downtown and is a fun place to collect shells, skip rocks, and wave to the ferry boats coming in and out of the harbor.
7. Go on an ice cream cruise. This kid-focused boat tour of Nantucket Harbor includes frosty treats on the way home.
RELATED: 20 Fun Things to Do in Narragansett, Rhode Island

Learn to surf the Atlantic. Photo courtesy of Nantucket Island Surf School
8. Take a surf lesson with Nantucket Surf School at Cisco Beach. Gary and his team of enthusiastic young instructors put first-timers at ease with friendly, encouraging banter, and somehow manage to help kids get up on their boards even on choppy days.
9. See a Madaket sunset. Madaket is a perfect spot for a late evening swim and sunset watching, whether you dine at Millie's (below) or just bring a picnic.
10. Catch fiddler crabs at Masquetuck Reservation. A small beachfront area, just a short walk from the parking lot, is home to thousands of little fiddler crabs. Bring a net or some quick hands; kids love to try to catch (and of course, release) them.
Nantucket Restaurants and Shops
11. Just stand in line at Juice Bar—it's worth it. Nantucket's most popular ice cream store earns its fans with extra-creamy ice cream served up in waffle cones still warm from the griddle. (Yes, it has fresh juices, too—try them mixed in a smoothie).
12. Pick your poison at the secret candy shop. You wouldn't know from looking at the outside of Force Five Watersports surf shop, but tucked inside is a secret candy shop. A repurposed storage closet hosted in the middle of the store offers a wonderland of classic packaged candy in just about every variety.

Ice cream, fish tacos, and more await at Millie's in Madaket. Photo by the author
13. Get fish tacos and play Shut the Box at Millie's. About five miles west of town, Madaket Millie's is a perfect place for family dinner, with yummy Mexican food, grassy space to run around in, and even a few Shut the Box game boards (an island favorite) to entertain the brood while you wait for food. Just next door, there's an ice cream stand at Millie's Market for dessert.
14. Splurge on a lobster roll lunch at Surfside. Families love Surfside Beach because of its large parking lot, bathrooms, and wide expanse of sand, but it's also a hit due to delectable lobster rolls served up from its snack stand throughout the day.
15. Get hot chocolate at the Handlebar Cafe on a rainy day. Baristas add foamy hearts and other designs to the steamy mugs of cocoa. (Grab yourself a delicious coffee, too.)
RELATED: 100 Things to Do in New England Before Kids Grow Up

Enjoy a classic lobster dinner at the Lobster Trap. Photo by the author
16. Treat kids to their first whole lobster at the Lobster Trap. This great family restaurant offers lobsters from one- to four-plus pounds, suiting all shellfish-loving family members. Kids can play the ring toss game by the bar while waiting for their food.
17. Catch some live music at Cisco Brewers. A super place to unwind after a long beach day, Cisco Brewers is a magnet for families. Mom and dad can sample some brews, kids can get dinner and treats from food trucks, and everyone can enjoy live music with Bartlett's Farm and wildflowers as a backdrop.
18. Buy some Nantucket "reds." The faded red color is a wardrobe staple here. Pick up some shorts or pants at Murray's Toggery. There are adult and kid sizes.
19. Pick out some summer reads at the cozy Nantucket Bookworks. The children's room in the back has all the latest books, toys, and even a little ice cream and treat shop.
20. Play in the boat while waiting for lunch at Something Natural. Kids won't mind coming along for takeout lunch at Something Natural, which has a shady lawn and "moored" boat to play on while waiting for delicious sandwiches on homemade bread and plate-size cookies.
Kid-Friendly Entertainment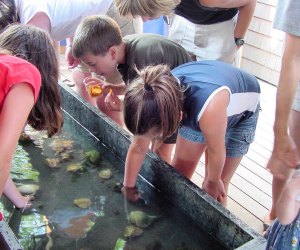 Explore the touch tanks at the local aquarium. Photo courtesy of Maria Mitchell Association Aquarium
21. Visit sharks, jellies, and other sea creatures at the Maria Mitchell Aquarium. You'll see Maria Mitchell's name all over the island; the scientist was a Nantucket native. This little aquarium is incredibly manageable with little ones and welcomes handling in its touch tanks.
22. Hunt for hermit crabs at the Town Pier. Next to the Aquarium is the popular town pier. Stroll underneath it for hermit crab sightings at low tide.
23. Play mini golf at Town Pool. No, this is no place to swim, but a store full of whimsical wares and "experiential spaces," including a hidden mini golf course and a "zero gravity room" for wacky photo ops.
24. Tour the Whaling Museum. Checking out the 46-foot sperm whale skeleton, delicate scrimshaw, fresnel (lighthouse) lens, and other artifacts is fascinating enough, but be sure to sit for the fascinating slideshow on the island's whaling history. Children played a role in the industry, which is sure to interest youngsters.
25. Grab games, beach toys, and souvenirs at the Sunken Ship. This is where allowance money disappears. From frisbees to Transformers to t-shirts, kids will find way too much here to keep them entertained on the beach or at the rental house.
26. See one of the country's oldest surviving windmills. Located in the center of town (and a great stop en route to the Stop and Shop supermarket), the Old Mill is thought to be the country's oldest surviving windmill situated in its original space.
27. Feed some carnivorous critters at the Natural Science Museum. Run by the Maria Mitchell Association, this cheerful museum is a fun visit any time but offers an extra-cool program in which kids can come before the museum opens to help feed the snakes, turtles, and other live animals.
28. Take a kids' cooking class. Run by a husband and wife team, the Nantucket Culinary Center offers serious gourmet instructional programs but also plenty of kids' cooking classes with adorable names, such as a smoothie class named, Kitchen Fairy Tales: Sleeping "Fruity."
29. Read, study science, and climb trees at the Atheneum. You can't miss this big white library fronted with classic Greek columns in the middle of town. Visit the quaint children's book room and check the calendar for when the Pop-Up Science Cart visits.
Seasonal Events and Nantucket Festivals

Watch the cranberry bog harvest in the fall. Photo by Michael Galvin courtesy of Massachusetts Office of Travel & Tourism
30. Tour a cranberry bog (fall). Nantucket has two bogs to hike through year-round, but it is most exciting in the fall when the berries plump up in preparation for harvest. The Nantucket Conservation Foundation hosts a Cranberry Festival every October with kid-friendly activities, instructional workshops, and treats.
31. Dig for scallops (October). Family scalloping season begins in October. Madaket and Monomoy beaches are popular spots. Bring a rake, basket, waders, and a permit from the Harbormasters' Office.
32. Go for Christmas Stroll (December). Nantucket takes the holidays seriously, with a festive annual weekend that includes a visit from Santa, who hops off a ferry boat at the harbor and catches a fire truck ride down Main Street.
33. Celebrate daffodils and springtime fun (April). An annual tradition, the Daffodil Festival includes a children's parade, "daffy hat" contest, and more springtime fun.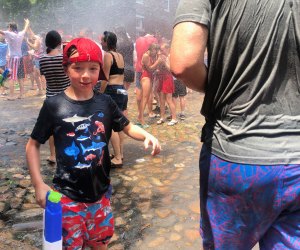 The local fire station hosts a 4th of July water fight! Photo by author
34. Get in a water fight with firefighters (July). Get soaked and celebrate national pride at the same time on the Fourth of July, when local firefighters turn their hoses on each other (and the crowd). Bring a water blaster to defend yourself!
35. Stargaze through telescopes on a clear night (summer). You know you are on an island when you look up at the night sky and see a brilliant smattering of stars. Visit the Loines Observatory on stargazing nights throughout the summer to look at constellations through two research telescopes.
t Click Here to Sign Up!