20 Things to Do in Narragansett, RI with Kids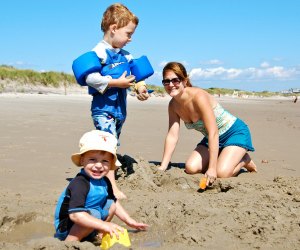 The Boston Globe just crowned it New England's best beach town, and we'll go further to say that Narragansett is tops for families, too. With loads of wide beaches, nature stops, kid-friendly restaurants, and even a little fun park, this low-key alternative to Newport is a great spot for an Ocean State weekend getaway. (It's also just under two hours from Boston by car.) Consider this a short list of activities to make the most of a visit to Narragansett.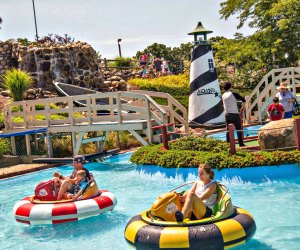 Don't miss the bumper boats! Photo courtesy of Adventureland
1. Spend a day at Adventureland. Bumper boats, mini golf, go karts, and more make this spot off Judith Point Road a perfect break from the beach.
2. Hike to Black Point Tide Pools. One of the joys of being in Narragansett is poking around pools at low tide. Head to Ocean Road north of Scarborough Beach, and bear left down the beach path to find a rocky point with treasures, including periwinkle snails, sea stars, and sea urchins.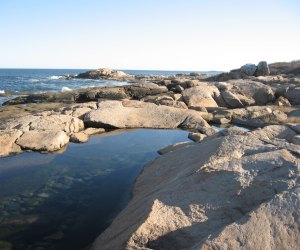 A Black Point tide pool is full of sea life to discover. Photo by Anarnold via Wikimedia Commons/CC BY-SA 3.0
3. People watch at Town Beach. With more than 10,000 visitors a day, town beach isn't exactly a secret, but that can make for some fun socializing and sandcastle building. With food and restrooms fronting the wide beach and surfing area, the $10 daily fee is more than reasonable.
4. Relax at Salty Brine State Beach. For gentler surf and fewer people, head to Salty Brine. A newer beach pavilion, with solar-powered warm showers, completes the relaxing scene.
5. Watch the sun go down at Point Judith Light. You can't get too close to the classic New England lighthouse itself, but park a picnic on this kid- and dog-friendly beach to catch a sunset (and great views).
6. Go clamming at at Salt Pond. No need to head to the fish market for dinner if you know what you're doing at Salt Pond. Bring a bucket and trowel a couple hours before low tide and muck around; kids love squelching through the mud to find quahogs. (Be sure to read up on shellfish collecting rules before you go.)
7. Take a surf lesson. Narragansett is known for its waves, and outfits like Peter Pan, Warm Winds, and Narragansett Surf and Skate offer lessons throughout the summertime.
8. Run, climb, and play at Sprague Park. The 14-acre Sprague Memorial Park features a cool Native American statue, tennis courts, and a great playground for kids.
9. Catch a flick at North Beach. The Clubhouse opens up its deck for free family movies at sunset throughout the summer.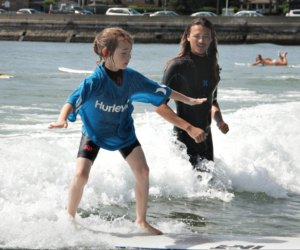 Narragansett's waves are great for learning to surf. Photo courtesy of Warm Winds Surf Shop
10. Enjoy some music at a Clubhouse Gazebo Summer Concert. Grab a chair and pack a picnic for outdoor music at Gazebo Park throughout the summer.
11. Don't miss Family Beach Day and Fireworks. if you're there on the Fourth. Beach games, music, and spectacular fireworks make the North Beach Clubhouse the place to be on Independence Day.
12. Linger over Breakfast at Ts. Kids go crazy for these over-the-top waffles and pancakes; you'll appreciate the endless coffee refills.
13. Sip a smoothie from Crazy Burger. Yes, the burgers are great at this pierside favorite, but the real treat on a hot day is one of their excellent smoothies.
14. Grab a beachside lunch at Buster Krab's. Free yourself from the lunch cooler and stop by this beachside bar and grill for lunch or an early dinner.
15. Take care of dinner at the Bike Stop Cafe. There's super-fresh pizza, fish tacos, and more at this local, cycle-themed hangout.
16. Munch on some fried seafood at Aunt Carries or Iggys. These famous clam shacks are close to each other and people debate the merits of each, but you can't go wrong ordering clam strips, clam cakes, or other fried delights at either.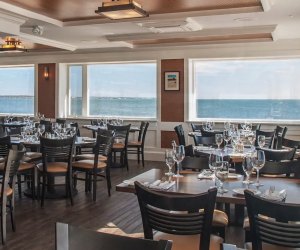 Top food and views make for a special meal out. Photo courtesy of Coast Guard House
17. Treat the crew to dinner at Coast Guard House. A little fancier than most (though nothing in Narragansett is fussy), the Coast Guard House is a great spot for a special-treat meal while in town. Bonus, it's a great spot to check out The Towers, one of Rhode Island's most famous cultural landmarks and a beachside icon of Narragansett.
18. Take a ferry to Block Island. Catch the ferry in Galilee to get to Block Island (the high-speed option is just a half-hour long). There are 17 miles of beaches to explore, but Crescent Beach is in walking distance of the ferry terminal. Kids love the interactive Abrams Animal Farm on Spring Street, too.
Take the ferry to Block Island. Photo by WalkingGeek/CC BY 2.0
19. Drop anchor at the Anchor Motel. Clean, affordable, mini-fridge-equipped, and steps from the beach: What more could you ask for in family lodging?
20. Consider a holiday-time visit to experience the Narragansett Festival of Lights. This early-December tradition is an all-day extravaganza of arts and crafts activities, light displays, and fireworks.