20 Fun Things To Do on Block Island, RI, with Kids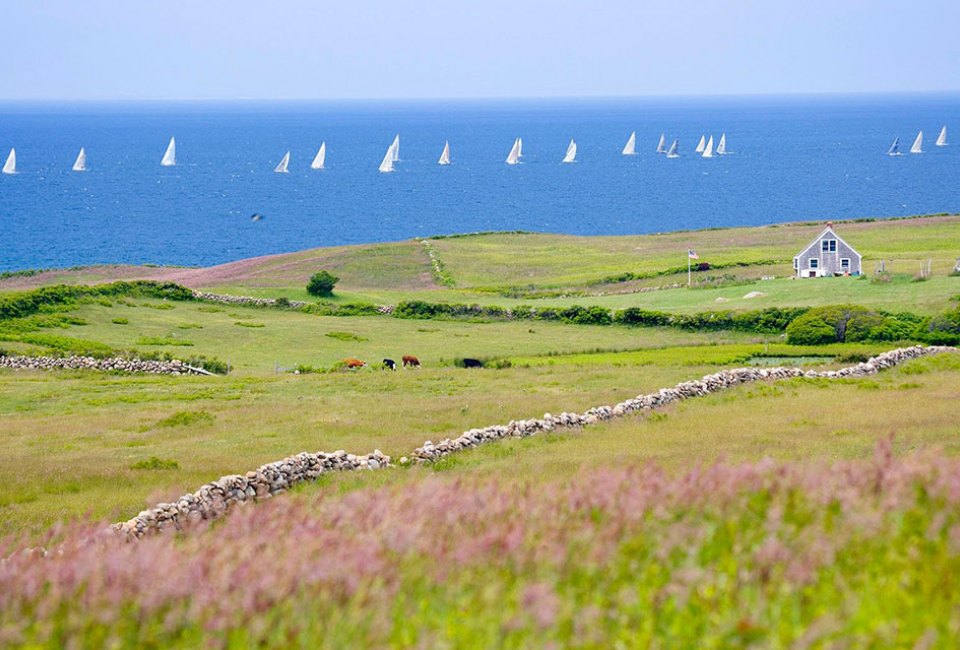 6/5/21
- By
James Smith
Blessed as my family is to live in eastern Long Island with its many beaches, more than once a summer we cast an envious eye across the sound to Block Island. It appears as a little bit of Scotland, sitting off the Rhode Island coast.
You might not think so from its location on a map—middle of nowhere? Honestly, yes—but Block Island, with its ancient cliffs and towering lighthouses, offers children plenty to do. As long as they don't expect an amusement park. Entertainment on Block Island is a bit more primitive. Beach walks, bike rides, nature sanctuaries, and water activities dominate this Rhode Island getaway in the summer when the island swells in population with ferry passengers from New London, Newport, and Montauk.
But if you want to take your kids off the beaten path there are few places better equipped for the journey than Block Island. Here then are 20 things to do with kids in this most unique of New England destinations.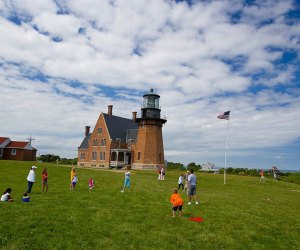 The grounds at the Southeast Lighthouse offer amazing views out over the Atlantic, including the island's best perspective on the new Block Island Windfarm located three miles offshore.
3. Ride to Southeast Lighthouse
Take those rental bikes on a tour around the island. It's less than two miles from the ferry to the younger and more accessible of the island's two lighthouses. By young, don't think recent, however. Southeast Light dates to 1875. Climb to the top and soak in the unparalleled views of the Atlantic Ocean. The lighthouse and gift shop are open in the summer and tours of the tower are available.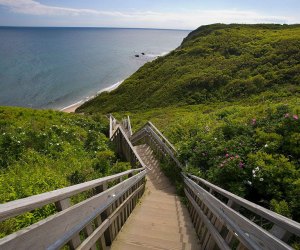 These stairs lead down to one of the best beaches on the island at Mohegan Bluffs.
4. Visit Mohegan Bluffs
Leave the lighthouse via a left turn onto Spring Street and you'll be less than half a mile from Mohegan Bluffs. Park your bikes and walk down a steep 141 steps to the beach. As you climb down, take in the giant red-clay cliffs and more stunning ocean views.

Make your way down the stairs to this glorious beach.
5. Hit the Beach
A glacial creation, Block Island isn't the beach destination New York's Hamptons are; nor even Martha's Vineyard in nearby Massachusetts. But many believe the top beach on the Island is at the base of Mohegan Bluffs. It's a bit rocky—water shoes might be best for little kids—and it lacks lifeguards. Before you settle in, take a look back up at the bluffs and see how far down you've traveled. Then make sure you're hydrated as you head back up.
6. Check Out Painted Rock
It's as hokey as eastern Long Island's Great Duck or Providence's Big Bug, but Painted Rock (and it is just that) is worth seeing if only to enlighten tweens about life before the App Store. Two teens (and future spouses) began painting messages on an industrial-size rock along Mohegan Trail in 1962. Islanders soon began using the rock as a primitive means of communication, and these days the rock gets a fresh message at least once a week in the summer.
7. Rodman's Hollow
Turning right at the end of Mohegan Trail onto Lakeside Drive takes you past Rodman's Hollow, a 230-acre glacial plain filled with native trees and shrubs. Kids can hunt for glass orbs as part of an annual, summerlong scavenger hunt and register their finds online here.

8. Bird Watching at Lewis-Dickens Wildlife Refuge
This 120-acre habitat provides panoramic views of the ocean, easy hiking on flat terrain, and a great opportunity to spot migrating raptors. Owls, falcons, warblers, and harriers have been known to pass through.
RELATED: 20 Things To Do in Narragansett, RI, with Kids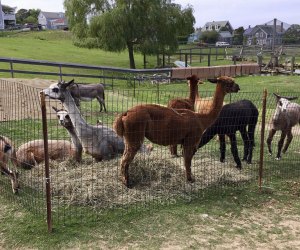 Visit the wildlife at 1661 Farm and Gardens. Photo courtesy of the farm
9. 1661 Farm and Gardens
If you haven't guessed, Block Island is all about the natural world. The 1661 Farm and Gardens, less than a half-mile from the ferry terminal, is the island's lone petting zoo and one of its most popular attractions. Meet and interact with the farm's resident camels, llamas, goats, swans, kangaroos, and lemurs. There's even a full-grown yak. Kids can feed the flightless emus. The farm is not to be missed.
RELATED: Best Cape Cod Beaches for Families
10. Head Back to the Beach
Ballard's Beach, this time. Near the ferry terminal, Ballard's Beach could be the island's most popular beach. Here you will find a tiki bar, food service, live music, and lifeguards in the summer. Entrance to the beach is through Ballard's Beach Resort.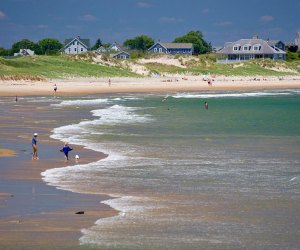 Wade in the ocean on the gorgeous Crescent Beach.
11. A Quieter Beach
Less than two miles north of Ballard's Beach sits Crescent Beach, anchored by the town-run Frederick J. Benson Pavilion. Visitors can rent chairs, umbrellas, and boogie boards and enjoy beach snacks from the concession stand. The beach has lifeguards in the summer, and the sand is soft and ideal for castle building.
12. Meet the Living Fossils
Block Island is thought to be one of the most popular Eastern breeding grounds for horseshoe crabs, whose appearance has remained unchanged for 300 million years. June is spawning season when many of these aquatic arthropods come ashore to mate. They're harmless, even with their daunting tails, and kids will love to count them. Just don't pull out their tails: The animals use their tails to right themselves after waves and will likely die without them.

Kayak in the calm water of the Salt Pond.
13. Enjoy the Salt Pond
Locals cherish Block Island's Great Salt Pond, where visitors can rent kayaks, paddleboards, boats, and fishing equipment. The pond, technically a marine estuary, provides the island with an ideal deep-water harbor. At local clinics, kids can even enjoy guided kayaking adventures apart from their parents. Striped bass, bluefish, and more populate the pond, and families can take on the challenge together.
14. National Wildlife Refuge
Not far from the Great Salt Pond is the Block Island National Wildlife Refuge, a 134-acre natural habitat for a host of migratory songbirds. The refuge attracts hundreds of bird watchers each fall, eager for a glimpse of these long-distance travelers.
15. Sunset at North Lighthouse
Our tour of the island ends at the 55-foot-high North Lighthouse, commissioned in 1829 and added to the National Register of Historic Places in 1974. Not-to-be-missed coastal views surround the light, which, as you guessed, is at the northernmost part of the island. Treat the kids to a picnic in the summer and take in the breathtaking sunsets. The lighthouse also has a museum, and behind it sits Sachem Pond Wildlife Refuge, another flyover location for bird species.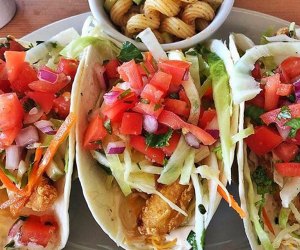 Walk up to the beachside restaurant, The Beachead, with kids in tow! Photo courtesy of the restaurant
Best Restaurants and Sweet Spots on Block Island
As you might expect from an island destination, seafood—sit-down style and takeout—dominates on Block Island, but there are some other options. Here's a rundown of the best family dining on the island.
16. Pizza and Italian
Aldo's is the only complete-menu Italian restaurant on Block, offering a variety of pizzas, pasta, and other essentials. Its bakery and ice cream store is next door. Papa's Pizzeria offers, of course, pizza and a host of calzones. Eat inside or on the picnic benches outdoors. Block Island Pizza Pie Co. offers takeout and outdoor seating and a menu full of pies, salads, and wraps.
17. Comfort Food and More
The Beachead, as you might guess is located right on Crescent Beach, serving what it calls "New England food with a twist." Kimberly's, with a diverse menu, is a quaint destination favored by locals. Dead Eye Dick's offers great views of Great Salt Pond, while Poor People's Pub boasts of its "nothing fancy, just good grub" philosophy.
18. Seafood
Ocean varietals here range from takeout lobster rolls at Rebecca's to sit-down swordfish and sushi at The Oar. The Block Island Oyster Bar features a menu of local favorites and a playground for kids.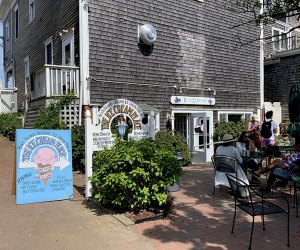 Grab simple cones or more indulgent treats at The Ice Cream Place. Photo courtesy of the shop
19. The Ice Cream Place
This simply named but delectable destination is the place for the perfect cone, cup, or sundae, and has been for more than 40 years. If you can imagine a flavor, you can probably find it here. As of June 2021, Ben & Jerry's location on the island remains "temporarily closed."
20. Candy and Chocolate
Chapel Sweets, near the ferry terminal, is open from May to Columbus Day weekend, and features fudge, hand-crafted chocolates, and more. Blocks of Fudge is another chocolate lover's emporium.
Unless noted, photos courtesy of the Block Island Tourism Council
t Click Here to Sign Up!