25 Things To Do in Montauk with Kids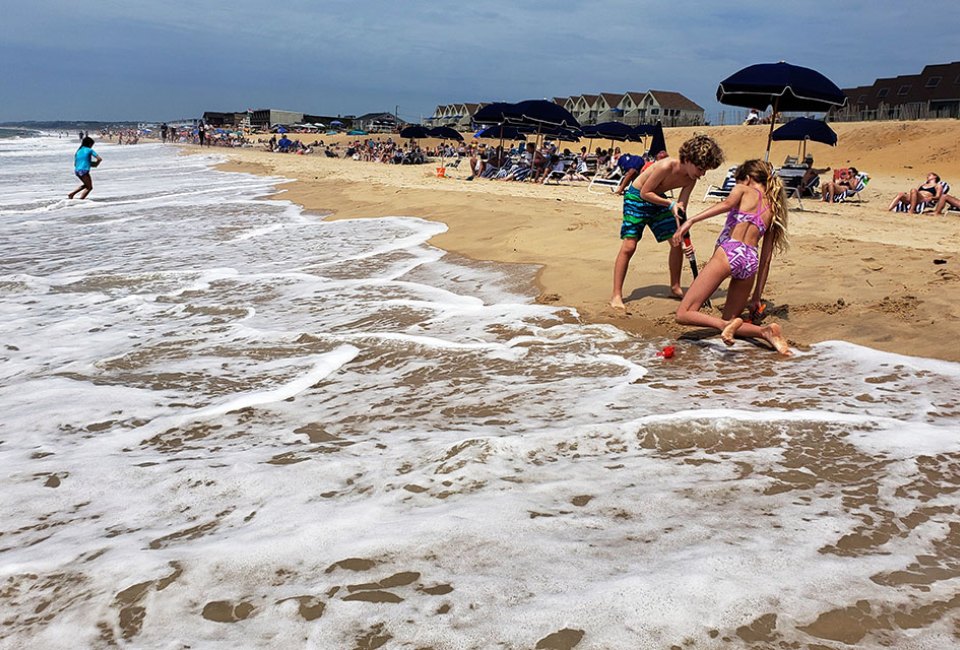 8/7/23
- By
Gina Massaro
If you're looking for a relaxing getaway, Montauk, on the extreme East End of Long Island, is the place to be. Montauk has things to do for everyone in the family, whether you crave excitement, exercise, or just want to read a book on the sand.
From the western edge of the community to the lighthouse at Montauk Point, Montauk boasts more than 5,000 acres of parkland, a host of surf schools, fishing and camping adventures, and more. It's a welcoming destination with a host of diverse activities sure to entertain kids of all ages.
Stopping off in the Hamptons along the way? Check out our list of great East End activities for families and our Ultimate Long Island Kids Summer Vacation Guide.
Subscribe to our newsletters to get stories like this delivered directly to your inbox.

You can't beat the beaches on Long Island's East End. Photo courtesy of Montauk Yacht Club
Best Things To Do with Kids in Montauk
1. The Beach
It's one of the most popular things to do in Montauk for a reason. Montauk's white-sand beaches have been ranked among the top in the United States. While you're there, hunt for some seashells and sea glass. Be sure to bring your water shoes.
RELATED: Family Day Trips and Weekend Getaways for Long Island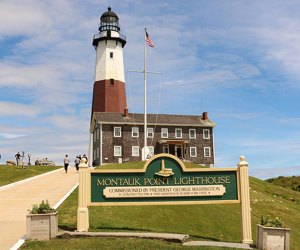 It will feel as if you can see forever from the top of Montauk Point Lighthouse. Photo courtesy of the lighthouse
2. Montauk Point Lighthouse
The view from the top of Montauk Point Lighthouse is breathtaking, and the narrow stairwell can be lots of fun for adventurous kids. There is a parking fee as well as a separate fee to enter the lighthouse ($15 for adults and $5 for children younger than 12) to enter the lighthouse. Keep in mind that children under 41 inches tall are not permitted to climb the lighthouse. If you have little ones, you can still admire the lighthouse from the ground while enjoying the landscape.
3. Camp Hero State Park
History buffs will not want to miss Camp Hero State Park. While the park boasts beautiful views of the coastline, hiking trails, and great fishing spots, what truly makes it unique is its connection to World War II. The Montauk Air Force Station, as it was originally called, was created to prevent a German invasion of New York's coastline.
4. Go Fishing
There are plenty of great spots to fish in Montauk. If you need to stock up on gear and bait, a great spot is Montauk Marine Basin, where bait shops line the marina.
RELATED: 100 Things to Do with Kids on Long Island Before They Grow Up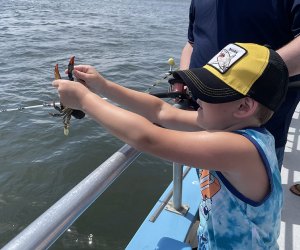 You never know what you'll catch on a charter boat. Photo by the author
5. Charter a Boat
Whether you love to fish or just enjoy watching the sport, chartering a boat is an exciting experience. You'll find much bigger catches than what you can get along the shore, including sea bass, tuna, and even sharks.
6. Go Surfing
You don't have to be a surfing pro to enjoy the waves. For kids and adults who just can't get enough of the water, consider having a private lesson from a local school like Coreys Wave. Paddle boarding is another option, and a great workout.
RELATED: The Best Boardwalks for Family Fun on Long Island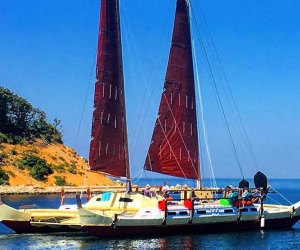 Set sail with the family on a catamaran. Photo courtesy of the Montauk Catamaran Company
7. Sail on a Catamaran
See Montauk from a new perspective with a Mon Tiki catamaran tour. Sailing options include a sunset cruise or a sail-and-swim option. They also offer a FREE children's sailing workshop on Tuesdays in the summer.
8. Ride Bikes
If you don't have room to pack the bikes, don't worry. There are rental shops across Montauk, like Montauk Bike Shop. If you're looking for an adventure, try one of the trails at Camp Hero. For a more leisurely pace, a ride through town is a fun alternative.
9. Horseback Riding
Montauk is the perfect place for a trot. With multiple parks, riding trails, and horse stables like Deep Hollow Ranch, it is a must for equestrians.
10. Shadmoor State Park
Shadmoor is the perfect park for hiking. Dogs are allowed on leash on the trails. Watch out for ticks and stay on marked trails.
11. Hither Hills State Park
Hither Hills is a beachfront state park that offers fishing and picnic spots, as well as a playground. For campers, there is also a large campground.
12. Explore a Playground
When the kids need to expend extra energy, take them to one of Montauk's local playgrounds. Tess Mackenzie Ryan Playground is shaded and best for those 3 and older.
13. Miniature Golfing
The whole family can enjoy a game of mini-golf at Puff 'N' Putt. After a round, you can also rent a kayak, canoe, or paddleboard at the dock. If you prefer a regulation-size course, Montauk Downs State Park boasts one of Long Island's top courses.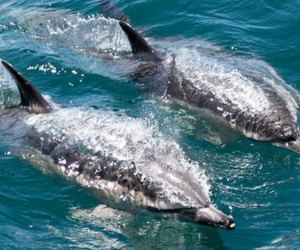 Join a tour and see whales, turtles, and dolphins. Photo courtesy of Viking Fleet
14. Whale Watching
The Viking Fleet offers tours throughout the summer with a marine biologist on board. You'll see whales, dolphins, and more.
15. Go Shopping
You'll find lots of Montauk-specific items, including travel mugs and T-shirts, in stores around the community. If your kids are smaller, visit Captain Kid Toys, a local staple.
16. Go to a Festival
The summer isn't the only time to visit Montauk. Fall boasts the annual fall festival, as well as craft fairs, and a clam chowder contest. Winter is all about the holidays. You can see Santa at the lighthouse or even watch the Santa parade. The Montauk Chamber of Commerce regularly updates its event calendar.
Best Restaurants to Eat at with Kids in Montauk
17.Inlet Seafood Restaurant
Owned by local fishermen, this waterfront restaurant has some of the freshest seafood on Long Island. They don't take reservations. Seating is first come, first served.
18. Navy Beach
Navy Beach boasts a kid-friendly menu and outdoor seating right on the sand. If you're spending the day at sea, you can even anchor your boat there.
RELATED: Family-Friendly Waterfront Restaurants on Long Island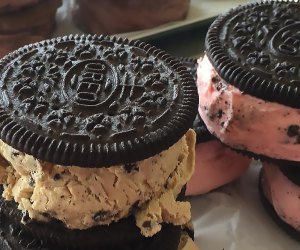 Homemade ice cream and Oreos are served together at John's Drive-In. Photo courtesy of the restaurant
19. John's Drive-In
Local favorite John's Drive-in has been scooping ice cream since 1967. The restaurant also serves up classic American food such as burgers, fries, and wraps.
20. Montauk Bake Shoppe
Montauk Bake Shoppe bakes everything from scratch on premises. In addition to cookies and cakes, you can get breakfast sandwiches and lunch wraps, which are a perfect addition to a beach picnic.
Best Hotels and Lodging Options in Montauk
21. Marram
This boutique, luxury resort takes inspiration from the natural landscape of Montauk. This is the perfect hotel to unplug and unwind, especially since there are no TVs in the rooms. Instead, the hotel focuses on offering guests experiences, like s'mores and morning meditation.
22. Kenny's Tipperary Inn
Barbeque poolside as the kids splash in the water, or enjoy tranquility in Kenny's Tipperary Inn's new Zen garden. Updated bells and whistles include A/C units, baths, and TVs.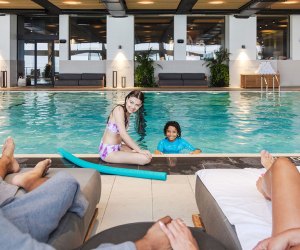 Family-friendly fun awaits at Gurney's Montauk. Photo courtesy of Gurney's
23. Gurney's Montauk Resort and Seawater Spa
Gurney's Montauk is located right on the beach–in fact, it is a 2,000-foot private beach, exclusive to guests staying at the resort. The resort also offers a kids club that features crafts and activities for kids staying at the resort. Meanwhile, parents can indulge in a spa treatment.
24. Ocean Resort Inn
Montauk Downs State Park is just 5 minutes from Ocean Resort Inn. Amenities include a heated pool with salt water, internet access, and mini-fridges. Each room also has a coffee maker and TV.
RELATED: Best Campgrounds for Glamping and Cabin Camping on Long Island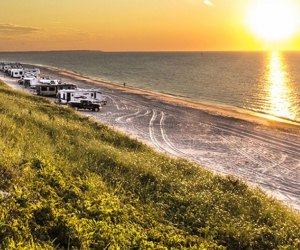 Set up your camper right on the beach at Montauk County Park. Photo by Jonathan A Neary
25. Montauk County Park
Pitch a tent and rough it in the great outdoors. Montauk County Park also offers a campground for trailers and RVs.
This article contains some affiliate links, which means we might earn a small commission if you book a hotel or activity. There is no extra cost to the reader. We only recommend hotels and services that we have personally used or have thoroughly researched.
Originally published in 2018.
Click Here to Sign Up!