Top Surf Schools In The Hamptons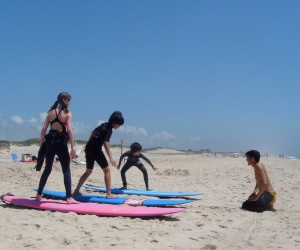 Now that summer is officially in full swing, Long Island beach waves beckon. If you have a kid that is itching to hang ten, there are plenty of excellent surf schools to teach well, and safely. While Montauk boasts the most surf schools, and some of the biggest waves, there are schools all along the South Fork that teach aspiring surfer dudes how to paddle and ride. Don't forget to remind the kids, as Laird Hamilton said, "wiping out is an under-appreciated skill."
Please note, several of the schools listed below do not have a physical location. Call the school directly to setup a lesson at a favorite beach.
Island Surf School
49 Sunset Avenue
Westhampton Beach, NY 11977
631-288-4155
The Island Surf Shop in Westhampton Beach runs a surf camp during the summer, and private surf lessons by appointment.
Main Beach Surf and Sport
352 Montauk Highway
Wainscott, NY 11975
631-537-2716
From Ditch Plains to Georgica Beach, the folks at Main Beach Surf and Sport know all the best spots where the waves are breaking. Experienced teachers focus on safety and skill and have over 20 years of experience in teaching group and private lessons, as well as family outings.
Hamptons Watersports
1688 County Road 39
Southampton, NY 11968
631-283-9463
Hamptons Watersports offers summer camp from June through Labor Day, which operates out of Mecox Beach in Bridgehampton. Lessons focus on the fundamentals of surfing while maximizing fun and practicing safety.
CoreysWave Professional Surf Instruction
Montauk
516-639-4879
Owner Corey Senese grew up on the beaches of Southern California and brings his love of teaching surfing to the East End. Corey's Wave offers private and group lessons for people of all ages and abilities, and strives to make surfing fun and positive. Mega-training sessions (over 3 hours) are available for those who are "too stoked on surfing to only surf an hour or two."
Flying Point Surf School
Sag Harbor, NY 11968
516-885-6607
Surf camp, private surf lessons, and stand-up paddle board lessons are offered at Flying Point, which is owned and operated by a 26-year veteran of the Southampton Town Beach. Lessons include ocean swim and rescue, wave knowledge, and surf forecasting.
East End Surf
917-613-2662
Jeremy Grosvenor, a certified surf instructor, teaches private and group surf lessons, as well as outrigger canoeing and bodysurfing.
Global Boarding
Wainscott, NY 11978
631-905-3613
Global Boarding teaches a lot of water sports, such as paddle board, wake board, and water skiing, but specializes in surf lessons, which consists of body stance, balance, turning, and ocean safety. Private, semi-private, and group (4 or more people) lessons are offered. Lessons at a favorite beach spot are also available.
Air and Speed Surf Shop
795 Montauk Highway
Montauk, NY 11954
631-688-0356
Enjoy a surf-filled summer at Ditch Plains, with surf camp offered by Stu Foley and his sons. Regardless of ability level, kids get one-on-one attention and learn how to read the waves, paddle, and stay safe while catching the formidable waves of the East End.