5 Beaches to Hunt for Sea Glass in the Hamptons and North Fork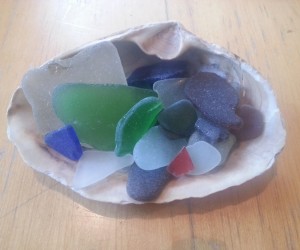 Before the East End's waters warm up enough to jump in, the waves are already producing a little known treasure called sea glass, which comes in variety of glistening colors, from green to brown, purple and the elusive orange and red. Smooth-rounded sea glass, which is produced from empty glass containers rolling in the waves over many years, is not always easy to spot, which makes the family activity even more exciting--especially when a piece is finally found, big or small.
The Hamptons & North Fork of Long Island is a hot spot for sea glass, with shiny pieces able to be found dancing in the waves during low tide at most ocean beaches and even along the shoreline of the Long Island Sound and Peconic Bay. To help you family on its search for convicted sea glass, we've created a list of spots known for producing the sparkly treasure. And for more family-friendly activities in the are, be sure to check out our Hamptons and North Fork Family Guide.
Smith Point Beach
Smith Point Beach, located at the end of Montauk Highway in Mastic Beach, is a hot bed for sea glass. Visitors must pay a parking fee, which is discounted when presenting a Suffolk County Green Key. Average price to park after Memorial Day is $10.
Flying Point Beach
Flying Point Beach is a known location for finding brown and green sea glass at the water's edge. The beach is located at the end of Flying Point Road in Watermill. From Memorial Day to Labor Day, access to the beach can only be obtained by purchasing a parking pass from the Town of Southampton for $20.
Lashley Beach, also known as Jetty 4
Governed by the Village of Westhampton Beach, Lashley Beach, also known as Jetty 4, has been known to wash up its share of sea glass. The beach is located at 385 Dune Road and requires a parking permit from the Village of Westhampton Beach Memorial Day through Labor Day at a cost of $10.
Bailie Beach
This small beach, located in Mattituck and facing the Long Island Sound, is a best-kept secret of sea glass hunters. The beach is tucked away in the dunes and is overseen by the Town of Southampton. A permit is not required to park at this beach.
Wading River Beach
Located on the North Shore of Eastern Long Island, Wading River Beach, which sits at the end of Creek Road and overlooks the Long Island Sound, had been known to churn out sea glass. Access to the beach requires a permit between Memorial Day and Labor Day, which can be obtained through the Town of Riverhead for $35.