10 Top San Francisco Restaurants Where Kids Can Play While Parents Eat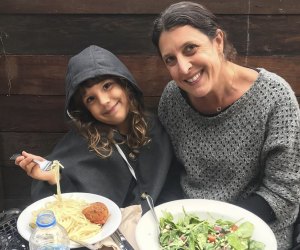 6/19/22
- By
Mira Peterson
Looking for San Francisco restaurants where kids can play and roam freely while you sit down for an actually edible meal? Despite the city's predominantly adult-centered foodie scene, there's a great selection of unique and interesting places to eat that welcomes everyone from toddlers to teens with tasty menus, attention-absorbing decor, and outdoor open spaces—all without sacrificing your taste buds.
Whether you are a tourist or a life-long local, you can relax and inhale the last few bites of your tasty truffle fries in peace at one of these family-friendly San Francisco restaurants.
Subscribe to our newsletters to get stories like this delivered directly to your inbox, and check our San Francisco Bay Family Event Calendar, where we are adding fun things to do in San Francisco with kids every day.
Best San Francisco Restaurants for Kids in The Castro
An eclectic diner in the Castro, Orphan Andy's is a fun and exciting place for kids (and adults); it's not just a feast but a feast for your eyes. Walls are covered from floor to ceiling with neon lights, sparkly chandeliers, and more. Plus, cozy booths fitted with retro jukeboxes help to keep little fingers occupied while food is on the way.
Duboce Park Cafe is nestled between the Castro and Buena Vista Park neighborhoods. This restaurant entertains kids with pups galore. Dog-loving parents and kids can watch plenty of doggies play while dining since it sits right across from the Duboce Dog Park. The bistro-style eatery has a healthy menu packed with sandwiches, salads, wraps, and breakfast burritos. The kids' menu is complete with all-natural beef hotdogs and a signature PB&J prepared with homemade jelly and pain de mie- a sweet french bread.
Best Restaurants in The Mission District for Kids
Urban Putt absolutely nails the combo of indoor mini golf and dining to create an exclusive only-in-San Francisco experience. The Victorian building boasts a fantastical, high-tech 14-hole mini golf course on the first floor, with top-notch food and drinks on the second. Every hole has a fun theme. From steampunk and underwater beasts to San Francisco-inspired Sutro Tower clouds. You can preview a whole 360 view of the entire mini golf course and dining area on the website.
RELATED: Top San Francisco Tours for Families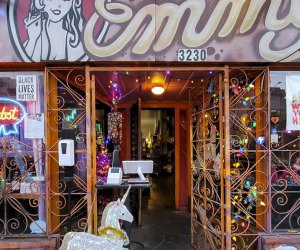 So much to see, you'll never get bored. Photo courtesy of Emmy's Spaghetti Shack
Emmy's Spaghetti Shack is the perfect family-friendly spot to satisfy any Italian culinary craving alongside a one-of-a-kind atmosphere. With a Dolly Parton pinball machine and eclectic decor illuminated by colorful disco lights, kids love the party vibes. Adults will love the memorabilia, individual booths, and signature cocktails like the Unicorn Martini. Better still, on Tuesdays, from 5-7pm, kids eat free. with a paying adult
Tasty Guamanian flavors for the adults, plenty of patio space for the children. Prubechu is new to the scene but it's quickly becoming one of The Mission's best places to eat. With outdoor seating that's both tented and heated, there is a large, plant-filled space in the back reserved for live music and dancing that kids can enjoy during the daytime.
Enjoy tasty eats before or after bowling, or do what I do: rent out a lane for your kids and their friends for a 50-minute bowling session while you enjoy a much-needed Saturday mimosa while you catch up with other mom friends. If you like art, throughout the building, you can also enjoy the Artspan Art-in-Neighborhood exhibition which connects San Francisco communities with artists by sharing vibrant, locally-made artwork.
Best San Francisco Restaurants for Kids at Fisherman's Wharf

With the freshest fish and plenty of space to roam, everyone has fun at The Codmother. Photo courtesy of the restaurant
This colorful and inviting food truck has ample outdoor seating and a patio with enough legroom for kids to run around and play while parents savor the food. The Codmother brings traditional British fish and chips to Fisherman's Wharf alongside tasty fish tacos and San Francisco soup staples like Dungeness crab chowder and clam chowder. The atmosphere is friendly and inviting—and since it's a few minutes away from Pier 39, it's less likely to have the heavy lines of tourists standing in between you and your grub.
Touristy, yes. But it's a great place to eat actually decent food (as long as you like shrimp) while the kids entertain themselves. With an arcade, breathtaking views of the ocean, flat-screen televisions (most likely playing the movie, Forrest Gump), and an abundance of fishing and Forrest Gump-themed decor, there's something to transfix kids of all ages. Parents can feast on tasty dishes like shrimp scampi, baby back ribs, and Beyond burgers. At the same time, the kids' menu features favorites like mac & cheese, corn dogs, and pizza.
Best San Francisco Restaurants for Kids in SOMA
Take in the beautiful views of the Bay and Bay Bridge with a nice sit-down meal at Waterbar. Adults can enjoy delicacies like oysters and lobster rolls, while the kids' menu boasts cheese ravioli, homemade ice cream, and other playful flavors that please young palettes. The center of the restaurant has ceiling-high aquariums filled with colorful and unique fishes that little ones can spend hours admiring.
RELATED: Road Tripping on the PCH with Kids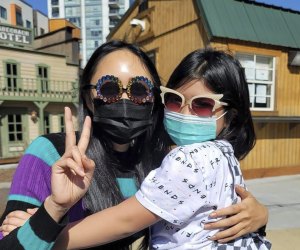 After checking out the food trucks at Spark Social, visit Stagecoach Greens.
A favorite among locals, Spark Social is a community gathering space and food truck park that has a variety of 150+ rotating food trucks to choose from. Parents can enjoy fresh air and sunshine right next to the Bay, while kids can romp and stomp on the turf lawn filled with play fixtures and visiting balloon artists. You can also reserve a cabana, fire pit, bungalow, and even the signature Double Decker bus for larger parties. Next door is the Stagecoach Greens 18-hole outdoor mini golf course that chronicles the history of the city.