Best Beaches Near Long Island for Kids and Families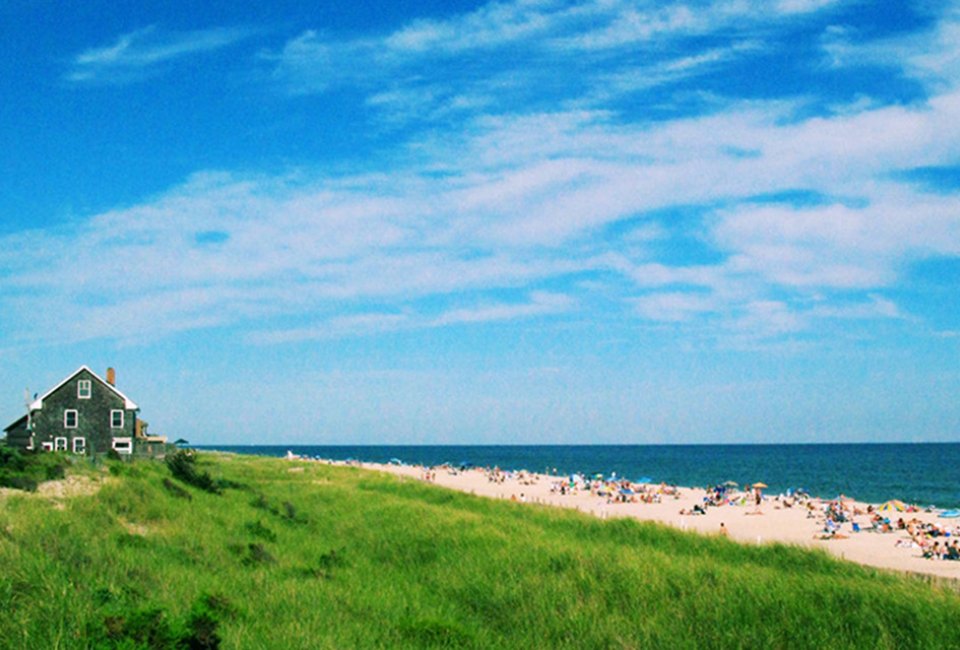 5/15/22
- By
Kimberly Chacon
Stretching along the North and South Shores of Long Island are dazzling beaches known for family-friendly vibes and natural beauty, and we don't just mean the the Hamptons. Whether you are looking for tranquil waters suited to younger kids or a spot where older kids can body surf, there is a Long Island beach for you. It's time to get ready for cool sea breezes and the feeling of sand between your toes.
At these family-friendly Long Island beaches, you'll find picnic areas, swimming pools, playgrounds, and bathroom complexes, along with food trucks and umbrella rentals. Before you slather on the sunscreen and head out the door, use our guide to choose the best beach for your family's needs.
Looking for other outdoor activities? Check out our guide for the best places to go camping on Long Island, or read up on awesome LI amusement parks geared towards families.
Sign up for our FREE newsletters to get posts like this delivered to your inbox.
Jones Beach State Park has been beckoning families for years. The park is laid out over more than 6 miles of beautiful shoreline. Recent improvements include more restaurants, a boardwalk, leisure path renovations, new playgrounds, a splash pad, and an adventure park. Visitors can swim in the ocean, take a relaxing stroll along the boardwalk, or visit the Nature Center. Bicyclists are permitted on the new leisure path. Fields 3, 4, and 5 offer beach access through the park's iconic beach tunnels, and fishing is allowed at field 10. Note: The waves can become rough at Jones Beach, and swimmers must swim in designated areas with lifeguards. Mobility mats cover the sand at fields 2, 6, and Zach's Bay, which allows for easier access for visitors with strollers, wheelchairs, and beach gear. At lunchtime, enjoy traditional food stand favorites such as hot dogs and ice cream. In recent years, gourmet concession stands have been added to the amenities with made-to-order pizzas and truffle fries. A popular air show hits the skies during Memorial Day Weekend. Also, you can check out the Jones Beach Theater summer concert schecule. Jones Beach is crowded on weekends and holidays, so arrive early. Bathrooms and changing areas are available at each field. Parking is $10 from Memorial Day through Labor Day.
This family favorite is a great spot for a day of fun. One of the best things about Long Beach is its boardwalk. After being destroyed by Superstorm Sandy in 2012, the city set out to replace the iconic 2.2-mile promenade. With repurposed wood, local artwork from residents, and historical markers and explanations, a walk along this stretch is interesting and educational. Rent bikes and tour the boardwalk, then head to the sand. Umbrellas and chairs are available for daily rental. After a day of sea and sandcastles, check out the ocean-themed Magnolia Boulevard playground. Then, enjoy lunch or dinner at one of the many food trucks, restaurants, or concession stands along the boardwalk. Long Beach is accessible via the Long Island Rail Road, and ample parking is available. Weekends at Long Beach are crowded, so be sure to arrive early. Cost: $12 per person for residents; $15 for non-residents. Children 12 and younger are FREE.
RELATED: The Best Beach Playgrounds on Long Island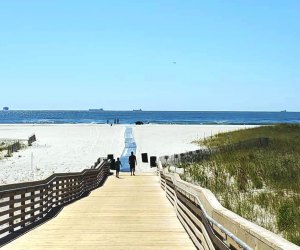 Nickerson Beach is open only to Nassau County residents. Photo Sara M
Sitting on 155 acres, this sun-kissed stretch along the Atlantic Ocean offers activities for the whole family. Boasting soft sand and sparkling water, the beach here is beautiful. However, it's the amenities that keep families coming to this spot. For teen visitors, the "Fun Zone" includes a skate park with several ramps and railings for daring riders, basketball and beach volleyball courts, and a tennis court. There is also a picturesque seaside pitch-and-putt, where families can play nine holes amid the dunes. Two full-size swimming pools and a kiddie pool are located on the property. A playground and concession stand are available, as well as a large picnic pavilion to enjoy lunch in the shade. This beach offers a full day of activities for everyone in the family. Bathrooms, showers, and lockers are available. Nickerson Beach is currently open only to Nassau County residents. Cost: $15 for Leisure Pass holders.
RELATED: Local Boardwalks Ideal for a Family Stroll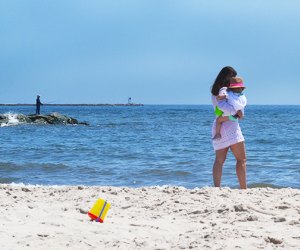 Point Lookout offers family solitude by the sea. Photo by the author
For a low-key beach experience, head to this Town of Hempstead beach. It is a relaxed place to avoid the crowds at the more popular destinations. Parking is a short walk from the lot to the sand. There are no concessions or rentals available—visitors must bring their food, chairs, and umbrellas—but bathrooms are available. Cost: $10 per vehicle for Town of Hempstead residents or $50 for others residing in Nassau.
Amid the party atmosphere of Fire Island lies Ocean Beach, a swath of the barrier island bordered by Great South Bay and the Atlantic Ocean. Like most of Fire Island, it is car-free; access is by ferry from Bay Shore. Warm ocean currents make the water inviting as early as mid-May and well into October. The beach is radio- and alcohol-free. There is no eating allowed on the beach, although food options abound nearby, especially for seafood lovers. Several conspicuously placed bathrooms are located near the beach. First-time visitors might find navigating the village a challenge, but experienced Fire Islanders are friendly and outgoing; just ask for directions. Taxis to the ferry port are available at the Bay Shore LIRR station on the Montauk branch. Beach access is FREE.
RELATED: Best Spraygrounds Open on LI For Summer 2022

Robert Moses State Park has an expansive shoreline; you'll never feel crowded. Photo courtesy of Long Island State Parks
With nearly 5 miles of sparkling coastline, Robert Moses State Park is a perfect family beach spot. Featuring four fields with lifeguards at each, visitors can enjoy swimming, surfing, and boogie boarding. Each field offers concessions, beach shops, first aid, and comfort stations. Don't miss Field 5, which has a large playground for kids, a boardwalk, and a nature walk that leads to Fire Island's lighthouse. There are many scenic areas for picnics complete with park grills and tables. An 18-hole pitch-and-putt golf course is available, as well as a large picnic gazebo. This park is accessible by car or from the Babylon LIRR station with a bus connection. Cool bonus: Free Wi-Fi is available at Fields 2-5. Cost: $10 per vehicle Memorial Day through Labor Day, $8 April-May and September-November.
RELATED: Great Things To Do With Kids in Montauk

Spend a lovely summer day at Sunken Meadow State Park. Photo courtesy of the park
With 3 miles of shore on the Long Island Sound, these calm waters are a charming spot to spend a summer day. The shoreline turns to wind-formed bluffs, making the scenery unforgettable. On a clear day, you can see to Connecticut. Take a walk on the boardwalk, purchase food from the concession stand, and enjoy a day of natural beach beauty. Also available are nature walks, a large playground complex, and ample space for picnics. Cost: $10 per vehicle Memorial Day through Labor Day, $8 April-May, and from September-November.
RELATED: Exploring the Ocean Parkway Coastal Greenway on Long Island's South Shore

From swimming to biking to hiking, Hither Hills State Park has it all. Photo courtesy of Long Island State Parks
This scenic park offers families a sandy ocean beach, a playground, and a unique campground with an ocean view. Biking and hiking trails are available, and don't miss the "walking dunes" of Napeague Harbor. Pack a picnic to share or purchase food on-site to enjoy at the picnic tables. Bathrooms and a changing area are available. Overnight camping is available for $35 for state residents. Cost: $10 per car Memorial Day through Labor Day.
RELATED: Long Island Lighthouses Worth a Visit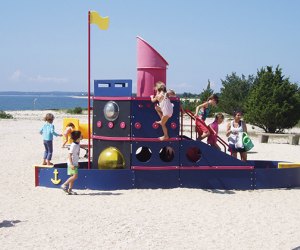 The beachside playground is one of Orient Beach State Park's most popular attractions. Photo courtesy of Long Island State Parks
Situated on the eastern tip of the North Fork, Orient Beach is a natural wonder. Families can swim in the relaxing bay, fish from the shore, kayak, or walk one of the many nature trails. There is a large playground for kids, and there is plenty of space for picnics directly behind it. Collect shells, view the seabirds, and enjoy the saltwater marsh. Serenity and natural beauty abound at this off-the-beaten-path spot. Bathrooms are available. Cost: $10 per vehicle Memorial Day through Labor Day, $8 April-May and September-November.
Originally published in May 2017, this post is updated annually.
Sign up for the Mommy Poppins Newsletter today!
i