Exploring the Ocean Parkway Coastal Greenway on Long Island's South Shore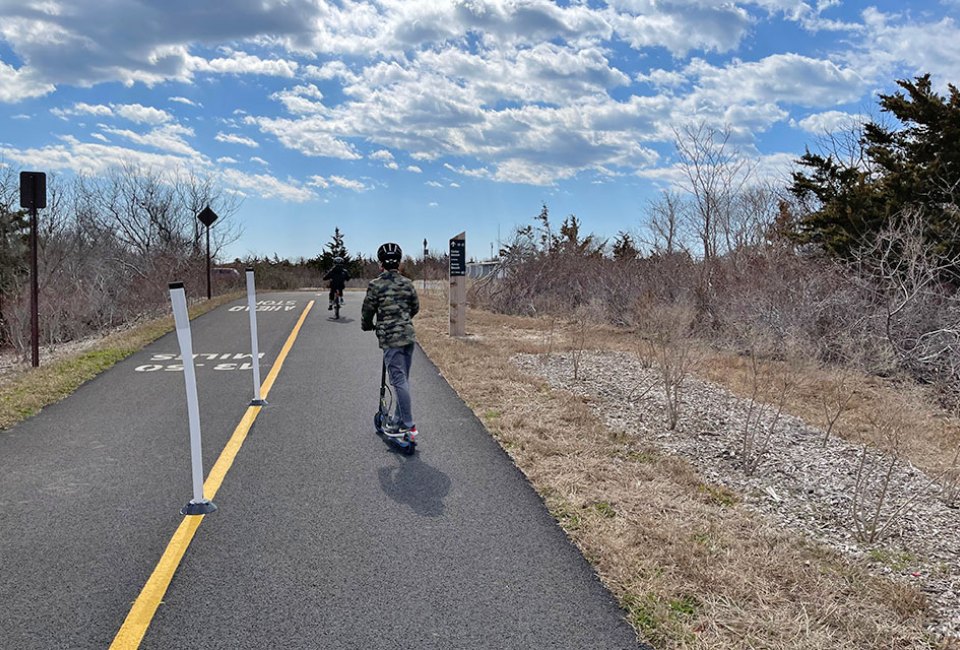 4/5/21
- By
Kristen Markel
Long Island's Ocean Parkway is no longer just a gateway to sandy, family-friendly beaches. In March, New York State completed construction on the Ocean Parkway Coastal Greenway's final section, bringing even more family-friendly activities to the South Shore. This 14-mile paved path connects Captree State Park to the Ellen Farrant Memorial Bikeway and runs along the Great South Bay.
Read on to find out why a stroll along the Ocean Parkway Coastal Greenway makes an excellent outing for families with kids of all ages, and find more fun seasonal things to do in our Spring Fun Guide.
Editor's note: While we are trying to promote safer activities that occur outdoors or with social distancing guidelines in place, please keep your family and others safe by always wearing a mask and maintaining appropriate social distancing.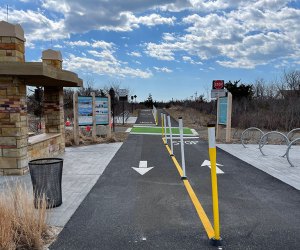 The paved Ocean Parkway Coastal Greenway is well marked and easy to navigate on foot, wheels, or with a stroller in toe.

The path is fully paved and smooth, making it a great option for strollers, rollerblades, and bicycles. New York State built the trail to be fully compliant with the Americans with Disabilities Act, so wheelchairs are also welcome. The pavement has clear markers to track your distance, and there are shaded stops every 3-4 miles.
Along the way, you can admire houses on Oak Island, walk under the Captree State Parkway Bridge, or watch the boats in the Great South Bay. During the summer months, be on the lookout for monarch butterflies pollinating the native plantings. Or, turn your time into a history lesson; kids and grownups can learn more about the area by reading the trail's placards, which provide local facts.
RELATED: 15 Great Stroller-Friendly Park Walks on Long Island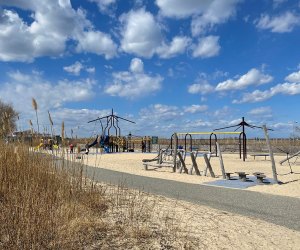 The playground at Captree has plenty of space for little ones to run around and climb.
If little ones are less impressed with the trail than the destination, consider adding a visit to the playground at Captree State Park, where little climbers can travel along nets supported by large pieces of driftwood or pack a fishing pole and drop a line off the pier. Don't have fishing gear? Find everything you need at Captree Fuel, Bait, and Tackle, located near the docks inside the park. The store even rents fishing rods by the day.
Another fun pick: Visit Tobay Beach's jungle-themed sprayground or one or two of the playgrounds there. Beware: Residency restrictions applied to the beach and sprayground in 2020; 2021 rules have not been released, but check with the Town of Oyster Beach before heading out if you're not a local.
RELATED: Top Beach Playgrounds on Long Island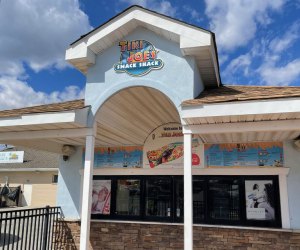 Tiki Joe's offers many options for kids and has a pair of outposts along the Ocean Parkway Coastal Greenway.
Where To Eat Near the Ocean Parkway Coastal Greenway
There is so much to do along the Ocean Parkway Coastal Greenway; why not make a day of it? Pack a lunch and eat on the picnic tables at Tobay or enjoy some food from one of the many seasonal restaurants.
Tiki Joe's Beach Club has outposts at both Tobay and Captree, offering simple fare, including quesadillas and burgers. There is also a small concession stand at Captree. If you are looking for a sit-down meal, check out The Boatyard at Tobay. The eatery serves pizzas, tacos, and burgers and is open in the afternoon and evenings. Seafood cravings can be satisfied at the Surf Shack at Tobay.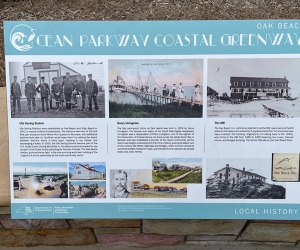 Placards dot the trail, sharing historical facts, including this one about the first resident of Oak Island.
How to Get to the Ocean Parkway Coastal Greenway
There are several starting points for the Greenway Trail. Oyster Bay residents who purchase a beach permit before their visit can choose to begin at Tobay. Captree doesn't have any residency restrictions and is great for those coming from points east. Anyone can park there for $8, and fees are collected from 7am-6pm from April through November. You'll also find bathrooms open year-round here. The trail starts on the western side of the parking lot.
Photos by the author
Sign up for the Mommy Poppins Newsletter today!