Long Beach with Kids: Beach, Restaurants, Play Spaces to Explore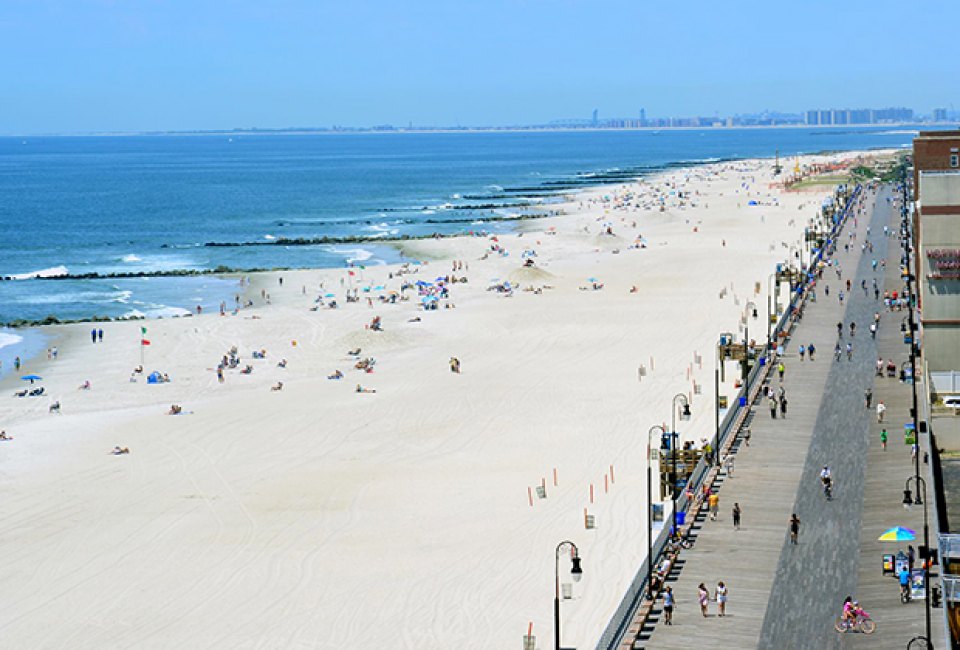 6/15/17
- By
Kimberly Chacon
Long Beach is a seaside gem. One of only two cities in Nassau County—Glen Cove is the other—it has a laid-back ocean vibe generally reserved for vacation towns.
Nicknamed the "City by the Sea," this bustling Long Island enclave offers beachgoers relaxation and fun. Teens can learn to ride the waves at one of the local surf schools; families can rent bikes to cruise the boardwalk; and kids of all ages can enjoy the sparkling ocean and sand. When you arrive you'll spy kids and parents headed to the beach loaded with buckets and shovels, and see the excited faces of visitors thrilled by the promise of a sun-filled day.
Long Beach is one of many great Long Island beaches and day trips. There are plenty of other options for family fun, including day trips to Cold Spring Harbor, Stony Brook and Port Jefferson. If you fancy a trip farther east, be sure to check out our guide to the Hamptons and North Fork.
Enjoy.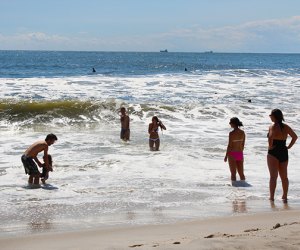 Frolic in the waves at the "City by the Sea." Photo by Shinya Suzuki/CC BY 2.0
Arrival
Get to Long Beach early for a prime parking spot. Take Exit M10 off the Meadowbrook State Parkway, then follow Loop Parkway to Lido Boulevard and into the city. The city can also be accessed via the Long Island Rail Road; it's the final stop on the Long Beach branch.
Beaches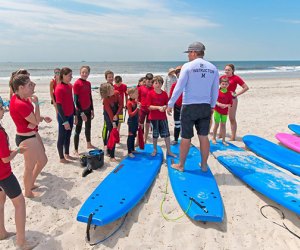 Learn to surf at Skudin Surf School. Photo courtesy of the school.
Entrances to the beaches are located between Nevada Avenue and Pacific Boulevard. Rent a beach cruiser bicycle to tour the picturesque 2.2-mile boardwalk. Created post-Sandy, the beachfront stretch is studded with explanations of the city's history and the restoration process. Boardwalk activities such as the Arts and Crafts Fair are held throughout summer weekends. When you're ready to hit the beach, entrances ramps are available every few blocks. Daily admission is $15 for nonresidents; children 12 and younger are FREE. Season passes are available. Chair ($12) and umbrella ($15) rentals are available, too. Hours will go by as kids enjoy building sand castles and chasing waves, and parents relax in the sand. Watch the surfing action or even take a lesson yourself with Skudin Surf School. Surfing and swimming are allowed when lifeguards are on duty.
Time to eat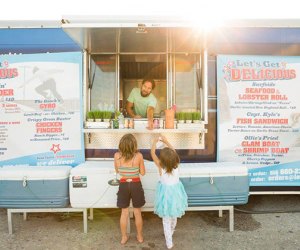 Let's Get Delicious is just one Shoregasboard destination. Photo courtesy of the truck.
When you have worked up an appetite, head over to the Shoregasboard food truck market, located at the Riverside Boulevard boardwalk entrance along with a collection of picnic tables. The cheerful Taco Tuesday truck serves up every variety of taco from steak to chicken with fresh salsas. The popular Long Beach Bagel Cafe truck serves sandwiches and wraps. NY Acai has you covered for a healthy lunch of smoothies and acai bowls. Finally, Poseidon's Kitchen serves fresh seafood. There are options for everyone.
Playgrounds and more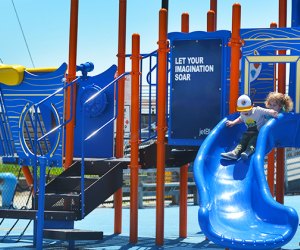 As the sign says, imaginations can soar at Magnolia Playground in Long Beach. Photo by the author.
When the family has finished eating, set out on a walk or bike ride to the Magnolia Playground. With the vibrant ocean mural as the backdrop, this playground keeps little ones entertained with swings, a ship-themed jungle gym and crawl-through structures. Don't leave without getting a picture of the kids in the classic surfboard cutouts.
Or head to the bay side for the always popular Clark Street playground with its spacious sprayground, plus modern play equipment.
Older kids will enjoy checking out the beach gear at local shops. At Long Beach Surf Shop you can check out the collection of more that 400 surfboards. Unsound Surf has the latest active wear and accessories. Unique gift shops such as Frippery are perfect places to grab a memento of the day or special gift. In addition to great shopping, there are many other kid-friendly venues in town. Liddle Bites, Long Beach's popular indoor play space for kids, is a great spot for relaxing with a coffee while the kids stretch their imaginations. If you are interested in creative endeavors, check out Earth Arts Long Beach, which offers pottery painting and kids and adult art classes.

Finish a beautiful day at Long Beach by taking a short drive to Villa Clara. Built in 1908 by the city's founder and Coney Island developer, Sen. William Reynolds, the eclectic historic home is listed on the National Register of Historic Places. Kids will marvel at the home's design. The incredible love story that inspired the house's construction has been shown on PBS and featured in The New York Times.
Sweet treats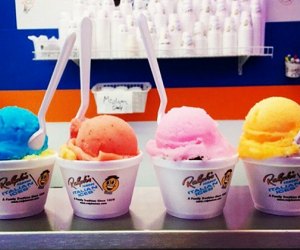 Cool down with Ralph's Famous Italian Ices. Photo courtesy of the shop.
One last stop or two is required before heading home. End the day on a sweet note by stopping at Tutti Frutti Frozen Yogurt or Ralph's Famous Italian Ices for a cold and tasty treat. Frozen Cow and Marvel Frozen Dairy are ice cream hits with tourists and locals alike.
Discover all of the great things the "City by the Sea" has to offer and perhaps your family will return year after year.
This post was originally published in 2012; it was updated in June 2017.
Top photo courtesy of the the City of Long Beach.