5 Kid-Friendly Pizza Places on Long Island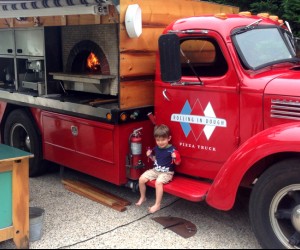 There are few people that can resist saying yes to a slice of pizza. There's the delicious crust, tasty sauce and, of course, the yummy cheese (is anyone else getting hungry?). But on top of enjoying a great slice, parents can also make the experience even better for their little ones by visiting one of these kid-friendly pizza establishments. And for more ideas on where to dine with the kids, check out our latest post on More Restaurants Where Kids Eat Free.
Chuck E Cheese
When most people think of pizza and fun, the first words out of their mouth are Chuck E Cheese. That's because it not only offers pizza by the pie for kiddies, but after they enjoy their pizza your little ones can experience an arcade room full of games and activities. Chuck E Cheese has locations across Long Island, including in Commack, Hempstead, Hicksville, Patchogue and West Islip. Prices vary, but coupons are available.
California Pizza Kitchen
Even better than eating a great tasting pizza for kids is making their own pie. California Kitchen offers that opportunity at birthday parties. And if you're heading to the restaurant just for dinner or lunch, kids under 10 can try a variety of pizzas, including BBQ Chicken pizza, Mushroom Pepperoni Sausage pizza or Hawaiian pizza. It also has desserts for kids and some fun word searches to keep the kids busy while they wait for their food. Long Island locations include Westbury, Huntington Station and Lake Grove.
La Capannia
If you're looking to have a nice sit-down dinner with your family while enjoying a few slices of pizza, you'll want to visit the family-owned La Capannia, which offers a wide variety of pizza slices to try for your kids from the Buffalo Chicken pizza to the Eggplant Parmigiana and Hawaiian pizza. The restaurant, which has locations in Holtsville and Wainscott, also offers gluten-free options.
C.P. La Manno's
For great tasting pizza in a family-friendly restaurant, try C.P. La Manno's, which not only offers unique pizza slices including Danish pizza, Polish pizza, Popeye pizza and Islander pizza, but also has a gluten-free pizza. If that's not good enough, know that kids eat free at the restaurant Sunday and Thursday. C.P. La Manno's is located in Miller Place.
Rolling in the Dough Pizza
Sure you can have pizza ordered in from your favorite pizza place, but how about having it made in a truck right outside your doorstep? Rolling in the Dough Pizza does just that for special occasions. The pizza truck will arrive and cook your pizza in a fully-restored, vintage 1943 Harvester truck, which has a wood-fired, brick-oven pizza truck built in. The truck can also be spotted at various locations on the North Fork of Long Island during the summer and fall.
Photo Courtesy of Rolling in the Pizza Dough