Best Pizza for Kids on Long Island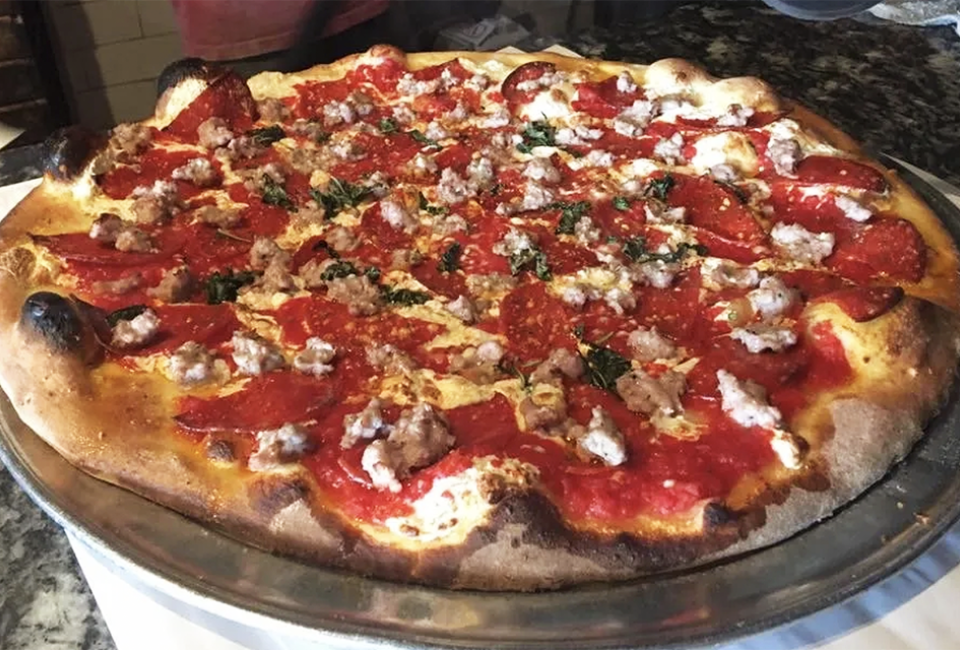 4/16/23
- By
Jaime Sumersille
Other than bagels, Long Island is known for its pizza. Everyone has their favorite pizza joint, serving up thin, thick, and everything in between. We've scoured the island for unique local pizza spots that we think your family will gobble up! Visit these kid-friendly pizza establishments for a slice of family fun.
For more ideas on where to dine with the kids, check out our Restaurant Guide, which includes Great Outdoor Dining Spots and Restaurants Where Kids Eat Free.
Subscribe to our newsletters to get stories like this delivered directly to your inbox.
Best Pizza Places in Nassau County
Leading nearly every "best of Long Island pizza" list for years now, we'd be remiss if we left out this chart-topping spot. The 800+ degree coal-fired ovens churn out pies with classic toppings such as white, truffle, and clam pies. The decor is retro and nostalgic, providing a warm family-friendly backdrop to watch your pie crisp up in the oven. Foodie tip: no slices, just pies, and they only accept cash.
Eddie's – New Hyde Park
This vintage pizza joint on Hillside Avenue has a longstanding history on Long Island that dates back to the 1930s. Scour the walls for famous patrons and restaurant history. Serving up iconic, ultra-thin-crust pies, this no-frills spot has a great location. Be sure to stop down the road at Hildebrandt's for dessert after. Foodie notes: A 10" Eddie's personal pizza is only 270 calories and also comes in a gluten-free option. Payment is cash only.
Offering sesame, onion, garlic, poppy, and everything pizza crusts, this third-generation restaurant is often mentioned as a destination dining spot. Its also known for its "drunken" sauce, which is house-made a la vodka. Patrons can have it slathered onto their garlic knots, pizza, chicken, ziti, and more. Marvel at the colorful exterior mural before stepping out back to sit under a Mary Poppins-esque canopy of umbrellas. There are also seasonal fun igloos for dining and pizza parties. Foodie tips: igloo reservations are highly recommended and you can find cauliflower crusts here.
RELATED: Long Island Restaurants with Fun Entertainment for Kids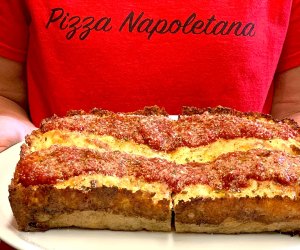 Saverio's serves up its own style pizza dubbed the 'Depequa Pizza'.
You've heard of Detroit-style pizza. Well, Saverio's serves up its own style. Dubbed "the Depequa Pizza," this culinary creation is a Detroit and Massapequa mashup. The Depequa is made with a trio of cheeses over a crispy buttery crust, with traditional red strips of sauce and garlic oil. Foodie tips: In addition to a mobile pizza oven that can travel to you, the brick-and-mortar Saverio's has an Italian-inspired outdoor "piazza" that boasts its own wood-fired pizza oven, plush couches, and lounge chairs. It's located inside A&S Pork Store.
Dine indoors or al fresco in the City by the Sea at this brick oven pizza place. Create your own pizzetta or choose from specialty pies such as Grandma's smashed meatballs, drunken burrata with prosciutto, vegan, and chicken Cesar. Walk off those carbs with a stroll along the boardwalk. Foodie tip: the restaurant also hosts trivia nights and themed brunch/dinner events for families.
RELATED: Great Outdoor Dining Options for Long Island Families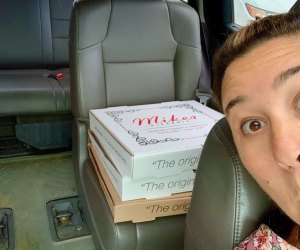 Meet a delivery driver at a secret pickup spot–making this pizza experience a mysterious one. Photo by the author
Top Pizza Joints in Suffolk County
Ahhh! Mike's. If you know, you know. And if you don't, it's time to find out about this pizza spot with a secret location. Serving up signature pies since the late '60s, Mike's has regular round pies plus the usual toppings but kicks it up a notch with deep-dish versions of vodka Sicilian, Detroit, and Detroit fondue, which features gorgonzola and bacon jam. The oversized clam, cheesesteak, spinach, and pesto pies are customer faves, as are the smaller pizzettas. Foodie tips: You can only order for delivery within a 4-mile radius of the hidden Amityville location, or you can meet a fancy delivery driver at a secret pickup spot–making this pizza experience a mysterious one.
Order up a pizzetta, slice, or even pizza by the meter at this Huntington hot spot. The meter-long pizza is reminiscent of Italy's chopped-up slices, meant to be noshed on the go. Specialty pies include San Gennaro (caramelized onion, Calabrian pepper, crumbled fennel sausage, and Mike's hot honey), Roma (imported truffle oil, arugula, prosciutto di parma, and 24-month-aged parmesan on a round crust), and Roni & Ricotta (Imported cold ricotta, Ezzo pepperoni, finished 24 month aged parmesan, fresh basil). Foodie tips: they serve cauliflower crusts and vegan pizzettas.
When Aegean Pizza closed after a nearly 50-year run in its Sun Vet Mall location, the owner joined forces with another long-standing Holbrook staple, Carlo's Pizza Oven. The menu is a mash-up of Italian and Greek-inspired pizzas and dishes. The restaurant serves Aegean's pizza, Greek pizza, gyros, and other staples alongside Carlo's own Italian specialties, such as old-fashioned Sicilian pies. Food tip: individual, gluten-free 10" pizzas are on offer.
La Manno's has unique pizza slices, including Danish pizza (ham and ricotta), Polish pizza (kielbasa and onions), Popeye pizza (spinach, tomato, ricotta, and garlic), and Islander pizza (clams). Do you have what it takes to tackle their Brave One? It sports sausage, meatball, pepperoni, ham, and bacon. Foodie tip: Pies are offered in 1the following varieties: 10", 14" pan, 18" round, and 16' Sicilian.
Grab a slice from inside and pop a squat on a picnic table along the Peconic River. Or dine inside. Specialty pies include Roadhouse special (meat or veggie lovers with up to five toppings), the chicken, cheddar, bacon, ranch pizza, mac & cheese pizza, Long Island Clams Casino Pizza, and my favorite, the Greek Salad Pizza. I have not found another slice like this on Long Island. Foodie tip: the geese here can get a little too friendly, so be cautious not to take a bite and find a little beak at the other end of your slice. You can also kayak from up the river via the Peconic Paddler and take a break here. The historic Snowflake Ice Cream Shoppe is right across the street, so save room for a sweet treat to end your meal.
Originally published in 2014.
Sign up for the Mommy Poppins Newsletter today!
i