Things to Do in Stony Brook with Kids: New England Charm on Long Island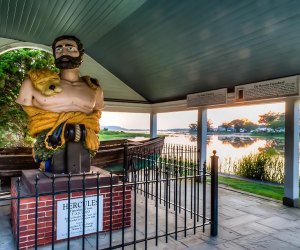 5/24/18
- By
Thien August
For some, Stony Brook is synonymous with the sprawling campus of Long Island's largest state university. For others, it is is a quaint North Shore village that is home to historic sites, a beautiful harbor with a bustling village center, and plenty of family-friendly events and festivals all year round.
Known to locals as Stony Brook Village, it is technically a hamlet that is part of the Three Village area, along with Setauket and Old Field. It is a coveted Suffolk County school district and a desirable area to live and work with its well-tended homes tucked back into groves of maple trees. It is also an ideal destination for a Long Island day trip or weekend getaway.

Relax on a park bench after a day's fun in the village center. Photo courtesy of the hamlet of Stony Brook
Bordered on the south by Route 347, with St. James and Head of the Harbor to the west, Setauket to the east, and Stony Brook Harbor crowning the hamlet on the north, this area feels like a small town, but offers the conveniences and cultural amenities one would expect from a more cosmopolitan area. There's lots to see and do within its small area.
What really draws tourists and locals to Stony Brook is its village center and the museum and historic sites all within walking distance of it. Designed to resemble a New England town, this planned business district of white clapboard shops grouped around a Federalist-style post office overlooks the harbor. With local shops, restaurants, and cafes, it is a great spot to spend an afternoon with the family. The village center often hosts workshops, events for kids, outdoor concerts in the summer, and other seasonal, family-friendly events.
RELATED: Discover Port Washington, a family-friendly community in Nassau County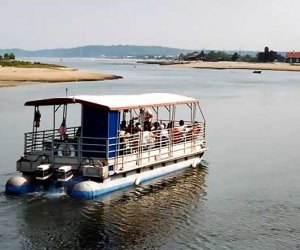 Take a pontoon cruise and learn about nature aboard Discovery Wetlands in Stony Brook Harbor. Photo courtesy of the Ward Melville Heritage Organization
Things to Do in Stony Brook Village
When the weather is nice, Long Islanders enjoy spending time outdoors, especially near the water. Start by soaking up the rays on the green space along the harbor or rent a tandem bike from TEB Bike Rentals on Main Street and enjoy the view while getting some exercise. Another fun (and educational) way to enjoy time on the water is via a Discovery Wetlands pontoon cruise. Passengers can learn about the wildlife and flora in the area from a naturalist, and even get the chance to take photos. Just be sure to book ahead to reserve your spot.
For those who want to command their own watercraft and experience nature close up, rentals of kayaks and paddle boards are also available. Put on a life vest, apply some sunscreen, and discover the harbor on your own or book a guided tour. While down by the harbor, check out the Hercules Pavilion, which houses a figurehead of the Greek god. The bust once adorned the USS Ohio, the first ship to be launched from the Brooklyn Navy Yard, in 1820. Kids are especially captivated by this large figurehead. Legend has it any unmarried person who kisses the brow of Hercules will be married within the year.
RELATED: Glen Cove to celebrate its 350th anniversary in 2018

Crochet-covered trees dot the landscape at the Long Island Museum. Photo courtesy of LIM
History and the arts more your speed? The Long Island Museum is a short drive from the village center. A collection of separate buildings joined by lush green lawns dotted by sculptures and trees covered in colorful crochet work, the LIM could be a day trip by itself. Kids will be "drawn" to the Carriage Museum with its collection of more than 200 carriages, including an exhibit depicting life in New York in the 19th century, complete with a building made to look like it is on fire. Take a moment to wander through the art gallery before heading outside to view the museum's other historic outbuildings and landmarks, including a burial ground, blacksmith shop, one-room schoolhouse, and an outdoor privy.
RELATED: Discover maritime history in nearby Port Jefferson

Built around 1751, the Stony Brook Grist Mill is still operational today. Photo by the author
Continue the history lesson at the Stony Brook Grist Mill on Harbor Road. Built around 1751, this mill continues to work today. Visitors can see the old mill in action on weekends from April to October and even take a tour with a miller. Water from Lower Pond across from the mill flows through the spillway, turning the large wooden wheel. Purchase corn from the mill and let the kids feed the ducks in the pond. See if you can spot the swans, turtles, and other aquatic life that call the pond home. The Setalcott Indian clan called this area "Cutsgunsuck" which translates as "brook laden with stones" a name that lives on today.

You'll find surprises aplenty, including outdoor artwork, during a hike through Avalon Park and Preserve. Photo by the author
Just up the road from the grist mill is one of the area's best-kept secrets: Avalon Park and Preserve. Hidden off a dirt road are more than 80 acres of nature trails, woodlands, fields, and habitats for native species. Adventure seekers will not be disappointed as following the marked trails will lead to surprises such as a labyrinth, a bridge, open meadow, a barn, and even interactive artwork. The park offers nature programs for all ages as well as events at the Avalon Observatories Sky Lab, where visitors can observe the heavens through powerful telescopes.
A visit to Stony Brook would not be complete without a drive through Stony Brook University. Let the kids get a taste of campus life by visiting Melville Library, walking the Academic Mall past the Staller Center for the Arts, and cheering on the Seawolves at LaValle Stadium.
RELATED: The best family-friendly harborfronts and marinas on Long Island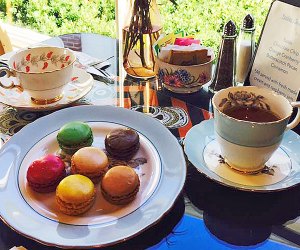 Enjoy traditional British high tea at Robinson's Tea House. Photo courtesy of Robinson's
Where to Eat in Stony Brook
Whether you're looking for a sit-down dinner, quick lunch, or something to satisfy that sweet tooth, options abound in Stony Brook. The village center seemingly has everything for any meal of the day. Casual, family-friendly spots include Fratelli's Italian Eatery for pizza and heroes and Sweet Mama's for American classics. Crazy Beans is a great option for diner-style breakfast, lunch, or a steaming cup of coffee. The kids, however, might be tempted to head straight to Chocolate Works for its "wall of candy" and chocolate fountain.
For something unique the whole family might enjoy, make reservations at Robinson's Tea Room for British high tea. Served daily, this experience begins with freshly baked scones and chef-made finger sandwiches and is followed by a selection of pastries. Of course, unlimited tea is served in fine bone China cups and saucers. Robinson's also hosts children's parties.
Taking the Long Island Rail Road into Stony Brook Station and need a bite to eat? Across the street is China Station, which offers generous bowls of steaming noodle soup; or head next door to Green Tea Restaurant for traditional Chinese dishes.The Curry Club is just east of the LIRR station on North Country Road in East Setauket and offers an Indian lunch buffet in addition to dinner.
Getting there
Many students and faculty members commute to Stony Brook University from New York City. The trip on the Long Island Rail Road is just under two hours from Penn Station on the Port Jefferson branch. By car, the most direct route is to take the Long Island Expressway to Exit 62, then head north on Nicolls Road past the university and into the village center.