Magnolia Park Playground Debuts in Long Beach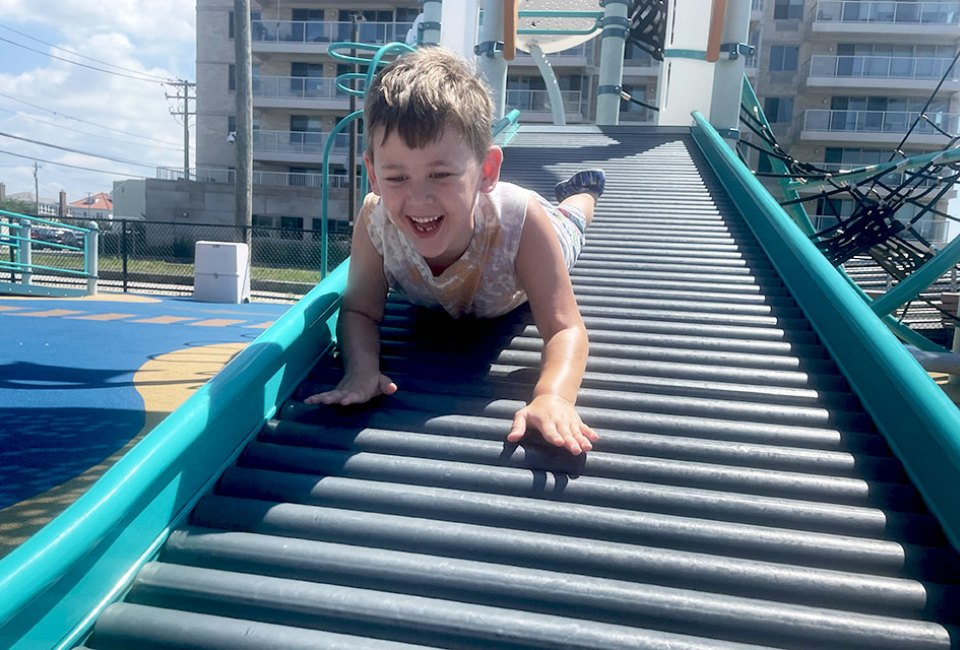 8/14/23
- By
Gina Massaro
Spin, climb, and swing at Long Beach's newest accessible playground, Magnolia Park. Located right off the boardwalk, this convenient playground has lots to offer younger kids.
Read on to learn about the unique features of Magnolia Park, and be sure to check out our post on accessible playgrounds and much more in our Playground Guide to Long Island.
Subscribe to our newsletters to get stories like this delivered directly to your inbox.

Magnolia Park Playground in Long Beach has whimsical design elements.
Magnolia Park Playground's Top Features
The colorful, whimsical structures of Magnolia Park are attractive to both kids and adults. While your eyes are drawn to the large, hot air balloon climbing structure, it's easy to miss some of the finer details of this wonderfully thought-out park. The park is best for toddlers through kids age 12, but there are also features for babies. Crawlers have access to a small playhouse, complete with a crawling ramp.
There are interactive fruits on the tree outside the house, which can be rotated. There is also a musical feature with bells. Across the way is a structure with turning knobs and a rain wheel with beads. This is also easily accessible to crawlers who are able to stand on their own, but may not necessarily be walking yet.
RELATED: Top Beach Playgrounds on Long Island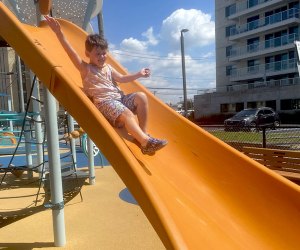 Zip down one of the playground's two slides.
There is a large four-person seesaw that takes a bit of effort to get going. At the back of the park, there is a spinning ride, but it also takes some muscle to start. One of the two main structures has lots of ropes and climbing features for older kids. The ropes course has a rock climbing wall and arguably the coolest playground apparatus, a rolling slide. There is also a taller slide with a wide mouth at the bottom.
The second structure is the hot air balloon, geared toward preschoolers and toddlers. The basket of the balloon has a steering wheel and a small slide. Kids can cross a bridge to get to the smaller double slide to go down with a friend or sibling. There is a curved tunnel, as well as a hot air balloon ticket station for kids to use in imaginative play.
RELATED: Long Beach with Kids: 26 Things To Do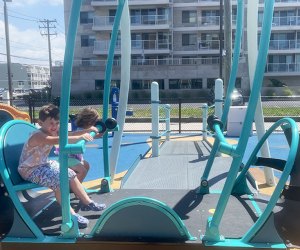 A unique swing allows kids to ride while still in wheelchairs.
Accessibility at Magnolia Park Playground
The park is wheelchair accessible, with a swing that my son deemed the "pirate ship" allowing kids to swing across from a child in a wheelchair. At the end of the park, there are also accessible swings, including baby swings and regular swings.
RELATED: Long Island Boardwalk Gems Kids Will Love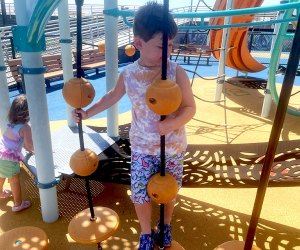 Kids will love climbing on the ropes course.
Know Before You Go to Magnolia Park Playground
Park along Magnolia Boulevard or West Broadway between National and Laurelton Boulevard for the closest walk to the playground, which is at the end of Magnolia Boulevard.
There are no bathrooms at Magnolia Playground, so plan ahead.
There is lots of shade available at Magnolia Park. Picnic tables are lined underneath two giant sunshades at the front of the park. There is also a third sunshade at the back of the park near the swings.
There is a water bottle filling station, but pack your own food if you plan a picnic, as there are no concessions.
​Photos by the author
Places featured in this article:
Sign up for the Mommy Poppins Newsletter today!