Long Beach with Kids: 26 Things To Do in the City By the Sea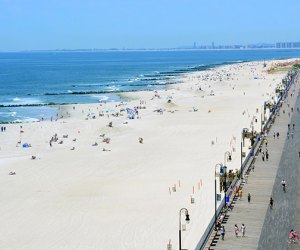 5/21/23
- By
James Smith
Nicknamed the "City by the Sea," the eclectic enclave of Long Beach, NY, offers visitors a rare combination of energy and relaxation.
One of only two cities in Nassau County, Long Beach has an ocean vibe generally reserved for vacation communities. And yet Long Beach is less than an hour from Manhattan and 15 minutes from Jones Beach State Park. It is accessible by car via the Meadowbrook State Parkway or the Long Island Rail Road, whose Long Beach station is in the heart of the city.
In summer, the population of Long Beach swells with beachgoers, surfers, sightseers, and fans of the city's famous boardwalk. So pack up the kids, bring your beach gear, and work up a healthy appetite—there are plenty of family-friendly restaurants in the city—as you take in all this Nassau County gem has to offer.
For even more inspiration, see our 3-day, must-do itinerary when visiting Long Island.
RELATED: Your Essential Beach List: Best Gear and Tips for a Fun Beach Day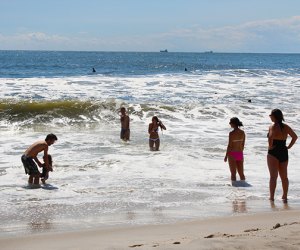 Frolic in the waves at the "City by the Sea." Photo by Shinya Suzuki/CC BY 2.0
The Best Things to Do with Kids in Long Beach, NY
1. Hit the Beach
Entrances to Long Beach's famous oceanfront are located between Nevada Avenue and Pacific Boulevard. The daily admission fee is $15 for nonresidents, but kids 11 and younger are FREE. However, there is no swimming when lifeguards are not on duty.
2. Stroll the Boardwalk
The iconic boardwalk was rebuilt in 2013 in the aftermath of Superstorm Sandy, which devastated Long Beach. The boardwalk spans 2.2 miles of the city's 3.3 miles of oceanfront and is ideal for walking, bike riding, treat-seeking, rollerblading, and people watching.
RELATED: Best Beach Walks for a Long Island Family Adventure

Learn to surf at Skudin Surf School. Photo courtesy of the school.
3. Skudin Surf School
Long Beach is the most popular surfing destination in Nassau County. You can learn how to ride the waves at Skudin Surf School, which offers classes for children and adults alike. The school even hosts birthday parties for kids interested in experiencing this open-water adventure.
4. Beach Volleyball
East End Volleyball's Long Beach outpost serves up lessons as part of a nine-week summer program designed to introduce kids ages 6-18 to this Olympic sport. Blue and Gold Volleyball offers a similar program for kids 6-12. While finding an open court can be difficult in the summer, families can get a pickup game together while visiting the beach.
5. Family Fishing
The Long Beach Municipal Fishing Pier on Magnolia Boulevard is open 365 days a year, and parking is FREE. Bait and tackle are available to lure the snappers, bluefish, flounder, and other species native to Long Beach. Be mindful of seasonal and size limitations on certain species.
RELATED: Top Beach Playgrounds on Long Island

Check out the beautiful playgrounds maintained by Long Beach. Photo courtesy of Long Beach Parks and Rec
6. Parks and Playgrounds
With a combined 10 parks or playgrounds, Long Beach goes all out to ensure young ones have plenty of places to play. Expect the typical playground jumping and climbing structures, with some added bells and whistles, including splash pads. The city's "Fun In The Park" program offers activities, crafts, and more in rotating parks throughout the city during the summer. Note: The Magnolia Avenue Playground, currently under renovation, is expected to reopen shortly.
7. Music Under the Stars
The Long Beach Boardwalk Summer Concert Series features a host of local musicians performing at rotating beachfront venues every Wednesday evening from early July through Labor Day weekend. Look soon for the 2023 lineup, but expect a mix of jazz, rock, classical, and ethnic music.
8. Long Beach Movie Nights
The city also sponsors FREE movies along the beach on select days in July and August. Again, the 2023 lineup is pending, but expect a mix of at least four family-friendly flicks, most likely on Saturday nights. Patrons must bring their own lawn chairs or blankets.
9. Arts in the Plaza
Summer weekends in Long Beach come alive with vendors as the city hosts a series of arts and crafts fairs at Kennedy Plaza. Works from local artists celebrate the diversity of Long Beach, and artists are available to tell the stories behind their creations.
10. Long Beach Kite Festival
Each September, visitors to Long Beach are invited to go fly a kite—literally. The Long Beach Kite Festival on the beach at Magnolia Boulevard features FREE kites to participants while they last or contestants can bring their own.
11. Parades Aplenty
This all-American city loves to celebrate its traditions. Visitors can join locals in parades on Memorial Day weekend, Halloween, the holiday season, and more. The city even celebrates Irish culture with an Irish Day Parade and Festival in October, 7 months after St. Patrick's Day.
12. Bike Rentals
Visitors might find cycling the preferred form of transport in Long Beach, and not just because parking is scarce. A ride along the boardwalk is a unique experience, and bike stores such as Long Beach Bicycles, Long Beach Board Rentals, and Local Cycles can set riders up with the latest rental gear and supplies. Of course, you are free to bring your own bike.
13. Summer Fireworks
Long Beach puts on one of the area's great fireworks shows and does so a few days after the Fourth of July so it does not conflict with the grand show at Jones Beach. So if your patriotic spirit still reigns, check out the Long Beach show from the boardwalk or anywhere on the oceanfront.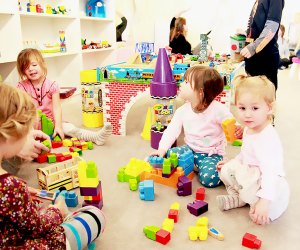 Liddle Bites offers plenty to do in its cozy space in Long Beach. Photo courtesy of Liddle Bites
Great Things to Do Indoors with Kids in Long Beach, NY
14. Long Beach Public Library
The library, located on West Park Avenue, has expanded its traditional services to include open-mic poetry nights, a Lego club, tech programs, and even meditation sessions. The library is also a valuable conduit to Long Beach's needy; teens and tweens can participate in adult-supervised community-service activities.
15. Long Beach Ice Arena
The City of Long Beach Ice Arena is one of only a handful of Long Island rinks open year-round. Enjoy public skating sessions, pickup hockey, puck-shooting, and figure skating-only sessions. There is a warming area with concessions, and skate-assist trainers are available for beginners.
16. Long Beach Recreation Area
Adjacent to the Ice Arena on Magnolia Boulevard, the Long Beach Recreation Area features an indoor pool, workout room, sauna, skate park, basketball courts, and even a dog run. Daily rates are available, and nonresidents can buy an annual membership pass. Note: Children 12 and younger are not permitted in the pool without adult supervision.
17. Liddle Bites Play Café
One of our recommended Long Island play spaces, this boutique-like space for kids ages 1-7 has enough toys, costumes, and play structures to delight any imagination. Owner Ingrid Ceniceros opened the space in 2016 and it quickly became a haven for little ones and parents/caregivers in need of a snack and a relaxing cup of coffee.
18. Long Beach Historical Museum
The Long Beach Historical and Preservation Society operates this two-story museum that once was one of the signature homes of Gilded Age Long Beach. The museum tells the story of Long Beach's past in a way that will fascinate history-loving teens and tweens.
19. The Pauline Felix House
Like the museum, the Pauline Felix House, on West Penn Street, tells the story of old-time Long Beach, only in a slightly different way. The Italian Revivalist structure is said to house the ghost of original owner Pauline, and it's part of the annual Long Beach Ghost Tour every autumn.
RELATED: Summer Fun Guide for Long Island Kids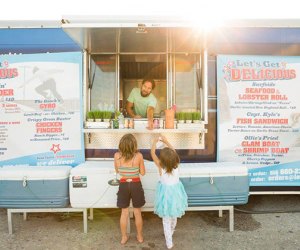 Let's Get Delicious is just one Shoregasboard destination. Photo courtesy of the truck.
Where to Eat with Kids in Long Beach, NY
20. Long Beach Shoregasboard
A Long beach institution in the summer, Shoregasboard is a collection of food trucks gathered on Riverside Boulevard near the boardwalk serving up everything from barbecue to tacos and even kosher food. In the summer, you can expect live music acts and perhaps some street theater.
21. Brixx and Barley
One of our favorite kid-friendly pizzerias is right in the heart of Long Beach. Families can dine indoors or al fresco at Brixx and Barley, where you can create your own pizzetta or choose from a number of specialty pies. The restaurant also hosts trivia nights and themed brunch/dinner events for families.
22. Swingbelly's Beachside BBQ
Another one of our family favorites, Swingbelly's offers irresistible barbecue specialties, including smokehouse cheesesteaks, shrimp and avocado BLTs, and more. The pickle chips appetizer is always in season.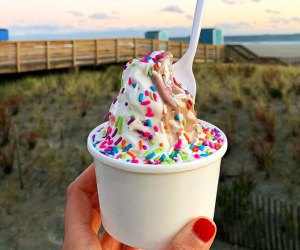 Cook down with a soft serve on the beach at Marvel Frozen Dairy. Photo courtesy of the shop
Ice Cream Destinations in Long Beach. NY
23. Marvel Frozen Dairy
Located on the boardwalk at National Boulevard, this Long Beach institution has expanded from a tiny custard shop to include cakes, slushies, shakes, and more.
24. Tutti Frutti Long Beach
This frozen yogurt emporium on West Park Avenue features a host of flavors, including birthday cake, cookies and cream, triple berry, strawberry banana, and more. Of course, no fro-yo is complete without toppings, and here you will find all your favorites and then some.
Where to Stay with Kids in Long Beach, NY
25. The Long Beach Hotel
The newly renovated Long Beach Hotel on East Broadway, across from the boardwalk and a five-minute walk from the LIRR, offers 255 rooms and access to a host of activities in and around Long Beach.
26. Allegria Hotel
The Allegria, built in 2009, is a 143-room boutique hotel along the boardwalk that features a rooftop pool with an infinity edge, an upscale restaurant, a lounge, and a fitness center
This post was originally published in 2012; it was updated in May 2023.